SUNY Oswego professors Ampalavanar Nanthakumar of the mathematics department and Eric Schmitz of music have earned the 2018 President's Award for Scholarly and Creative Activity.
The award, which recognizes tenured faculty members' continuous and outstanding contributions to their respective academic fields, will be presented to Nanthakumar and Schmitz during a recognition ceremony held during this fall's Academic Affairs Retreat.
Ampalavanar Nanthakumar
Colleagues from SUNY Oswego and institutions as distant as Sri Lanka, Greece and Canada responded to Nanthakumar's award nomination with letters of support. They paint a picture of a pre-eminent statistician with dozens of publications in top journals and generous service to his profession, the college and his department.
Yet it is the successes of the students he has involved in his research that show the true breadth of this scholar-teacher, supporters noted. Students of Nanthakumar's have gone on to graduate from programs at Columbia, Penn State, Ohio State and Toronto universities, among others.
One of his former students, Erika Wilson, now a doctoral candidate in biostatistics at University of Rochester, said she literally owes it all academically to Nanthakumar.
"I had exposure to the SAS (statistical software) language three years ahead of everyone else. I use these skills in my everyday life, whether academically or in consulting work," Wilson wrote. "I owe the majority of the accomplishments listed on my resume to Dr. Nanthakumar."
She added, "He is always willing to take the extra step for his students. He teaches the difficult courses, tackles the hardest subjects and does so knowing it may not be appreciated by those who don't love statistics as much as him. Professor Nanthakumar did not need my help in any of our research -- in fact, it probably could have been done more efficiently without the involvement of an inexperienced (but determined) 20-year-old wannabe statistician. I was involved because he knew the difference these projects, along with his guidance, could have on my life."
Since arriving at Oswego as a full professor in 2001 from University of Tennessee-Martin, Nanthakumar generally has taught four courses a semester in such subjects as "Environmental Statistics," "Regression Analysis," "Mathematical Economics" and "Time Series Analysis." Yet he has published research -- sometimes with students and often with colleagues around the world -- every year for a wide-ranging array of journals: Sequential Analysis, Copula Modeling, Actuarial Models, Astrophysics and many more. He has made scholarly presentations in numerous countries, from Belgium to Bangladesh.
Nanthakumar's supporters for the award said that perhaps his most notable research contribution, in collaboration with Shashi Kanbur of SUNY Oswego's physics department as well as students Richard Stevens, Aaron Marsh and, later, Erika Wilson, likely will result in a small modification of the Hubble Constant, the unit of measurement used to describe the expansion of the universe since the Big Bang.
Colleagues such as Terry Tiballi of mathematics also noted Nanthakumar's "outstanding" record of service. At Oswego, among other roles, he has served as president of the scientific research society Sigma-Xi, chair of the Science Peer Review Committee, chair of the Institute for Global Engagement's Culture Committee and the International Student and Visiting Scholar Committee, and a member of the Student Fulbright Committee.
Internationally, Nanthakumar is a member of the Athens Institute for Education and Research (ATINER); chairs the stream on Time Series at ATINER's conferences; serves as associate editor of the Sri Lankan Journal of Applied Statistics; reviewed articles for statistical journals from Colombia, India, Pakistan and other nations; and served as external examiner for statistics exams at the University of Mauritius and the University of Jaffna in Sri Lanka.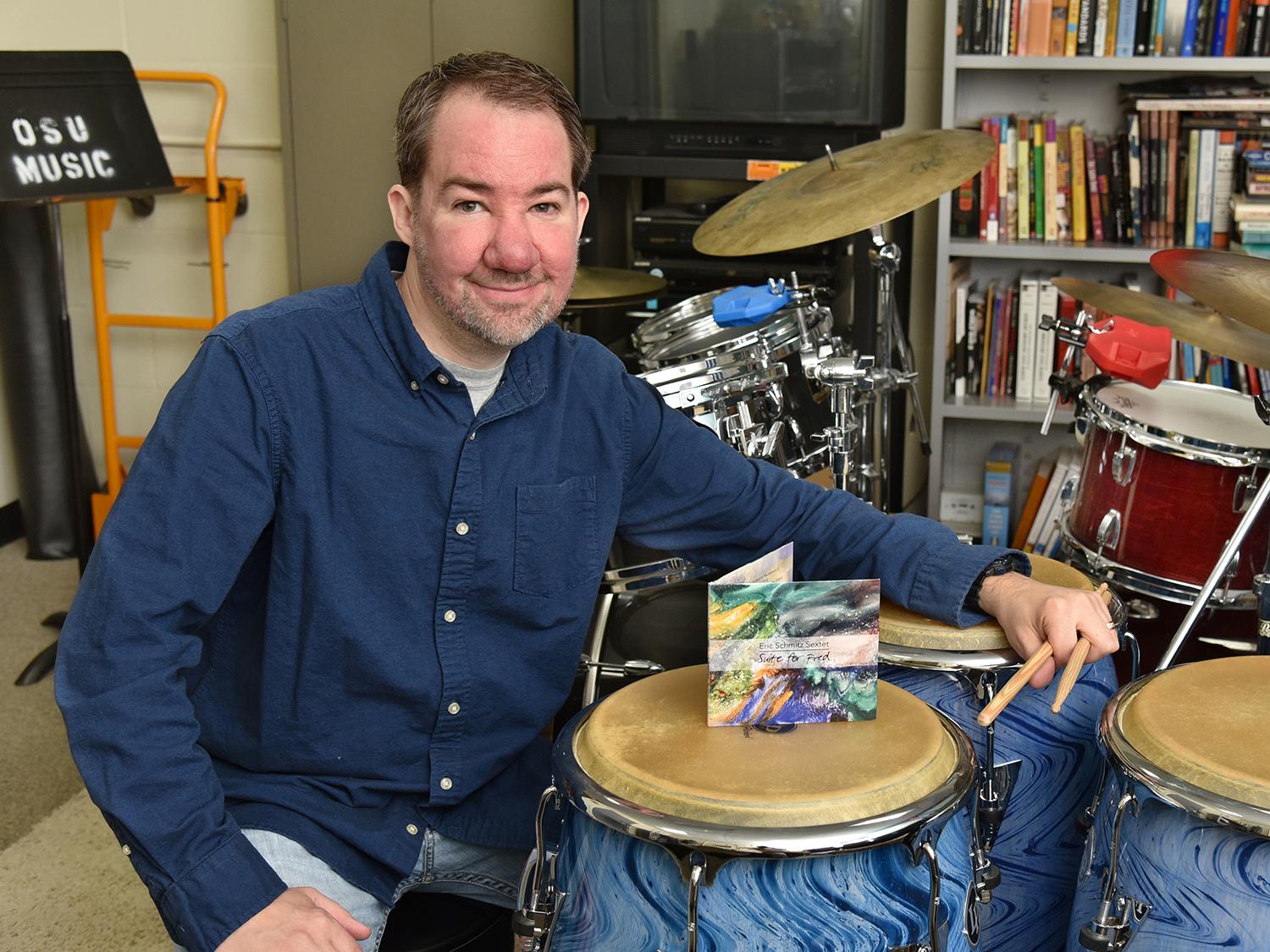 Eric Schmitz
Colleagues from around the world of music supported Schmitz for the Scholarly and Creative Activity Award, including trombonist Michael Davis, who toured and recorded as a freelance musician for 35 years, including with the Rolling Stones for 15 years. Davis and others note Schmitz is a consummate jazz drummer, composer and educator.
"Dr. Schmitz is in the top two percent of the most creative, dynamic and talented individuals I have ever worked with both as an educator and a performer/composer," wrote Davis, now owner and president of New City-based Hip-Bone Music.
Schmitz has published six CDs featuring 23 of his original compositions, and he performed on and produced many of them. His CD "ACE Composers" was reviewed in the American Record Guide, "the music industry's leading review publication for classical and jazz recordings," said Robert Auler, professor and chair of music. "In the music world, this is truly the highest objective honor a composer/musician can receive."
Long interested in Latin American, Afro-Cuban and Afro-Caribbean music and influences, Schmitz has built relations with musicians in Cuba and has shared the experience of researching and performing there as a study-abroad opportunity for students.
"Best," wrote Auler, "Dr. Schmitz truly believes in allowing his creative and scholarly activity to inform his teaching and his contributions on campus and in the community. He has actively applied his research and knowledge to the establishment of a Latin jazz group; he has taught classes and given on-campus presentations on Latin American and African drumming techniques …"
Schmitz has performed nationally and internationally, and locally is drummer, composer and arranger for Oswego Jazz Project, SUNY Oswego's faculty jazz combo.
A former Schmitz student, 2012 alumnus Nathan Felty, now works as a professional studio and touring drummer/clinician based in Nashville. "I am forever indebted to the passion and guidance that Dr. Schmitz offered me," Felty wrote. "His willingness to teach and work together with students and colleagues has enabled him and others to travel, learn, lecture and perform while simultaneously chasing their dreams in the process."
Schmitz -- whose doctor of musical arts degree is in jazz and contemporary media, writing/performance from University of Rochester's Eastman School of Music and master's degree in percussion performance from University of Northern Iowa -- also earned praise from former teachers.
Robert Washut, professor of music and director of jazz studies at University of Northern Iowa, noted that he has performed three of Schmitz' compositions, and Schmitz composed a piece for Washut's jazz ensemble to honor his mentor's career.
"While here, he rehearsed my band on his piece, presented a lecture to the jazz arranging class, taught lessons to three of my composition students, and provided instruction to three drum set students," Washut wrote. "I provide this information to show how well I know and respect his work."
Schmitz teaches jazz and rock history, improvisation, and music theory and composition. He leads several student ensembles at SUNY Oswego, serves on the college's Scholarly and Creative Activities Committee and as advisement coordinator for the music department, and mentors students such as double bass player Jacob Saeva, who this spring worked to compose, produce and publish his own CD of jazz music.
Facebook comments