Notable literature and a study-abroad course took 20 students in Creative Writing 395 -- "Norwegian Literature From Trolls to Thor, Ibsen and Noir" -- through remarkable reads and stunning sights in Norway and Iceland. 
Starting in March, students took Juliet Giglio's class to follow a literary history of Norwegian authors beginning with Norse mythology and folklore and moving to the likes of Henrik Ibsen and Jo Nesbo.  
The physical journey in May took the students from Scandinavian fjords to Iceland's Blue Lagoon, on trains and aboard ships, with plenty of striking scenery to enjoy. Highlights included opportunities "walk the streets of Harry Holes, explore Ibsen's home, peer into the Viking ships and enjoy an Oslo Opera House performance" in Norway, then a chance to "look for trolls, climb Floiban and tour Edvard Grieg's Troldhaugen" in Iceland, according to the course description.
Mic-Anthony Hay, a senior journalism major who also is a professional videographer and photographer, captured some of the views and emotions during a takeover of the @sunyoswego Instagram account, and came away in awe.
"An opportunity to travel is something I will never take for granted after my experience at the Blue Lagoon in Iceland," wrote Hay, who posts more on his travels at @micanthonyhay on Instagram.
"I made eye contact with my fellow SUNY Oswego students, but also strangers from all of the world," he noted. "They did not seem like strangers to me but offered warm glances and smiles in exchange for mine. There was a real sense of community in this baby blue pool, that eliminated all bias and prejudice that affects the human race. I left the water with a greater perspective on the world."
'Life-changing stories'
Hay said he and the other students came away with "life-changing stories to tell" from the experience.
"It was my first trip to Europe, and one that I will always remember as experienced with my SUNY Oswego family," he wrote. "I exchanged first glances of excitement with the students that accompanied me. We knew that our lives would never be the same again … It's an experience I recommend to all SUNY Oswego students."
Another student -- Catherine McMullen, posting on Instagram as @wilderhaunts -- offered her own photos and perspective on what she described as "an incredible experience."
"The train ride from Myrdal to Flåm is dotted here and there with little towns tucked into the bends of winding rivers and set into valleys shielded by the long shadows of snowcapped mountains," she wrote. "It's a journey through a storybook filled with some of the most beautiful sights I've ever had the great fortune to experience."
Along the Bryggen wharf -- a UNESCO World Heritage Site along the Bergen waterfront in Norway --  McMullen found "one of the most charming rows of buildings I've ever laid eyes on."
"I arrived in the city by water, where it was impossible to look away from these wonderful shopfronts," she said. "Bergen is a beautiful city nestled between snowcapped mountains and the sea where I couldn't help but be swept up in excitement by my surroundings."
For more information on study abroad options at SUNY Oswego, visit oswego.edu/international.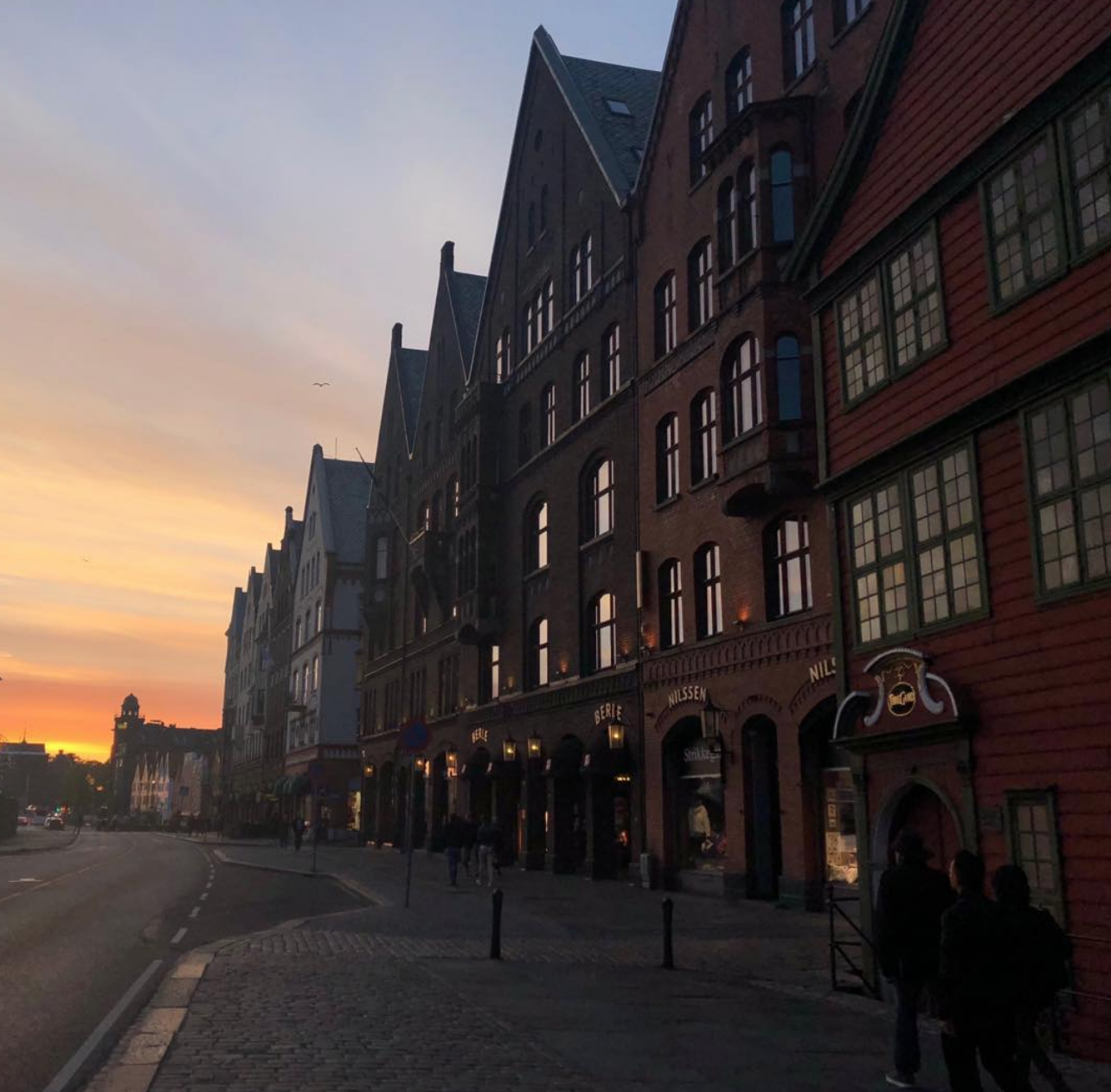 Charming architecture -- Student Catherine McMullen took this photo of "one of the most charming rows of buildings I've ever laid eyes on" along the Bryggen wharf on the Bergen waterfront in Norway during a literature-related study-abroad course to Norway and Iceland.
More like this
Facebook comments