SUNY Oswego President Deborah F. Stanley, SUNY Chancellor Jim Malatras, state legislators, construction and design partners and the campus community celebrated a groundbreaking ceremony on Oct. 1 that marked the official start of the $80 million Hewitt Hall renovation project that will turn the former student union into a state-of-the-art home for Oswego's School of Communication, Media and the Arts. 
The ambitious project will create a nationally competitive hub for the college's broadcasting, design and cinema and screen studies programs, which in turn will further promote the college's academic excellence.

President Deborah F. Stanley opened the event by thanking project partners from the State University Construction Fund, DiPasquale Construction, Turner Construction, CannonDesign and SUNY Oswego students, faculty and staff. She also recognized the college's Facilities Services team, members of the Campus Concept Committee and Hewitt Hall Steering Committee who were instrumental in paving the way for the Hewitt renovation project, and turning our vision into reality.

"As most of you know, this is my final capital project as president of SUNY Oswego," said Stanley. "I am thrilled to see this transformative project moving forward today and for the generations of students, faculty and staff who will benefit from the new Hewitt Hall."

Dean of the School of Communication, Media and the Arts Julie Pretzat added, "In multiple meetings over several years, we have reviewed the plans for the building, made recommendations, offered our input and expertise and are so pleased that we have finally reached this day of groundbreaking. The spirit of collaboration, creativity, vision and excellence -- that is at the essence of the work of our students and faculty -- will be captured in this $80 million renovation, creating the most technologically advanced, state-of-the-art home for media in the SUNY system and state of New York."

Developed with input from students, faculty and other stakeholders, the renewed Hewitt Hall has a target completion date of fall 2023 to host classes, labs, events and related activities that will further elevate the media arts programs in Oswego's School of Communication, Media and the Arts. Exterior renovations are expected to be completed in 2022.

The Oct. 1 groundbreaking ceremony also featured remarks from SUNY Chancellor Jim Malatras; New York State Assemblyman William A. Barclay; New York State Assemblyman, alumnus and Alumni Association Board member Harry Bronson '82; and SUNY Oswego students Alexa Cox, a junior dual major in broadcasting and mass communication and in political science; and Alex Brooks, a sophomore broadcasting and mass communication major. 

President Stanley closed the formal portion of the program by encouraging all attendees to gather around those with ceremonial shovels and hard hats "so that you will forever be a part of this historic moment."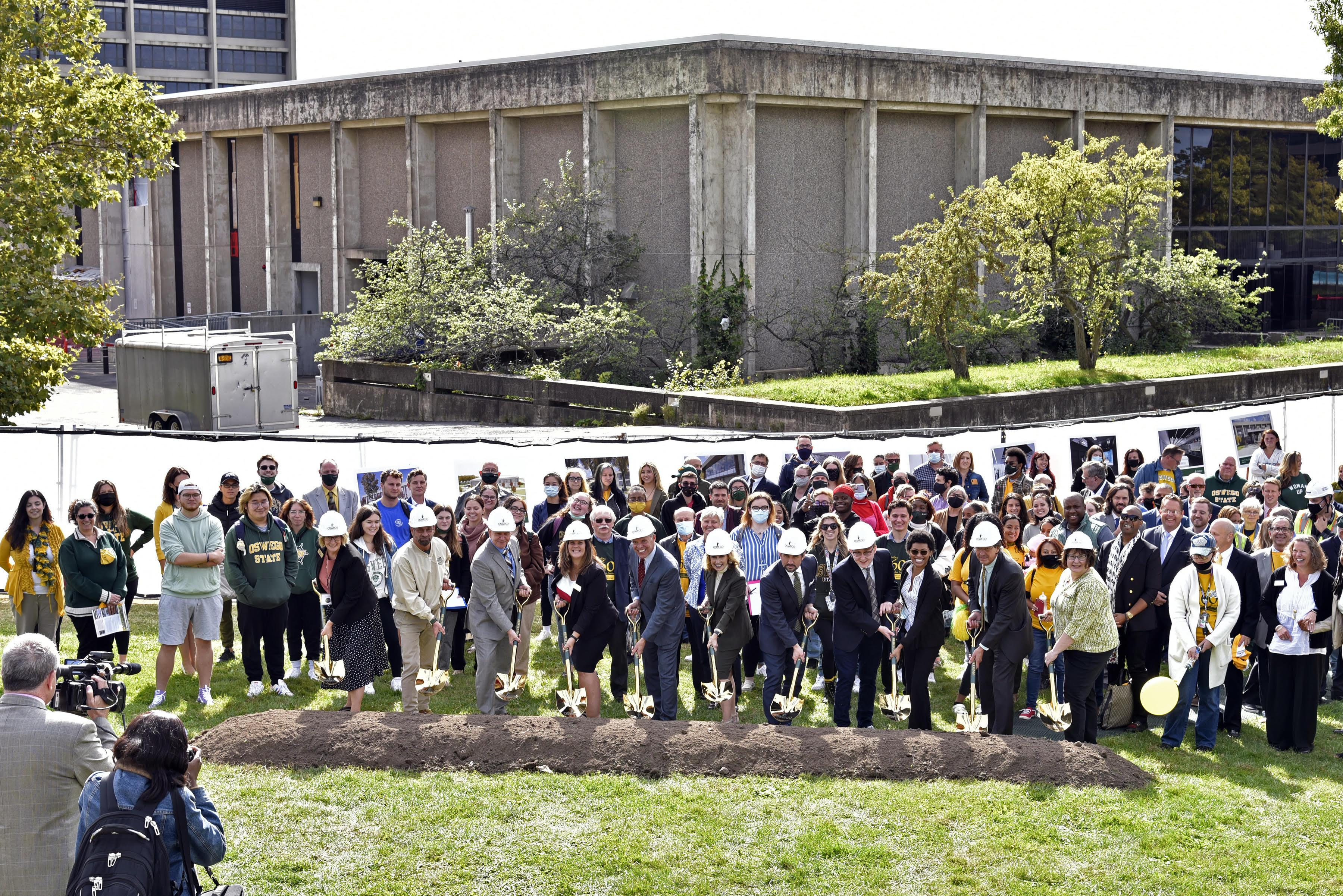 Facebook comments