When assigned an action project for CRJ300 in the fall 2021 semester, senior criminal justice major Nicolle Aponte knew just where to teach the material -- the classroom she teaches in every day. 
Each semester, the course content of CRJ300 changes to cover current topics impacting public justice. Omara Rivera-Vazquez, who teaches criminal justice, saw a need for programming and discussed the possibility of offering a course on human trafficking with department chair Roger Guy. With his support, the class was offered this fall.
 "This is the first time that I, or anyone, has offered a course on human trafficking at SUNY Oswego," Rivera-Vazquez said. "I offered to prepare the course because I saw a need. Human trafficking is a problem in all communities in the United States."
Aponte enrolled in CRJ300 online, intrigued by the course content. "It's been a couple years since I've been working in the field of human trafficking. I started volunteering back when I was in the Dominican Republic," Aponte said. "I wrote an essay about how I wanted to focus my career in human trafficking back at my community college and my career focus has been it ever since." 
Nearing the end of the semester, students in the course were assigned action projects by Rivera-Vazquez. The project required students to take action and bring information about human trafficking to the community. 
Students were given options such as screening films with family and friends and hosting a discussion session or conducting research with local non-profit organizations about their services for human trafficking victims and survivors. Aponte decided to take the lessons she learned into a classroom setting where she works every day. 
"This was an opportunity for students to make the course their own." Rivera-Vazquez said. 
"Dr. Rivera gave us options for the project, but also left one open," Aponte said. "According to what I've learned in class, the students I work with are at great risk of human trafficking. I decided if there is someone that needs this information, it's right here where I'm working." 
The project in action
Aponte took her action project and lesson to 30 students, ranging in ages from 13 to 17 and taught the class in Spanish. Although her students speak Spanish, Aponte notes that her students still experience language barriers while learning. 
"The students I work with, they speak Spanish, but some are still not that literate in Spanish because their native languages are still Mayan dialects," Aponte said. Because of this, Aponte had to simplify the United Nations defintion of human trafficking in order for students to understand the concepts.
Aponte prepared a slideshow presentation for her students and also went the extra step to screen an age-appropriate short film in Spanish titled "I Am Little Red" to help students visually understand what human trafficking may look like and what human trafficking victims and surivors may experience.
Aponte opened her classroom up to questions and thoughts about the topic, where she shares that her students were grateful for the information presented as it showed that human trafficking can impact anyone. "I played scenarios with them. I gave them a small list of what could make a population vulnerable for trafficking a person," Aponte said. "And I asked them, 'Do you know anybody like this?' And they all looked at each other and said, 'I think that's me.'"
"Teaching about human trafficking to young adults is important because they may not know all of the ins-and-outs of it," Rivera-Vazquez said. "They may be vulnerable because of situations they may experience in life and it's important they know from early on that this is something to keep an eye out for."
'Hidden in plain sight'
According to the 2019 Polaris Project Data Report, there were 63,380 total situations of identified human trafficking through The Trafficking Hotline between 2007 and 2019. In 2019, The Trafficking Hotline saw a 20 percent increase in calls, noting more survivors and victims coming forward.
And while human trafficking may not be a topic discussed among most people every day, you may not have to go very far to find it. Rivera-Vazquez stressed the need to teach a class on human trafficking to ensure students leave SUNY Oswego as prepared professionals who can identify human trafficking victims and survivors so that they understand the trauma informed responses needed to help them.
"Human trafficking is a crime hidden in plain sight," Rivera-Vazquez said. "We need to start creating that awareness and that knowledge base in our students that this is something that they might encounter. It doesn't matter what realm within the criminal justice system you work in -- you might encounter it."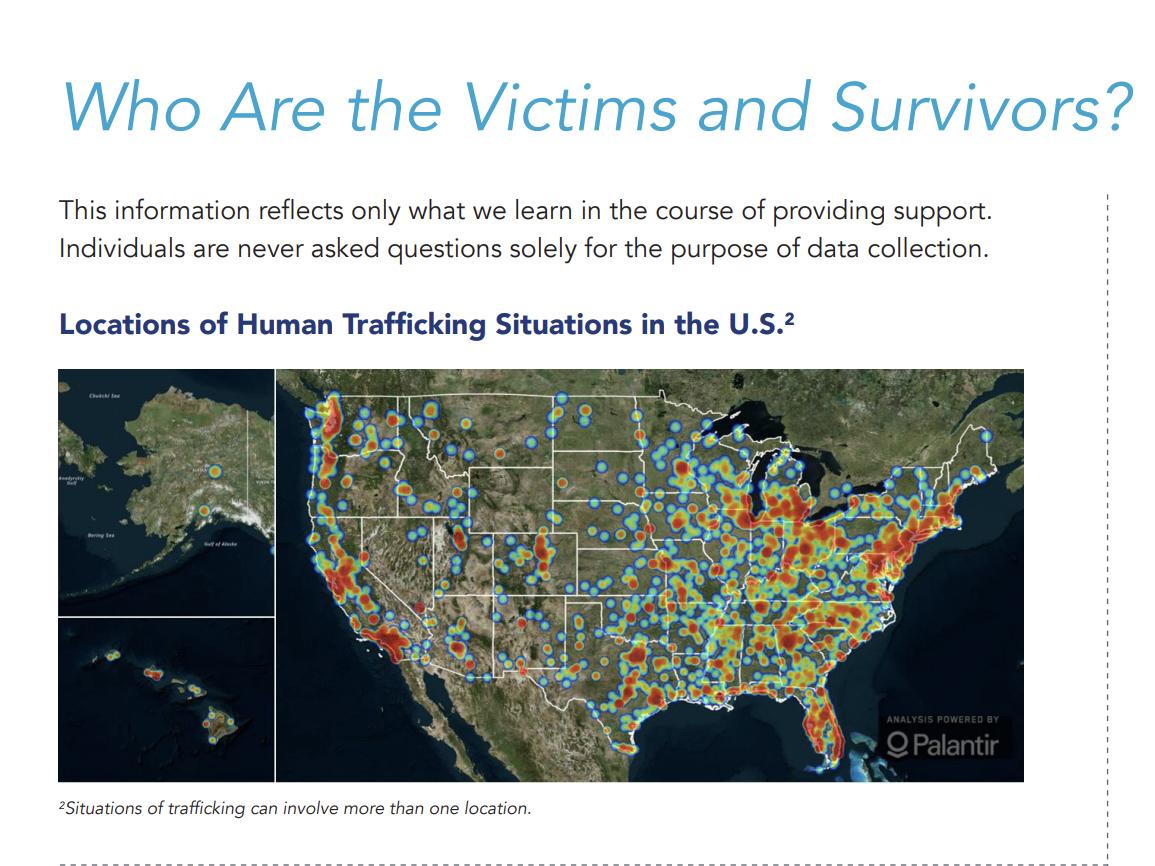 Screenshot of map of locations of human trafficking situations in the U.S. from the 2019 Polaris Project Data Report indicating reports of human trafficking throughout upstate New York and the United States.
Human trafficking often occurs in two main forms -- sex trafficking and labor trafficking. It also involves two main components to control victims and survivors, in use of force and coercion, Rivera-Vazquez notes.
By better understanding what human trafficking is, who human trafficking can impact and what human trafficking can look like, Rivera-Vazquez believes the answer lies in the victim-survivor experience.
"It is important that we continue to understand what the experience is of victims and survivors and use their experiences as a means to learn about how we are treating this," Rivera-Vazquez said. 
And when it comes to talking about difficult subjects like this, Aponte wants fellow students and professionals to know just how much you can make a difference right where you are. 
"Being able to connect the dots about what you learn -- you don't have to go very far. There are always people you can empower, there are always people you can create awareness to." 
If you or someone you know is in need of help escaping from a human trafficking situation, contact The Trafficking Hotline at: 
Multilingual National Hotline-

1-888-3737-888

Korean Hotline-

1-888-976-5274

Spanish Hotline-

1-888-80-AYUDA

or text 'BEFREE' to

233733

.
If you are a student, faculty member or professional staff member of SUNY Oswego and need assistance with a human trafficking situation, you may also contact Lisa Evaneski, Title IX Coordinator, at lisa.evaneski@oswego.edu or at 315-312-5604 (confidential voicemail).
Facebook comments