A new Business Resource Center, the result of a unique public-private partnership knit together by and with higher education, now offers a broad range of services to entrepreneurs, startups and established businesses at the hub of downtown Oswego's east side.
Community partner Pathfinder Bank built out office space at 121 E. First St. for the facility, which recently opened as a productive outcome of forward-thinking collaboration among college, business and economic development professionals.
The building houses the Small Business Development Center, the Workforce Development Board of Oswego County, and the offices of the director and several other key staff of SUNY Oswego's Office of Business and Community Relations (OBCR). The Greater Oswego-Fulton Chamber of Commerce will join SUNY Oswego in this space as a complement to the collaboration.
Pathfinder also built out space for community-relations units within OBCR -- including Leadership Oswego County and the Oswego County branch of the Retired and Senior Volunteer Program. They now make their home at 34 E. Bridge St., in the Pathfinder Bank Building. An additional collaborator in this space includes the Oswego Bookmobile's administrative staff.
"SUNY Oswego has a long history of commitment to the Oswego community and this move downtown is intentional in deepening that commitment," said SUNY Oswego President Deborah F. Stanley.  "The OBCR team's mission is to serve as the conduit between the campus and the community -- it makes sense that its offices are located at the most visible intersection in Oswego along with student interns, the Chamber and the Bookmobile."
Pam Caraccioli, deputy to the college president for business partnerships and economic development, said none of the partners gives up its own identity.
"It's a true partnership," Caraccioli said. "Yet we are all separate organizations. This is an opportunity for new interfaces, new synergies and it's an important piece in the revitalization of the city's east side. These spaces are simply an extension of our campus and we invite campus departments to also use this space "
'Makes it all tick'
The impetus for the moves and partnerships came from the need for the space formerly occupied by OBCR in Rich Hall, the home of the SUNY Oswego School of Business. After a study of all the options, President Stanley made the call to move the office downtown, Caraccioli said.
The decision to move OBCR downtown already had a strong foundation in SUNY Oswego's strategic plan. Titled "Tomorrow," the plan dedicates the college to engaging and partnering with local, national and international communities to make an impact through research, community service and economic development "for collective prosperity, equity, resilience and success."
The college put out a request for proposals in early 2016, and of those that came in, one -- that of Pathfinder Bank -- fit the criteria for what became the Business Resource Center and the nearby Office of Business and Community Relations.
Tom Schneider, the bank's president and CEO, said public-private partnerships such as this are critical to aligning resources to build momentum for economic development and a vibrant community.
"The commitment the college leadership is making to downtown and to connecting its students to the Oswego community is significant and appreciated," Schneider said. "It's a move we wanted to be part of. All of this, working together, is what makes it all tick."
Oswego Mayor William J. Barlow Jr. pointed out that the move of the Greater Oswego-Fulton Chamber of Commerce to the new BRC opened the way for a related shift: The city Office of Community & Economic Development will move into the chamber's current space at neighboring 44 E. Bridge St.
"It is incredibly valuable to the City of Oswego and especially the east side of Downtown Oswego for SUNY Oswego to have a presence," Barlow said. "It will be extremely beneficial to City of Oswego residents to have so many resources under one roof and truly shows we are a united community with many different facets of our community working together to move Oswego forward. I am proud to include the City of Oswego Economic Development office in this partnership as we all work to revive the Oswego business community and serve our residents."
Regional clout comes to bear for the Business Resource Center, as well. For example, the Greater Oswego-Fulton Chamber of Commerce partners with CenterState CEO, the independent economic development strategist, business leadership organization and chamber of commerce based in Syracuse.
"Whenever we have achieved success, we have done so by thinking strategically and acting collaboratively. The new Business Resource Center advances these concepts for the benefit of the entire community," said Rob Simpson, president of CenterState CEO. "Through this new partnership and shared space, we can provide more effective and efficient service delivery to the businesses of Oswego that will only enable greater opportunities for our region."
Katie Toomey, the local chamber's executive director, said the notion of efficiency resonated with her in joining the Business Resource Center partnership.
"You often hear the phrase 'one-stop shop.' The BRC is a perfect example of economic development professionals coming together to provide resources not previously available in one place in the past," Toomey said. "Through this new collaboration, these partners can now better serve the county and its cities in a more meaningful way."
Eric Constance, who directs the Watertown regional office of the Small Business Development Center and provides for SUNY Oswego's affiliate office of the SBDC within the Business Resource Center, called the BRC "a win-win for all parties."
"I think it's a great location," Constance said. "It's going to be exactly what the business community needs to have available."
Complementary roles
The Small Business Development Center, long affiliated with the college's Office of Business and Community Relations, is part of a nationwide network administered by the U.S. Small Business Administration. A major public-private partnership between government and higher education, the SBDC provides one-on-one services to small businesses and entrepreneurs, helping businesses plan and resolve organizational, financial, marketing, technical and other business-related issues.
"This move brings us closer to entrepreneurs and startups, and we also help existing businesses," Constance said.
The Greater Oswego-Fulton Chamber of Commerce provides its members opportunities to make businesses in the greater Oswego-Fulton communities more competitive through access to economic development support, advocacy, business resources, employee development. Through its relationship with CenterState CEO, the chamber accesses connections to nearly 2,000 members across the region. 
"We want to be seen as the dot connector, a liaison, networking with and among member businesses," Toomey said. "We are currently reworking our entire small business offerings, making them more tangible."
The Workforce Development Board Inc. of Oswego County is a linchpin for identifying the workforce needs of businesses. It writes and obtains training grants for the private and public sectors, aligns training programs to meet the needs of the business community, and provides workforce needs assessments to area businesses.
As executive director of the college's Office and Business Community Relations, Chena Tucker also directs the Workforce Development Board. It's not only up to the partners to decide how the new center evolves and takes shape, it's up to those who need its services.
"I feel that as a brand-new business center, I'm also looking to the community to tell us what it wants these new offices to be," she said.
Tucker pointed with pride to features of both the BRC offices and the partnership's new community relations space, thanks to designers from Rowlee Construction of Fulton. The business center has a conference room that will seat up to 40 people comfortably, and the building retains an original stone wall along its southern wall. At 34 E. Bridge St., the conference room's feature wall lends distinctiveness, incorporating a vault that evokes adjacent Pathfinder Bank.
The Business Resource Center will celebrate its launch with an upcoming gala open house with representation from all of its partners and from business, government and community organizations.
For more information, visit oswego.edu/obcr or contact the Business Resource Center at 315-312-3493. The main community relations number for the college and its partner programs remains 315-312-3492. 
[Article reprinted with permission from Oswego County Business Magazine]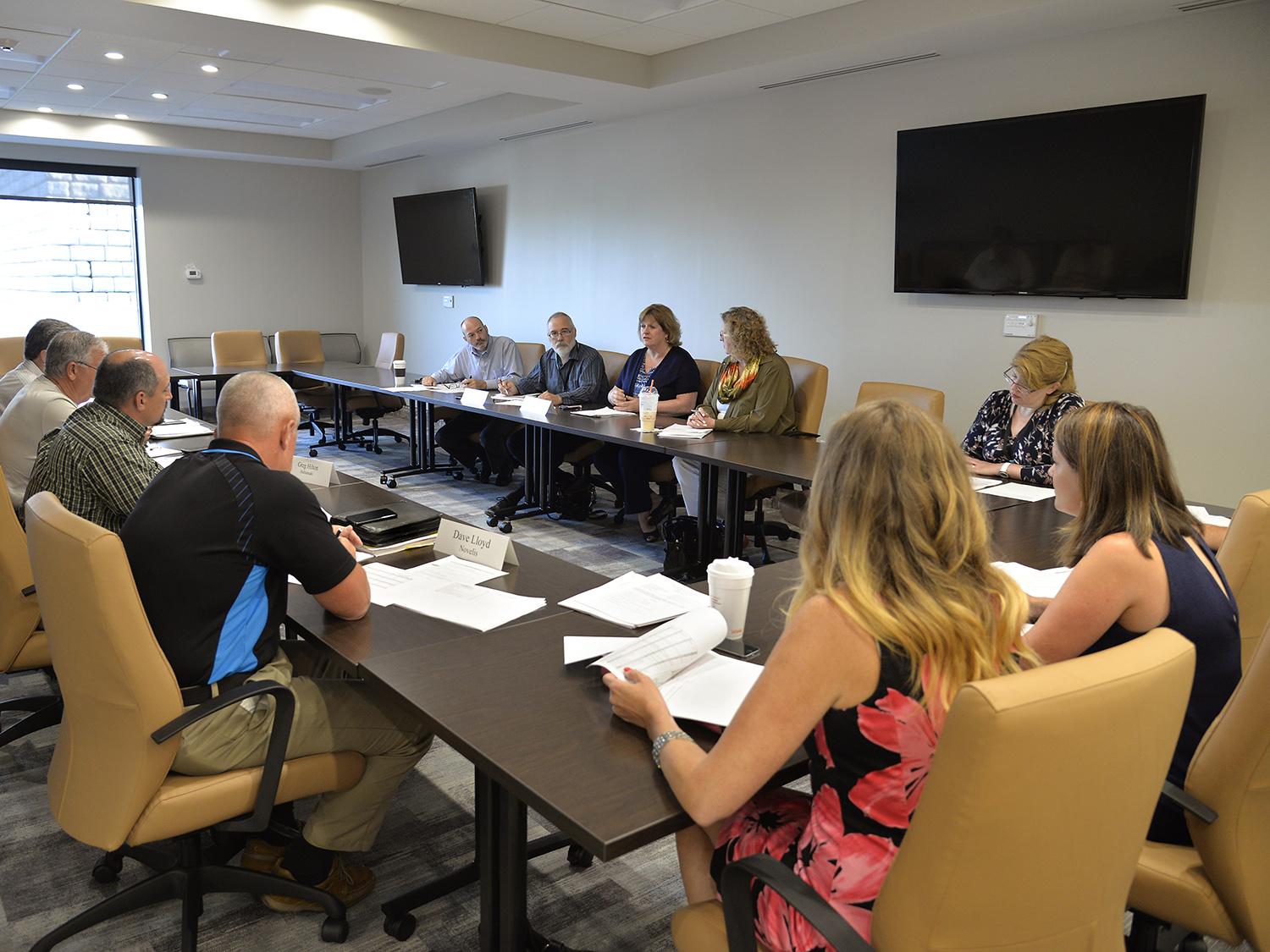 An expansive multimedia conference room at the new SUNY Oswego Business Resource Center helps bring together leaders of business, labor, finance, not-for-profits and higher education. Dave Lloyd (left foreground) of Novelis presides over a meeting of the Workforce Development Board of Oswego County, which is integral to the new BRC, helping businesses create a diverse, high-quality workforce through assessing skills shortages and aligning training programs to meet their needs.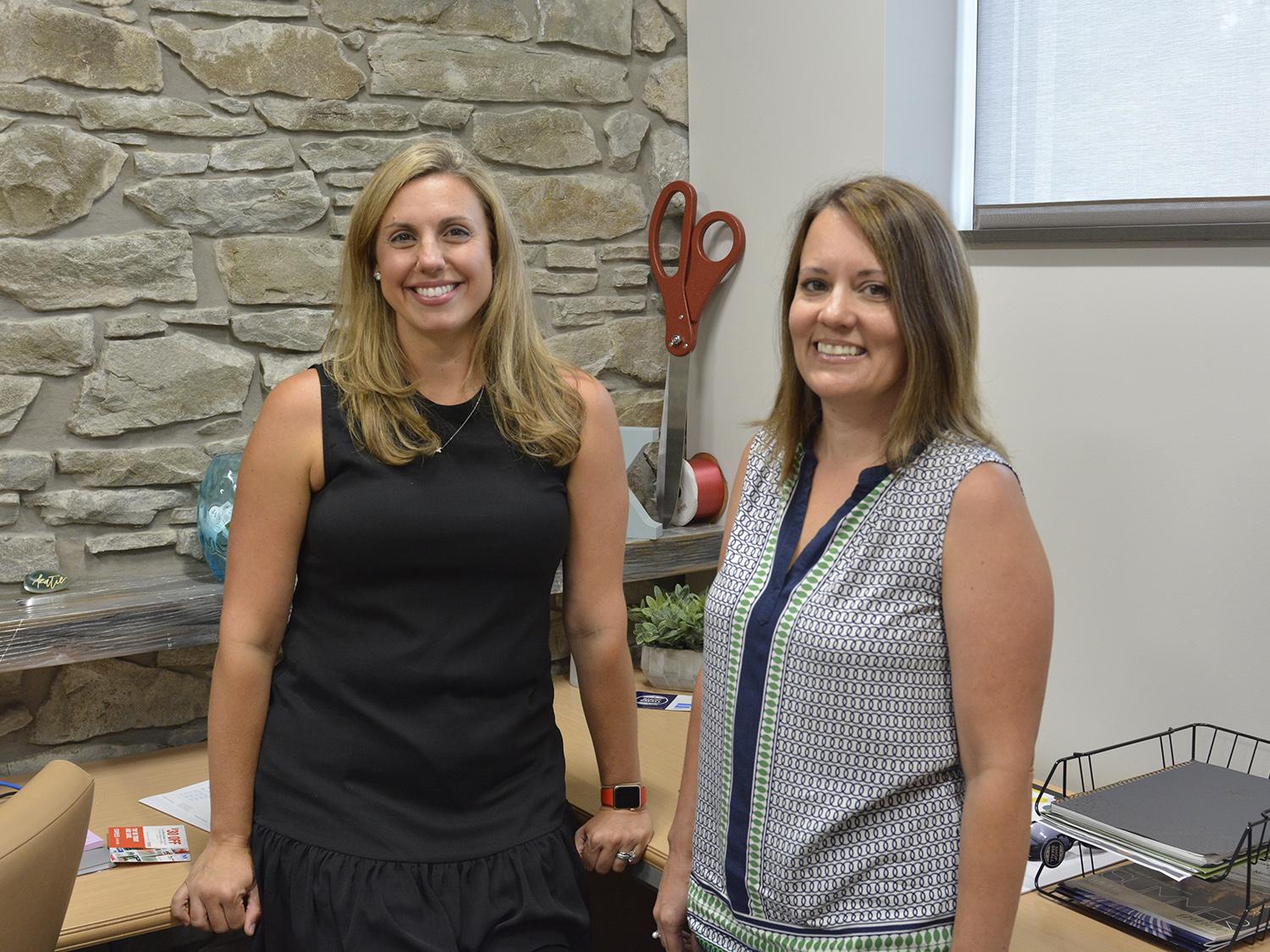 With adjacent offices and a shared drive to boost local businesses and create private-public synergies, Katie Toomey (left), executive director of the Greater Oswego-Fulton Chamber of Commerce, and Chena Tucker, director of the SUNY Oswego Office of Business and Community Relations, confer in Toomey's office in the new Business Resource Center. 
Facebook comments