SUNY Oswego's alumni community has revealed their resiliency, generosity and resourcefulness in responding to the COVID-19 pandemic. All across New York state and the nation, stories of our alumni stepping up to help others out are emerging.

From our alumni who are first responders and healthcare workers to our technology education alumni who have retrofitted equipment to develop face shields to protect the frontline in the battle against this virus, our alumni community is serving the greater good.

Included below are a few snapshots of some of the alumni who are doing what they can to help during this global crisis.

Do you have a story to share? Please email it to us at alumni@oswego.edu or share on social using #TogetherOz. Help us shine a light on those who are making our world a little brighter.
Caring for the sick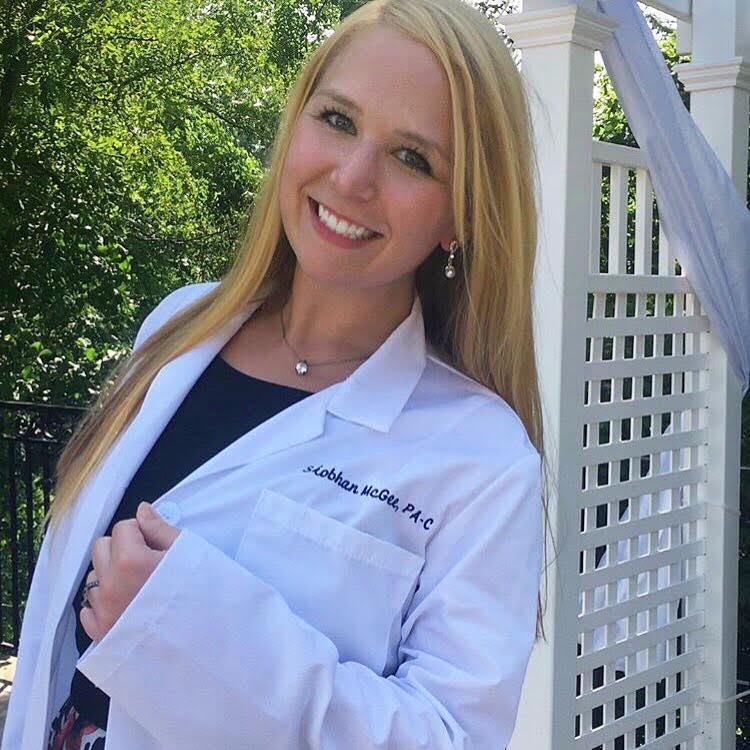 As a physician assistant in the Emergency Department at Montefiore Medical Center in the Bronx, Siobhan McGee '13 (pictured also at top of story), a health and wellness alumna, has been caring for some of the sickest patients with COVID-19. The hospital is located in an underserved area of New York City that was among the hardest hit by the coronavirus, according to the NYC Department of Health and Mental Hygiene.  
A 2018 graduate from Mercy College in the Bronx, Siobhan gears up in her personal protective gear ready to meet the physical and emotional challenges that await her. She draws on years of medical missionary trips abroad to such places as Senegal, the Dominican Republic, Colombia, The Gambia and Tanzania, where the missionary volunteers set up temporary medical clinics and treat walk-in patients, according to her mother, Jean McGee.
After returning from one of those trips in 2018, Siobhan explained what she gained from the experience.
"Our mission in the Physician Assistant program is to serve the underserved," she said. "And I'm so grateful for any opportunity to do so. When you come back from a mission, you have a humbling revelation of everything you're thankful for and all the good we can do ... it's such a gratifying experience to know that I'm in the right place doing the right thing."


Shielding others from danger
Several alumni have put their industrial arts, sewing and technology skills to use to create protective facial shields and masks for healthcare workers and first responders.

SUNY Oswego faculty members Daniel Tryon '89 of technology education and David Dunn of biological sciences partnered with Tracy Fleming '87 M'92 of CiTi BOCES to start production in late March. Teaming with Exelon, Novelis and the Oswego City School District, they have produced well over 1,000 face shields and counting. See related story.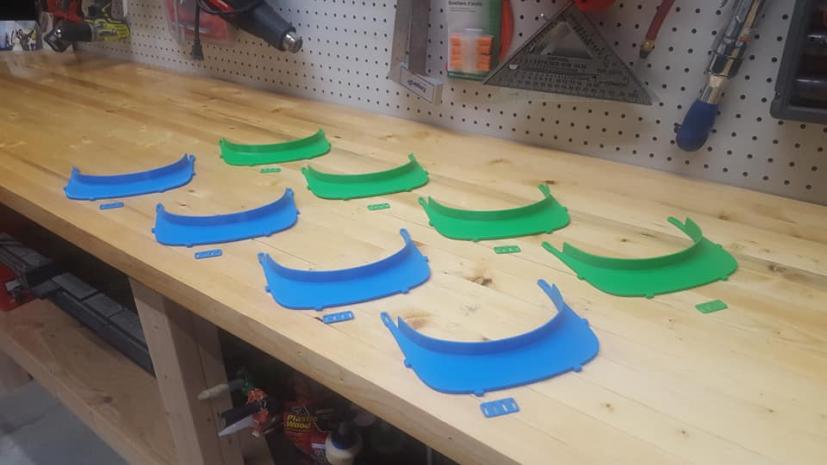 Former Lakers wrestling standout and technology educator major Dave Christopher '98, manager of the Cascade Maverik Lacrosse plant in Liverpool, suggested that the lacrosse helmet manufacturer switch to produce face shields to help address the shortage of personal protective equipment for medical professionals and others. The company produced 2,000 plastic shields a day and provided them at cost (approximately $3 a piece.).
In nearby Camillus, another technology education major and a teacher in the West Genesee School District Matthew Makowiec '10 connected with a local company who had donated a design of a face shield that could be produced on a 3D printer.
"I have brought our Makerbot #Z18 #3DPrinters out of quarantine and set up a mini print farm to help Budmen Industries, a local company, 3D print #COVID19 face shields!" Matt shared on Facebook. "I am proud to work for a district that understands how important this issue is and am proud to report I'm up to 8 #3DFaceShield parts and now printing 6 at a time."
Joseph Brand '10 middle) and Joseph Carpinone '05 (right), technology education alumni and teachers at William Floyd High School in Suffolk County on Long Island, are using their school's two Full Spectrum laser cutters to print about 15-20 masks per hour. They intend to donate 500 face shields to healthcare workers on the front lines at Long Island Community Hospital in Brookhaven.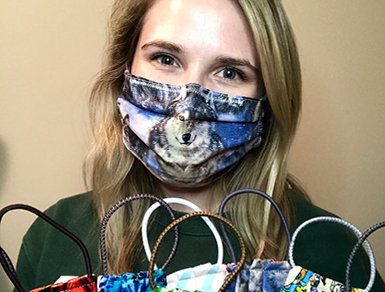 For Morgan Rumpf '17 (right) of Poughkeepsie, the marketing manager for the minor league baseball team Hudson Valley Renegades was finally putting to use her many years of 4H crafting and sewing training to make cloth masks.
"I am sewing masks for anyone who wants/needs them, which according to the CDC should be ANYONE in public," she shared on Instagram. "They are three layers of cotton fabric, with a wire bridge nose piece that you can adjust, and elastic ear pieces...I have a variety (dozens-okay hundreds) of designs both feminine and masculine so please send me a message and I will continue to sew away! Stay Safe - Stay Home - Stop the Spread"
By March 22, Geri Bosco '79 of Scriba, N.Y., had cranked out 56 cloth masks and she continued to make them until she ran out of elastic bands.

"Every little bit helps," she wrote on Facebook.


Finding inner calm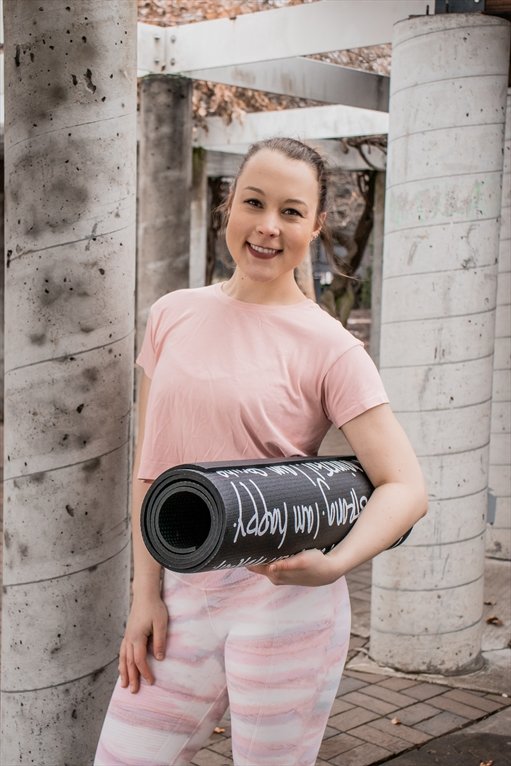 Rebecca "Becca" Howe '16 (right) of Corning, knows how difficult it is to disconnect from news and technology, especially during a global crisis.
"During this time, it can be really easy to get sucked into the news and what everyone is saying on social media," said the public relations major. "Practicing yoga offers me the ability to consume less and focus on myself and what I can control."
When her yoga studio closed because of the pandemic, she saw an opportunity to offer free online classes via Zoom.
"Yoga benefits the mind and body in a variety of ways," said Becca, a Yoga Alliance certified instructor and graduate of Satya School of Yoga. "It teaches us lessons we can take off of our mat, such as going with the flow, becoming comfortable with the uncomfortable or practicing equanimity. When we find calmness in a stressful, challenging or uncomfortable situation, either on or off of the mat, I believe that's truly where the magic happens and offers an opportunity for personal growth."
She will host free, vinyasa-style yoga classes for all levels from 6:30-7:30 p.m. Tuesdays via Zoom, and will also offer live yoga classes on Instagram. For more information, visit bit.ly/34ewvBg or linktr.ee/rebeccal.howe. To stay connected with Becca, follow along on Instagram @rebeccal.howe or like her page on Facebook, "The Twenty-Something PR Girl."
Brightening the world with positivity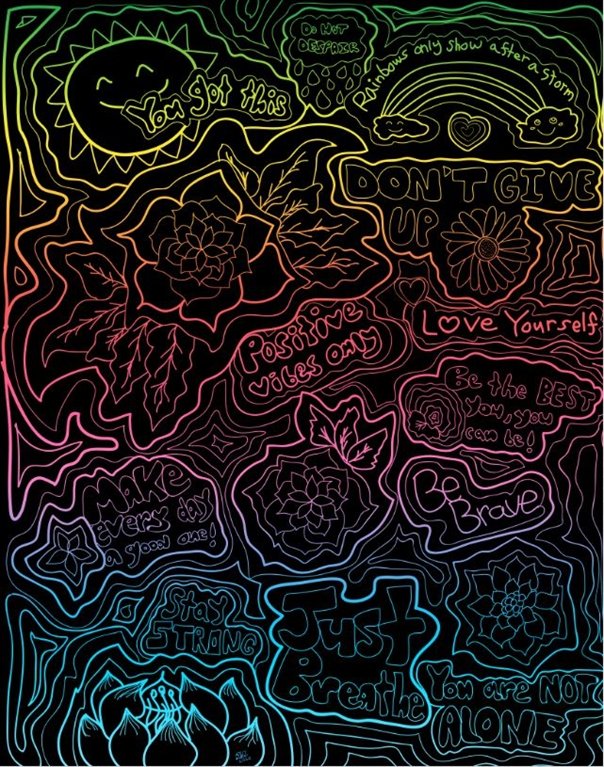 Dori Gronich '17 is revealing bright colors within the sometimes dark days of the COVID-19 pandemic.
The graphic design major has launched the Positivity Poster Project 2020 to bring smiles and hope to her neighbors in her hometown of East Norwich.
She created slips of paper with a QR code that she distributed around her neighborhood. As her neighbors passed by, they noticed the slip of paper, took out their cell phones, scanned the code and were shown a poster with positive messages created by Dori.
On the back of each slip of paper is a handwritten note of encouragement by Dori. Each slip of paper carries a message like "Spread love, not germs," "Times may be rough, but a rainbow only shows after a storm" or "You will make it through this. Life will get better!"
She said she has enjoyed watching her neighbors stop to investigate the QR code, and the project has given her a positive outlet after feeling "bogged down being inside for so long."
"I noticed people were going for walks, and it occurred to me that no one was smiling," Dori said. "Time was going by slowly, and I thought I should try to cheer people up."
Now she's hoping the project expands beyond her neighborhood by getting people to share positive images and messages with others. She is inviting people to submit a photo and a caption on Twitter or Instagram using #positivityposter2020, or email it to her at dorikiba@yahoo.com and she will display on her website: https://dorigronich.myportfolio.com/positivity-poster-campaign.
Learn more about the college's response to the COVID-19 pandemic.
This story first appeared in the Oswego Alumni Association's Lake E-ffect newsletter.
The #TogetherOz campaign weaves in the voices and stories of the Oswego family, to keep us all connected as we learn, educate and work remotely. We will get through this together because we are #TogetherOz.
View #TogetherOz stories
More like this
Facebook comments