Kestas Bendinskas of chemistry and Juan Perdiguero of art have earned the President's Award for Scholarly and Creative Activity at SUNY Oswego, while Christopher Chandler of biological sciences received the Provost's Award for Scholarly and Creative Activity.
The President's Awards honor tenured faculty for exemplary mastery of subject matter, effectiveness in teaching, and scholarly and creative achievements; the Provost's Award similarly honors a junior faculty member. Awards will be formally presented at a date to be determined.
Kestas Bendinskas
"Dr. Bendinskas is a productive scholar, an internationally recognized scientist, a scholarly and creative activities advocate in academic and non-academic settings, an environmental scientist and a caring mentor to a large number of undergraduate and graduate students," wrote his nominator, said Alok Kumar, distinguished teaching professor of physics. "His accomplishments in teaching, scholarly activities and services to the university are exemplary. He sets an example for others to emulate."
Bendinskas joined SUNY Oswego in 2003 to create the biochemistry program, which currently has 122 majors. He has attracted more than $5 million in research funding from such agencies as the National Science Foundation, National Institutes of Health and National Institute of Environmental Health Sciences, Kumar said.
He is principal investigator in a study with multiple publications contributing to understanding the interactions of toxic metals and proteins (proteomes) in human blood. Bendinskas also has led a long-running study at Oswego on the detection of date-rape drug GHB. He also has been a co-principal investigator (with former Oswego faculty member Brooks Gump) on numerous widely published studies establishing correlations between metals, cardiovascular and sleep parameters, lipids and inflammatory markers in children.
In his time at Oswego, Bendinskas has worked with 15 master's-level students, more than 60 undergraduates and several high school students to provide research experience, and has published 14 articles in peer-reviewed journals, Kumar noted.
Bendinskas also serves as primary editor of the American Journal of Undergraduate research. The current director of the college's Mass Spectrometry and Proteomics Center, Bendinskas also has had key leadership roles in the Scholarly and Creative Activities Committee and Sigma Xi research honor society at Oswego, as well as organizing a number of talks and events on campus.
Juan
Perdiguero
"His strong national and international reputation brings a great deal of esteem to the department and college," wrote Perdiguero's nominator, Cynthia Clabough, professor and chair of art. "Professor Perdiguero is an outstanding professor. The student work coming out of his classes is incredibly strong and speaks to his ability to motivate students to push past their previous accomplishments. … His assignments are innovative, thought provoking, and intellectually demanding."
Perdiguero's work has reached and influenced a wide audience through publications, exhibitions and artist's residencies spanning the globe. "A look at his CV shows an artist and scholar with over 25 years of constant engagement that builds towards a substantial international reputation," Clabough noted.
His drawings in the 2016 Oxford University Press publication "Drawing Essentials" present his work as exemplary to a large audience. Perdiguero also has been invited to teach master classes in drawing in the United States, Spain, the Netherlands, Mexico and Chile. An Oswego faculty member since 2002, Perdiguero also has held visiting artist appointments and residencies in the United States, Spain, Switzerland, Austria, the Netherlands and Mexico.
In addition to work in current exhibitions -- "DRAWN" at Manifest Art Space in Cincinnati, and "Drawn to Creating: A Survey on Contemporary Drawing" at Susquehanna University in Pennsylvania -- Perdiguero has had solo or group exhibitions across the United States and Europe, as well as in China. He also is a recognized expert in art conservation.
As a professor, Perdiguero brings the latest techniques, strong knowledge and exacting standards that lead to high levels of student creativity, skill building and work ethic, colleagues said. Within the art department, Perdiguero has lent his energy, expertise and leadership skills to coordinating the drawing academic area, studio program and master of art in art teaching studio track. He also serves on several campus-wide and department committees.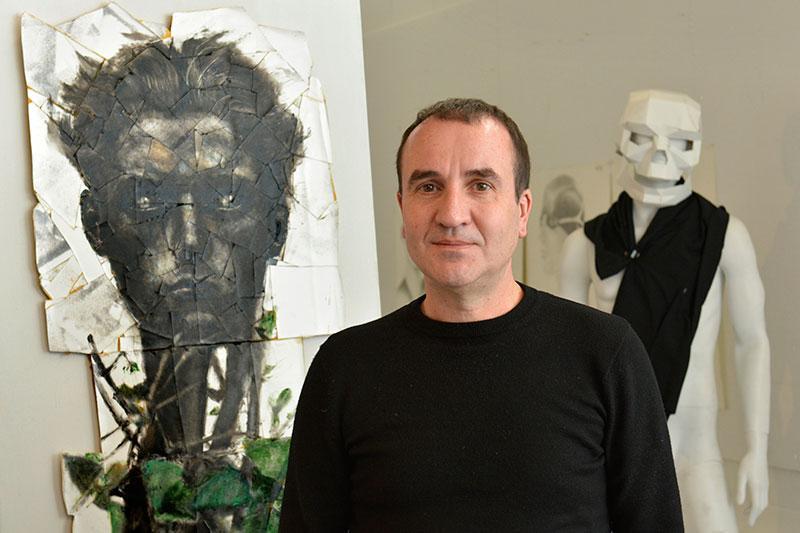 Christopher Chandler
"In four and one-half years at Oswego, Dr. Christopher Chandler has had several significant accomplishments in his scholarly endeavors, just a fraction of which I believe would make him an outstanding candidate for this award," wrote nominator James MacKenzie, professor and chair of biological sciences. "Dr. Chandler's most notable achievement has been his NSF Career grant, which typically goes to new faculty at top research institutions. This award alone exemplifies how highly he is thought of in his field of evolutionary genetics and the resources it gives him will establish the foundations of his studies for decades to come."
The NSF (National Science Foundation) Faculty Early Career Development grant Chandler earned in 2015 is the foundation's top award supporting junior faculty teacher-scholars performing and integrating outstanding research and education. The grant of more than $640,000 over five years supports Chandler and his students' advanced genetics study of gender-changing isopods.
Since coming to Oswego in 2012, Chandler has published seven peer-reviewed journal articles and co-authored a book chapter on genomics. He also has authored or co-authored 10 oral presentations and eight poster presentations at national, regional and local conferences.
"Dr. Chandler's commitment to undergraduate research is clear not only by the volume of students he has mentored so far (16), but also by the fact that one of his publications had an undergraduate student as first author," MacKenzie said. "His students have presented 14 poster or oral presentations at local, regional and national conferences, and four of his students have already gone onto graduate programs."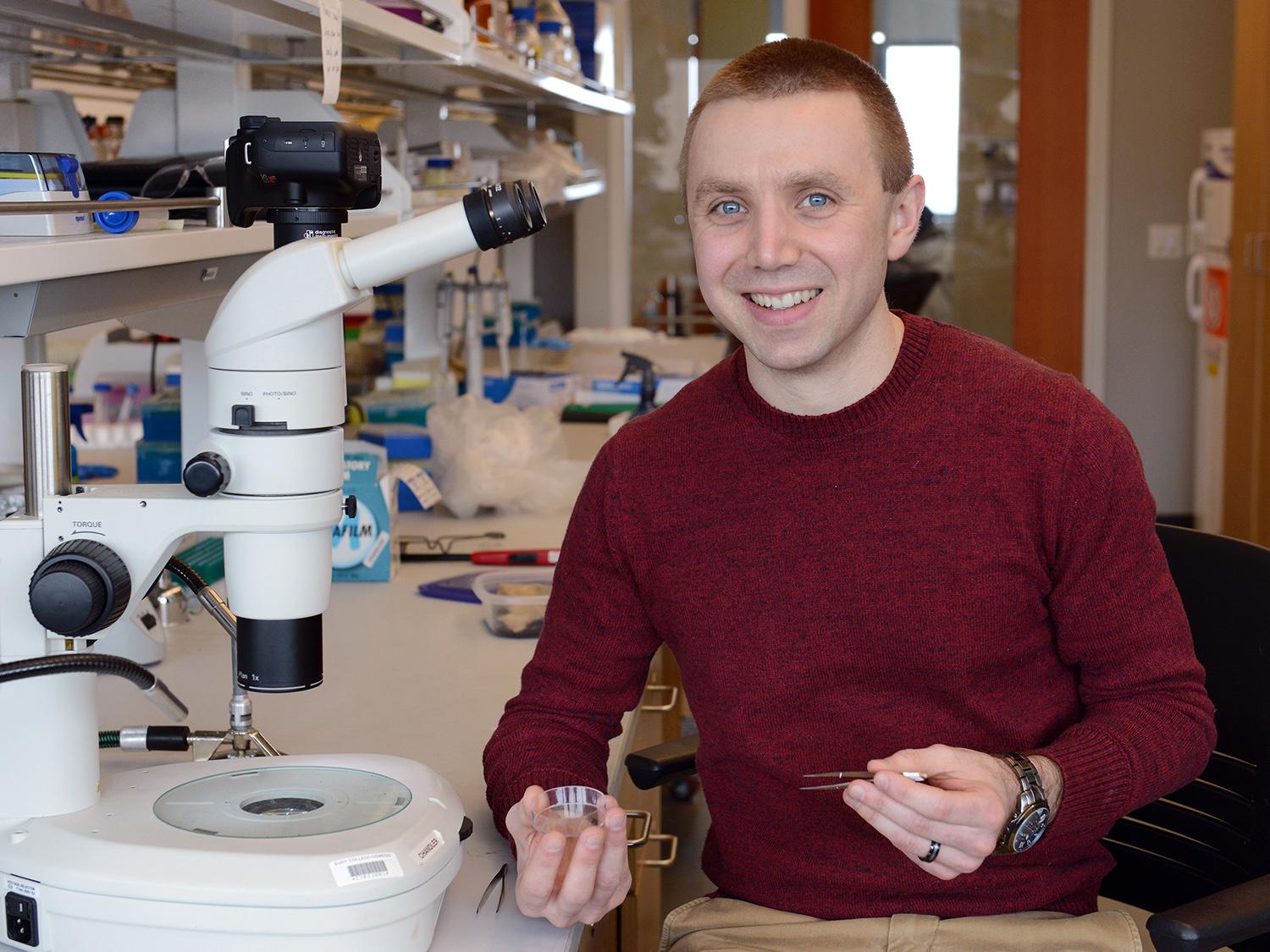 Facebook comments