Last May, 11 anthropology students under the mentorship of anthropology faculty member Lindsay A. Bell traveled to Ottawa to present research posters at the Canadian Anthropology Society's annual meeting. The students were Mia Fasanella, Howard Boutelle, Evan Oatis, Weylin Schloss, Holly Capella, Shannon White, Jeremy Frank, Eric Banville, Bryan Baez, Kathryn Kubinski and Johnathan Petillo. The conference was the culminating activity for a new course with a digital humanities focus called "Picturing the Arctic." Each poster was a visual and anthropological analysis of images used to draw international attention to Arctic issues such as climate change, food insecurity and natural resource extraction. The course was offered in tandem with a speaker series co-sponsored by sustainability studies, Oswego's Institute for Global Engagement and Hart Hall's Global Living and Learning Community. The trip was funded through the RISE office and the anthropology department.
The summer publications and presentations for Shashi Kanbur, professor and chair of physics, included: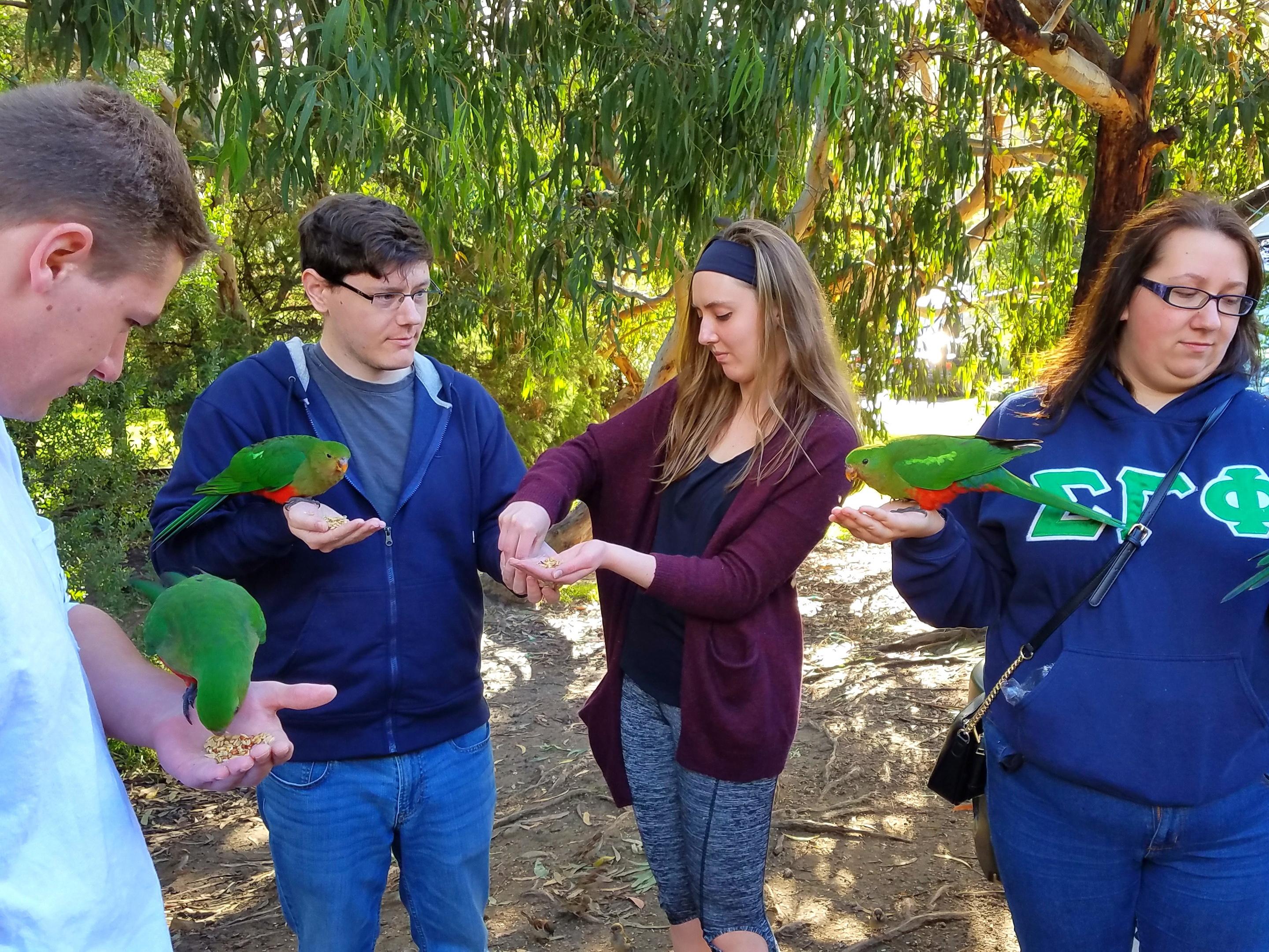 Students who attended a collaborative learning experience at RMIT University in Melbourne learned about transhumanism and robot technology in Australia but also got to visit wildlife parks along the continent's Great Ocean Road. From left, Chase Walker, David Swift, Lauren Mulvehill and Olivia Melinski check out brightly colored rainbow lorikeets at Kennett River.
Damian Schofield, professor of computer science and director of the college's human-computer interaction program, took six students -- Jordan Herman, Jayme McCreary, Olivia Melinski, Lauren Mulvehill, David Swift and Chase Walker -- to Melbourne, Australia, to work with RMIT University students under professor Lisa Dethridge on design projects relating to transhumanism and robot technology in May and June. "The students also got the opportunity to travel along the Great Ocean Road and visit a number of wildlife parks and other cultural activities - including being on the red carpet while attending the St Kilda Film Festival," Schofield said. In June, Schofield gave an invited keynote speech, "Building Bridges Between Education and Territory: ​The Power of Mixed Reality and Gamification," at the Smart Learning Ecosystems Conference at the University of Aveiro in Portugal. While in Portugal, he gave an additional lecture, "​Seeing is Believing : Using Computer Graphics, Virtual Reality and Game Technologies to Aid Understanding​," at both The Nova University of Lisbon and the Higher Technical Institute of the University of Lisbon.
Comments