Oswego physics professor Carolina Ilie was one of 15 scholars selected as Sigma Xi Fellows, a prestigious honor for continued contribution to the international honor society and the field of scientific research. Recognition will take place at Sigma Xi's Annual Meeting and Student Research Conference, taking place virtually, from Nov. 4 to 7. SUNY Oswego has a history of excelling within this organization. Last year, mathematics professor Ampalavanar Nathakumar earned the honor, and in turn this year nominated Ilie for the designation. In addition, students in Oswego's chapter have earned three Sigma Xi awards in the past decade. Sigma Xi recognized Ilie for notable accomplishments and contributions to Sigma Xi and for the Oswego chapter earning the National Sigma Xi Chapter Program of Excellence Award in 2013 and 2018, as well as the Sigma-Xi Chapter Program Award for distinguished performance for "Science Today Lecture on Women in STEM." Read full story.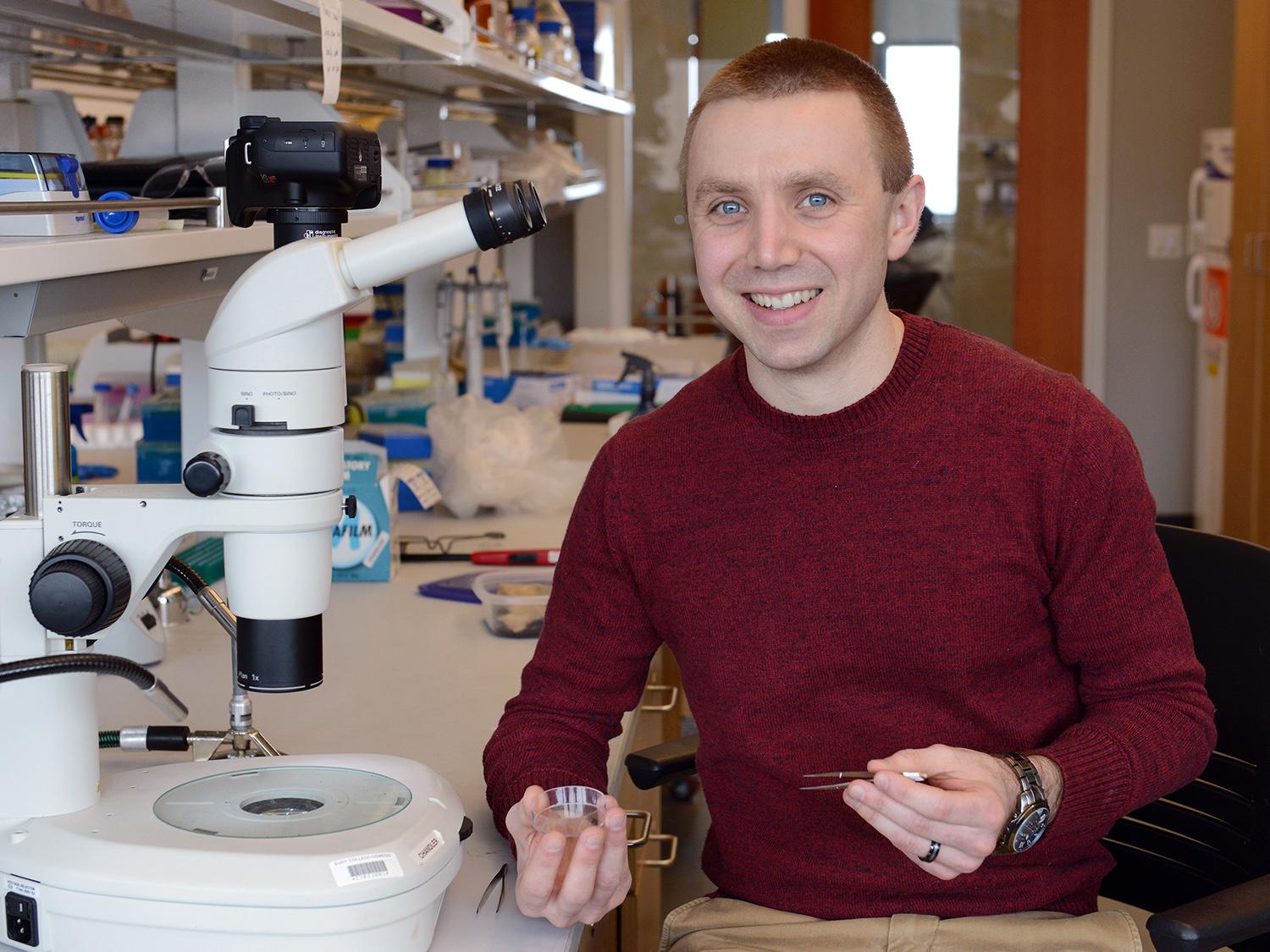 Faculty member Christopher Chandler (shown above, in a file photo) and student researchers Aubrie Russell, Severin Borrelli, Rose Fontana, Joseph Laricchiuta and Jane Pascar of the biological sciences department co-authored "Evolutionary transition to XY sex chromosomes associated with Y-linked duplication of a male hormone gene in a terrestrial isopod" in the journal Heredity. The paper featured additional co-authors from the Université de Poitiers Laboratoire Ecologie et Biologie des Interactions in France. The international research project used surgical manipulations and genetic crosses, plus genome sequencing, to examine the unusual sex chromosomes of the terrestrial isopod Trachelipus rathkei.
Poongodi Geetha-Loganathan of the biological sciences faculty had a review article "Role of Cell Death in Cellular Processes During Odontogenesis" published in the peer-reviewed journal Frontiers in Cell and Developmental Biology. Co-authors included research collaborators John Abramyan at the University of Michigan-Dearborn and Marcela Buchtova at Masaryk University, Czech Republic. The study summarized recent knowledge about the distribution and function of apoptotic cells -- "programmed death cells" -- during functions among several vertebrate types, with a special focus on amniotes (mammals and reptiles).
Human development faculty member Zachary Gold was lead author on "Engineering play with blocks as an informal learning context for executive function and planning" in The Research Journal for Engineering Education. Co-authored with colleagues at Purdue University, the University of North Carolina at Chapel Hill and Concordia University in Quebec, the paper broke new ground in evaluating engineering thinking, language and behavior in preschool-age children with a quantitative evaluation that systematically documented specific early engineering behavior.
Chemistry faculty member Julia Koeppe was a co-author of "Undergraduate structural biology education: A shift from users to developers of computation and simulation tools," in the journal Current Opinions in Structural Biology. The piece surveyed some of the curricula, materials and resources for instructors who want to include theory, simulation and computation in the undergraduate curriculum. 
Mathematics professor Ampalavanar Nanthakumar has a paper titled "On the use of Copula for Quality Control based on an AR(1) Model" accepted for publication in the journal "Sigma" Mathematics. He co-authored this paper with his son, Hari Nanthakumar, a student at Columbia University, and professor Timothy Young of the University of Tennessee at Knoxville.
Criminal justice faculty member Jeremy Shifton published How Interrogation Length, Age, and Crime Impact Perceptions of Evidence in Criminal Trials in the American Journal of Criminal Justice. This article sought to to determine the impact of interrogation length, defendant age and alleged crime on jurors' perceptions of evidence strength. Shifton also published "Opinion Versus Reality: How Should Wrongfully Convicted Individuals Be Compensated Versus How They Are Actually Compensated" in The Wrongful Conviction Law Review. The study sought to determine how much the public believed constitutes fair compensation for those who were wrongly incarcerated for 10 years before exoneration, compared to how much states would compensate the same exonerated person.  
Comments