Laura Donnelly of the English and creative writing faculty won the 2019 Snyder Prize for her manuscript "Midwest Gothic." The Ashland Poetry Press gives out the award annually, publishing the winning manuscript (expected fall 2020) and awarding the author $1,000 in prize money and 50 copies of the published book. Acclaimed poet and author Maggie Smith, whom Donnelly described as her "poetry hero," judged this year's competition. "It's a book about mothers and daughters and place and what we keep and what we leave behind," Donnelly said. "It means the world to me that it found a home." The recognition adds to Donnelly's honors, which include earning the 2013 Cider Press Review Editors' Prize for her first book, "Watershed."
Soma Mei Sheng Frazier, a new faculty member in English and creative writing, was invited to read for the renowned national literary reading series "Why There Are Word" on Sept. 8, at the Bowery Poetry Club in New York City. Frazier's third prose chapbook, "Don't Give Up on Alan Greenspan," was selected as the winner of CutBank's contest. Her writing has placed in literary competitions offered by HBO, Zoetrope: All-Story, Glimmer Train, the Mississippi Review and more. 
Poongodi Geetha-Loganathan of the biological science faculty published "Processing Embryo, Eggshell and Fungal Culture for Scanning Electron Microscopy" which appeared in the Journal of Visualized Experiments. The paper, which detailed processing protocols for imaging delicate tissue samples using scanning electron microscopy (SEM), was published with Jessica Gibbons, a graduate student in biomedical and health informatics and a research student in Geetha-Loganathan's laboratory since 2016 at SUNY Oswego. View related video.
Shashi Kanbur, professor and chair of physics, was among the co-authors of "Morphology of the Small Magellanic Cloud Using Multiwavelength Photometry of Classical Cepheids" in the Monthly Notices of the Royal Astronomical Society Main Journal. 
The Institute of International Education in New York and the J. William Fulbright Foreign Scholarship Board (sponsored by the United States Department of State in partnership with foreign governments and universities) named Joshua McKeown, associate provost for international education and programs. to its National Screening Committee for the Fulbright U.S. Student Program. Specifically McKeown was asked to serve on the committee for Fulbright U.S. Student English Language Teaching Assistantships for India, likely connected to his own Fulbright to India as part of the International Education Administrator program in 2011.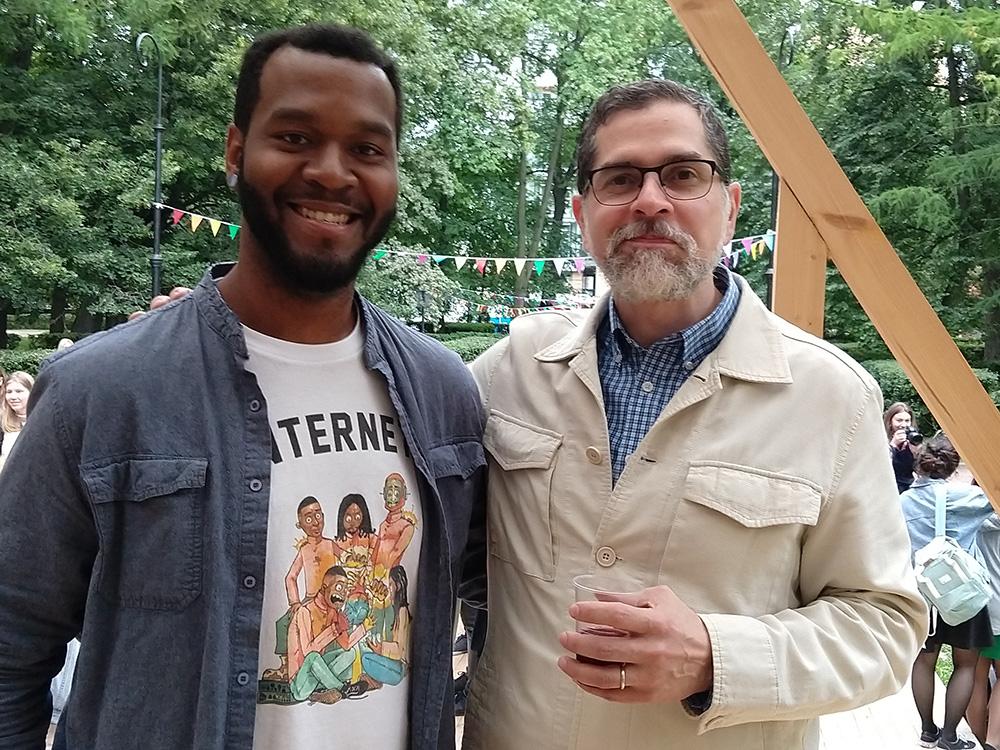 Ulises A. Mejias of the communication studies faculty took part in a number of activities related to the publication of his new book, "The Costs of Connection: How Data is Colonizing Human Life and Appropriating It for Capitalism" (Stanford University Press, 2019), co-authored with leading media sociologist Nick Couldry from the London School of Economics. The book has received positive praise, including from Naomi Klein who calls it, "A profound exploration of how the ceaseless extraction of information about our intimate lives is remaking both global markets and our very selves… Challenging, urgent and bracingly original." In September, Mejias presented the book at Harvard, New York University, The New School for Social Research, Temple and Rutgers. Earlier in the summer, Mejias and Couldry were featured in the Al Jazeera documentary All Hail the Algorithm: The Power and Popularity of Big Tech. In July, Mejias participated in a special session on big data and datafication at the International Association of Media and Communication Researchers in Madrid. He and Couldry also delivered a lecture at the Power and Politics Open Seminar in London. In June, Mejias published a co-authored article, "Making data colonialism liveable: How might data's social order be regulated?" in the journal Internet Policy Review. A co-authored journal article from last year, "Data Colonialism: Rethinking Big Data's Relation to the Contemporary Subject" in Television and New Media currently has the highest attention score of all articles ever published by the journal, and is in the top 5 percent of the 13 million research outputs tracked by Altmetric. Also in July, Mejias taught the course "Data, Capitalism and Reality" at the St. Petersburg Institute of Linguistics, Cognition and Culture, Herzen Pedagogical University, Russia. In attendance was Oswego alum Alain Pierre-Lys (at left, with Mejias), now a University at Buffalo graduate student.
Art faculty member Juan Perdiguero is exhibiting a selection of works that he produced during my Fulbright U.S, Scholar Grant in Santiago, Chile. His works will appear in the International Arts Festival/Art Biennia in Xi'an, China, which will run through Oct. 9. Perdiguero noted that "120 artists from all over the world will be representing their countries of origin; I have been selected to represent Spain."
Jaclyn Schildkraut of the criminal justice faculty was co-author, with Jeff Gruenewald of the University of Arkansas, of "Media Salience and Frame Changing in the Coverage of Mass Shootings: A Comparison of Ideological and Non-Ideological Attacks" in the Journal of Criminal Justice and Popular Culture. The study looked at different ways mass shootings are framed by the media when the connotation of terrorism is present. 
Damian Schofield, director of the college's human-computer interaction program, published a pair of papers researched with students who are now alumni. Schofield and David Swift published "The Impact of Color on Secondary Task Time While Driving" in the International Journal of Information Technology. This paper investigated the role of color in touchscreen tasks as it relates to driver's glance behavior, identifying strengths and limitations of color in touch screens while navigating in a driving simulation. Schofield and Noelle Leroy published "Robotic Emotion: An Examination of Cyborg Cinema" in the American Journal of Humanities and Social Science Research. The paper presented a timeline of the use of robots in cinema, examined how these cyborg thespians are represented and portrayed, and analyzed the functions and motivations of the robots as depicted.
Do you have an item for People in Action? Have you, for example, recently presented at a conference, published a research paper or earned a regional or national award? Submit your news via our Oswego Today form!
Comments