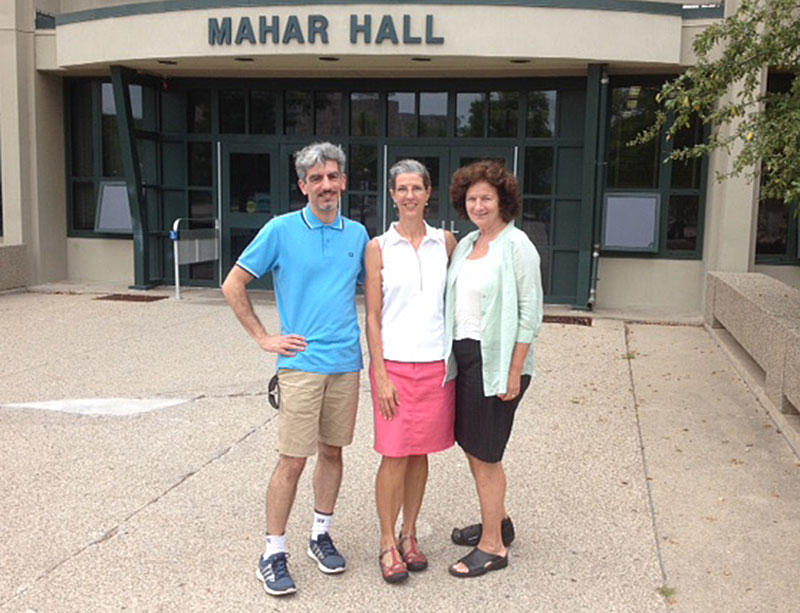 Leigh Bacher, pictured center, of the psychology department recently hosted two scientists who wanted to learn about using eye blinking in infants for research related to their work in neonatology. Ruth Grunau, pictured right, a professor in the pediatrics department of the University of British Columbia, and Oliver Perra, pictured left, of the School of Nursing and Midwifery at Queens University Belfast visited Bacher's Mahar Hall lab from Aug. 31 to Sept. 3 to learn the Oswego professor's techniques for measuring and analyzing spontaneous eye blinking in infants.
In the first year of Institute of Global Engagement grants, 14 awards were made, seven for internationalization course redesign ($500 each) and seven for guest speakers ($250 each). Receiving Internationalization Course Redesign Awards were Lindsay Bell for "Introduction to Cultural Anthropology" (ANT112), Elizabeth Bishop for "Sophomore Seminar" (ENG 265), Grace Maxon-Clarke for "Benin: Permaculture and Global Education" (EDU 306 / GLS 402 / SUS 300), Angela Perrotto for "Curriculum Administration" (EAD 652), Leah Russell for "Comparative and International Education" (EDU 114), Tara Wiseman for "Experiencing Arts and Ideas" (CMA 300) and Susan Wright for "Accounting as a Management Tool" (ACC 321). Receiving Global Engagement Guest Speaker Grants were Bell for "Language and Culture/Introduction to Cultural Anthropology" (ANT 344/ ANT 112), Cristina Dragomir for "Introduction to American Government" (POL 203), Ann-Lorraine Edwards for "Cultural Environments of International Business" (MGT 469), Napatsorn (Pom) Jiraporn for "Advertising and Promotion" (MKT 467), Amy McHugh for "Intercultural Communication" (COM 422) and Beatriz Salcedo-Strumpf and Georgina Whittingham each for sections of "Intermediate Spanish" (SPA 201). "This is a key strategy towards comprehensive internationalization: making our courses more globally focused across the entire curriculum," said Ulises Mejias, director of the campus institute. The next round of applications will be in the spring, with a deadline of May 30.
Shashi Kanbur, professor and chair of physics, will speak next month at the RR Lyrae 2015 Conference in Visegrád, Hungary. His topic will be "Period-color and Amplitude-color Relations for RR Lyrae Stars." Two of his former students have also had papers accepted at the conference. Earl Bellinger, an Oswego graduate who is now a doctoral student at Yale University and the Max Planck Institute for Solar System Research in Germany, majored in computer science and applied mathematics at Oswego and participated in a Global Laboratory project in Brazil under one of Kanbur's National Science Foundation grants. Jillian Neeley, an Ithaca College graduate who also participated in a Global Laboratory project in Brazil under one of Kanbur's NSF grants, is now pursuing a doctorate at Iowa State University.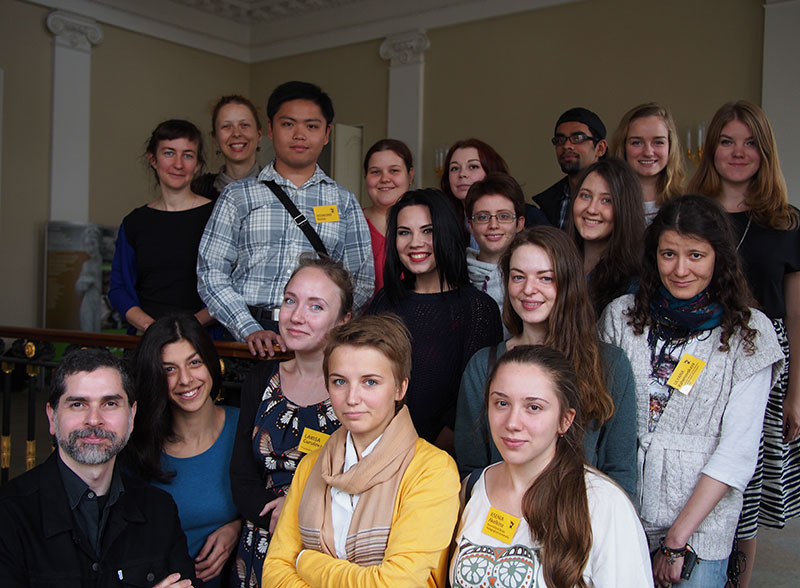 Ulises Mejias, associate professor of communication studies and director of the college's Institute of Global Engagement, delivered a peer-reviewed paper Aug. 28 at the 12th conference of the European Sociological Association in Prague. "Paranodal Politics and Ethics for Critical Responses to Digitality" was part of a research track on "Critical Media Sociology Today." His 2013 book, "Off the Network: Disrupting the Digital World" was the featured book of the week May 27 at unglue.it, a website featuring open-access digital books. From July 13 to 31, Mejias taught a course in St. Petersburg on "Critical Internet Studies" through the Institute of Linguistics, Cognition and Culture. Most of the students (some pictured with Mejias lower left) were from Russia and Eastern Europe, with some from SUNY Stony Brook as well.
The National Association of State Boating Law Administrators recognized New York Sea Grant Extension Recreation Specialist David G. White as the Northern States Boating Educator of the Year at its 2015 conference in Wichita this month. White is based with New York Sea Grant at SUNY Oswego. He conceived, developed and coordinates the award-winning New York Sea Grant Discover Clean and Safe Boating campaign in 2008. As of August, more than half a million boaters and potential boaters have been educated by the campaign. White also serves as associate director of the Great Lakes Research Consortium.
Comments