In June, economics professor David Andrews presented a paper at the conference of the European Society for the History of Economic Thought in Madrid, Spain, on "Adam Smith, Laisssez Faire and What Nature Teaches." In September, Andrews presented the paper "The Reception of Malthus in the United States" at the The Reception of Thomas Robert Malthus, a conference in Europe, the United States and Japan, in Sapporo, Japan.
School of Education faculty members contributed to a chapter in the book "Refugee Education: Integration and Acceptance of Refugees in Mainstream Society." Sandra Bargainnier and Jessica Maureen Harris of Oswego's health promotion and wellness department, Anneke McEvoy of curriculum and instruction and Najah Zaaeed of counseling and psychological services, as well as co-authors Zarina Smith and Megan Brown, contributed "Socio-Cultural Factors that Support the Successful Transition of Refugees from Middle School to College" to the volume, which is part of Emerald Insight's "Innovations in Higher Education Teaching and Learning" series. In addition to the authors' academic credentials, Bargainnier has experience helping several African refugees navigate the educational process and life -- some of whom have attended SUNY Oswego.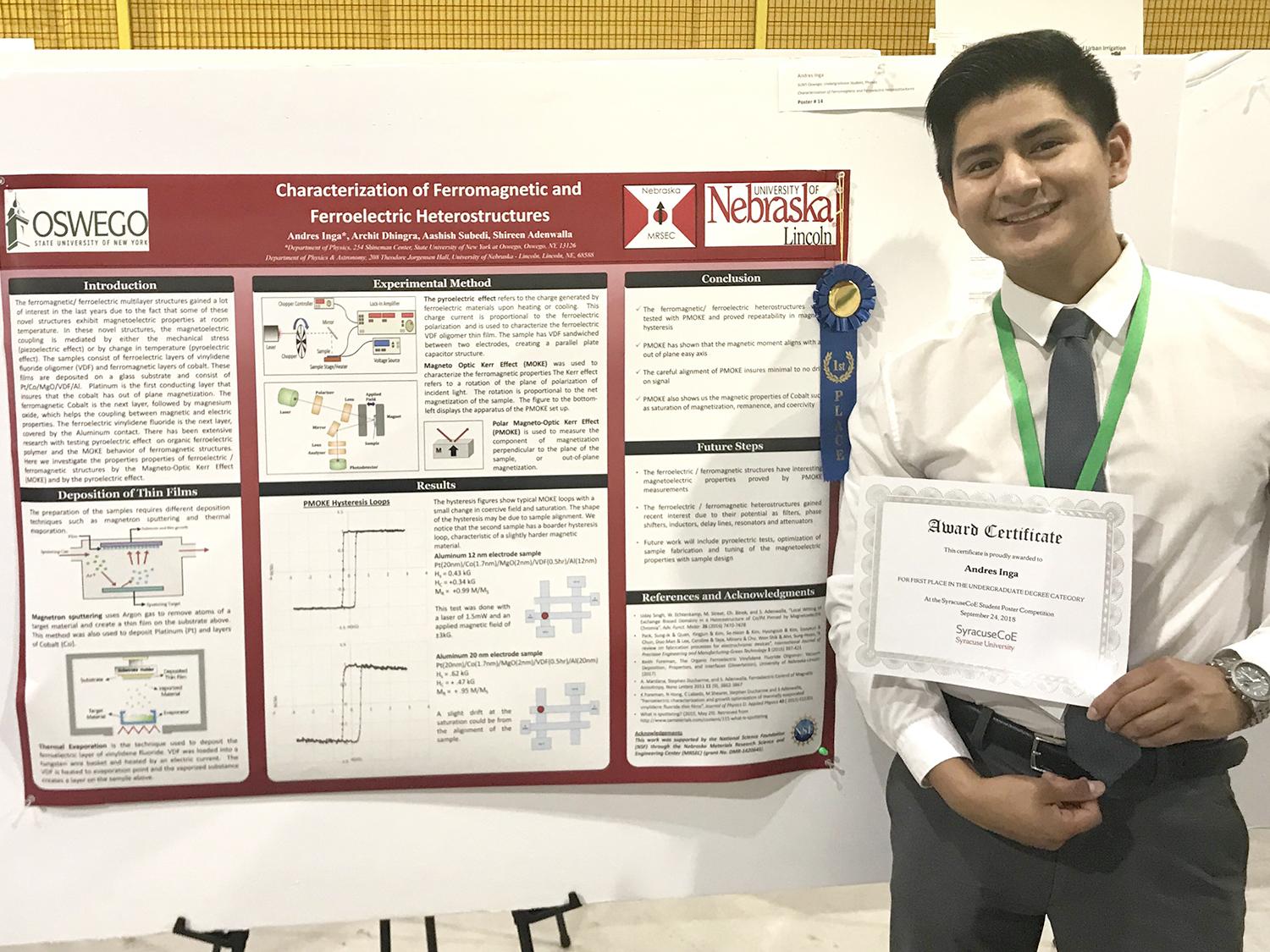 Three Oswego physics students trained by associate professor Carolina Ilie presented their research at Syracuse Center of Excellence, Excellence in Environmental and Energy Systems Innovations (Syracuse University), with two claiming first and third prizes for the poster presentation. First-place winner Andres Inga (pictured) presented his summer research "Characterization of Ferromagnetic and Ferroelectric Heterostructures," having co-authors Archit Dhingra, Aashish Subedi and Dr. Shireen Adenwalla, all from the University of Nebraska at Lincoln. Kyle Bautista won third prize for his innovative poster "Success in American Public Schools: Creative Building Strategies," co-authored with Ilie. Dylan Richmond also presented "Optical Properties of Inkjet Printed Mixed Halide Perovskites," co-authored with Ilie; Thilini K. Ekanayaka, Mason McCormick, Nicole Benker, Andrew Yost, Alexander Sinitski and Peter Dowben, all from University of Nebraska at Lincoln; and Axel Enders from University of Bayreuth in Germany.  Richmond also is first author on a paper accepted to the Journal of Visual Experimentation. The title is "Inkjet Printing All Inorganic Hybrid Halide Perovskite Inks for Photovoltaic Applications," and authors also include Benjamin Swanson and Ilie of SUNY Oswego; McCormick, Ekanayaka, Jacob D. Teeter, Benker, Guanhua Hao, Yost, Sinitskii and Dowben of University of Nebraska at Lincoln; Sharmin Sikich of Doane University; and Enders of University of Bayreuth.
Comments