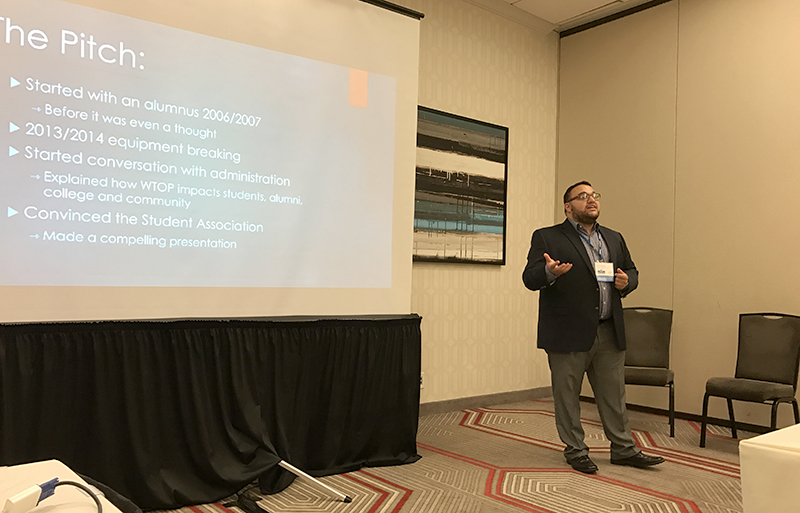 Justin Dobrow, pictured, student general manager of WTOP-TV, and Michael Riecke, assistant professor of communication studies and an adviser to WTOP, co-presented a session titled "From Pitch to Production: A Guide to Funding Upgrades for Radio and Video" at the College Broadcasters Inc.'s National Student Electronic Media Convention in Philadelphia, Oct. 20 to 22. They co-presented with Philip Beskid, an assistant professor at Northwest Missouri State and adviser to that college's KZLX-LP.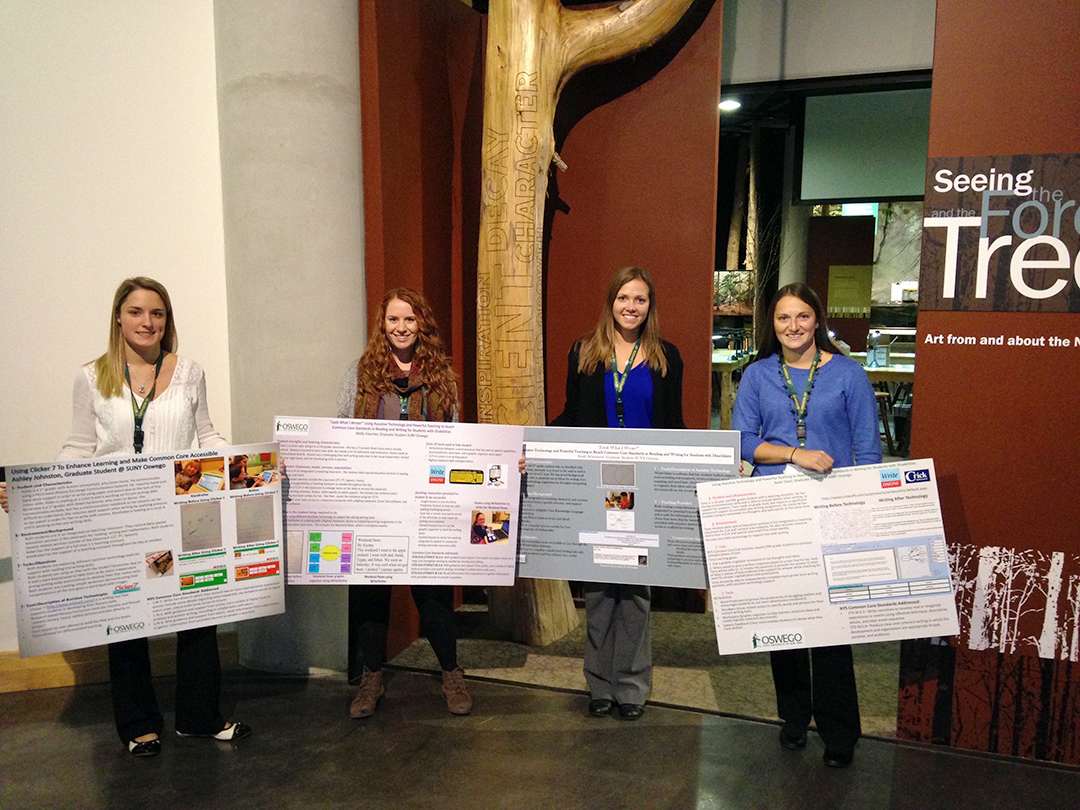 Students from the School of Education's graduate program in special education recently presented their work at the Adirondack Assistive Technology Expo, sponsored by Clarkson University and held Oct. 24 at the Wild Center Natural History Museum of the Adirondacks. Pictured from left, Ashley Johnston, Molly Fournier, Emily Scheutzow and Katie Tonzi presented posters at the expo in Tupper Lake. The students presented action research case studies of their successful teaching using assistive technology to help public school students' access and progress in meeting the English Language Arts Common Core curriculum standards. Under the direction and mentoring of professors Amanda Fenlon, Roberta Schnorrand Carol Willard, and Linda Stummer of the curriculum and instruction faculty, the students focus in their graduate program on literacy teaching and using technology to help students with disabilities access the general education curriculum and reach their potential. Several faculty supervised field experiences in area schools to allow master of science in education students to learn and practice their teaching craft. Fenlon noted that the poster presentations were well attended and received by conference participants, among them teachers, school administrators and technology specialists. The students' travel and conference expenses were supported by SUNY Oswego's RISE program and Marcia Burrell, chair of the curriculum and instruction department.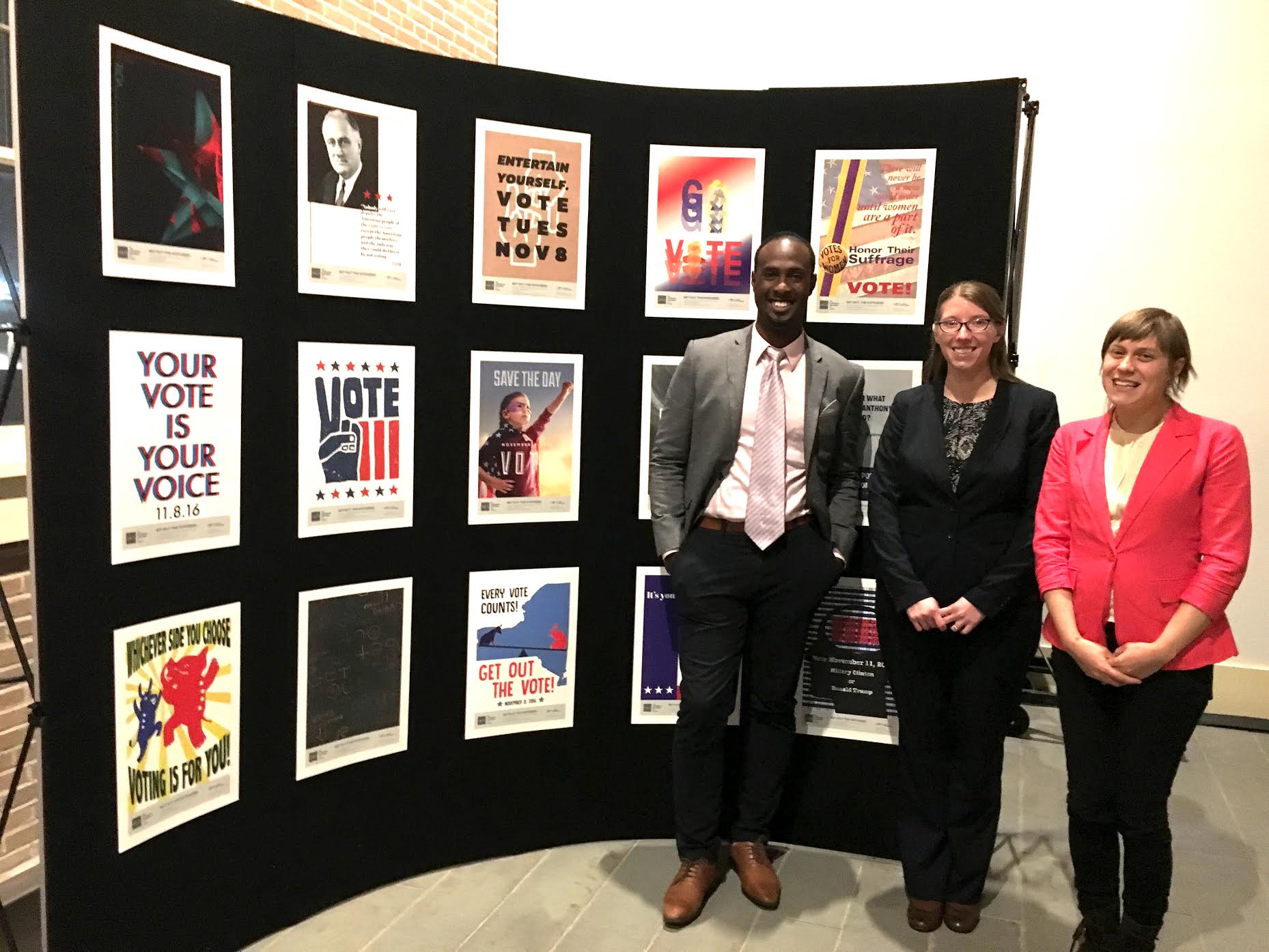 Art faculty member Rebecca Mushtare—education director of Upstate New York AIGA, the Professional Association for Design—helped organize and contributed her artwork to an exhibition of posters focusing on suffrage and exercising the right to vote at the Wesleyan Chapel of the Women's Rights National Historic Park in Seneca Falls. Political science faculty member Allison Rank (pictured, center), who teaches a course and mentors a project titled "Vote Oswego," participated with Yusuf Abdul-Qadir (left), Central New York Chapter president of the New York Civil Liberties Union, and Abigail Glogower, a doctoral candidate in visual and cultural studies at University of Rochester, on a panel that explored the history of suffrage, contemporary hurdles at the polls and the visual culture of suffrage and voting. While Election Day is Tuesday, Nov. 8, the exhibition will run through Nov. 30 at 136 Falls St., Seneca Falls. Mushtare's and other artists' posters in the exhibition, part of a national Get Out the Vote initiative, can be downloaded, shared and printed at aiga.org/vote.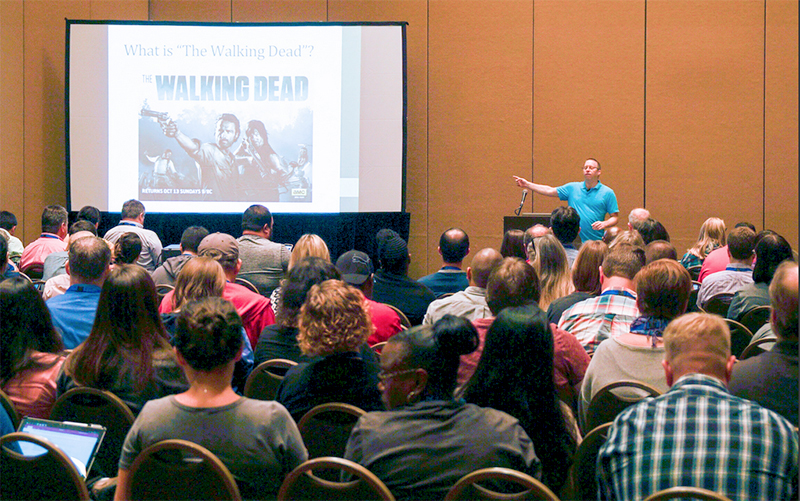 Tim Nekritz, pictured, associate director of communications and marketing and director of digital communications, presented "Defeating Zombie Content: What 'The Walking Dead' Taught Me About Web Governance" at the HighEdWeb 2016 conference, held Oct. 16-19 in Memphis. Nekritz used the popular TV show as a framework for discussing a quick history and principles of web governance—or who determines who says what and how this happens on institutional websites—and ways that colleges determine online content and governance strategies.
Computer science professor Damian Schofield and Lisa Dethridge of RMIT University in Melbourne, Australia, co-authored "Making Robot Movies: An Innovative International Academic Collaboration to Teach Transhumanism" in the September 2016 edition of the International Journal for Innovation, Education and Research. The paper drew from their experiences presenting a course on transhumanism, where students visited each other's campuses and worked virtually on a collaborative project featuring short science-fiction films.
Comments