Gonzalo Aguiar of the modern languages and literatures department was the keynote speaker at the Views from Below: The Underdog in Contemporary Latin American and Spanish Film Conference at the University at Albany on Oct. 5.
Professor and chair of the economics department David Andrews presented a paper in May, "Laissez Faire and the Rationality of Nature: a Critique of Michel Foucault's Interpretation of Adam Smith," at the annual meeting of the European Society for the History of Economic Thought in Antwerp, Belgium. In September, he presented a paper, "Self-movement of nature and value: The Aristotelian roots of Marx's critique of political economy," at the conference "Marx 1818/2018 New Developments on Karl Marx's Thought and Writings" in Lyon, France. Also in September, his article "Keynes and Christian Socialism: Religion and the Economic Problem" was published in the European Journal for the History of Economic Thought.
Visiting assistant professor of management Nermine Atteya presented on Friday, Oct. 6, at the Joint 8th Africa Business and Entrepreneurship Conference and 14th Makerere Leadership and Entrepreneurship Conference at Virginia Commonwealth University. Her presentation was "Social Entrepreneurship and Sustainable Development: A Case Study from North Africa."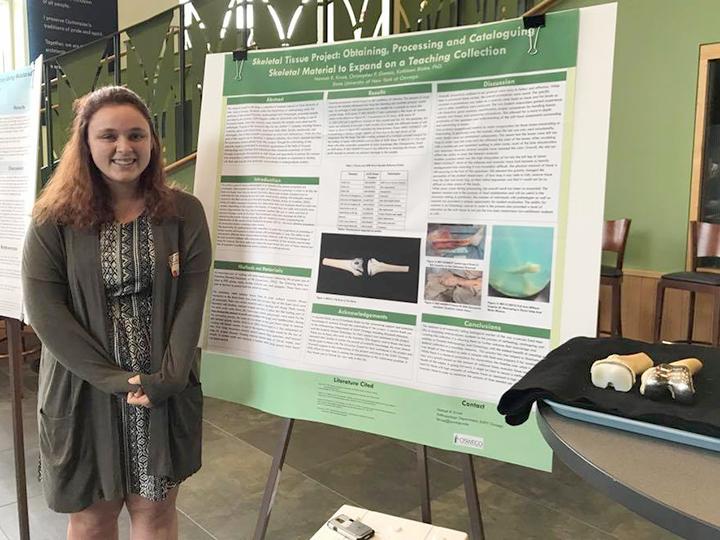 Anthropology faculty member Kathleen Blake attended the Bioarchaeology Northeast Regional Dialogue annual conference at Quinnipiac University on Saturday, Oct. 7, accompanied by eight students. One student, Hannah Kruse (above), presented her poster "Skeletal Tissue Project: Obtaining, Processing and Cataloguing Skeletal Material to Form a Teaching Collection," co-authored by 2017 SUNY Oswego alummus Christopher Gomez and Blake. Blake also joined a faculty panel discussion to guide students in navigating graduate school and careers in the field.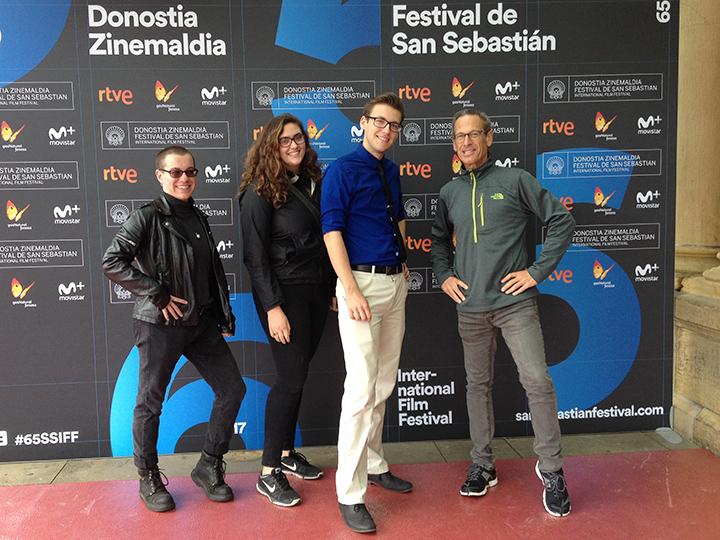 Students Alex DeSacia, Jackie McTigue and Ethan Salerius with panel chair Bennet Schaber (pictured from left) of cinema and screen studies presented "Kinopolitics: Small Cinemas in Motion" at the eighth annual International Conference on Small Cinemas in Bilbao and San Sebastian in Spain's Basque Country, Sept. 20 to 22. At the conference, themed "Diversity in Global Cinemas: Language, Culture, Identity" and presented in three languages, the students presented on the politics of movement (kinopolitics) as seen in a series of films from West Africa. Desacia presented "Monologue and Movement"; McTigue spoke on "Abderrahmane Sissako en proces"; Salerius discussed "A Kino-Politics of Displacement." The support of the college's Research and Individualized Student Experience (RISE) program supported the trip and talk. "The whole experience was really amazing," the group noted. "We can all say that we feel more confident as artists and researchers; and we realize how the academic side of film study is more serious and more relevant than we thought."
John F. Lalande II, professor and chair of modern languages and literatures, has been elected president of Delta Phi Alpha, the national German honorary society. His two-year term of office will begin this November at the Joint Annual Conference of ACTFL (American Council on the Teaching of Foreign Languages) and AATG (American Association of Teachers of German) in Nashville.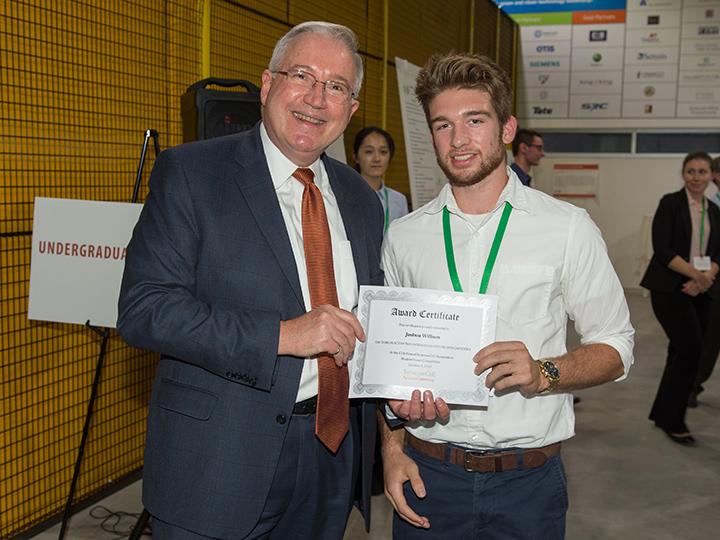 One faculty member and two students from the physics department took part in the 2017 Syracuse Center of Excellence Symposium on Oct. 4. Assistant professor Mohammad Islam (photo at top of page) presented "High Capacity Lithium Ion Batteries Composed of Cobalt Oxide Nanoparticle Anodes and Raman Spectroscopic Analysis of Nanoparticle Strain Dynamics in Batteries," on research using thin films to learn more about efficient use in batteries. Physics major Josh Willson (pictured) took third place in the undergraduate poster presentation competition for "High Capacity Lithium-Ion Batteries Composed of Co3O4 Nanoparticles and Raman Spectroscopic Analysis of Nanoparticle Strain Dynamics"; his co-authors were Mateusz Zuba, Vincent Debiase, Nicholas Noviasky and Islam. Physics major Benjamin Swanson presented a poster on "Novel Solar Cells: Inkjet Printed Nanocrystalline Inorganic Perovskite Films," co-authored by fellow Oswego physics major Ian Evans and faculty member Carolina Ilie with colleagues from University of Nebraska-Lincoln, California State University-San Bernardino, Doane College and the German Physikalisches Institut. (two potential photos)
Oswego's Lamdba Zeta student chapter of financial information professionals honor society Beta Alpha Psi and adviser Andrea Pagano recently received international recognition with a Superior Chapter rating from the organization. In this "significant accomplishment," international Beta Alpha Psi President Sandra B. Richtermeyer said the Oswego chapter "has excelled in the areas of academics, professionalism and leadership." The recognition includes a $500 award, sponsored by KPMG and the KPMG Foundation.
Counseling and psychological services faculty member Barbara Faye Streets is in Uganda on a Fulbright U.S. Scholar Award to train human services providers to employ culturally competent mental health outreach programming in communities impacted by trauma. In addition to her research project, "Supporting Counseling Psychology Faculty: Increasing Resiliency in Communities Impacted by Trauma," she also will teach counseling courses in Makerere University's master's in counseling psychology graduate program. Streets is one of over 800 U.S. citizens who will teach, conduct research and/or provide expertise abroad for the 2017-2018 academic year through the Fulbright U.S. Scholar Program. Recipients of Fulbright awards are selected on the basis of academic and professional achievement as well as record of service and demonstrated leadership in their respective fields. The Fulbright Program is the flagship international educational exchange program sponsored by the U.S. government and is designed to build lasting connections between the people of the United States and the people of other countries. The Fulbright Program is funded through an annual appropriation made by the U.S. Congress to the U.S. Department of State. Participating governments and host institutions, corporations, and foundations around the world also provide direct and indirect support to the program, which operates in over 160 countries worldwide.
Comments