Three SUNY Oswego music faculty members recently were among a select group teaching and performing in the Unibac Instrumental Clinics at Cartagena University in Colombia. Robert Auler (pictured on piano), Trevor Jorgensen (pictured on clarinet) and Eric Schmitz (percussion) offered a recital with classical music by Bernstein and Mendelssohn, as well as their own original jazz compositions. Their showcase culminated in a jazz session with musicians from three other universities. In all, 20 teachers from eight universities in the world spanning three continents participated in this high-level training opportunity for hundreds of students. The trio, who are also founders of the Oswego Jazz Project, will perform with visiting pianist and composer David Cook Oct. 23 to start this year's Ke-Nekt Chamber Music Series. (Photo courtesy of Institución Universitaria Bellas Artes y Ciencias de Bolívar.)
President Deborah F. Stanley will serve as co-chair of the new SUNY Student Mental Health and Wellness Task Force, as announced by Chancellor Kristina M. Johnson on Oct. 10. The group will make recommendations on how the system can make a measureable difference in addressing the mental health needs of students and mitigating the negative effects of behavioral health risks, including suicide. The task force will focus on early interventions and explore existing practices and public health approaches across the nation to address the mental health needs of SUNY students. The task force also includes SUNY Faculty Senate President Gwen Kay (a history faculty member for SUNY Oswego and a SUNY trustee) and Katherine Wolfe-Lyga, director of Oswego's Counseling Services.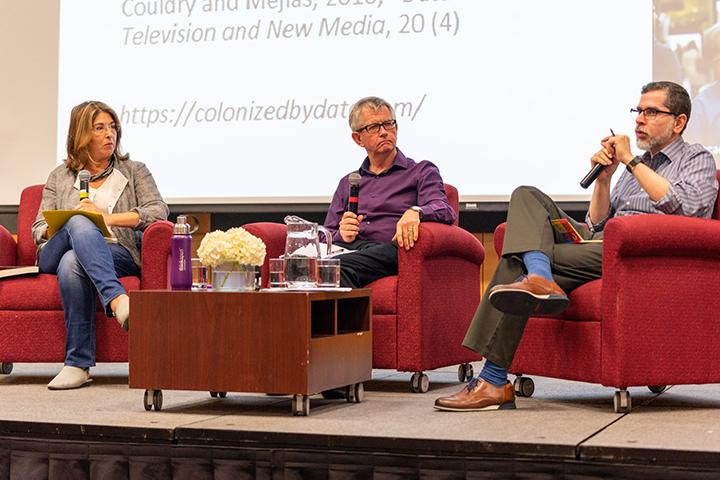 Ulises A. Mejias (associate professor of communication studies, at right) was invited to participate on a panel with co-author Nick Couldry (London School of Economics, center) and host Naomi Klein (author of "On Fire: The Burning Case for a Green New Deal") at Rutgers University on Sept. 16. The panel discussed Mejias' and Couldry's new book, "The Costs of Connection: How Data Is Colonizing Human Life and Appropriating It for Capitalism, a 2019 publication by Stanford University Press. 
Soma Mei Sheng Frazier of the English and creative writing faculty was invited to read for the PEN America's Lit Crawl NYC on Oct. 12. The New York City event includes themed readings, trivia and other happenings to celebrate the New York literary community.
Suzanne Beason and Bill DeMott of the art faculty, Tyrone Johnson-Neuland of Campus Technology Services and art department emeriti Al Bremmer and Paul Garland are among those with work in "Largely Abstract," an exhibition currently running at the Oswego Art Association galleries near Fort Ontario. The gallery is open for viewing 10 a.m. to 1 p.m. Saturdays, 1 to 4 p.m. Sundays and by appointment. The exhibition will run weekends through Nov. 3.
Do you have an item for People in Action? Have you, for example, recently presented at a conference, published a research paper or earned a regional or national award? Submit your news via our Oswego Today form.

Comments