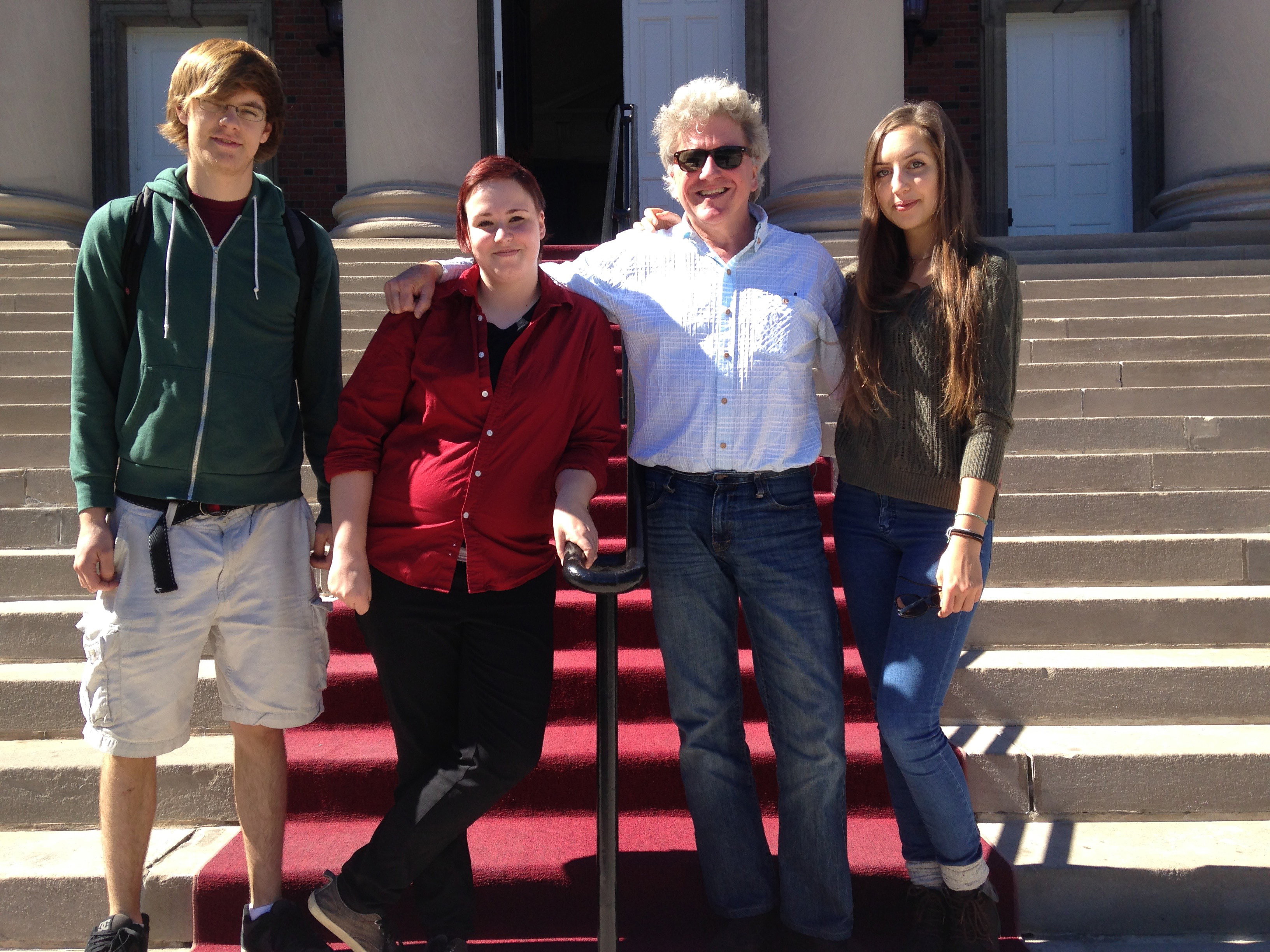 SUNY Oswego percussion instructor Thomas McGrath (pictured, second from right) along with the SUNY Oswego Percussion Ensemble (from left) Dan Litavsky, Hope Riga and Alex Dolzhenko joined an intergenerational group of percussionists from throughout Central New York in a performance of "Inuksuit: Music and Nature Remix" on the quad outside Syracuse University's Hendricks Chapel. The performance celebrated the 10th anniversary of the Society of New Music's commissioned "Sound/Path/Field," a multimodal work by Bob Morris, part of Syracuse's Music & Nature Conference. "Inuksuit," by Pulitzer Prize winner John Luther Adams, is a composition written to be performed by 99 percussionists, McGrath said. The title of the ritualistic outdoor piece refers to a type of stone sentinel constructed by the Inuit over centuries in the expanses of the Arctic. Listeners were invited to move freely during the performance of the site-specific piece.
The college's Institute for Global Engagement recently announced the 2016-17 recipients of the following IGE awards and grants: Internationalization Course Redesign Award—David McLain ("Management Policy"), Fehmi Damkaci ("Chemistry and Public Concern") and Taejin Jung ("Crisis Communication"); and Global Engagement Guest Speaker Grant—Hong Wan ("Managerial Finance"), Lindsay Bell ("Introduction to Cultural Anthropology"), Lisa Glidden ("Middle East Politics"), Neelika Jayawardane ("Global Literature") and Nermine Atteya ("Introduction to Management"). "These proposals exemplify excellence in internationalizing our curriculum and advancing the goals and mission of IGE and SUNY Oswego," wrote Ulises Mejias, IGE's director. A new call for proposals will be issued at the end of spring 2017.
Communication studies faculty members Brian Moritz and Jason Zenor presented papers recently at the Association for Education in Journalism and Mass Communication annual conference in Minneapolis. Zenor presented two papers to the Law & Policy Division: "Congress Shall Make No Law… Unless? The Expansion of Government Speech and the Narrowing of Viewpoint Neutrality," arguing that the recent case of Walker v. Sons of Confederate Veterans further opens the door for the government to endorse certain messages, thus unbalancing the free marketplace of ideas, and "Proxies and Proximate Cause: The Future of Immersive Entertainment and Tort Liability," which examines the recent case of Slender Man and how the law would play out in the future of virtual reality technology. Moritz presented a paper titled "Crammed in the Locker Room: Sports Journalists and Access to Sources" to the association's Sports Communication Interest Group.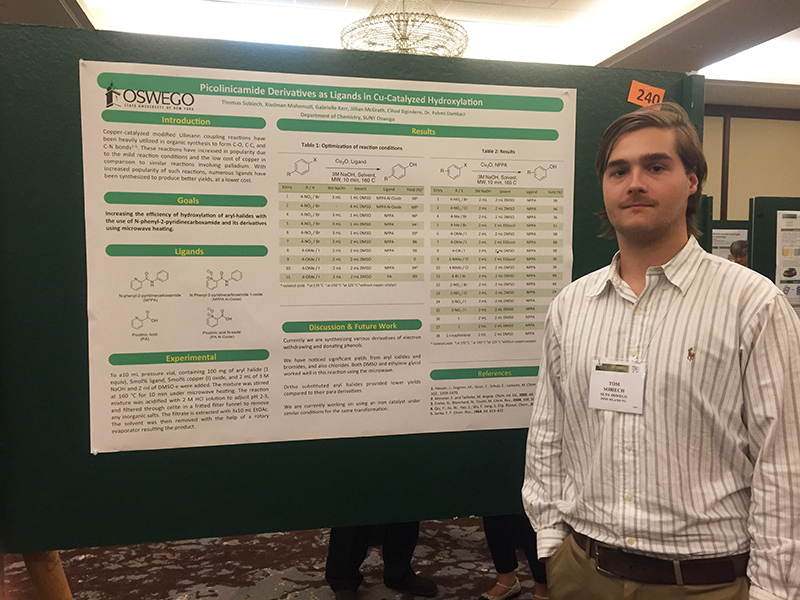 Several students of chemistry faculty members Vadoud Niri, Shokouh Haddadi and Fehmi Damkaci presented their research this month at the 41st Northeast Regional Meeting of the American Chemical Society in Binghamton. Niri's students James Calvert presented on "Analyzing Heavy Metals in Soil Samples of Local Farms in Oswego, NY," and Tim Jones on "Qualitative and Quantitative Analysis of the Vapor of Electronic Cigarettes." Haddadi's students Alyssa Aldrich and Gabriel Odugbesi presented on "Investigating the Background Interferences of Carpet Substrates in Accelerant Identification," and Kim Lagatta on "Analysis of Drugs in Facilitated Criminal Acts." Damkaci's students Brandon Ladd presented on "Removal of Heavy Metal Ions by a Polymer Matrix Containing Ditiocarbamate as a Chelating Group," and Thomas Sobiech (pictured) on "Copper Catalyzed Hydroxylation of Aryl Halides to Generate Phenols." Additionally, chemistry instructional support and advisement coordinator Kristin Gublo presented on "Implementation of a Peer Mentor Program in the General Chemistry Labs."
Comments