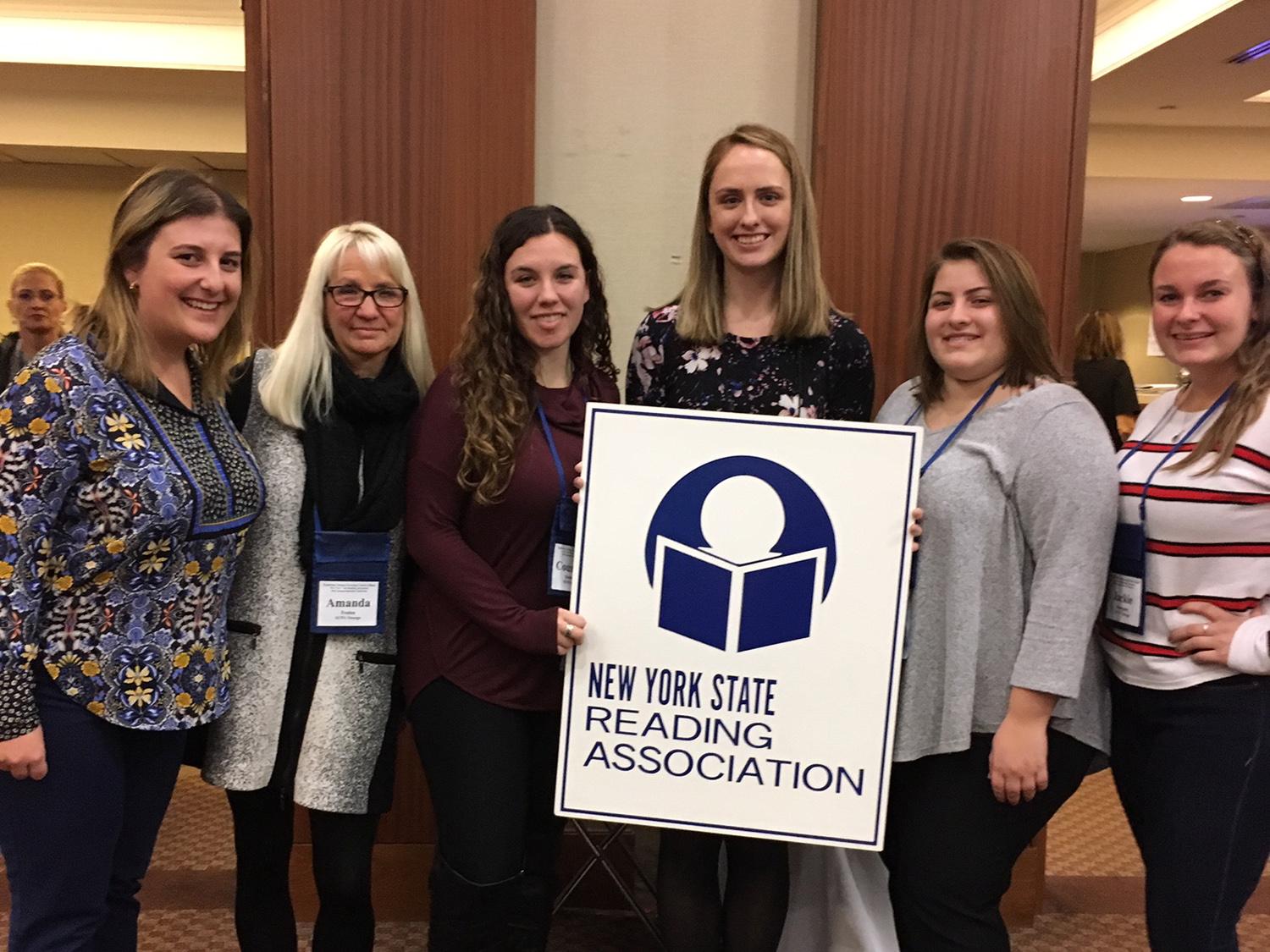 SUNY Oswego candidates from the master's in childhood special education program recently attended and presented their work at the annual New York State Reading Association Conference in Liverpool. Candidates each presented a poster detailing their action-research case studies of teaching writing to students with disabilities with the support of assistive technology tools. The posters were well received by conference participants that included teachers, administrators and students from across the state, gathered to increase their understanding of "best literacy instructional practices." Assistive technology tools were purchased through a Technology Innovations Program campus grant. The candidates' conference participation was supported by Amanda Fenlon and Carol Willard from the curriculum and instruction department, as well as the Research and Individualized Student Research Experiences (RISE) Office and the Division of Graduate Studies. Pictured from left are Marisa-Marie Conslato, Fenlon, Courtney Stellmack, Megan Russell, Joanna Damiano and Jacquelyn Bourgeois.
Senior biology major Manna Job won the top student presenter award for her subject area at the Sigma Xi International Conference in San Francisco, Oct 26 to 28. She was one of four students -- including Asya Kadic, Bianca Fernandez and Jack Marcucci -- presenting research findings at the conference from their research with biological sciences faculty members. Job and Kadic collaborate with Poongodi Geetha-Loganathan, while Fernandez and Marcucci perform research with Yulia Artemenko. Read full story.
Helen Knowles was part of two panels at the Annual Meeting of the Pacific Northwest Political Science Association in Bend, Oregon, on Nov. 9. She presented a paper titled "They Think It's All Over: Minimum Wages Cases in King County, Washington, After West Coast Hotel v. Parrish," and also was part of a "Supreme Court Roundtable" panel.
James J. Pagano, director of the SUNY Oswego's Environmental Research Center, was a co-author of "Commentary: Integrating non-targeted and targeted chemical screening in Great Lakes fish monitoring programs" in the Journal of Great Lakes Research. Pagano and research colleagues Bernard S. Crimmins, Sujan Fernando, Thomas M. Holsen and Philip K. Hopke of Clarkson University; Harry B. McCarty of CSRA, LLC; and Michael S. Milligan of SUNY Fredonia presented an outline of a new framework for contemporary monitoring programs of persistent, bioaccumulative and toxic (PBTs) contaminants, drawing on their experience with their ongoing "Great Lakes Fish Monitoring and Surveillance Program" project funded by the U.S. Environmental Protection Agency.
Lawrence Spizman, professor emeritus of the economics department, had a paper published entitled "The Inverted Nudge: An Application of Behavioral Economic Concepts to Settlement Outcomes" in the September 2018 issue of the Journal of Legal Economics. This paper presents a behavioral economics approach to understanding the impact of alternative economic loss estimates by defendants on settlement negotiations. The concept of the inverted nudge is developed to introduce additional risk and uncertainty that alters plaintiff's behavior. The research for this paper was first presented at the 2018 Allied Social Science Association Annual meeting. Spizman was an economics professor at Oswego for 37 years and is nationally known forensic economist.  He is the past president of the National Association of Forensic Economics.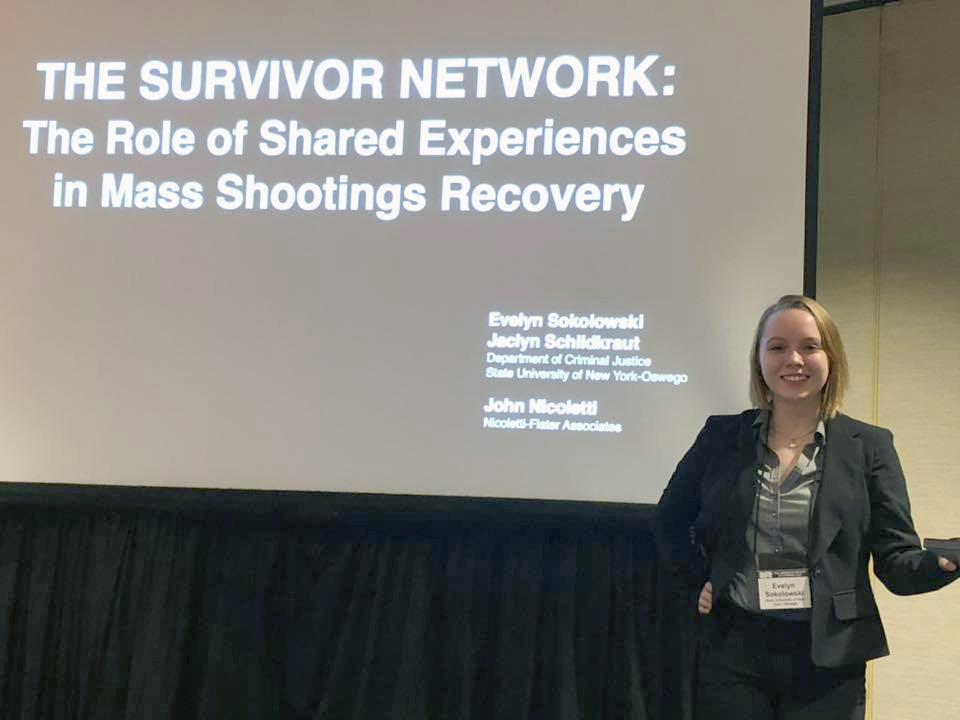 Several faculty and student presenters from Oswego shared research at American Society of Criminology Annual Meeting, Nov. 14 to 17 in Atlanta. They included:
Student Elisa Descartes and criminal justice faculty member Margaret Schmuhl presented "Curriculum, Diversity Experiences and Colorblindness: Examining Perceptions of Inequality in Criminal Justice";
Human development faculty member Charlene Harris presented three posters she co-authored: "A Content Analysis of Newspaper Reports on School Violence in Trinidad and Tobago" (with Lisa Dunkley of East Tennessee State University), "Parents Shape Our Future: Desistance from Crime of Serious Juvenile Offenders (also with Dunkley) and "Self-Control, Sexting, and Dating Violence" (with Karleah Harris of Miami University Ohio);
Criminal justice faculty member Seung Yeop Paek presented "Legitimacy of Police, Courts and Legislature: A Comparison of Flawed, Hybrid and Authoritarian Democracies in Africa," with co-presenters Nolan Gillespie and Mahesh Nalla of Michigan State University;
Student Evelyn Sokolowski (pictured) and public justice faculty member Jaclyn Schildkraut presented "The Survivor Network: The Role of Shared Experience in Mass Shootings Recovery," with John Nicoletti of Nicoletti-Flater Associates;
Schildkraut chaired "Responding to Mass Shootings with a Routine-Activity Approach," which also featured student Brandon Naman as well as Mark C. Stafford of West Texas University; 
Student Michaela Williams and Schmuhl presented "Perceptions of False Allegations Related to Sexual Harassment and Violence," with co-presenter Michelle Cubellis of Central Connecticut State University;
Schmuhl also presented "Far-Right Violence as an Outcome of Patriarchy," with co-presenter Colleen E. Mills of Pennsylvania State University
Many SUNY Oswego student researchers and their faculty sponsors shared findings at the Rochester Academy of Science Conference at SUNY Geneseo on Nov. 10. Oswego presenters and co-authors included:
"2018 Field Survey: Follow-up Spotted Turtle (Clemmys guttata) Census at Ira Marsh" by biological sciences faculty member Peter A. Rosenbaum and students Kasey Barber, Kaitlyn Talmage and Matthew Gorman;
"3D Morphometric Analysis of Diversification in Pygopodid Skulls and Correlation with Habitat" by George Gurgis with biological sciences faculty member Jennifer Olori;
"A Study of the RR Lyrae-AB Variable Stars in the SMC and LMC" by students Brett Meerdink and Matthew Sodano with physics faculty member Shashi Kanbur; plus Susmita Das and Harinder Singh from University Enclave, Delhi, India; and Anupam Bhardwaj, Peking University, Beijing;
"Anatomy and Micro-Morphology of the Stylary Umbrella of Sarracenia Purpurea (Northern Pitcher Plant) by Chad Halson and biological sciences faculty member Jinyan Guo;
"Common Student Misconceptions in Physics Classes: Mechanics" by student Kyle Bautista, with physics faculty member Carolina C. Ilie;
"Effects of Surface Modification on Dictyostelium Adhesion and "Mechanosensation" by students Allison Hearn and Sara Fuller;
"Effects of the Parasite Ophryocystis Elektroscirrha on the Painted Lady Butterfly, Vanessa Cardui (Lepidoptera: Nymphalidae)" by student Joseph McCarthy;
"Genetic Suppressor Screen in Dictyostelium Cells Lacking KRSB," by student Swin Ratnayake with biological sciences faculty member Yulia Artemenko;
"Preparation of a Heterobimetallic Phosphine-Pyridine Complex with the Potential for Metallophilic Interactions" by student Kevin Clark;
"Progress Towards Building an External-Cavity Diode Laser (ECDL)" by students Gregory Abbass and Sachintha Herath with physics faculty member Priyanka Rupasinghe;
"Quaternary Lizards from Cathedral Cave, White Pine County, Nevada" by student Nicole Spangenburg;
"The Sensitivity of Cepheid Blue Loops in the H-R Diagram to Mixing Length Parameters" by students Nicholas Proietti and Samantha Carey with Shashi Kanbur and SUNY Oswego alumnus Earl Bellinger of Aarhus University, Denmark;
"The Ultrastructure of Amazon Yellow-Spotted River Turtle Egg Shell and Shell Membrane" by student Gigi Niu with biological sciences faculty member Poongodi Geetha-Loganathan;
"Three Years of Invasive Cattail Removal in a Peatland of Conservation Significance in Oswego County, N.Y." by students Justin Searles, Sarita Charap, McCarthy, Bianca Fernandez, Koty Kurtz, Nathan Mckean and Faith Page with biological sciences faculty member C. Eric Hellquist;
"Treating Cancer with Physics: Nanoparticle Breakthrough" by student Jared J. Bouldin with Ilie
Comments