Alok Kumar, Distinguished Teaching Professor in physics, has been selected as Fulbright Specialist for a three-year term. This will allow him to share his expertise on (a) multiculturalism in science, (b) develop short documentary films based on archaeological sites, (c) participate in strategic planning to incorporate multicultural contributions to make curricula more truthful and (d) offer workshops on physics teaching for the elementary school, high school and undergraduate physics teachers using everyday items available in grocery stores. Watch for more details on this prestigious honor in a future edition of Oswego Today.
Kumar also had the following recent publications:
Kumar and Scott L. Montgomery of the University of Washington, Seattle, published "Under the Influence: History in Scientific Training, the Case of Textbooks" in

Know

journal.  This article points out that the instruction involved in the training of scientific professionals often maintains the surgical removal of a broader, more accurate history. Scientists do not have to be historians to realize they are workers in a grand, pluricultural enterprise that has not only been millennia in the making but required contributions from many portions of the world, not only in the present but in the past, the authors said. 

Kumar published, in collaboration with Ampalavanar Nanthakumar, Distinguished Teaching Professor in mathematics at SUNY Oswego, "Aryabhata's Solution to Accrued Interest Income on Principal Over Time: How Was it Done?"  in

Athenian Academic Periodical

in Greek language.  Aryabhata (476 - 550 CE), an Indian polymath, posed a problem and provided its solution without sharing the process. This article provides a possible simple procedure to derive the solution to this problem.

Kumar also authored "Global Voices in Science: Are We Listening?," for

The Physics Teacher

. Most scientists agree that science currently is, and indeed always has been, international and multicultural in character, he wrote, however, the undergraduate students do not get this picture in their training. This article provides recommendations for the introductory science textbook authors.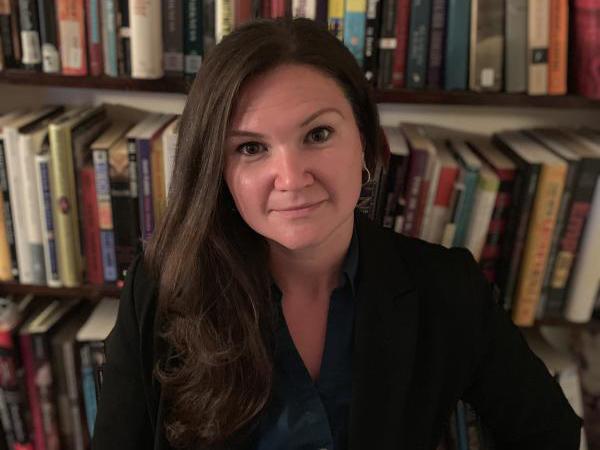 SUNY Oswego faculty member Roberta Hurtado is among nine emerging Hispanic/Latinx leaders selected for the State University of New York's 2023 Hispanic Leadership Institute (HLI) class. Hurtado is an associate professor teaching Latina/e/o/x literature and culture in the Department of English and Creative Writing, as well as the director of SUNY Oswego's new Latino and Latin American studies minor. As a program within the SUNY Office of Diversity, Equity and Inclusion, HLI is a rigorous six-month experience for SUNY leaders of Hispanic descent that provides an opportunity to further develop higher education leadership skills and proficiencies. HLI fellows participate in training sessions and webinars, engage in conversations with national and statewide Hispanic leaders, and use personal assessment tools. Read full story.


Publications
Rebecca Burch of the human development faculty and David Widman at Juniata College published "The Point of Nipple Erection 3: Sexual and Social Expectations of Women with Nipple Erection" in Evolutionary Behavioral Sciences. They conducted a series of studies on how people perceive women with nipple erections. This piece, the third in the series, found that even though nipple erection is an uncontrollable reflex due to arousal, cold and other factors, both men and women perceive women with nipple erection as less intelligent, less moral, in poorer sexual health, having poorer social relationships and having greater sexual experience.
Communication studies faculty member Jason Zenor and former faculty member Brian Moritz, now at St. Bonaventure University, co-authored a paper titled "Damaged Goods? Perspective on the Dehumanization of NFL Players by Fan Typology" in the Journal of Sports Media. The paper examined how fans viewed the political activism and criticisms of the NFL and fantasy sports. The study found four types of "fans" who varied on political leaning, interest and level of fandom.  Activist Superfans strongly supported the players and all criticisms of the NFL and fantasy sports. Traditionalist Superfans argued that players are well compensated and everyone is too politically correct. Passive Cynical Fans found the NFL and fantasy sports to be "big business" deserving of criticism. Supportive Casual Fans generally supported players in the on-field protests. All four fan types blamed others and did not believe they themselves were dehumanizing players.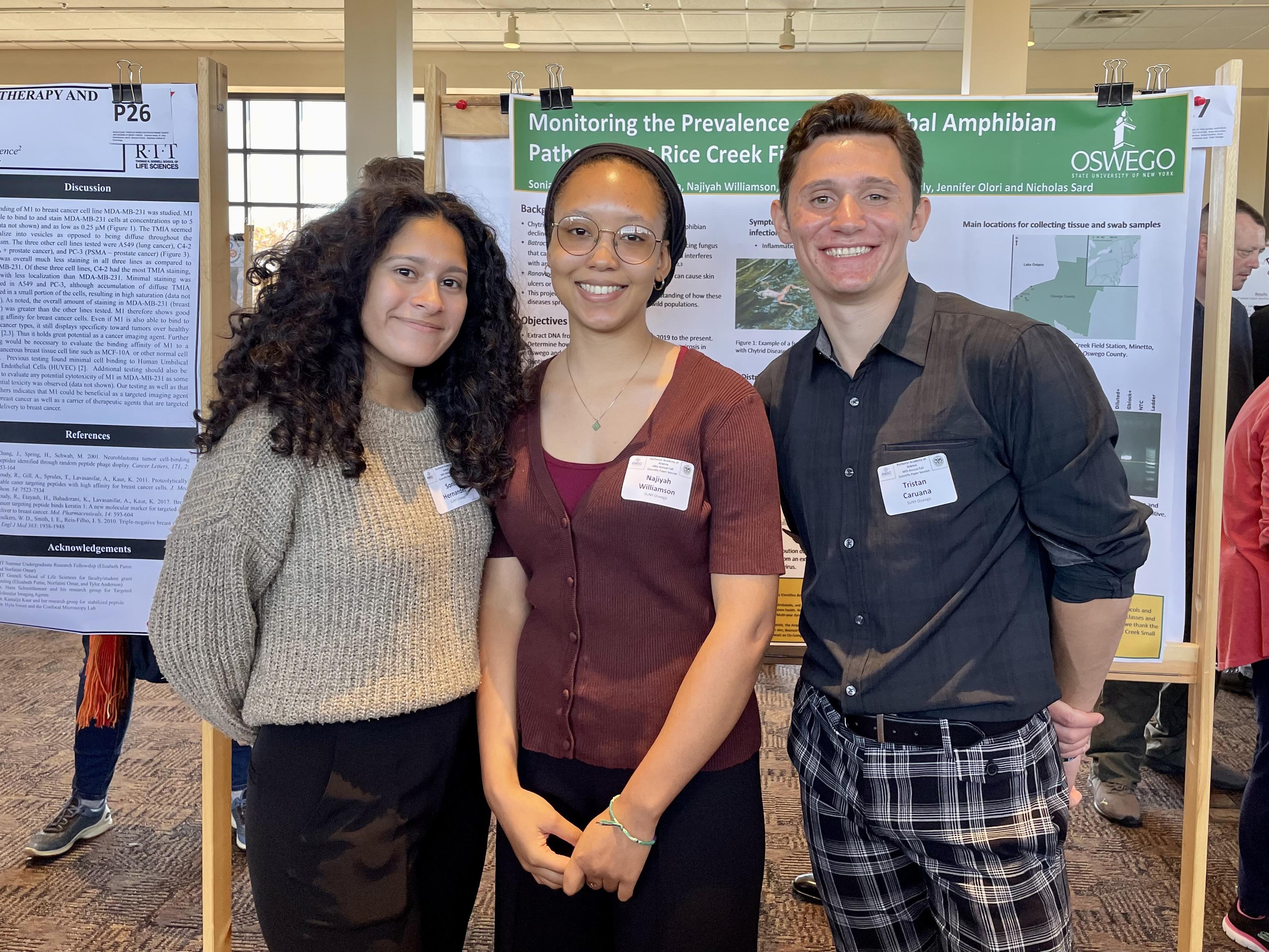 Student researchers (from left) Sonia Hernandez, Najiyah Williamson and Tristan Caruana were among many biological sciences students presenting recently at the Rochester Academy of Sciences Fall Scientific Paper Session. 
Presentations
On Oct. 29, 16 SUNY Oswego biological sciences students presented their research at the 48th annual Fall Scientific Paper Session of the Rochester Academy of Sciences at the Rochester Museum and Science Center. They received support from 11 biological sciences faculty members who sponsored and mentored these projects.
Oral presentations
"Vertebral fossils of the squamates of Cathedral Cave, Nevada" by

Jack Gembala (faculty sponsor Jennifer Olori)

"Multiple carotenoid-based signals are enhanced despite poor body condition in urban Northern Cardinals (

Cardinalis cardinalis

)" presented by

Brooke D. Goodman, co-authored by Haley S. Bedell, Kristie Drzewicki, Mya L. Mill and Denis Ramos (faculty sponsor Daniel T. Baldassarre)

"Avian malaria in urban and rural Northern Cardinals and its effect on plumage color and body condition" presented by

Sonia Hernandez, co-authored by Fishel L. Connors and Talyn G. Faulkner (faculty sponsors Andrew McElwain and Baldassarre)

"Responses of the flesh fly

Sarcophaga bullata

to formalin exposure in pig meat" by

Dylan Murphy (faculty sponsor Karen R. Sime)

"Are all caudates this dense? Measuring skull roof microanatomy to assess lifestyles in salamanders" by

Stephen Manning and Mark Nohomovich

, co-authored by Roy Ebel (faculty sponsor Olori)

"Modular, open-source design of an inexpensive, simple flow cytometer" by

Amanda Streeter (faculty sponsor David A. Dunn)

"Sex biased genes in three isopod species" by

Maria Belen Salinas (faculty sponsor Christopher Chandler)

"Purine utilization by

Acetobacter fabarium

and its role in the gut microbiota of

Drosophila melanogaster

" by

Danielle Ross (faculty sponsor Peter D. Newell)
Poster presentations
"Behavioral testing of penicillin in planarians" by

Anh Do

and

Thao Nguyen

(faculty sponsor Poongodi Geetha-Loganathan)

"Monitoring the prevalence of two global amphibian pathogens at Rice Creek Field Station" by 

Sonia Hernandez, Tristan Caruana, Najiyah Williamson and Grace Cardone (with faculty sponsors Susan Hammerly, Jennifer Olori and Nicholas Sard)

"Investigation into the role of glycocalyx on cell adhesion and movement in

Dictyostelium discoideum

" by

Valeriia Tarallo (faculty sponsor Yulia Artemenko)

"Mutagenesis screen to identify novel partners of adhesion regulator Kinase Responsive to Stress B (KrsB) in

Dictyostelium discoideum

" by

Quinn Jones

(faculty sponsor Artemenko)
Do you have an item for People in Action? Have you, for example, recently presented at a conference, published a research paper or earned a regional or national award? Submit your news via our Oswego Today form.
Comments