Sarah Bonzo, coordinator of Oswego's health services administration MBA and a member of the School of Business faculty, has been appointed to a three-year term on the New York State Board of Examiners of Nursing Home Administrators. The 13-member board works to ensure that nursing home administrators are thoroughly educated, trained and experienced before they are granted a license and registered to practice in New York state. The board is authorized to establish standards for the examination, licensure and registration of nursing home administrators, and standards for the issuance, revocation and suspension of these licenses. The board also can investigate written charges and complaints filed with them relating to any nursing home administrator and assess civil penalties or other disciplinary actions.
Biological sciences faculty member Eric Hellquist presented "Prevalence of Microplastics in Lake Ontario Forage Fish" at the Great Lakes Restoration Conference, Oct. 17 to 19 in Buffalo, as part of a special session on microplastics in Great Lakes food webs. The data presented were from the capstone research of May 2017 graduates Nina House and Scott Minihkeim working with Hellquist and United States Geological Survey fisheries biologists Maureen Walsh and Brian Weidel. In May 2017, House and Minihkeim presented their research with the same collaborators in a microplastics session at the annual meeting of the International Association for Great Lakes Research in Detroit.
At the annual student awards banquet for the Accounting & Financial Women's Alliance, SUNY Oswego students took home two out of the three scholarship awards. Two Oswego students in the MBA/accounting program, Zhiqiang Ke and Josephine Scherer, and Le Moyne graduate student Anisa Husejnovic earned the honors. The awards were based on a student application and essay completed by the students. Many local accounting professionals are active members of the organization. AFWA hosts various events throughout the year that both members and non-members/students can attend. The mission of the Accounting & Financial Women's Alliance is to enable women in all accounting and finance fields to achieve their full potential and to contribute to their profession.
"Magellanic Cloud Near-Infrared Synoptic Survey (LMCNISS): Overview and Science Highlights for Classical and Type-II Cepheids," research co-authored by physics professor Shashi Kanbur, was presented at the Stellar Populations and the Distance Scale conference, Sept. 11 to 15 in Beijing, China, by project partner Chow-Choong Ngeow of National Central University in Taiwan. Other co-authors included Anupam Bhardwaj of the University of Delhi in India and Lucas M. Macri of Texas A&M.
David B. MacNeill, who recently retired after 28 years as the Great Lakes Fisheries and Ecosystem Health Specialist with New York Sea Grant Extension based at SUNY Oswego, received the 2017 William Q. Wick Visionary Career Leadership Award presented by the National Sea Grant Extension Assembly at its biennial meeting in Oregon earlier this month. The Wick award is the highest honor given to Sea Grant Extension personnel by their peers. MacNeill was selected for the honor from among the 571 Sea Grant Extension professionals serving across the United States.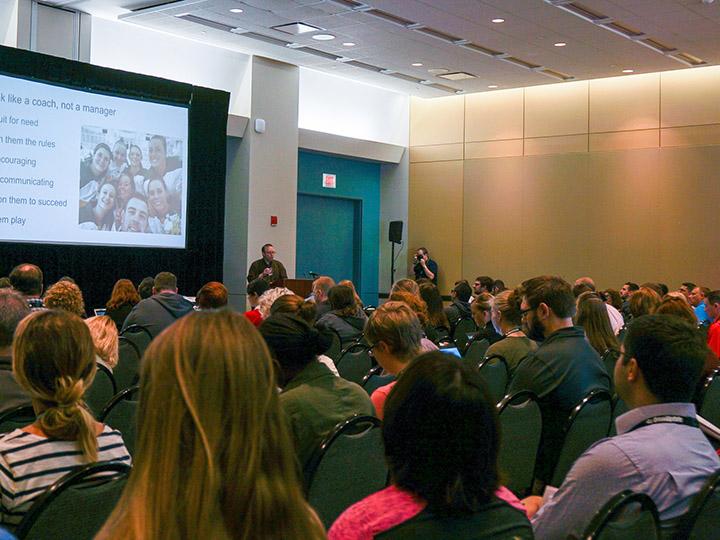 Tim Nekritz, director of news and media, presented "The 7 Habit[at]s of Successful Storytelling" at the HighEdWeb annual conference, Oct. 8 to 11 in Hartford. Nekritz discussed the recruitment, strategy and channels that comprise the college's student social media teams and showed examples of top content from SUNY Oswego and other college students. He also emceed the first-ever lightning talks for the conference, the largest gathering in its field in North America. On Sept. 29, Nekritz presented an Academic Impressions webinar titled "Using Student Storytelling in Higher Ed Marketing," a more extended talk on the topic.
Damian Schofield, a computer science professor and director of the college's human-computer interaction (HCI) program, published a pair of papers involving collaborations with other educational institutions. "Assessing Interactive Video Systems Used as a Training Tool for Medical Assistants," co-authored by Oswego HCI student Francisco Ovalle and SUNY Broome's Erin O'Hara-Leslie, appeared in the International Journal of Information Technology. It documented making an interactive training tool for students entering the medical assistant profession, in association with Broome's associate degree program in applied science (explained further in this story by Broome student media). Schofield also co-authored "The Eyes Have It: Using Eye Tracking Technology to Assess the Usability of Learning Management Systems in Elementary Schools," with 2017 HCI graduate Christopher Jankovski, which appeared in European Journal of Education Studies. This study worked with 26 sixth-grade math students (with guardian approval) from Lanigan Elementary School in Fulton to utilize eye-tracking software to gauge the ease of use of learning management software.
Comments