Kyaw Klay Jr., who graduated in May with a criminal justice bachelor's degree, recently earned the Norman R. McConney Jr. Award for Student Excellence. Klay was one of 45 statewide recipients in SUNY's Educational Opportunity Program to earn this prestigious honor, which recognizes outstanding students in the program for academic excellence and strength in overcoming significant personal obstacles. Klay is pictured with nominator Joey Tse, director of SUNY Oswego's EOP as well as Klay's advisor in the program. Read full story.
Three students from the Art and Design Department -- Anna Bond, Carolyn Mooney and Madelyn Smith -- were invited to take part in the 2022 Bienenstock Future Designers Summit, Sept. 21 to 23. A total of 40 students nationwide earned invitations for this set of educational and networking opportunities introducing the brightest young creative minds in college and university design programs to the people, brands and processes that are creating tomorrow's homes. Nancy Fire, co-founder and creative director of Design Works International, was instrumental in encouraging and supporting the Oswego students in this endeavor.
Kristin Croyle, dean of the College of Liberal Arts and Sciences, and Mallory Bower, coordinator of first-year experiential courses and engaged learning, both were quoted prominently in a pair of Chronicle of Higher Education stories, "A stunning level of student disconnection" and "How to solve the student disengagement crisis" (note: subscription required for full access to both stories). These pieces looked at challenges in academia since the pandemic began, particularly in terms of students going from remote work into the world of higher education. Croyle, who described going to college as "an act of hope," noted how Oswego's faculty work hard to keep students engaged, while Bower explained how experiential learning and empathy can create a sense of purpose for students.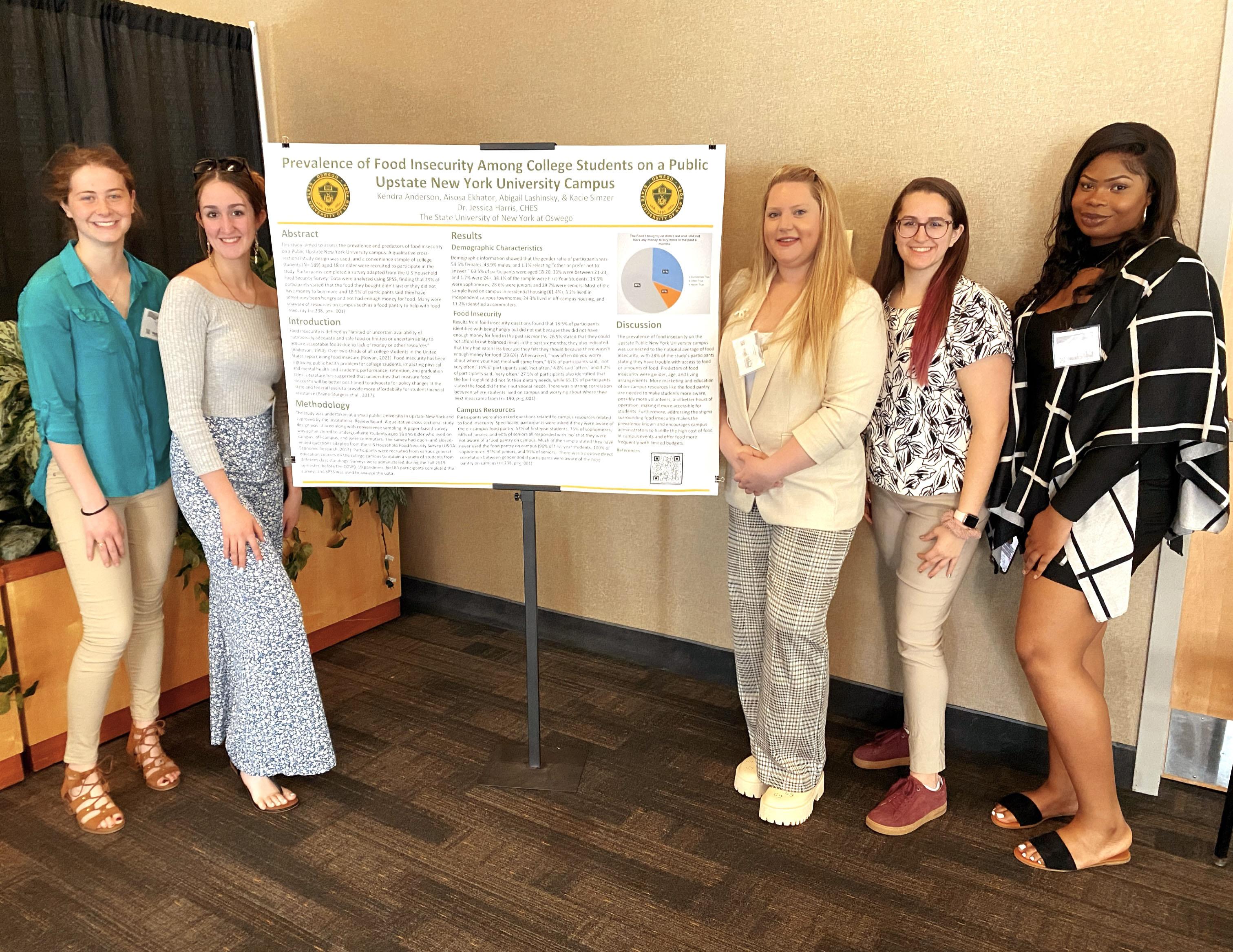 Health promotion and wellness faculty member Jessica Harris and four wellness management students presented at the New York State Public Health Partnership Conference in Niagara Falls on April 29. Students Kendra Anderson, Aisosa Ekhator, Abigail Lashinsky and Kacie Simzer presented their research titled "Prevalence of Food Insecurity Among College Students on an Upstate University Campus." From left with their poster are Simzer, Anderson, Harris, Lashinsky and Ekhator.
"Do You Know Me – Artwork by Tyrone Johnson-Neuland" opened recently in the Art Association of Oswego's Timothy McHenry Gallery. Johnson-Newland, assistant director for technical support in Campus Technology Services, describes the letters DYKM this way: "D is a closed letter indicating self-sufficiency. It displays self-reliance, a caring attitude, and broadmindedness. Y  is mystic, reserved, affecting yet self-governing. K shows an alluring personality, its openness indicates tolerance, and it is ready to lend a hand. M can be overwhelming with great strength of character and a strong mind." The exhibition will run through June 18, with gallery hours of 10 a.m. to 1 p.m. Saturdays and 1 to 4 p.m. Sundays.
Cinema and screen studies major Noah Ramer received a coveted invitation to the Student Symposium during the 49th Telluride Film Festival, which will take place during early September in Colorado. Ramer is part of a select group of just 50 students invited to the symposium, an intensive experience which includes attending screenings of top films and having in-depth discussions with some of the greatest names in cinema. 
Damian Schofield, director of the college's master in human-computer action program, co-authored "An Evaluation of the Use of Audio Guidance in Augmented Reality Systems Implemented at Sites of Cultural Heritage" with students Benjamin Wilson and Joshua Hull in the Journal of Multimedia and Its Applications. Their study compared and ranked three different types of augmented reality (AR) devices used at a site of cultural heritage, also observing participants using two different AR devices with and without sound to determine if the presence of sound impacts the usability of the device, or user satisfaction/preference of specific devices.
Georgina Whittingham of the modern languages and literatures department and co-author Carolyn Malloy from Siena College published a translation of Hugo Salcedo's play "Barbara Gandiaga: Crime and Condemnation in Mission Santo Tomas." Salcedo is a Mexican playwright with more than 70 publications whose work obtained national and international awards, including the Tirso de Molina award for "El viaje de los cantores" ("The Troubadours' Journey") in 1989. While history appears in Salcedo's previous productions, "Barbara Gandiaga" is his first work exclusively named after a protagonist and entirely situated in a historical context. In detailing a tragic episode of an indigenous woman accused of assassinating a priest from the Dominican order, the play provides an auspicious occasion to portray the eternal as well as very recent history of cultural and economic oppression, Whittingham noted. The events occur near the end of Mexico's viceroyalty in the country's north, as punishment upon the innocent awakens a subjugated people to seek justice.
Do you have an item for People in Action? Have you, for example, recently presented at a conference, published a research paper or earned a regional or national award? Submit your news via our Oswego Today form.
Comments