Several faculty members from the School of Business made presentations at the Business Research Consortium conference April 18 at Saint Bonaventure University. Graig Arcuri presented "Sustainable Revenue Generation System for Nonprofit Higher Education Institutions." Barry Friedman presented "Latent Employee Turnover and Prevention: When Job Creation Catches Up with Economic Recovery." Mary Rodgers presented "Cross-Discipline Collaboration in Business Research: Filling a Gap in Business Education." Susan Wright and Hema Rao presented "Client-Firm Relationships: A Model for High Risk Clients." And Wright, with Howard Nemiroff and Jim Owens, presented "Regulation NMS: Results of the Pilot Phase Implementation Phase."
"Sex, Death, and the Esoteric Meaning of Plato's Symposium" by Thomas Bertonneau of the English department has appeared at The People of Shambhala. The essay brings Plato's dialogue into connection with the turning point of the Peloponnesian War, the Athenian genocide against the inhabitants of the island-polis of Melos. It uses the connection to explore the relevance of Plato's metaphysics to the civilizational problem of deviated transcendence. "The Structure of Education Is the Structure of Faith" has appeared at The Brussels Journal and "The Structure of Reality Is the Structure of Revelation" and "The Order of Memory Is the Order of Being" have appeared at The Orthosphere. This trio of related essays investigate the manner in which modernity's denial of transcendence distorts its ideas both of nature at large and human nature and thereby derails the proper function of longstanding institutions. The three essays draw on Plato, St. Augustine, Søren Kierkegaard, Eric Voegelin, and a number of other literary and philosophical writers.
The Zeta Xi Chapter of Delta Phi Alpha, the national German honorary society, on March 23 inducted seven new members: Chris Byrne, Eloise Colson, Adam Hammer, Michael Kaefer and James Robello. Two honorary members were also inducted: Shashi Kanbur, professor and chair of the physics department, and Alexander Beattie, retired librarian. John Lalande II, faculty adviser, conducted the induction ceremony, which several German faculty members attended.
Since 2012, Oswego has established an unofficial internship pipeline for students with NASA's Jet Propulsion Laboratory in California. The college has been sending students regularly to work on highly competitive paid 10-week summer internships at the lab based at the California Institute of Technology. A total of 11 Oswego students in four years have been accepted for this program, including four in 2015. Nick Edington went last summer and will go again this summer. Joining him will be Brandon Caruso, Daniel Wysocki and Kenny Roffo. All four are computer science students. Wysocki also majors in physics and Roffo in math. Diane Connor of JPL, who has worked on NASA's Magellan, Galileo and Cassini missions and supervises the software systems group that develops software to support mission sequence operations, visited Oswego in April to strengthen JPL's bond with the college.
In March, C. Eric Hellquist of the biological sciences faculty presented a research poster at the "Science for Parks, Parks for Science: The Next Century" conference at the University of California at Berkeley. The conference commemorated the centennial of the National Park Service that will be celebrated throughout 2016. The poster, "Aquatic Plant Diversity in Yellowstone and Grand Teton National Parks: An Aquatic Flora with No Exotic Species to Date," was co-authored with C. Barre Hellquist of the Massachusetts College of Liberal Arts. In April, the Hellquists also led a workshop on identification of aquatic plants at the Northeastern Natural History Conference in Springfield, Massachusetts. Their research on the aquatic flora of Yellowstone and Grand Teton National Parks was also presented at the annual meeting of the Northeastern Aquatic Plant Management Society in Saratoga Springs in January. Earlier this year, the Yellowstone Association funded their research on aquatic plants of Yellowstone for 2015.
During April, students from the biological sciences department working with Eric Hellquist presented their research at three conferences: the State University of New York Undergraduate Research Conference at the College at Brockport, the CSTEP Statewide Student Conference in Bolton Landing and the Northeastern Natural History Conference in Springfield, Massachusetts. At the CSTEP conference, Roodline Cineus presented "The Abundance and Characteristics of Aquatic Tree Hole Communities in Three German Forests." Katherine Hilburger presented "Measuring Ixodes scapularis and Borrelia burgdorferi Abundance in Oswego County, NY" at NENHC. Her research is focused at the Rice Creek Field Station and has been supported by the Rice Creek Associates small grant program. She is also mentored in this project by Peter Newell in biological sciences. Lora Benjou and Erin Earl presented a poster at NENHC on their quantification of plastic pollution and its potential consequences for shoreline strand communities along Lake Ontario in Oswego and Cayuga counties. Their research poster was entitled "Abundance and Distribution of Plastic and Organic Wrack Along the Southeast Shore of Lake Ontario." Faith Page, a December 2014 graduate and CSTEP student, gave an oral presentation at NENHC on her research on the New York endangered bog buckmoth that was funded by the New York Department of Environmental Conservation. Her talk was titled "Potential Impacts of Typha angustifolia on the Rare Bog Buckmoth (Hemileuca sp.) of Central New York." Angelo Messina presented a poster on research he conducted in collaboration with fellow students Kristen Harrigan and Austin O'Neill examining water chemistry parameters of the Rice Creek and Glimmerglass Lagoon watersheds. Their poster was entitled "Trace Metals, Inorganic Ions and Microbial Communities in Two Adjacent Lake Ontario Watersheds at SUNY Oswego." Their research was completed with the assistance of Paul Tomascak of the department of atmospheric and geological sciences.
M. Neelika Jayawardane, associate professor of English, is the author of an article about South African photographer Cedric Nunn that appears in his new book of photographs. The article "Photographing in the Presence of Absence: Cedric Nunn's 'Unsettled: One Hundred Year Xhosa War of Resistance'" appears in the book "Unsettled: One Hundred Year Xhosa War of Resistance" published by Archipelago Books. Jayawardane spoke on "Shifting the Digital Landscape: New Media in Africa, and the Impact of 'Africa is a Country'" as a panelist on the program "#BlkStudiesDigitalAge: Race, Digital Media & Social Networks" held April 20 at Princeton University's Center for African American Studies (video). In addition, she presented "Winnie Madikizela Mandela: Reflections on the Mother of the Nation" and "Shifting the Digital Landscape: New Media in Africa and the Impact of 'Africa is a Country'" in March at Colgate University. Jayawardane is senior editor of the blog Africa is a Country.
Shashi Kanbur, professor and chair of physics, has been elected to the executive committee of the New York section of the American Physical Society. Also, the Indo-US Joint Center for the Analysis of Variable Star Data, for which Kanbur is U.S. head, has received funds to hold the Indo-US Workshop on Advances in Variable Star Research at Texas A&M University from June 15 to 19. The workshop will bring together some of the best researchers in the world in this area, Kanbur said.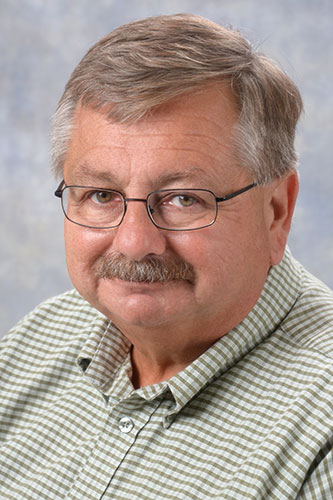 Thomas J. Kubicki, assistant professor of technology, was awarded the International Technology and Engineering Education Association's Distinguished Technology and Engineering Professional Award at the association's conference held March 27 in Milwaukee. The award recognizes the recipient's outstanding performance and accomplishments in the field of professional technology and engineering education. It is one of the highest honors given for professional achievement of technology and engineering educators. Consideration for the award is based upon documented evidence of leadership and management skills, continuing participation in the association's education programs, and demonstrated leadership in association, community and professional activities.
Senior history majors Emily Markstein and Jason Snider presented their research papers at the 36th annual Medieval and Renaissance Forum at Keene State College in Keene, New Hampshire, on April 24 and 25. At this scholarly conference devoted to medieval and early modern studies, their papers were well received and they, along with history faculty member Lyn Blanchfield, were able to attend other presentations and meet students and scholars from across the Northeast, Blanchfield said.
Anthropology junior Kaili Morris and Lindsay Bell of the anthropology faculty presented an academic paper at the Society for the Anthropology of North America's bi-annual conference, held April 16 to 18 in New York City. The paper, "Searching for Evidenced Based Traditions: Addiction Treatment in Canada's Northwest Territories," looked at how ideas of culture are shaping therapeutic practice in the circumpolar world.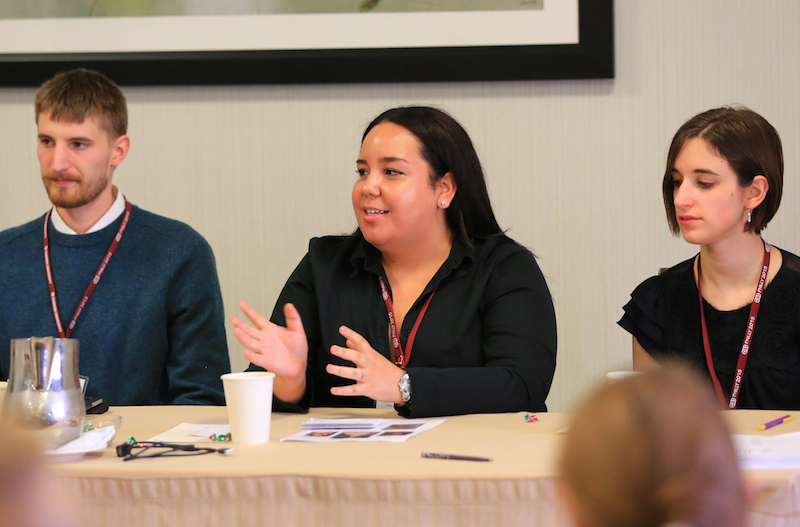 At the Eastern Communication Association's annual convention held from April 22 to 26 in Philadelphia, Arlene Quinones, pictured center, presented "All It Takes Is a Like for Me to Be Happy: Instagram and Its Impact on Self-Concept," a paper she wrote with fellow students Kaitlynn Fuller and Nicole Wilson. It was one of four papers presented on a panel of the top papers submitted to the James C. McCroskey and Virginia P. Richmond Undergraduate Scholars Conference. In addition, several members of Oswego's communication studies department made presentations. Jason Zenor presented "Us and Them: Millennials' Perspective on their Political Disaffection"—which was selected as one of the top three papers in political communication—"A Reckless Disregard for the Truth: The Right to Lie in Politics" and "Lane v. Franks: U.S. Supreme Court Misses the Chance to Fix the Employee Speech Doctrine." He also chaired the panel "Dynamic Dissents." Christine Hirsch chaired the panel "Whistleblowing: Cause and Effect" and "The Rhetorical Lives of Lyrics and Jokes: When Music and Comedy Challenge Social Convention" and was a respondent on the panel "Spiritual and Secular Tensions: Religious Idioms, Rhetoric, and Popular Culture." John Kares Smith was a respondent on the panels "Getting Engaged by Any Means Necessary: Politics, Citizenship and Knowledge" and "The New 'Hunger Games': Lawyers, (Rhetorical) Guns and Money in Political Communication." Kristen Eichhorn and Mary Toale spoke on the panels "Fifteen Years of Communibiology: Future Directions in Communication Theory and Research" and "Examining the State of Nonverbal Communication Research & Investigations." Eichhorn presented "Perspective: Faculty Bullying Other Faculty," participated in a deliberative forum on the topic "The Future of the Basic Course" and was respondent on the panel "Instructional Practices to Use in the Classroom." Toale was respondent on the panels "Examining the Intersection of Nonverbal and Organizational Communication in Applied Contexts" and "Exploring Sources of Influence on Interpersonal Communication." Jennifer Knapp was respondent on the panel "Examining Others' Influence: Family Members, Friends, and Coaches Impact on Instructional Communication Practices."
The new book "What Happens on Campus Stays on Youtube" by Erik Qualman includes an interview with Oswego student Kaitlyn Rajner, the Career Services intern who coordinates the office's "Digital Dirt Squad," a peer education group advising students on the identity they present online and how to improve their online reputation in the context of employer expectations.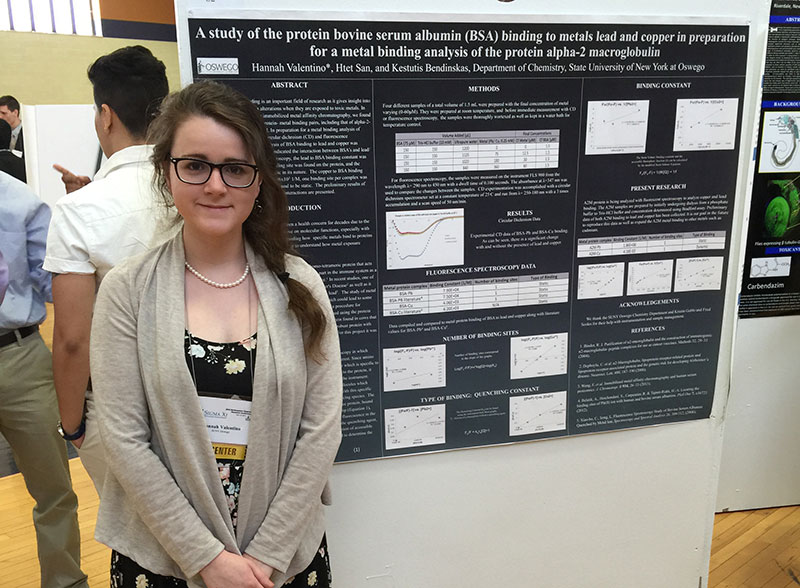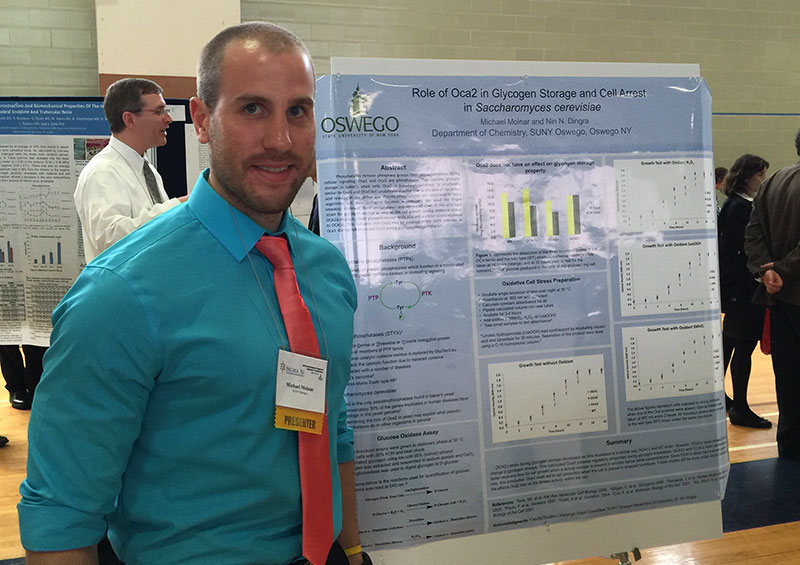 At the Sigma Xi Northeastern Regional Research Conference 2015 held April 18 at Western Connecticut State University, four Oswego students presented their research. Hannah Valentino, pictured, a junior biochemistry major, won the second highest award for her poster presentation in the most competitive category, Life Sciences. Michael Molnar, pictured, a senior chemistry major, won third place among all graduate student posters. Also Kestutis G. Bendinskas, professor of chemistry and editor of American Journal of Undergraduate Research, received a service award "for his key role in founding the Northeastern Regional Meeting since 2006 . . . We congratulate his commitment to Sigma Xi's core mission of interdisciplinary scientific mentorship."
Comments