University Police Officer Dylan Dreyer (pictured below) received a Departmental Letter of Merit for quick aid provided to a college employee and her son after a serious traffic accident on Feb. 18. Dreyer was on his way home from an overnight shift when he saw a vehicle lose control and roll over because of hazardous road conditions. He stopped, administered first aid and provided valuable reassurance in a selfless manner, although Dreyer believes any of his co-workers would have done the same. "I believe my day-to-day task at work allowed me to develop the confidence in being able to stay calm, cool and collected in a somewhat chaotic incident," Dreyer said. "I take great pride in helping people. ... I want to build a relationship with the community I serve. I want the public to know that they can go to Officer Dreyer and talk to him about anything and he will listen and give honest advice."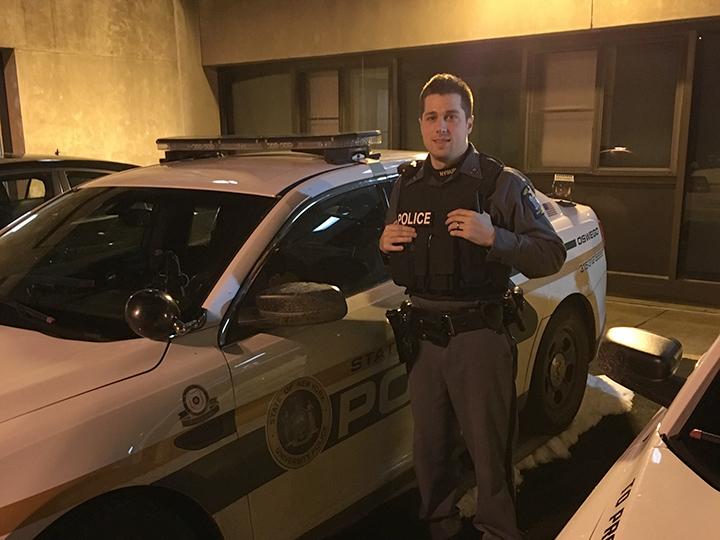 The first-ever induction for SUNY Oswego's new chapter of Eta Sigma Gamma, national health sciences honorary for professionals in community and school health education, will take place April 14, according to Jessica Harris of the School of Education's health promotion and wellness faculty. Senior wellness management major Gaellie DuPlessy is the first president of the chapter, which serves health education students and the profession through teaching, service, and research. Applicants must meet standards for GPA, volunteerism and more.
Public justice major Ryan McHale (pictured) and faculty member Jaclyn Schildkraut presented at the annual meeting of the Academy of Criminal Justice Sciences in New Orleans in February. They discussed an ongoing collaborative project, "Covering Rampage: News Consumers' Perceptions about Mass Shootings in the Media," which is supported by a campus Scholarly and Creative Activity Committee grant.
Schildkraut, a go-to expert for media covering mass shooting issues, was invited to participate in the research work of the States For Gun Safety Coalition to reduce gun violence. This coalition -- which includes the governors of New York, Connecticut, New Jersey and Rhode Island -- will create a four-state research center run through SUNY's Rockefeller Institute of Government's Center for Law and Policy Solutions. Schildkraut also published "The media should stop making school shooters famous" in Vox.com's Big Ideas section in the wake of the shootings at Marjory Stoneman Douglas High School in Parkland, Florida.
Computer science professor Damian Schofield, director of the college's human-computer interaction program, published "Digital Emotion: How Audiences React to Robots on Screen" in the International Journal of Computer Applications. The study examined at how humans observe robots "actors" moving beyond animated and simplistic characterizations to more complex and evolved performers. 
Schofield and HCI graduate Michele Canale co-authored "Cross Cultural Web Design: An Examination of User Attitudes" in the Journal of Management and Marketing Research. The paper explored user satisfaction levels when viewing websites from different countries.
Marketing and management faculty member Kristin Lee Sotak of the School of Business co-authored an article titled "Assassination of Political Leaders: The Role of Social Conflict" in the journal Leadership Quarterly. The researchers said, "Our results indicate an increase in social conflict increases the likelihood of assassination; moreover, environmental constraints and traditional culture predict leader assassination through social conflict.
Recent biology graduate Alec Walter and his mentor, biological sciences faculty member Peter Newell, co-authored an article in the journal Molecular Ecology titled "A genomic investigation of ecological differentiation between free-living and Drosophila-associated bacteria." Nathan J. Winans was listed as first author, with Bessem Chouaia, John M. Chaston and Angela E. Douglas the other co-authors. Newell also co-authored "Spatiotemporally Heterogeneous Population Dynamics of Gut Bacteria Inferred from Fecal Time Series Data" in the open-access journal mBio of the American Society for Microbiology. First author was Hidetoshi Inamine, with Stephen P. Ellner, Yuan Luo, Nicholas Buchon and Angela E. Douglas the other co-authors.
Comments