Student artist Shea McCarthy's oil painting "Colored Subconscious" (below) -- accepted for the 2020 SUNY Global Student Art Exhibit in New York City -- is a testament to how Oswego has helped her grow as an artist. When art faculty member Kelly Roe encouraged her to submit to the competitive SUNY-wide exhibition, McCarthy thought about the painting featuring "very colorful abstraction of shapes from my imagination" created for one of her first art classes at Oswego. "I decided to work back into the painting and refine many of the shapes and details," said McCarthy, a junior bachelor of fine arts in studio art major. "The process of working back into something that I had previously 'finished' showed me how much I really had grown as an artist in just a few semesters. I am a very detail-oriented artist, and I was much more satisfied with the piece after refining it." Read full story.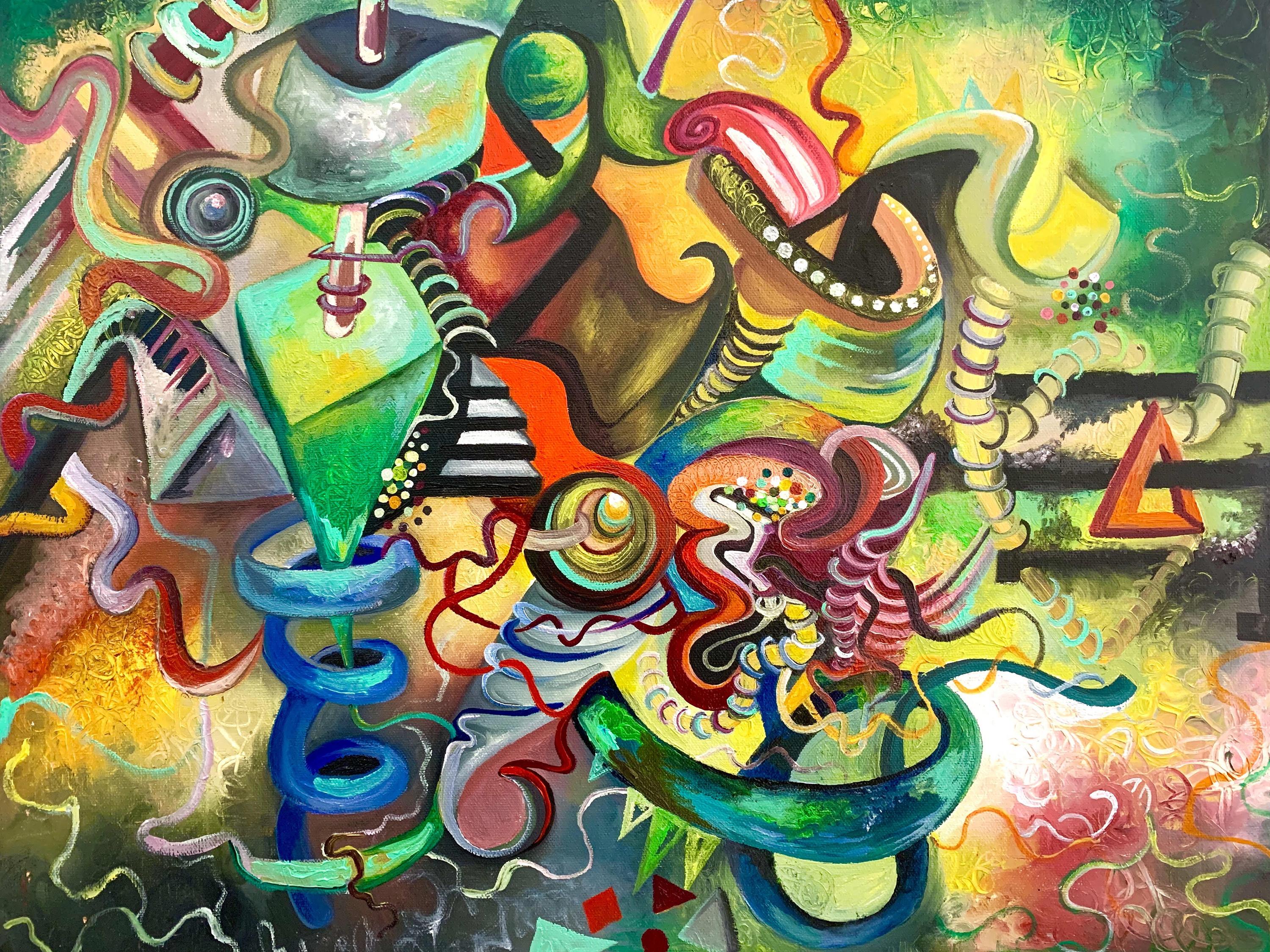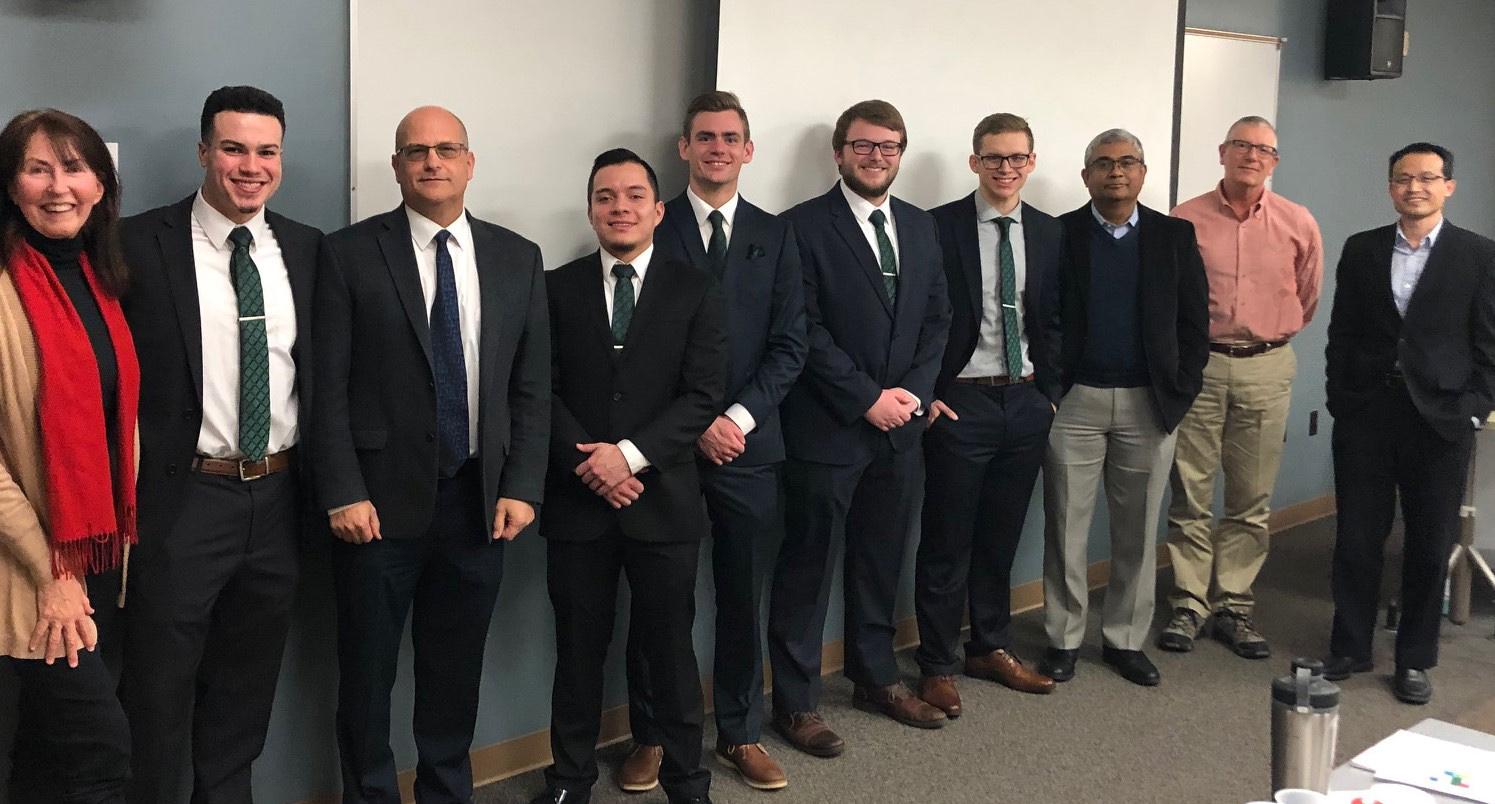 Plenty of preparation and support helped a student team from SUNY Oswego recently place second in the Chartered Financial Analyst (CFA) Institute Research Challenge for the Western New York regional competition in February. The team consisted of Dan Bergin, Tyler Hughes, Noah Jones, Brayan Reyes and Andrew Saunders. "Even had we not placed in the top tier, success was achieved as our students increased their confidence and took their analytical skills to a whole new level," said Mary Tone Rodgers, Marcia Belmar Willock Professor of Finance in Oswego's School of Business, who advised the team. "We have been working on the project for six months now," said Bergin, the team captain. "We have spent countless hours working on spreadsheets, models, graphs, research, writing and presenting every week since September. We worked very hard to make sure we could deliver an engaging and knowledgeable presentation and a professional analysis and valuation paper. I think we reached our goal." Read full story.
Political science faculty member Helen Knowles received a $1,000 J.W. Scott Regional Research Fellowship grant from the Center for Pacific Northwest Studies at Western Washington University. The grant will help Knowles undertake research there using Rogan Jones's papers for a new book project during her research leave.
A team of SUNY Oswego faculty -- Ampalavanar Nanthakumar (mathematics), Scott Preston (emeritus, mathematics) and Carolina C. Ilie (physics) -- along with alumna Kimberlyn A. Bailey, plus David Horacek (emeritus faculty, philosophy) and Steven Worthington (data scientist at Harvard), had their paper "STEM/Non-STEM Divide Structures Undergraduate Beliefs About Gender and Talent in Academia" published in research topic "Gendered Paths into STEM. Disparities Between Females and Males in STEM Over the Life-Span." The paper was edited by Bernhard Ertl, Silke Luttenberger, M. Gail Jones, Rebecca Lazarides and Manuela Paechter for the book published in Frontiers in Psychology, Frontiers in Education and Frontiers in Sociology in Lausanne, Switzerland. 
Julie Pretzat -- dean of Oswego's School of Communication, Media and the Arts and artistic director for the Syracuse Vocal Ensemble -- conducted an in-depth WCNY interview on the ensemble's recent "For the Birds" concerts and related topic.
A paper co-authored by a SUNY Oswego professor and two recent graduates appeared in the February Proceedings of 11th International Conference on Information Visualisation Theory and Applications in Valetta, Malta. Damian Schofield, director of the college's human-computer interaction program, and alumni Christopher Bartlett and Noelle LeRoy co-authored "Assessing the Feasibility of using Augmented Reality to Visualize Interventional Radiology Imagery," with co-authors Jonathan Ford and Summer Decker from the University of South Florida. 
Do you have an item for People in Action? Have you, for example, recently presented at a conference, published a research paper or earned a regional or national award? Submit your news via our Oswego Today form.
Comments