This semester's Bachelor of Fine Arts exhibitions in Tyler Art Gallery will feature the work of degree candidates Chelsea Burgett, Starquasya Daniels, Melissa Digiovanna, Matias Garcia, Nicholas Greco, Miranda Guarno, Brandon Holmes, Zachary Holt, Dicarri Jean, Ricardi Jean, Cassandra Kaiser, Donavon King, Ella Kikkert, Brittany Koch, Trevor Krencik, Jessica Kummrow, Mark Linkletter, Daniella Melita, Alex Monachino, Margaret Murphy, Emily Nestor, Alyssa Schock, Austin Smith, Allison Stango, Jennifer Varvaro and Claire Wajda. BFA Exhibition I will run April 4 to 16, highlighted by a reception for the artists from 5 to 7 p.m. Friday, April 7, at the gallery. BFA Exhibition II will take place April 25 to May 10, with a reception from 5 to 7 p.m. Friday, April 28. 
Meanwhile the Bachelor of Arts (in art) Exhibition will take place April 25 to May 10 in the Penfield Library lobby, with a reception from 5 to 7 p.m. Friday, May 5, at the library. Degree candidates who have chosen to participate in the exhibition are Amanda Adams, Alyssa Barrett, Kasie Ko, Jiyoung Lee, Nick Lewandowski, Dion Matthews, J.P. Narcisse, Erik Pedersen, Meaghan Quinn, Daniela Rosario, Sheridan Seward, Andrew Torak and Madison Tinney.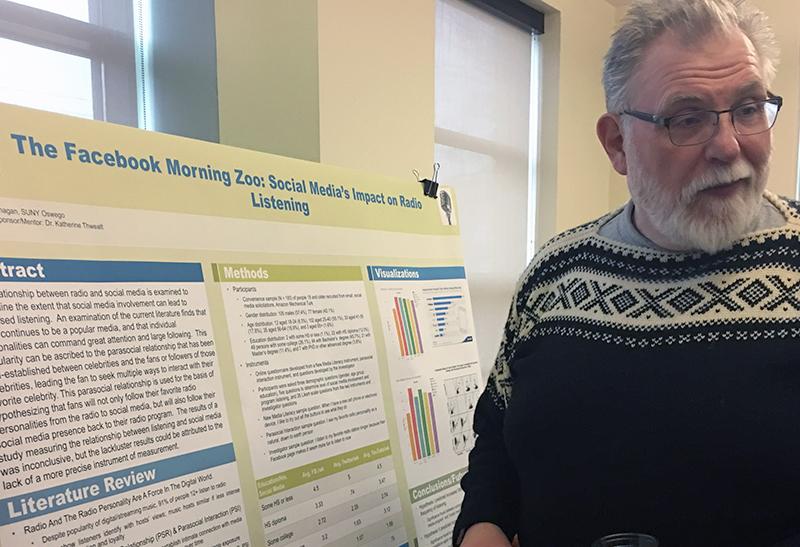 Three SUNY Oswego graduate students presented their research at SUNY Graduate Research Today and Tomorrow during the University Faculty Senate Graduate Research Poster and Concurrent Session Conference on March 7 at Empire State College in Saratoga Springs. James Dunagan, pictured, in the strategic communication program presented a paper, "The Facebook Morning Zoo: Social Media's Impact on Radio Listening." Fellow strategic communication major Donald Lapointe Jr. presented "Motivations and Character Traits of Entrepreneurs." Logan Wells of the human-computer interaction and health information technology programs presented "Schizophrenia Genome Wide Association Study with Machine Learning," co-authored with Oswego faculty member Isabelle Bichindaritz and SUNY Upstate's Jonathan Hess and Stephen Glatt.
Rebekah Springer, a graduate student in the MSED childhood special education program, presented her work March 4 at the Central New York Reading Council's spring conference in Syracuse. Springer joined other literacy educators and graduate students to present an action research case study of successful writing instruction using assistive technology to help a third-grader access and make progress in meeting the English Language Arts Common Core curriculum standards.
Kevin White of the anthropology department delivered the opening keynote address at Crossing Borders: A Multi-Disciplinary Student Conference on the United States, Canada and Border Issues. The conference ran March 17 and 18 at Niagara University. White is currently a spring 2017 Fulbright Canada visiting research chair in trans-border studies at Brock University in St. Catharines, Ontario.
In Memoriam
Cyndia A. Donovan, who managed the Marano Campus Center box office, died March 12 at home following a long illness.
To submit items for People in Action consideration, please email information to proffice@oswego.edu. Deadline is Thursday before publication date.
Comments