Eight SUNY Oswego Investment Club students traveled to the Global Asset Management in Education Forum sponsored by Quinnipiac University last week in New York City. Attending the gathering were Anthony Andron, Tom Benson, Dianora DeMarco, Rob Glasser, Ross Insalaco, Mike Josselyn, Kelsey Magraw and Kevin Stein. Students at the conference were invited to ring the bell at the closing Nasdaq cereomony on CNBC on March 18. Oswego's students selected Josselyn to represent the college at the closing ceremony.
Nine students plus four faculty/staff members of Oswego's counseling and psychological services program attended the American Counselor Association Conference and Expo in Orlando from March 12 to 15. Students Christopher Battles, Kayla Beyer, Cody Bowser, Jessica Brusgal, Andrew Buchmann, Jamie Butler, Maggie Fitzsimmons, Melanie Hoffman and Shirley Retz plus faculty members Jodi Fiorini, Tiphanie Gonzales and Tami Sullivan, with student resource adviser John Randall were among the more than 4,000 registrants attending dozens of poster presentations, continuing education programs, association meetings and presentation sessions. The conference was a first for many, and an opportunity to get in touch with the national professional scene of counseling and learn from the nation's top teachers, presenters, speakers and authors. Some students were able to volunteer as well.

Mary McCune, associate professor of history and director of gender and women's studies, attended a seminar on "The Jews of Cleveland" March 22 and 23. This project of the Western Reserve Historical Society will result in an edited volume of essays. McCune's contribution to the volume will be "Organized Jewish Women's Activism in the Twentieth Century."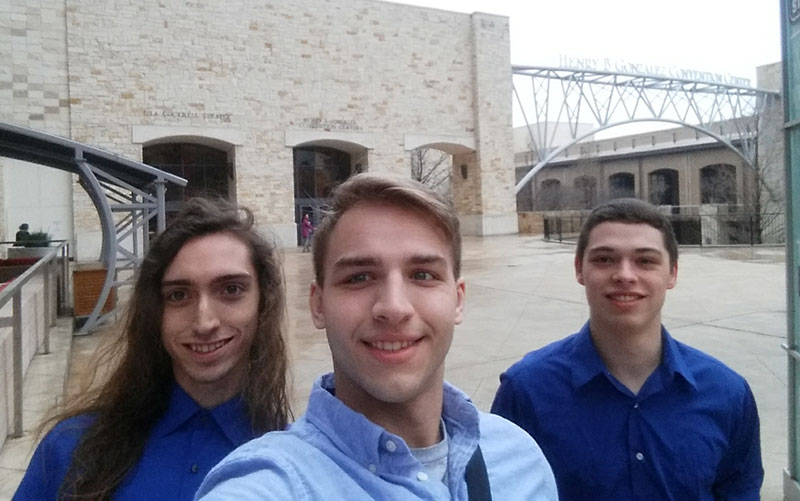 Physics students Dylan McIntyre, Mateusz Zuba and Martin Dann, pictured left to right, made presentations at the meeting of the American Physical Society this month in San Antonio. They are students of Carolina C. Ilie, associate professor of physics. This year's meeting welcomed nearly 10,000 physicists, other scientists and students. Dann and McIntyre presented "Optimizing Energy Conversion: Magnetic Nanomaterials," which they co-authored with Ilie. Zuba presented "Potential Energy Calculations for Water Adsorption on Poly(methyl methacrylate)," which he co-authored with Patrick Howard, Brian Familo, Thorin Kane, Ross Netusil and Ilie.
Economics major Erica Roff has received a SUNY diversity scholarship of $1,000 to help finance her Global Laboratory trip this summer to the Indian Statistical Institute in Kolkata, India.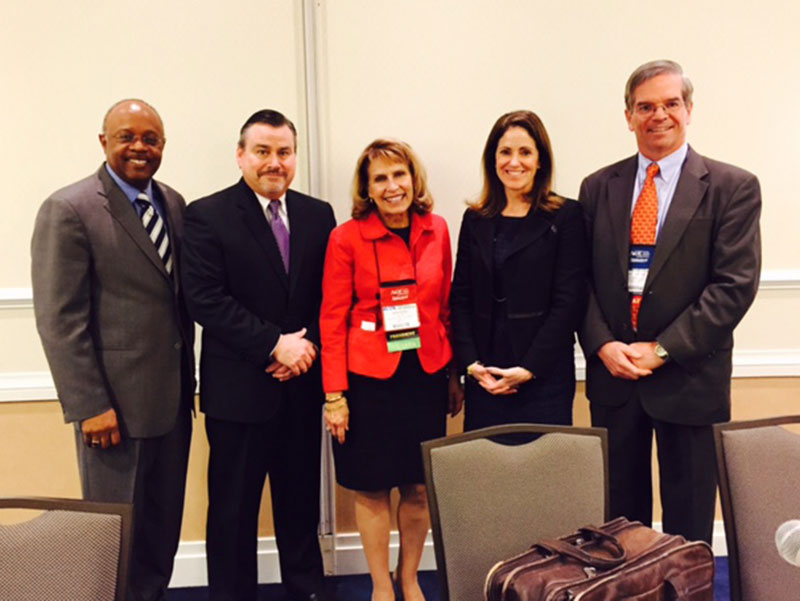 President Deborah F. Stanley was invited to participate in a panel discussion on "Sexual Assault on Campus" March 17 at the American Council on Education's 97th annual meeting in Washington, D.C. The meeting was organized around the theme "Promises to Keep: Higher Education and the Public Trust." Experienced presidents and legal counsel discussed the past, present and future of the issue of sexual assault on campus in the ACE session, which was jointly organized with the National Association of College and University Attorneys. With President Stanley, pictured center, on the panel were, left to right, Jerry D. Blakemore, vice president and general counsel at Northern Illinois University; William J. Mullowney, vice president for policy and general counsel at Valencia College; Cynthia Barnhart, chancellor of the Massachusetts Institute of Technology; and moderator Peter McDonough, interim general counsel for ACE.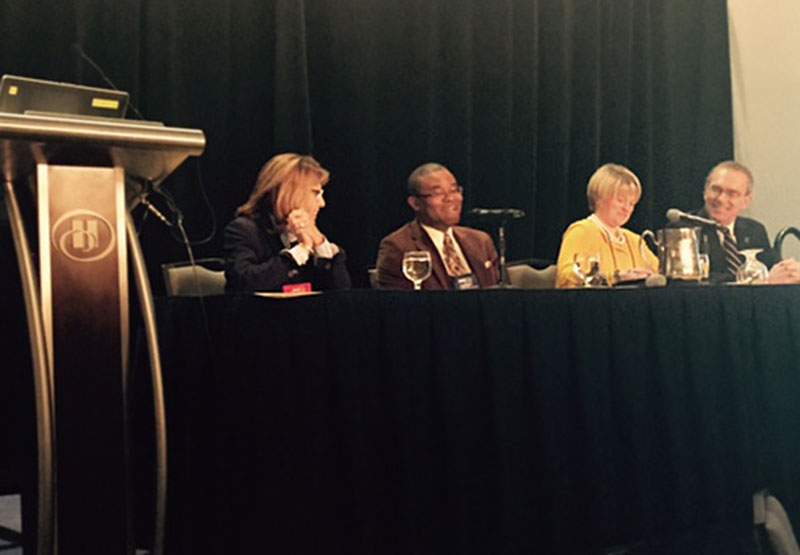 Before the ACE meeting, the National Association of Presidential Assistants in Higher Education met. Executive Assistant to the President Howard Gordon and Stanley were invited panelists for NAPAHE's closing plenary session, titled "President and the Presidential Assistant: The Developmental Phases of the Relationship," pictured. The Oswego panelists have worked together in this role for nearly 19 years. Ithaca College President Tom Rochon and his assistant Bailey Reagan represented the early phase, having worked together in the role for a year and a half.

In Memoriam
Charles W. Phallen, 98, emeritus professor of technology who taught from 1958 to 1983, died March 7 at his home in Oswego.
Comments