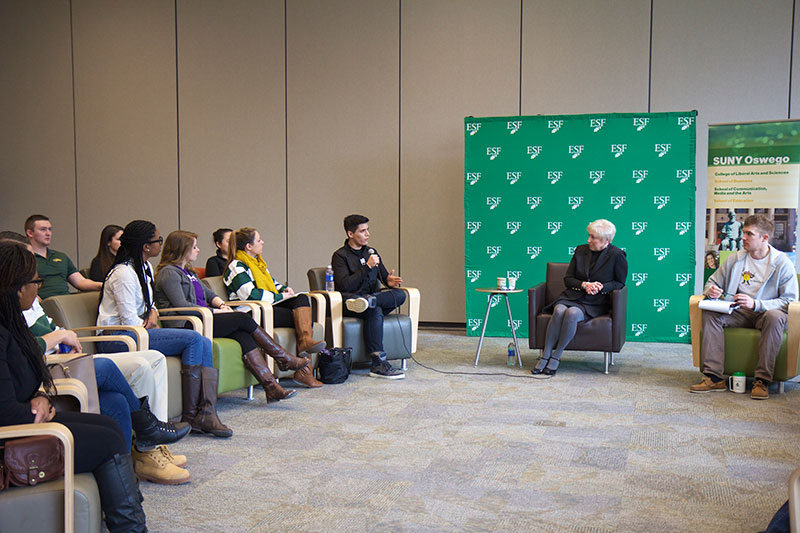 Twenty Oswego students met with SUNY Chancellor Nancy Zimpher last week as part of her series of Student Speak Outs around the university system. The meeting took place at the SUNY College of Environmental Science and Forestry and included 15 ESF students as well. The Oswego students were Peterly Jean Baptiste, Chris Beaulieu, Darlynda Brownlee, Griffin Bruce, Roodline Cineus, Carlos Clemenz, Christopher Collins-McNeil, Dianora DeMarco, Chelsie Frisbie, Bridget Jackson, Garrison Kingston, Katy Kubinski, Molly Matott, Sherade McKitty, Staceyann Reid, Tucker Sholtes, Anny Sigaran, Kelsey Thomas, Wei Wang and Michelle Ziemba. The upbeat conversation touched on such topics as the value of a SUNY Oswego degree and low student debt; the career readiness Oswego provides through internships, co-ops, alumni mentors and faculty-student research opportunities; and the importance of providing access to college through the Educational Opportunity Program and the success of Oswego's EOP students.
Samantha Bielli, a graduate student in human-computer interaction, and Christopher Harris of the computer science faculty co-authored a paper titled "A Mobile Augmented Reality System to Enhance Live Sporting Events." It was accepted for presentation today during the Sixth Augmented Human International Conference in Singapore. Harris attended, and presented a demo that Bielli designed, an Android-based augmented reality tool that can store and provide augmented information about each participant in nearly any sporting event, not just those, such as the Super Bowl, that appeal to large numbers of spectators. "This AR tool provides for a more engaging spectator experience for viewing professional and amateur events alike," according to the paper's abstract.

Christopher Harris of the computer science faculty received a Best Paper Award, one of only six such designations among 600 submissions and 161 acceptances, for the 18th Conference on Computer-Supported Cooperative Work and Social Computing. Harris will present the findings of his research, titled "The Effects of Pay-to-Quit Incentives on Crowdworker Task Quality," at the conference to be held March 14 to 18 in Vancouver. In part, the paper's abstract reads, "Companies such as Zappos.com and Amazon.com provide financial incentives for newer employees to quit. The premise is that workers who will accept this offer are misaligned with their company culture, which will therefore negatively affect quality over time. Could this pay-to-quit incentive scheme align workers in online labor markets?"
Taejin Jung, associate professor of communication studies, recently received a $3,000 grant from the Oswego County Health Department for a health campaign evaluation. The smoking-cessation project is titled "Smoke Free for My Baby and Me."
The Zeta Chi chapter of Delta Phi Alpha, the national German honorary society, was recently awarded a grant to help defray the expenses of two visiting speakers at SUNY Oswego this semester. The chapter adviser is John F. Lalande II, professor of German. The first speaker was Leroy Hopkins Jr. of Millersville University who spoke on Afrodeutsche or the Afro-German diaspora. The second speaker will be Michael Baxter of DePaul University, who on March 23 will speak on Franz Jägerstätter and other members of the Austrian and German resistance during the Nazi period in Austria and Germany.
Distinguished teaching professor Tracy K. Lewis of modern languages and literatures has been made a member and honorary professor in the Ateneo de Lengua y Cultura Guarani, in recognition of his career-long dedication to Guarani, the co-official language, with Spanish, of Paraguay. A Paraguayan national organization, the ateneo (atheneum) does for the Guarani language what the Spanish Royal Academy does for Spanish, making its mission to promote use and development of the language. Certificates from the organization credit Lewis for his "long and meritorious trajectory promoting and spreading the Guarani language." Throughout his career, Lewis has perpetuated Guarani—the only indigenous language of the Americas whose speakers include a large proportion of non-indigenous people—through his poetry, many literary translations, conference appearances, advocacy for the language and other scholarship.
John MacDonald, associate professor of finance and risk management and chair of the accounting, finance and law department in the School of Business, recently received a $2,000 grant from the Griffith Insurance Education Foundation to expand the college's degree program in risk management and insurance. The grant is part of the foundation's Robert P. Ashlock Risk Management and Insurance Development Program. The Griffith Insurance Education Foundation is a non-profit educational organization that promotes the study and teaching of risk management and all lines of insurance through educational programs targeting students and public policy makers. The Griffith Foundation is affiliated with The Institutes, which serve the risk management and property-casualty insurance industry.
Mary McCune, director of the gender and women's studies program and an associate professor of history, is to give a talk this evening at Utica College's Center for Historical Research in conjunction with Women's History Month. It is titled "Intimate Quarters: Gender and the History of Racial Segregation in the North."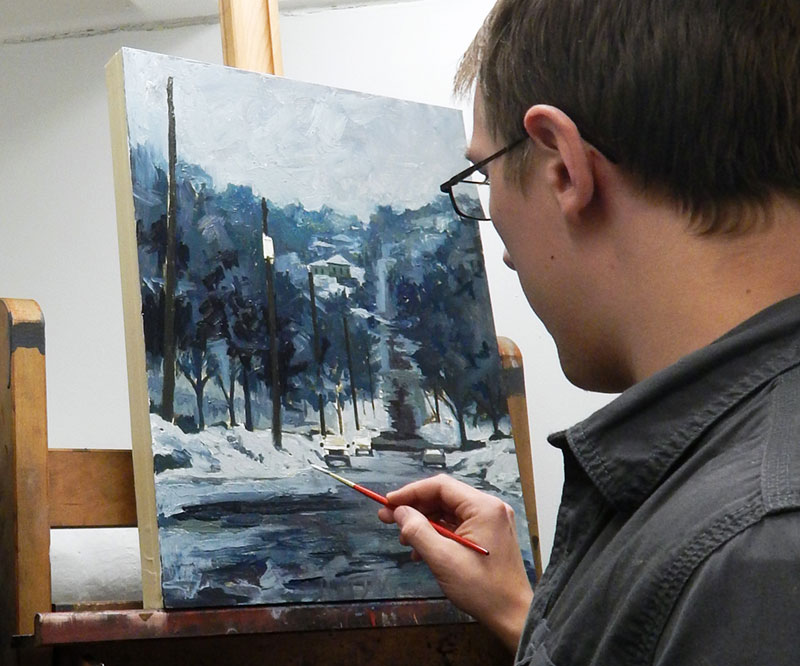 David Owens, a senior art student pursuing a bachelor of fine arts degree, has a solo exhibition of his paintings opening March 28 at the Schweinfurth Memorial Art Center in Auburn. "Time and Place: Studio and Open Air Landscapes" will be on display to May 24. Some of the paintings are from a project funded by a campus scholarly and creative activity grant. Owens is one of this year's recipients of the SUNY Chancellor's Award for Student Excellence.
Joshua Seymore of University Police was among 57 graduates of the Syracuse Regional Police Academy from 10 police agencies last month.
Comments