Ashraf Attia and co-authors received a second-place best paper award at the Global Islamic Marketing Conference for "Sustainability Marketing: The Role of International Development Projects During the Syrian Conflict." Co-author Rana Fakhr is an adjunct in Oswego's School of Business.
Patricia Clark, interim dean of the College of Liberal Arts and Sciences, serves as host of a weekly James Baldwin Reading and Discussion Group at ArtRage Gallery in Syracuse. The series takes place on five Thursdays from May 23 to June 20. An associate professor of English and creative writing at Oswego, Clark teaches courses on 20th century and contemporary African American literature and U.S. literature, black women writers and seminars on James Baldwin at the college. Humanities New York supported the series by providing books on loan.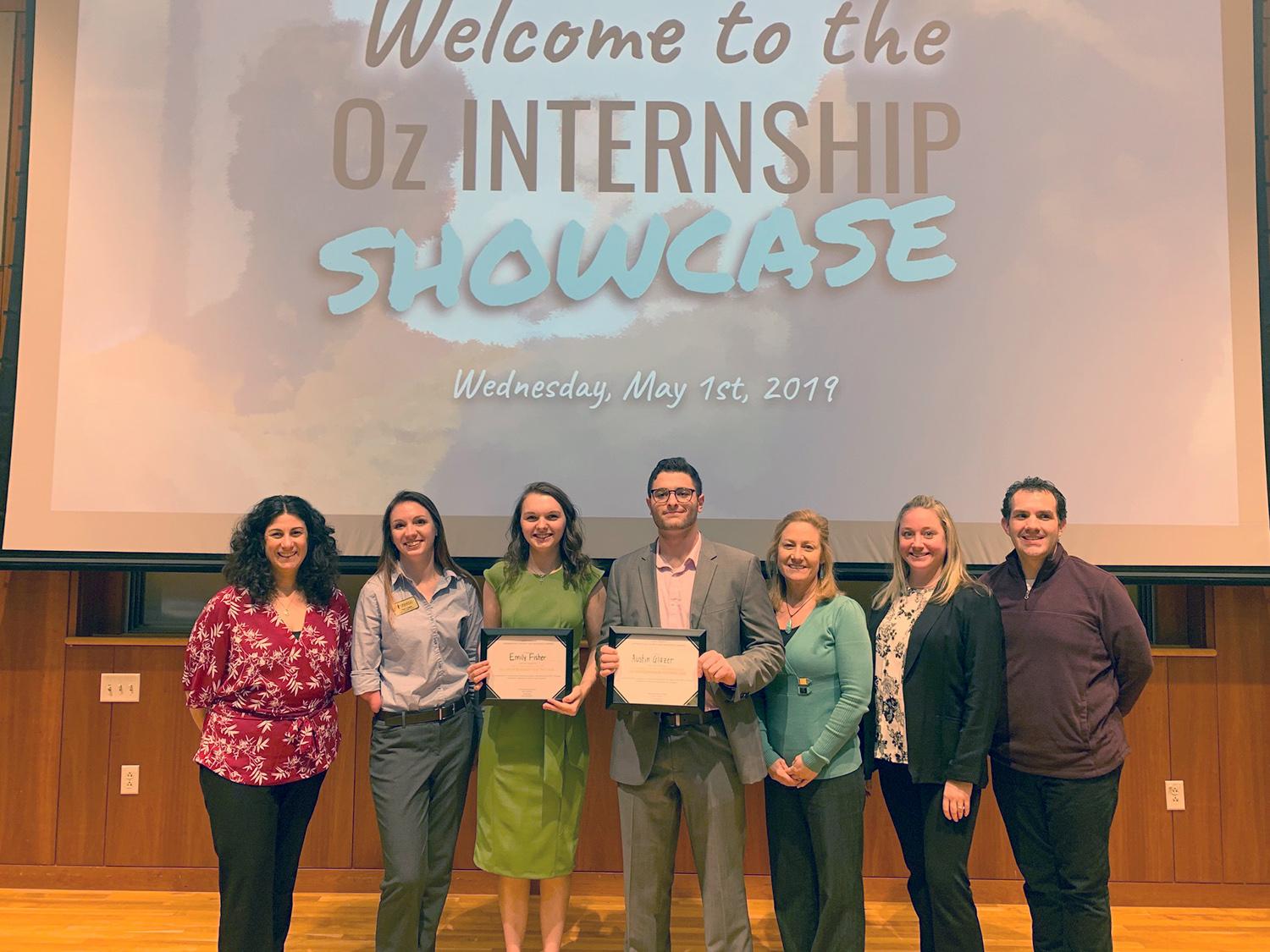 Several students told their stories and competed for prizes during the Oz Internship Showcase. Senior public relations major Emily Fisher earned the judges-based $200 Best Presentation Award, while senior marketing major Austin Glazer won the $100 Audience Choice Award. In the May 1 event, students discussed their internship and co-op experiences and what they learned. Shown from left are Michelle Bandla, director of EXCEL (Experiential Courses and Engaged Learning, the event sponsor); Tina Cooper, site coordinator for EXCEL; Fisher; Glazer; Sheila Cooley, associate director of EXCEL; Laura Sandroni, a visiting assistant professor for general studies; and communication studies faculty member Joseph Stabb.

Becky Nesel, a May 2019 geology graduate, recently received a National Student Scholarship from the American Institute of Professional Geologists. This very competitive award supports students' academic studies and activities, and includes publication of an article in The Professional Geologist.

Shashi Kanbur, chair of the physics department, was among the co-authors for "Modules for Experiments in Stellar Astrophysics (MESA): Pulsating Variable Stars, Rotation, Convective Boundaries, and Energy Conservation" in The Astrophysical Journal Supplement Series.
Mary Tone Rodgers, the Marcia Belmar Willock Professor of Finance in the School of Business, presented during the Workshop on Monetary and Financial History at the Board of Governors of the Federal Reserve in Washington, D.C., May 6 to 8. Rodgers' panel discussed "How J.P. Morgan Picked the Winners and Losers in the Panic of 1907: Resolving Adverse Selection and Restoring Surplus to a Frozen Deposit Market." The Federal Reserve uses research in financial history to provide lessons and insights for today's policy deliberations, Rodgers said.
Comments