SUNY Oswego Technology Student Association (OTSA) members added more awards to their trophy case at the recent ITEEA (International Technology and Engineering Educators Association) Conference in Minneapolis. Team awards included first place in manufacturing, fourth place in robots, fifth in communications and fifth in teaching a lesson. In addition, OTSA President Bryleigh Beauchat won the award for Outstanding TECCA (Technology and Engineering Education Collegiate Association) Student Award; TECCA is a part of ITEEA. The prompt for their first-place manufacturing assignment was to improve a current board game, so the team chose Settlers of Catan and built a deluxe set that featured 273 pieces total, including 17 individual pieces they designed and manufactured. In addition to Beauchat, participating students included Josh Arnold, Joe Costello, Aiden Cuppet, Connor Dickman, Jack Donohue, Samuel Gosden, Ashley Golden, Daniel Hall, Zackary Hilbert, Jack Hickey, Taylor Mackowiak, Adam Parante, Margaret Romano, Eliza Sarigiannis, Samuel Solomon, Tristan Spinelle, Benjamin Sullivan and Tiffany Troung. Read full story.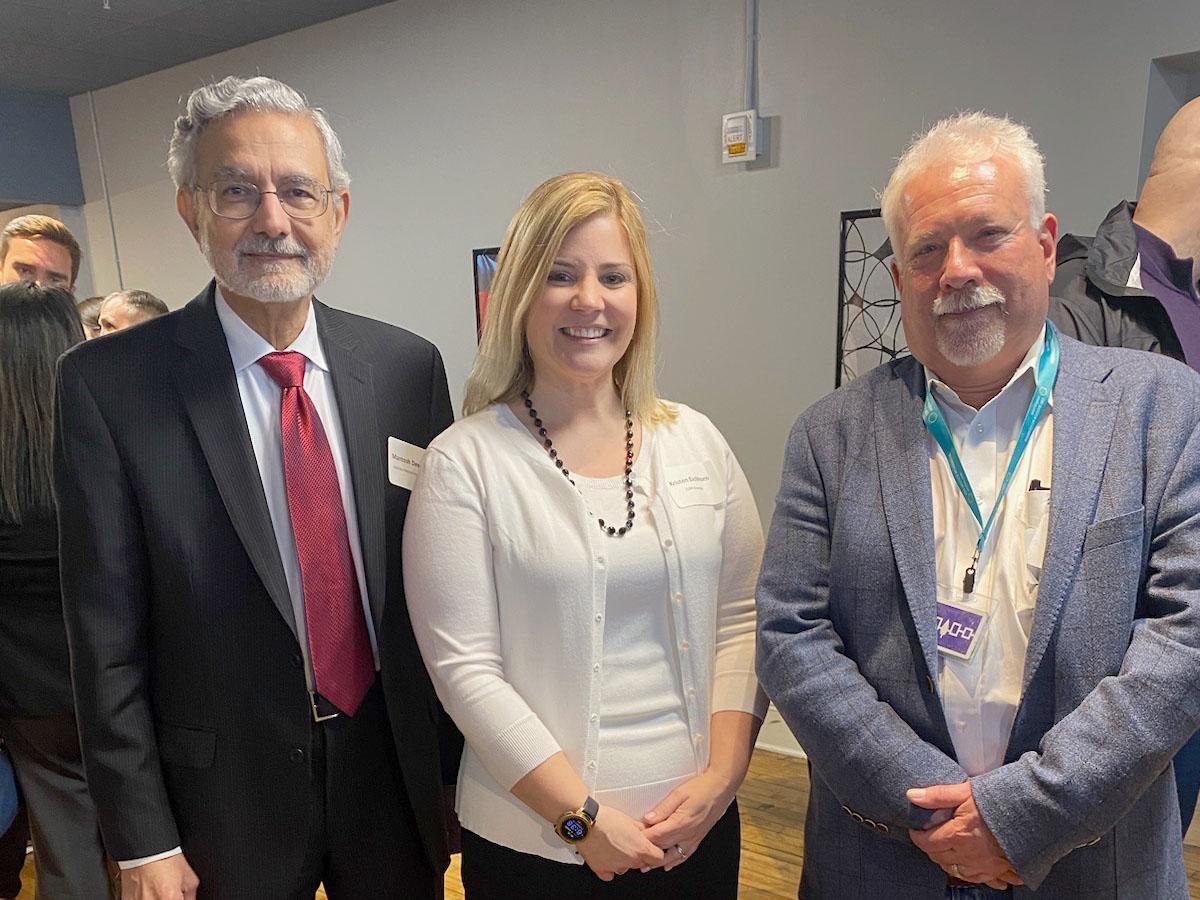 Dean of Graduate Studies Kristen Eichhorn has been appointed as an advisory board member for the CNY Biotech Accelerator. The accelerator, owned and operated by SUNY Upstate Medical University, serves for-profit startup companies who are actively commercializing a biotech-related product or service. "I believe it is critical to represent SUNY Oswego on this board at a time that we are growing programs and enrollment at the Syracuse campus," Eichhorn said. "Specifically, our faculty and students affiliated with our biomedical and health informatics graduate program are well positioned to engage with community partners in these conversations and programming. I am most excited about the opportunities to get our students involved with research, business development, networking and jobs." Here Eichhorn is welcomed by Mantosh Dewan, president of Upstate Medical University (at left), and David Amberg, vice president for research at Upstate Medical University, during the annual Kingston Syracuse Pathway Cross Border Conference on Health Innovation. SUNY Oswego students attended this conference and were thrilled to learn and make connections.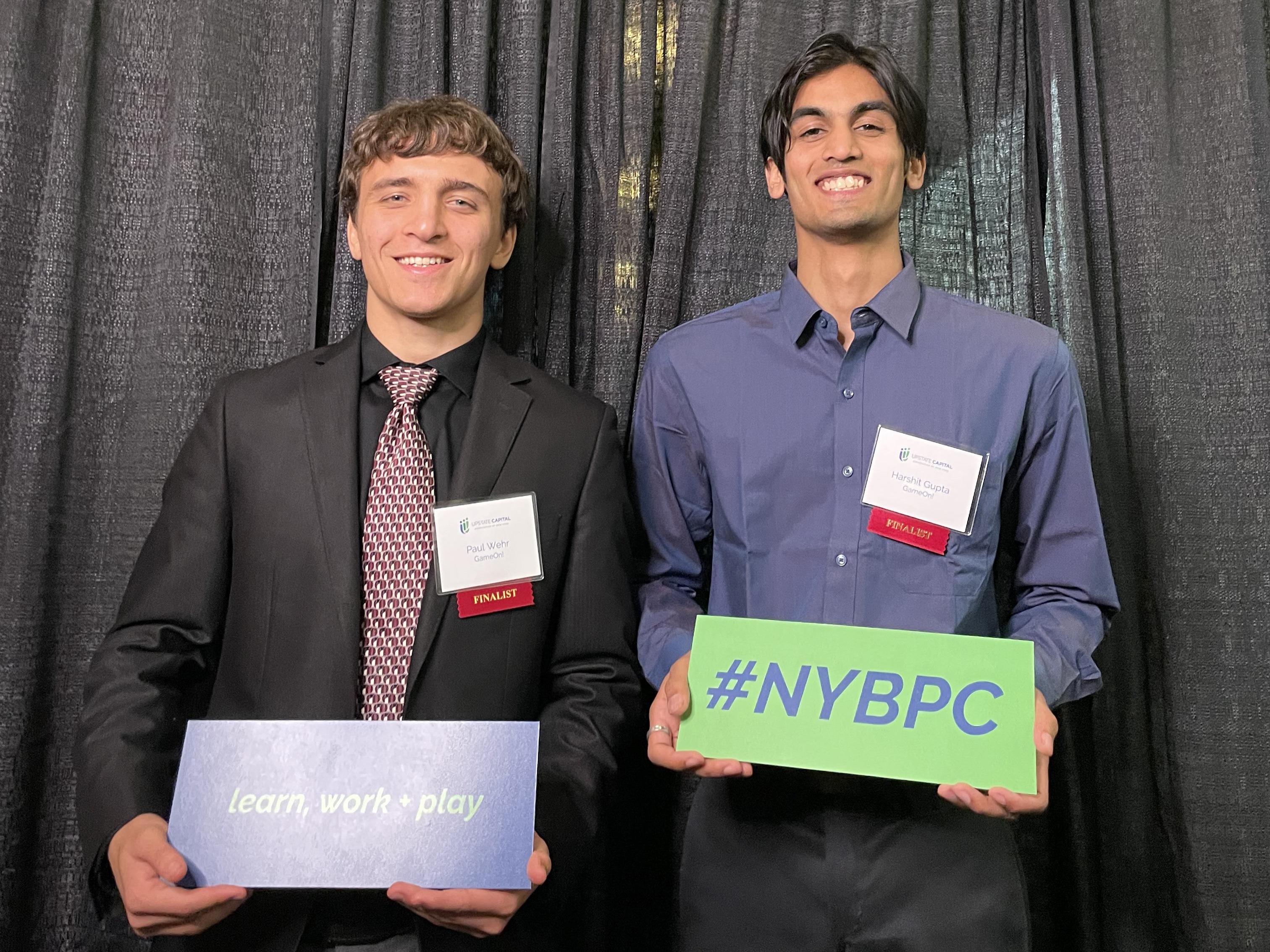 SUNY Oswego students Paul Wehr (now a graduate, at left) and Harshit Gupta won second prize at the New York State Business Competition with their startup GameOn, which creates modifications for gaming controllers to make them more accessible for those with motor function disabilities. The pair placed second in the category Learn, Work and Play at the competition on April 27 at the OnCenter in Syracuse. GameOn's pitch journey included also placing as one of the top two teams in their category at the CNY Regional Business Plan competition, hosted by SUNY Oswego in March, after taking second overall at SUNY Oswego's LaunchIt student entrepreneurship competition last fall. Read full story.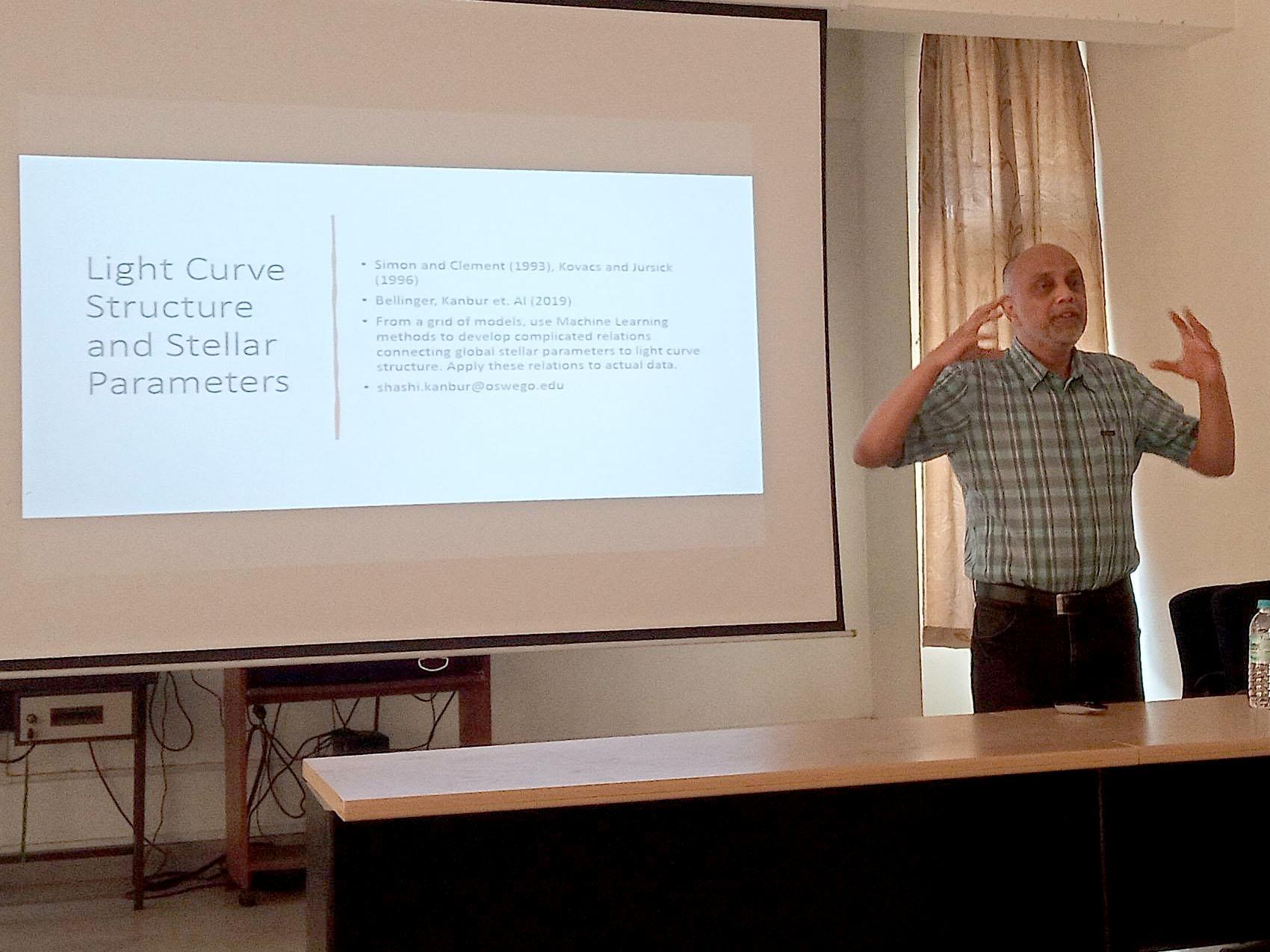 Physics Distinguished Professor Shashi Kanbur presented a May 26 seminar titled "Variable Stars in Astrophysics" at Cotton University, Guwahati, Assam, India. The presentation is part of his work abroad this summer, often working with students and others on research using variable stars, whose pulsation provides clues on the age and scale of the universe. In addition, Kanbur co-authored three pieces appearing in the Proceedings of IAU (International Astronomical Union), including "A multiphase study of classical Cepheids in the Magellanic Clouds- Models and Observations," which features two Oswego student co-authors in Hugh Riley Randal and Selim Kalici. The other two publications are "A multi-wavelength analysis of BL Her stars: Models vs Observations" and "A study of stellar photosphere-hydrogen ionization front interaction in δ Scuti stars."
SUNY Oswego biological sciences faculty member Liz Lange led a research team that found forming friendships can help mitigate the effects of trauma early in life. While the study involved baboons, researchers see tangible connections to humans. Titled "Early life adversity and adult social relationships have independent effects on survival in a wild primate," the paper recently was published in Science Advances and has already earned attention from mainstream media outlets. "The evidence suggests that strong social ties may be one way to make up for adversity in early life," according to an article for which Lange served as the lead writer in The Conversation. "People (and other animals such as killer whales, hyraxes and baboons) with strong adult friendships are healthier and live longer than those without such bonds." Lange took part in the study during her postdoctoral research at Duke University. Read full story.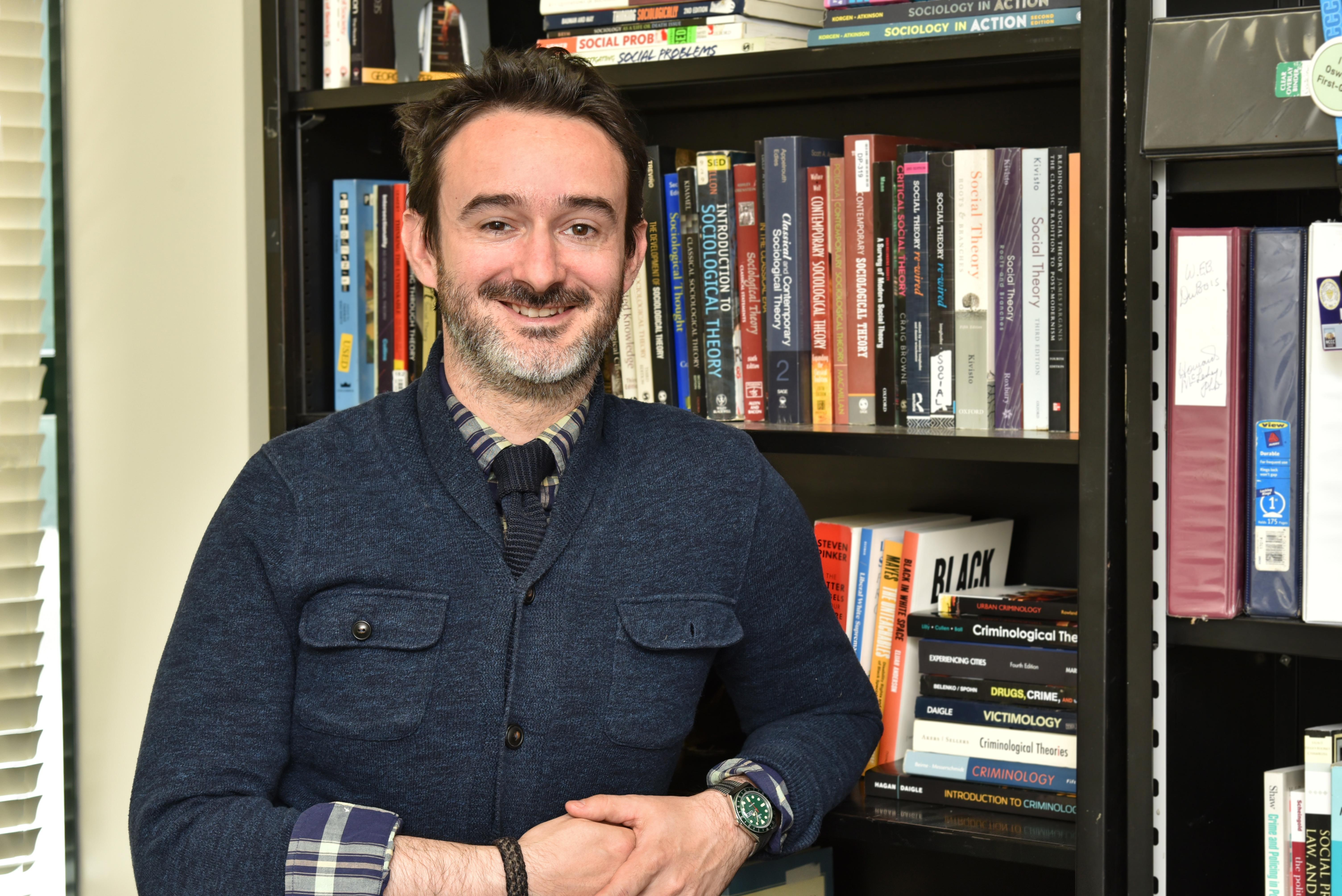 Matthew H. McLeskey, an assistant professor of criminal justice, attended a two-week summer project funded by National Endowment for the Humanities (NEH), focusing on the importance of regional storytelling in fostering a sense of place. The institute is hosted by the Rust Belt Humanities Lab at Ursuline College in Pepper Pike, Ohio, near Cleveland, in June. The Rust Belt -- including parts of the Northeast, Midwest and Appalachia -- is often overlooked as "flyover" country and part of a dead, industrial past, but the NEH program aims to pull the Rust Belt into the dynamic present. Twenty-five college-level educators were selected for the program, and it will focus on the creation of curricula spurring students to think critically about the Rust Belt as a region. McLeskey's research focuses on a significant environmental health issue in the Rust Belt: he focuses on how lead poisoning, caused by legacy building materials found across the urban landscape, tends to be concentrated in segregated neighborhoods, reproducing racial health disparities and hindering community well-being. Read full story.
Tim Nekritz, director of news and media, presented "What's News: The expansion and evolution of storytelling in the digital age" at the SUNY Council on University Advancement (SUNYCUAD) conference June 7 to 9 in Syracuse. The presentation looked at how Oswego's storytelling has evolved into a more engaging and student-focused operation, as well as how Oswego Today has become a key campus communication project. A longtime SUNYCUAD board member, Nekritz also served on the conference's program committee in recruiting a wide range of presenters.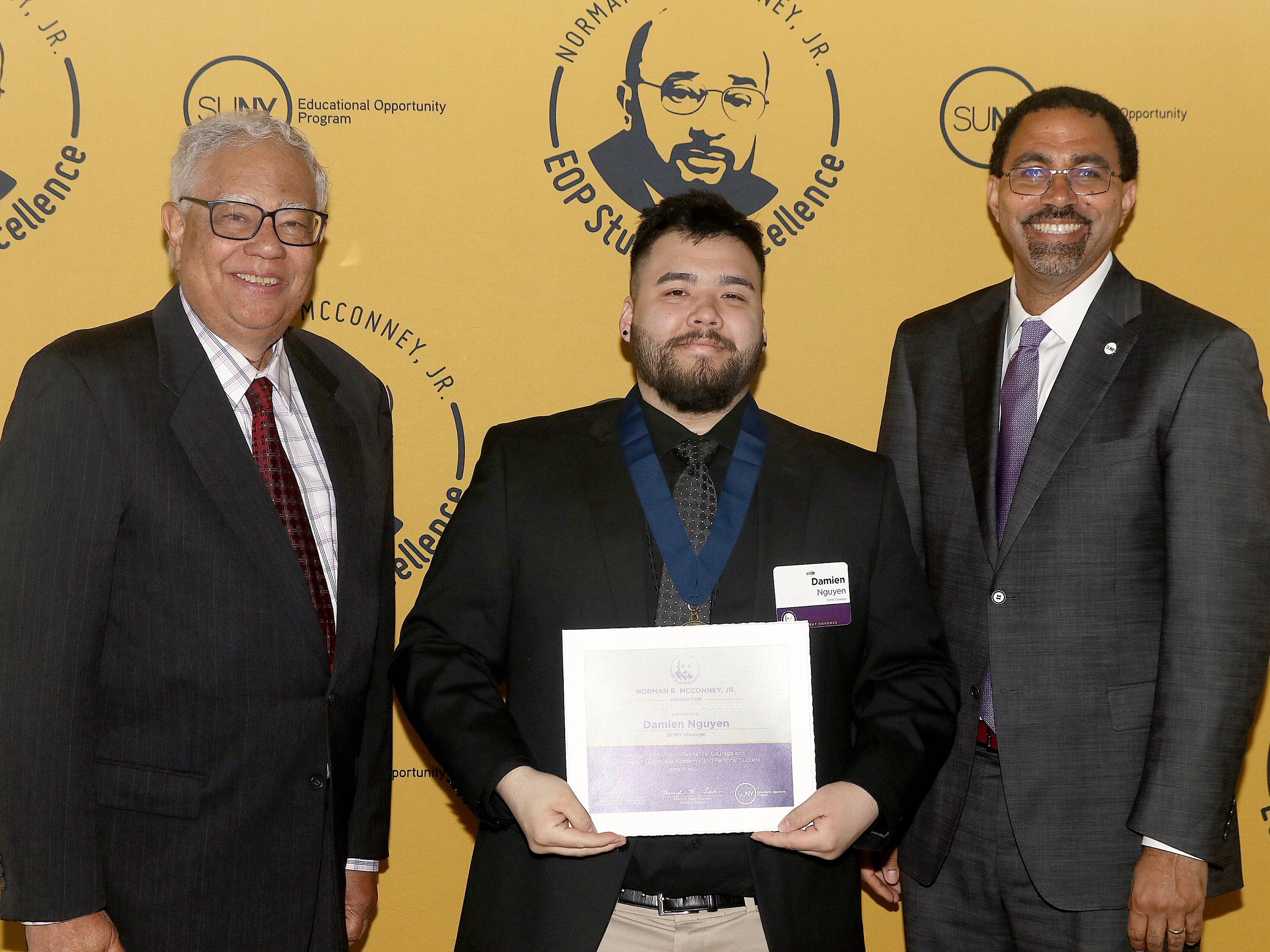 Damien Nguyen, a May 2023 graduate double majoring in human development and criminal justice, recently earned the statewide Norman R. McConney, Jr. Award, which recognizes Educational Opportunity Program (EOP) students who overcome obstacles to excel in their academic endeavors. EOP is an access program to help students with the potential to succeed through academic and financial support. Nguyen was nominated by his EOP director Joey Tse for his achievements throughout his time at SUNY Oswego. Nguyen has held multiple leadership positions during his time at SUNY Oswego and during his time in EOP. He has helped first-year students transition from high school to college, as well as seniors working to finish their college education strong. He is pictured during the April 17 ceremony in Albany from SUNY Board of Trustees Vice Chairman Cesar Perales (left) and SUNY Chancellor John B. King Jr. Read full story.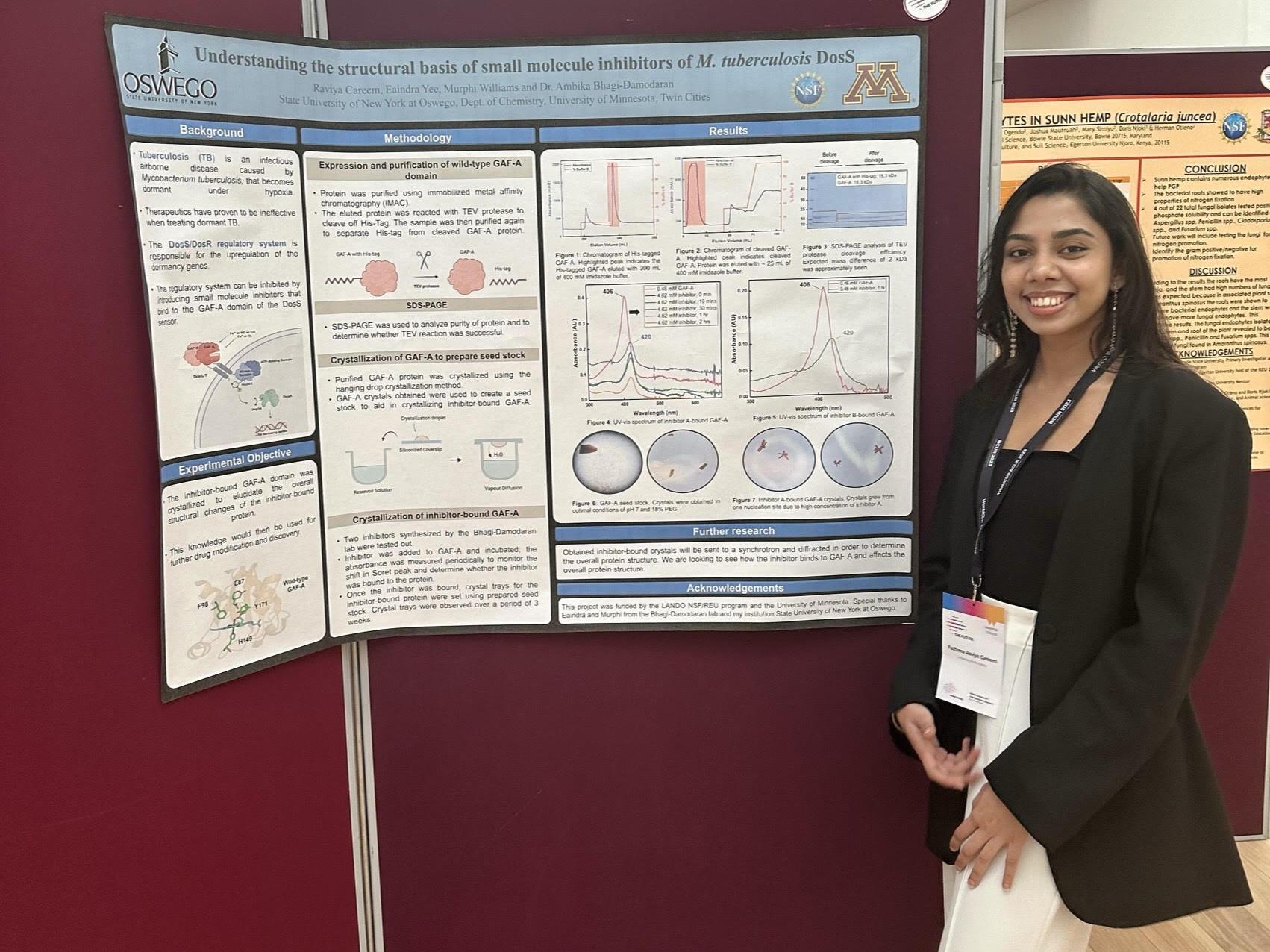 May 2023 biochemistry graduate Fathima Raviya Careem recently presented her research on tuberculosis at this year's World Congress on Undergraduate Research (WorldCUR) in the U.K. She is the first SUNY Oswego student to do so. WorldCUR is an interdisciplinary conference for undergraduate students from all over the world. This year, there were over 35 countries represented with more than 650 delegates. This was Careem's first presentation at a professional conference of this size. Careem's research, titled "Understanding the structural basis of small molecule inhibitors of M. tuberculosis DosS," studied how synthesized inhibitors prevent tuberculosis, also known as TB, from entering a dormant state, where the disease is no longer treatable. Read full story.
Do you have an item for People in Action? Have you, for example, recently presented at a conference, published a research paper or earned a regional or national award? Submit your news via our Oswego Today form.
Comments