"We Are Lake Ontario," a summer-long preview of SUNY Oswego's two-year, college-wide Grand Challenges Project: Fresh Water for All runs June 13 to Aug. 20 at Oswego State Downtown. Preparing for the exhibition engaged 20 students in Amy E. Bartell's recent digital illustration classes, 17 poetry students of Laura Donnelly in English and creative writing, and senior music and English major John Horne, who composed a piece for the occasion under the mentorship of Paul Leary. Artists with works in the show include Zachery Anarella, Fergelyn Baliclic, Olivia Cosgrove, Erin DiBenedetto, Jean Dicarri, PJ Gebhardt, Nick Greco, Robert Hohman, Zac Holt, Jessica Kummrow, Ceseley Mulligan, Emily Nestor, Keri Nguyen, Tyler Rhinehardt, Joel Schlauer, Alyssa Schock, Aaron Scott, Rebecca Smith, Allie Stango and Kiera Thompson. Donnelly's poetry students published their poems as a chapbook. They included Cody Bateson, Tian Burte, Ashley Cavallo, Jailene Colon, Brian Davis-Reardon, Taylor Earle, Jack Goodfellow, Keturah Hancock, Randy Lau, David Manke, Carrie McIntosh, Morgan O'Grady, Rebecca Ortlieb, Joseph Sigurdson, Imani Simpson, Kirsten Staller and Liberty Yalch. Oswego State Downtown, on the corner of West First and Bridge streets in Oswego, is open noon to 5 p.m. Wednesdays, 10 a.m. to 5 p.m. Thursdays and Fridays, and 11 a.m. to 5 p.m. Saturdays.
Amy E. Bartell, the art department's coordinator of community art exhibitions, launched her own show, a deeply personal solo photography exhibition that ran at the Hamilton Center for the Arts. In a statement for the exhibition -- "A Measure of Correction: Photographs by Amy E. Bartell" --  the artist speaks about how her "convergence insufficiency," an ocular condition causing a narrowing window of focus, has affected her views of life and photography. "Through these images, I attempt to capture what and how I see," Bartell wrote. "Vignettes, glimpses, edges -- as I wander around a corner, down the block -- I get close, stand up against things. I live and look in a wide range, but I SEE in a narrow range." The artist muses about convergence insufficiency as a metaphor for how and what we focus on, or cannot seem to focus on. "These images represent my search for focus and my surrender of range as I redefine sufficiency in an increasingly insufficient world."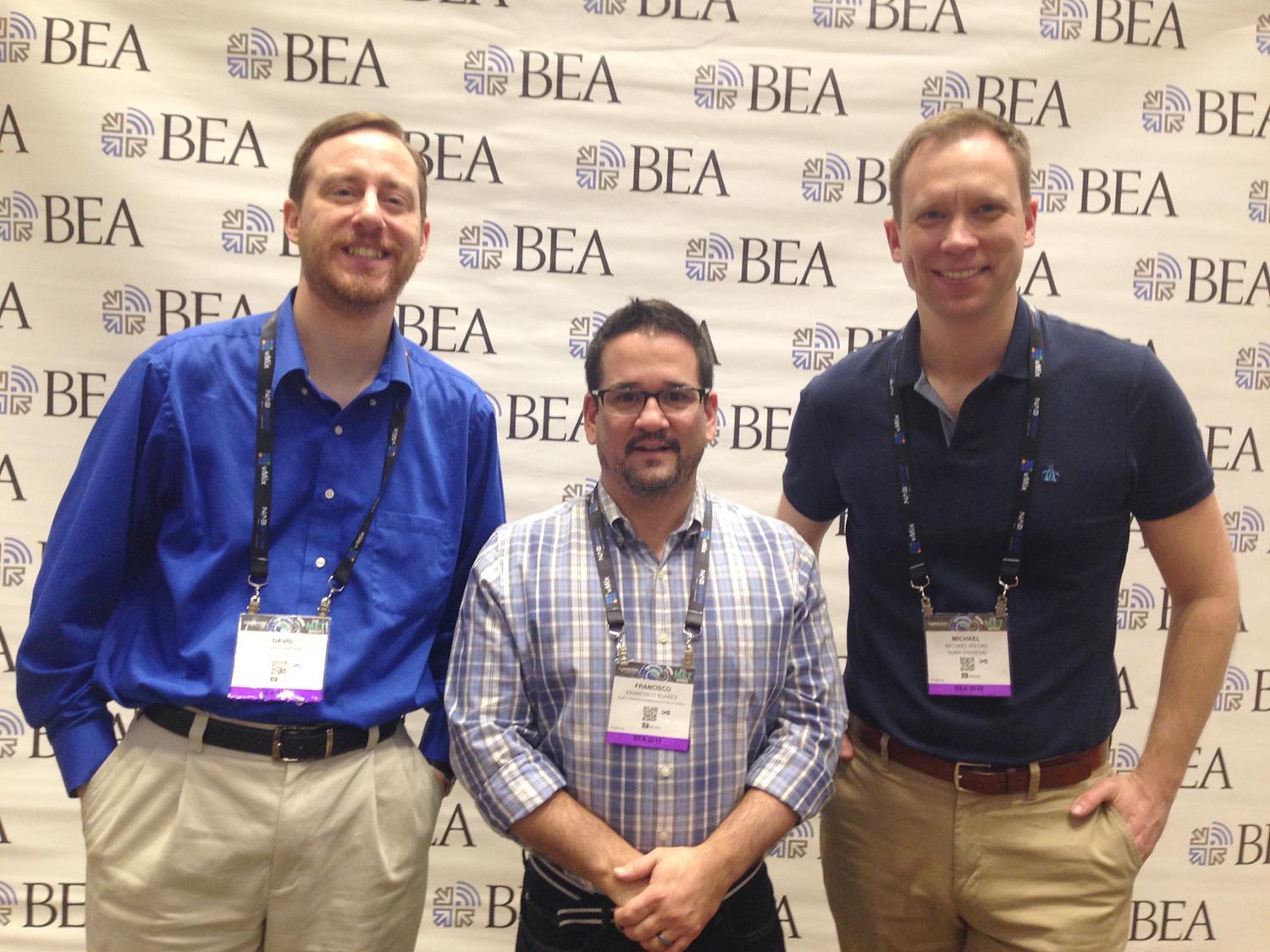 Communication studies faculty members (pictured from left) David Crider, Francisco Suarez and Michael Riecke represented SUNY Oswego at the Broadcast Education Association conference in Las Vegas in April. Crider moderated a panel of radio industry experts and professors ("Teaching Personality") that examined striving to better teach on-air skills in the classroom; was a panelist for a discussion of college radio advising strategies, sharing experiences as first-year advisor at WNYO-FM; presented "Great Sounds and Wonderfulness," his research on legendary FM rock station KMPX that separates its legend from its true impact on radio and society; and served as respondent for the Outstanding Journal of Radio and Audio Media Article session. Suarez was part of the "It's Not Your Grandpa's Radio" panel that discussed the use of digital and social media platforms to expand student media offerings to more diverse audiences.
Two Laker standouts -- baseball player and 2017 alumnus Tim Cronin and women's hockey player Kate Randazzo -- were among 84 recipients of the 2017-18 Scholar Athlete Award, which recognizes academic excellence and athletic achievement. Randazzo, a biology major has recorded a 3.95 cumulative GPA at Oswego. The sophomore has racked up academic and athletic accolades during her career. Off the ice, she was named the inaugural Northeast Women's Hockey League (NEWHL) Scholar Athlete of the Year, earned the NEWHL Elite Academic Award and received a spot on the American Hockey Coaches Association's Scholar Athlete List. Athletically, Randazzo earned All-NEWHL first team honors this season. Cronin earned the SUNY Scholar Athlete Award last year as well, and was named to the College Sports Information Directors of America Academic All-District Baseball Team during his senior year. The 2017 SUNYAC Co-Pitcher of the Year also helped the Lakers to their first-ever appearance in the NCAA Division III College World Series last year.
Baseball player Mike Dellicarri and women's lacrosse player Teresa Shattuck became the latest Lakers to earn All-American honors. An honorable mention D3baseball.com All-American and first-team All-Region, Dellicarri helped the Lakers return to the College World Series for a second consecutive year with his hitting prowess. The junior led the team in runs (54), hits (59), triples (5), home runs (8), RBI (54), total bases (103) and slugging percentage (.624). His runs per game (1.29), total runs, runs batted in per game (1.29) and total RBI all rank in the top 35 of Division III. Shattuck, named third-team All-American by the Intercollegiate Women's Lacrosse Coaches Association, was among the country's best in creating opportunities for teammates, ranking in the top 10 of two national assist categories. The junior attacker ranked fourth in assists per game (3.41) and sixth in total assists (58), the latter being a Laker program record. The three-time All-Region and All-SUNYAC player also scored 30 goals this season.
Thomas Rhett Kee, an adjunct professor in theatre, appeared as District Attorney Walter Steele in "Chappaquiddick," the historically based motion picture released in April.
Public justice faculty member Jaclyn Schildkraut took part in a CNYCentral-hosted "Town Hall: Safe at School" discussion May 3 at Liverpool High School. An internationally recognized expert on mass shootings, she shared the stage with Liverpool School District Superintendent Dr. Mark Potter; former National Rifle Association spokesman Scott Armstrong, now with Voice for 2nd Amendment; Chris Major, an Auburn School District resource officer; and Renee Rider, the state's associate commissioner for the Office of School Operations and Management. CNYCentral's Matt Mulcahy and Megan Coleman served as moderators for the live-streamed event, which included a large turnout of local political representatives, school officials and teachers, and members of the public.
Computer science professor Damian Schofield, director of the human-computer interaction program, published "Guidelines for Using Game Technology as Educational Tools" in the May edition of the Journal of Education and Learning (EduLearn). The article explores developments in and guidelines for implementing virtual reality and immersive interactive technology into the educational environment. Schofield and HCI major Noelle C.L. LeRoy published "Representing Robots: The Appearance of Artificial Humans in Cinematic Media" in the Journal of Arts and Humanities. Their article examines how people see artificial humans and how the wide variety of robot characters are interpreted in cinema.
Several School of Business students attended and excelled at May's SHNU-SUNY Oswego International Academic Forum in Shanghai, China, part of the college's longstanding partnership with Shanghai Normal University. Leah Souza won a second prize honor and Yan Carlos Minaya, Noah Oliver and Genesis Licil won third prize in research presentations. Other Oswego students who attended include Micaela Dobereiner, Autumn Caldwell, Zhiqiang Ke, Emily Stasko, Thomas Leprine and Douglas Castro. Oswego attendees also engaged in a welcoming tea ceremony, took a field trip to visit an entrepreneurship incubation park for educational enterprises and saw historically significant sights as part of a tour.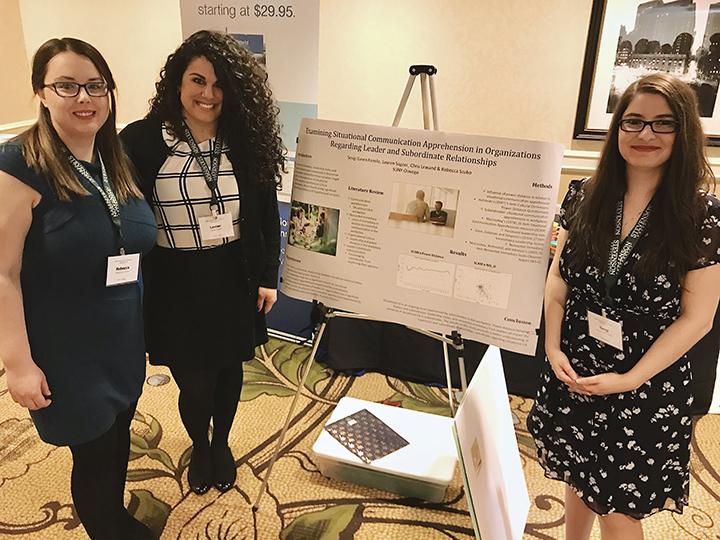 A poster by (from left) Rebecca Szabo, Lauren Sageer and Sevgi Evren Familo, along with Chris Lewand (not pictured), was among the many research presentations by Oswego students and faculty at this year's Eastern Communication Association annual convention.
Several faculty and students presented at the Eastern Communication Association annual convention April 25 to 29 in Pittsburgh. Katherine Thweatt -- who also has been elected first vice president for ECA -- co-presented a short course: "Bridging the Gaps in Teacher-Student Relationships from a Distance: Strategies for Building Effective Hybrid and Online Learning Environments." Jason Zenor, Chris Hirsch, John Kares Smith and Jenny Rosenberg were co-panelists on "Building Transdisciplinary Bridges to Garner Understanding of Civility in a Divided Nation." Emily Dolan presented her co-authored research paper, "Interpersonal Emotion Regulation: Examining Motivations for Sharing Emotion and Responses of Communication Partners," and also presented on a roundtable discussion, "How the Context of Limited Nonverbal Cues Affects Emotional Processes." Kristen Eichhorn was a panelist on the ECA Open Forum on Diversity and Inclusion and presented a paper: "Building Bridges from Communication Departments to Senior Leadership Teams: How We Can Face the Greatest Challenges in Higher Education." Smith also was a panelist for "Secrets, Challenges, & Opportunities in The Political Communication Classroom." Serenity Sutherland was a "Panel on Interdisciplinary Teaching" panelist. Zenor participated on a panel on "Scorched Earth Politics: Incivility, Incendiary Speech and the End of Deliberation." Rosenberg was a panelist for "Bridging Interpersonal Communication and Institutional Goals." Graduate students in strategic communication Sasha Waloven, Lillian Meaney, Chantel Richardson and Melissa Wilson presented their research, "Marketing Tactics and Effects on an Individual's Esteem and Identity." Four other students -- Sevgi Evren Familo, Lauren Sageer, Chris Lewand and Rebecca Szabo -- presented their research on "Examining Situational Communication Apprehension in Organizations Regarding Leader and Subordinate Relationships." Jacob Byron, Sevgi Evren Familo, Donald LaPointe, Kristan Johnson-Thomas and Chih Yao Tsai presented "Personality Traits and Motivations Behind Workplace Bullying: The Bully's Perspective. Tsai joined Barbara Parsons, Fabio Machado, Joshua Faulks and Sarah Pasquarelli in presenting research titled "A Communication Trait Measure for International and Host Students." Undergraduates Kayla Murphy and Jordan Oatman also made presentations, titled, respectively, "Challenges, Opportunities and Relational Maintenance of Intercultural Romantic Relationships" and "Student Perception of Instructor Self-Disclosure Appropriateness."
To submit an item for People in Action consideration, send via email to proffice@oswego.edu. Relevant photos are welcome.
Comments