Nicole Decker, associate director, client support and communication for Campus Technology Services, was among a select group of professionals in higher education to graduate from the first-ever CIO Leadership Academy, created by NYSERNet and the SUNY Sail Institute to help the next generation of information technology leaders. Workshops began in March with the academy culminating May 31 in Albany. The 20 academy graduates learned how to better understand their personal leadership styles, more effectively communicate and build relationships to motivate others, lead and develop teams in complex organizations and create a unifying vision as senior institutional leaders.
Incoming Provost and Vice President for Academic Affairs Scott Furlong recently published the latest version of his text, "Public Policy: Politics, Analysis, and Alternatives." The sixth edition, published by Sage/CQ Press, is co-authored by Michael E. Kraft, emeritus professor of public and environmental affairs at the University of Wisconsin-Green Bay.
An article by Ahreum Lee, who joins the marketing and management faculty in August, was named an outstanding paper in the 2017 Emerald Literati Network Awards for Excellence. The winning work she co-authored, "An analysis of Japan's connectivity to the global innovation system," appeared last year in Multinational Business Review.
Student-athletes Mary Mazzella (pictured above) and Alexa Restante – members of the Oswego State women's basketball and women's soccer teams, respectively – recently attended the eighth iteration of the NCAA Career in Sports Forum. The 2017 NCAA Career in Sports Forum was held at the organization's national headquarters in Indianapolis from June 1 to 4. Mazzella and Restante were just two of 230 current student-athletes, NCAA scholarship and grant recipients from all three divisions of the NCAA selected to attend the forum. Forum attendees, with representation from 73 conferences, heard from several notable keynote speakers and learned best practices for gaining employment and gathering a better understanding of what future expectations will be once they get a job in sports.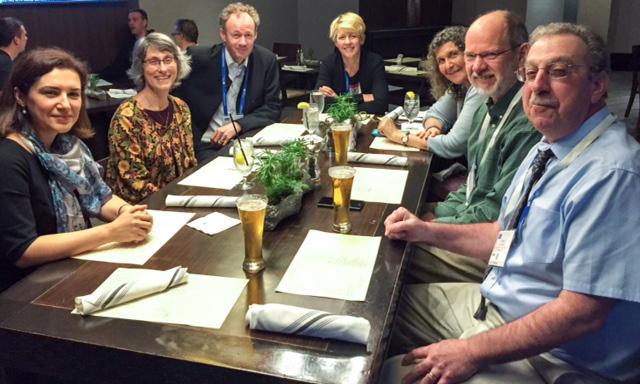 "Have Great Lakes Restoration Programs Been Successful? The Case of Legacy and Emerging Pollutants" session was organized and chaired by James Pagano, director of SUNY Oswego's Environmental Research Center, and Keri Hornbuckle of the University of Iowa at the 253rd American Chemical Society National Meeting and Exposition in April in San Francisco. Rainer Lohmann (University of Rhode Island) was the keynote speaker for the session. The symposium evaluated the current state of knowledge and assessed the past and future trends of contaminants in the Great Lakes ecosystem. Andrew Garner, a research support specialist at Oswego's ERC presented "Concentration Trends and Elimination Rates for Polychlorinated Dioxins/furans, and Dioxin-like Polychlorinated Biphenyls in Lake Ontario Salmonid Eggs: 2004-2015" at the conference. The presentation was co-authored by Pagano. Pictured at the Great Lakes Restoration Program session luncheon at the ACS National Meeting are (from left) Amina Salamova, University of Indiana; Miriam Diamond, University of Toronto; Lohmann; Hornbuckle; Arlene Blum, Green Science Policy Institute; Derek Muir, Environment and Climate Change Canada; and Pagano.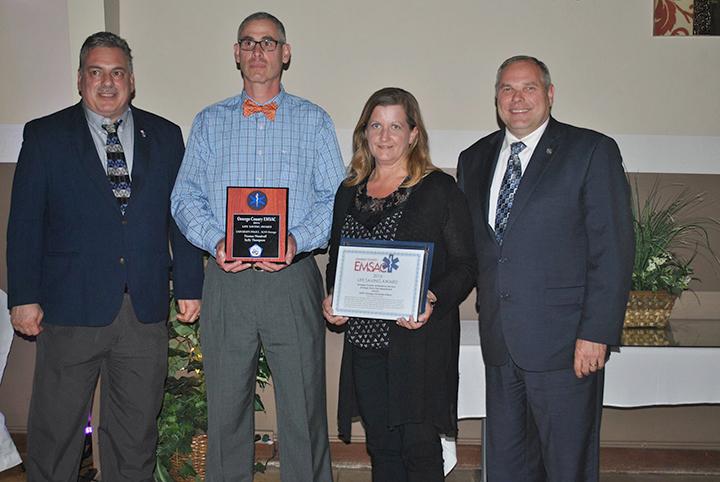 Two University Police officers as well as members of the college's Student Association Volunteer Ambulance Corps were among emergency-services personnel honored at the annual Oswego County EMSAC Awards Banquet on May 19 at the Oasis at Thunder Island in Fulton. Officers Thomas Woodruff and Kelly Thompson, along with members of SAVAC, Oswego Town Fire Department and Oswego County Ambulance Service received a Life Saving Award, providing CPR last October on a student who was not breathing and had no heartbeat. Awards were presented by Oswego County EMS agencies, Oswego Hospital, the Oswego County E-911 Communications Center and other agencies supporting EMS for their dedication during the 2016 calendar year. Pictured from left are University Police Chief John Rossi, Woodruff, Thompson and Assistant Chief Kevin Velzy at the award ceremony.
In Memoriam
Mary Gosek, 55, died June 3 at home after a long illness. She worked on campus for 34 years, most recently as a senior programmer/analyst for Campus Technology Services. Gosek was the founder and inspiration for many on-campus Totally Teal events, including an annual day to wear teal and raise awareness and money for the Hope for Heather ovarian cancer organization, where she was Oswego chapter president.
Comments