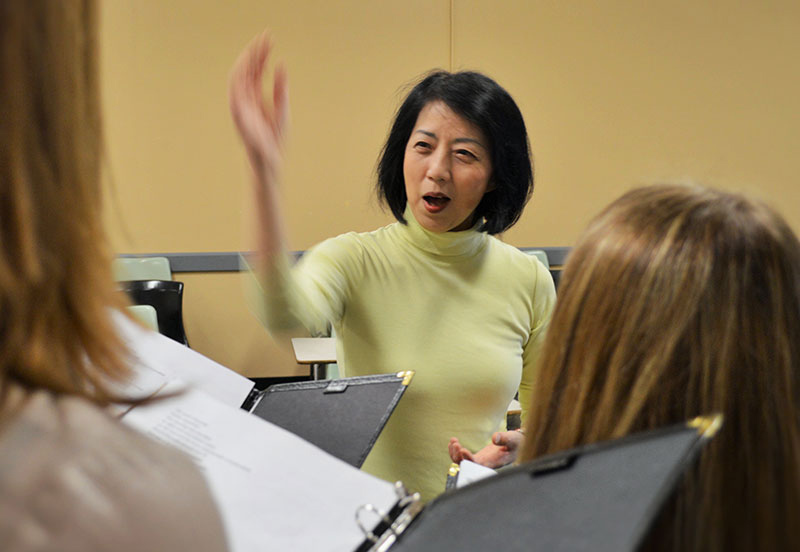 Pathfinder Bank has given a grant of $5,000 in support of the Oswego Youth Conservatory, founded by Robert Auler and directed by Mihoko Tsutsumi, pictured, both of the music faculty. The Richard S. Shineman Foundation supported the project with a startup grant last year.
Sandra Bargainnier, professor and chair of health promotion and wellness, will be honored by Safe Haven Holocaust Refugee Shelter Museum on June 19 in observance of World Refugee Day. She is to receive the Ralph M. Faust Humanitarian Award along with Laurence Rector. Bargainnier is working to settle young male refugees from the Congo. Museum officials credit Rector as a liberator of Germany's Dachau concentration camp in April 1945. The public is invited to the award ceremony, set for 1 p.m. Sunday, June 19, at the museum, 2 E. Seventh St. in Oswego. The museum will hold an open house that day from 11 a.m. to 4 p.m. to honor the spirit and courage of the millions of refugees around the world. The Safe Haven Holocaust Refugee Shelter Museum is dedicated to keeping alive the story of the 982 European refugees who were allowed into the United States as guests of President Franklin D. Roosevelt during the Holocaust in World War II. They were temporarily housed at Fort Ontario in Oswego from August 1944 to February 1946.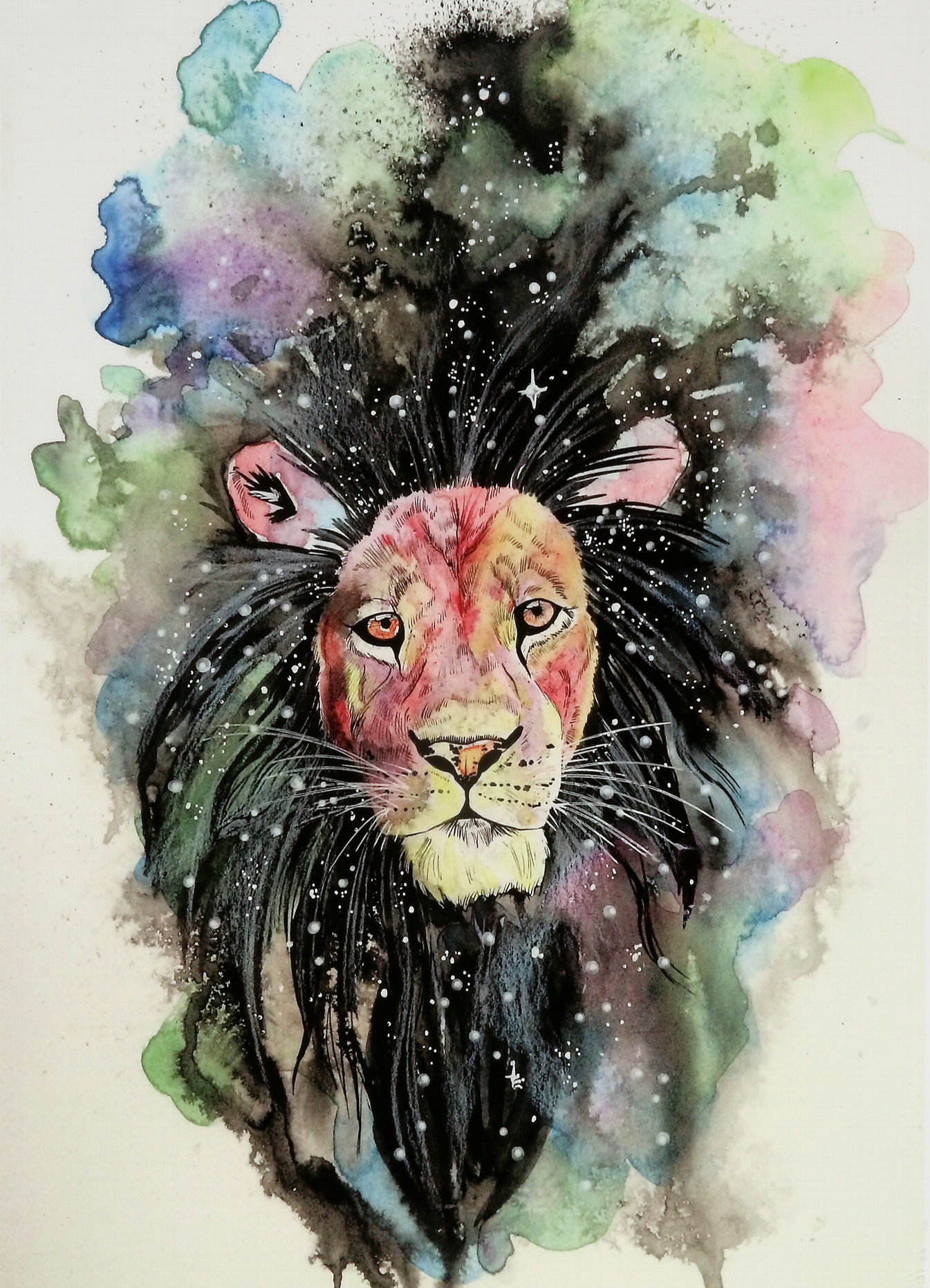 Ashley Bennett, a December graduate in fine arts, has won one of seven awards bestowed on student artists in the Best of SUNY Art Exhibition 2016. She received honorable mention and a $500 cash prize for her mixed media piece titled "Leo," pictured, which was also selected to illustrate the poster and website promoting the exhibition. A reception for the student artists was held Monday at the New York State Museum in Albany. "The Best of SUNY exhibit highlights the impressive artistic talents of students from throughout our university system and serves as an inspiration not only to SUNY's administration, faculty, and staff, but to all those who visit the New York State Museum," said Chancellor Nancy Zimpher. "Again this year, I am in awe of the student works selected for this summer's exhibit. Congratulations to the award winners and to all of the students with work on display." Other Oswego students with works in the Best of SUNY Art Exhibition are Lauren Boyer, a graduate student in art education; Wen Dong and Kristy Hoover, both non-degree graduate students; and Elijah Vary, a senior graphic design major. The Best of SUNY Art Exhibition runs through Oct. 23.

Thomas F. Bertonneau of the English and creative writing department published several articles during spring semester. Revised and expanded versions of his articles about "The West's Cultural Continuity" and about "René Girard on the Ontological Sickness," both originally at The Brussels Journal, have been republished at Gates of Vienna. The first deals with Sylvain Gouguenheim's documentation of an uninterrupted manuscript tradition of Plato and Aristotle in Western Europe in the medieval period; the second deals with the increasing domination of contemporary culture by the varieties of resentment through what Girard calls mediated desire. Bertonneau's article on "Self-Consciousness, Language, and Spiritual Decline" has appeared at The People of Shambhala in two parts: "Mind and Myth" and "The Reign of Quantity." The two parts of the article are together a revisitation of Owen Barfield's theory of language and consciousness; the second part deals with Barfield's argument that scientism is a contraction of Western consciousness with a resultant loss of knowledge and a catastrophic break in cultural continuity. Bertonneau's article, "Shostakovich's 'Leningrad' Symphony: Art Transcending Politics," has appeared as part of the spring symposium of the Sydney Traditionalist Forum. Music criticism has treated Dmitri Shostakovich's Seventh, or "Leningrad," Symphony (1941) as a wartime propaganda score by a talented composer who was capable of working on a higher level; the article offers the counterargument that the "Leningrad" Symphony is not only a marvel of compositional economy, making the most of its few basic elements, but also a marvel of "indirect communication" through which its audiences were able to transcend the harrowing structures of the Stalinist regime. The discussion draws on the aesthetics of Nicolas Berdyaev and on commentaries concerning Shostakovich's work by Igor Stravinsky, Ivan Martynov and Solomon Volkov. Bertonneau's study of Gustave Flaubert and religiosity has appeared this spring at Anthropoetics, under the title "Flaubert's 'Tentation de Saint-Antoine': Three Approaches." "Three Approaches" argues that Flaubert's "Tentation de Saint-Antoine" is both constitutive of and exemplary within a hitherto unidentified literary genre that assimilates the history of religions to the aesthetics of the high realist novel; other items in the same genre are France's "Thaïs," Waltari's "Egyptian," Ibsen's "Emperor and Galilean" and Pater's "Marius the Epicurean." The study makes use of three critical approaches to textual interpretation—the "Fundamental Anthropology" of René Girard, the "Generative Anthropology" of Eric L. Gans and the "Noetology" of Eric Voegelin. "La Tentation" occupied Flaubert for most of his creative life, from its first version of 1848 to its final version of 1874. Commentary on "La Tentation" since the 1960s (Michel Foucault's essay of 1967 is typical) has been largely incoherent due to the prejudice that Flaubert cannot possibly have taken a serious interest in the exploration of religiosity, as such. The study argues contrarily that Flaubert's interest in religiosity was deeply serious and had a strong anthropological component. "La Tentation" indeed vindicates the minimal character of Christianity, yet another gesture that recent commentary balks at ascribing to him. The study also devotes a section to the novel "Three Soldiers" by John Dos Passos, which takes its structure from "La Tentation."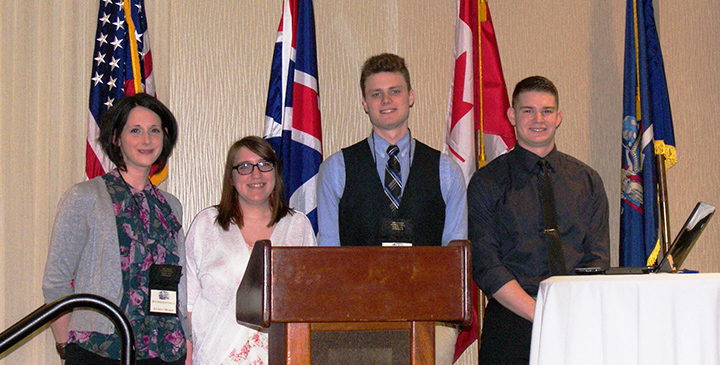 Four Oswego students competed for top prize in the student competition at the Oswego International War of 1812 Symposium in May. Junior Dereck Eddards won the contest with his paper and presentation "A Survey of Soldiers: Who Served during the Battle of Oswego in 1814?" Eddards is majoring in history and minoring in political science. He said he plans to pursue his master's degree in military history and earn a doctorate before serving in the Foreign Service for the U.S. Department of State. Currently, he is working as an intern at Fort Ontario State Historic Site in Oswego. Eddards faced strong competition from three senior history majors. Alexis Ferrare presented "The Deaths and Illnesses of the War of 1812." Kyle Henry discussed "Cantonment Greenbush." Jennifer Santorelli offered her perspective on "The Political Landscape during the War of 1812: The Hartford Convention." Each of the candidates received free admission to the symposium, certificates, gift bags, autographed books from the judges, and cash prizes. An international jury of renowned historians decided the winning presentation. They included Richard Barbuto from the department of military history at the U.S. Army Command and General Staff College at Fort Leavenworth, Kansas; naval historian Gary Gibson; author and consultant Dianne Graves; Donald Graves, one of Canada's foremost experts on the War of 1812; and Richard Weyhing, assistant professor of history at SUNY Oswego. Pictured (from left) are Santorelli, Ferrare, Eddards and Henry.
Esther Gabriel of the women's lacrosse team and Chloe Lonergan of the women's soccer team have both earned the SUNY Chancellor's Scholar-Athlete Award as selected by the State University of New York. The award is given to students who have combined academic excellence and outstanding athletic achievement at the NCAA Division I, Division III and NJCAA levels at SUNY schools. For a SUNY student-athlete to be eligible, he or she must be a member of an all-conference or all-tournament team. Gabriel, a midfielder, helped lead the women's lacrosse team to one of its best seasons ever, as the squad tied the program record for wins with 12. The senior's 47 goals topped the team, while her 52 points were the third-most for the Lakers. In the final two regular season games of the year, Gabriel earned SUNYAC Offensive Player of the Week honors. She helped lead the team to its deepest postseason run since 2001 and was named to the first team all-conference and the all-academic team. Academically, Gabriel sustained a 3.80 grade point average over her four years, majoring in philosophy and minoring in logic. Lonergan, a freshman, was a force in her first season with the soccer team, anchoring a defensive unit that allowed just 22 goals in 19 games. She earned a start in her first contest and retained that starting role for the remainder of the season. She was named the SUNYAC Rookie of the Year and was placed on third team all conference. In the classroom, she earned a grade point average of 4.0 while majoring in operations management and information systems with a minor in international business.
D3baseball.com named three from Oswego State's baseball team to the All-New York Region. Eric Hamilton was voted the region's Player of the Year, earning a place on the first team, while Robert Donnelly and Myles Kutscher nabbed spots on the second team. Hamilton, a junior economics major, finished 2016 batting .399 with 69 hits in 173 at-bats. Both those hits and at-bats totals set new Oswego single-season records, as did his 13 home runs. Hamilton's 55 runs batted in missed the program record by just one. He tied for second on the all-time single-season runs scored list. His hits, homers, RBI, total bases (122) and slugging percentage (.705) all led the State University of New York Athletic Conference and were ranked in the top 50 in all of Division III. Donnelly, a junior physics major, made the second team as a starting pitcher despite being one of the Lakers' most versatile players. He made 11 appearances and 10 starts, finishing the year with a 5-1 mark. In his 65.1 innings of work, Donnelly allowed just 15 earned runs for a 2.07 ERA, the lowest starting pitcher ERA on the squad. That ERA was also the second lowest of all SUNYAC pitchers, trailing only the region's Pitcher of the Year. He held batters to a .252 average while fanning a team-high 47 batters, which was the fifth-most in the conference. While Donnelly earned a spot as a pitcher, he was also an everyday infielder when not on the mound. He batted .341 over 91 at-bats, scoring 18 runs and driving in an additional 13. Kutscher, a junior wellness management major, held down the cleanup spot in the lineup over the course of the season, batting .353 with 21 extra-base hits—including six home runs—for a .559 slugging percentage. He walked the second-most times on the team (16) and was hit by a pitch seven times, boosting his on-base percentage to .423. Of 19 offensive categories the conference tracks statistically, Kutscher ranked in the top 10 in all but four. Defensively, the outfielder continued his perfect career, not committing an error in 62 chances, completing 58 putouts and four assists from left field. He had 106 chances between the two corner outfield positions over his career and never botched a play. These three players along with the entire Laker squad helped Oswego to a program record 35 wins—eight more than the previous mark—and its first NCAA tournament win since 1984, finishing third at the NCAA Championship New England Regional.
Gwen Kay, professor of history, has been re-elected to a two-year term as vice president and secretary of the SUNY-wide University Faculty Senate. In her first term, she served on several SUNY committees, including the Applied Learning Steering Committee and Applied Learning Task Force, Micro-Credentialing Task Force (along with Oswego's Dean of Extended Learning Jill Pippin), SUNY Shared Governance Award committee, organizing committee for two "SUNY Voices: Shared Governance" conferences and Shared Governance Leadership Institute.
Nicholas Lyons, vice president for administration and finance, was honored in the 2016 Financial and Business Executive Awards of Central New York in the nonprofit organization chief financial officer category. The Business Journal News Network editorial team selected honorees, who were feted June 2 at SRC Arena at Onondaga Community College.
Elizabeth "Lizzy" Marks, a senior communication and social interaction major, has been accepted into the Television Academy for Arts and Sciences' highly competitive paid internship program in Los Angeles. The program accepts 50 students a year. A student from SUNY Oswego has made the cut three years in a row. Interns are placed with top media production companies for the summer. Marks has been placed with Bunim-Murray, which produces "Project Runway," "I Am Cait," and "Keeping up with the Kardashians." She participated in SUNY Oswego's Hollywood POV in 2015. "This is an extremely high profile internship that helps launch people's careers," said Mary Toale, chair of the communication studies department.
Hannah Valentino, a senior chemistry major, has been selected to receive the American Chemical Society Undergraduate Student Award in Environmental Chemistry. The award includes a one-year membership in the ACS Division of Environmental Chemistry and a certificate. She is one of 38 students from colleges and universities around the United States plus one in Cyprus to receive the honor. James Pagano, director of SUNY Oswego's Environmental Research Center, nominated her for the award, writing that she demonstrated "the knowledge, skills, and abilities needed for graduate-level research activity" as she worked on her senior capstone project developing methods for analyzing brominated and organophosphate flame retardants in environmental matrices.
K. Brad Wray, professor of philosophy, is the author of a piece in the journal Scientometrics titled "Still No New Evidence: Author-Pay Open Access in the Social Sciences and Humanities." It is a reply to a response to his earlier publication in the same journal.
Jinpei Wu, assistant professor of management, will receive the 2016 Robert McDonald Advancement of Organizational Research Methodology Award, sponsored by Sage Publications, at the annual Academy of Management meeting in August. The award recognizes Wu's and co-author K. D. Carlson's contribution to advancement of their field in the paper "The Illusion of Statistical Control: Control Variable Practice in Management Research," which appeared in the journal Organizational Research Methods.
Comments