Sarah Slater, a May graduate with dual majors in business administration and in public relations, and Joseph Staab of the communication studies faculty presented research at the SUNYCUAD annual educational conference, June 5 to 7 in Saratoga Springs. With the only student submission accepted, Slater (pictured) shared "Content Analysis of University Blogs." Staab presented "MultipleCase Study: External Communication and Mission Alignment at New York State Higher Education Institutions." SUNYCUAD serves the advancement, communication and related professions across SUNY.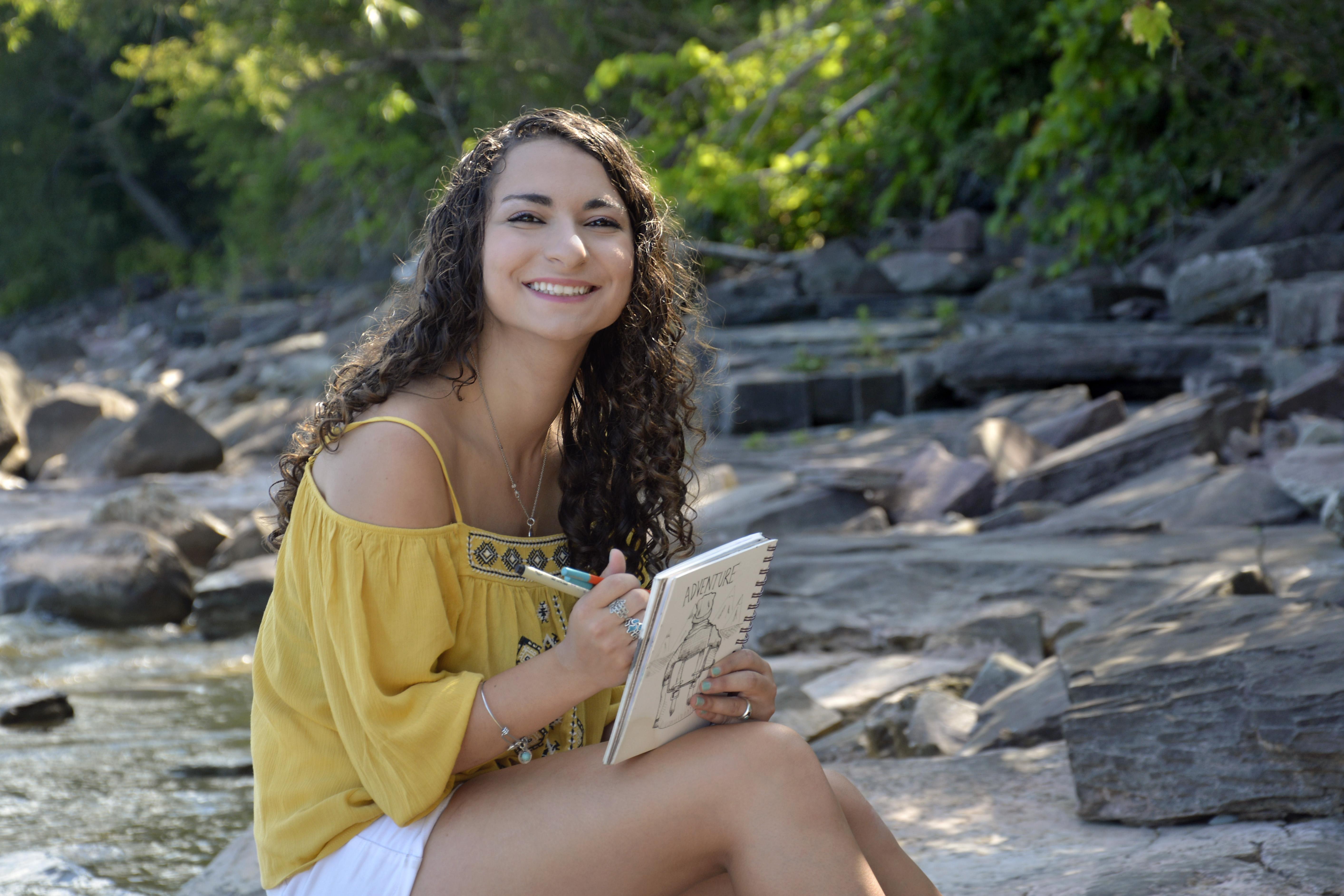 May bachelor of fine arts graduate Rachel Futterman is among seven scholarship winners across the 64-campus system in this year's Best of SUNY Student Art Exhibition. SUNY Oswego's art department submitted Futterman's piece, "Flourish," for the annual competition, and jurors selected it for Honorable Mention. The SUNY student art shows were initiated in 2001 so that the work of SUNY's most talented student artists could be seen by a wider audience. Student artwork will be on display at the State University Plaza in Albany through Thanksgiving of this year. Read full story.
Master's in human-computer interaction students Daniel Huffnal, Theo Johnson and Ethan Osborne presented "The impact of controller type on video-game user experience in virtual reality," June 19 to 22 at the IEEE Games Entertainment and Media Conference at the University of Yale. 
Rodmon King, SUNY Oswego's chief diversity and inclusion officer, was recently appointed chair of the Campus-City Relations Committee by Oswego Mayor Billy Barlow. The CCRC, established in 2006, seeks to connect the SUNY Oswego campus community with that of the greater City of Oswego community. The focus of the membership is to assist the greater community with neighborhood quality of life issues, off-campus housing, public awareness campaigns, and city-campus events and programs to better include and connect the SUNY Oswego community to the greater Oswego community. Read full story
Fritz Messere, the founding and now retired dean of the School of Communication, Media and the Arts, and fellow Oswego alumni Philip Benoit and Carl Hausman recently published an updated version of their landmark textbook "Announcing for Broadcasting and the Internet" through Routledge. Since the pioneering first edition in the 1980s, the shifting landscape of communication merited an updated sixth edition that retained the practical guide to mastering broadcast announcing techniques and mechanics while expanding into audio and video editing programs, streaming media and how to develop one's speaking voice. "While many still pursue careers in traditional fields such as television and radio news announcing, broadcast performance has expanded to Internet radio, podcasting, home voice-over production and performance on YouTube and other Internet video venues," the book's liner notes explained. The book also features a foreword by another acclaimed alumnus, Al Roker.
Damian Schofield, professor of computer science and director of the college's human-computer interaction program, took seven students -- Hannah O'Brien, Emily Bozogian, Michael Carroll, Casey Galloway, Rachel Hernon, Daniel Huffnal and Michael Palmateer -- to Melbourne, Australia, to work with RMIT University students under professor Lisa Dethridge on film projects relating to transhumanism and robot technology in May and June. "The students also got the opportunity to travel along the Great Ocean Road and visit a number of wildlife parks and other cultural activities -- many of the students traveled on to Sydney to spend extra time in Australia." Schofield said. From left, Huffnal, Carroll and O'Brien meet a koala at the Moonlight Animal Sanctuary.
Schofield also took three students -- Ian Cummins, Priyanka de Silva and Christopher Wypyski -- to Da Nang, Vietnam, to work with Duy Tan University researchers under professor Jolanda Tromp on virtual reality projects relating to anatomy and medical training in  June. "The students also got the opportunity to travel to ancient temples and other cultural activities," Schofield said. "The students will be undertaking an internship lasting most of the summer in Vietnam." The trip allowed them to learn about the country's culture, traditions and (pictured) food.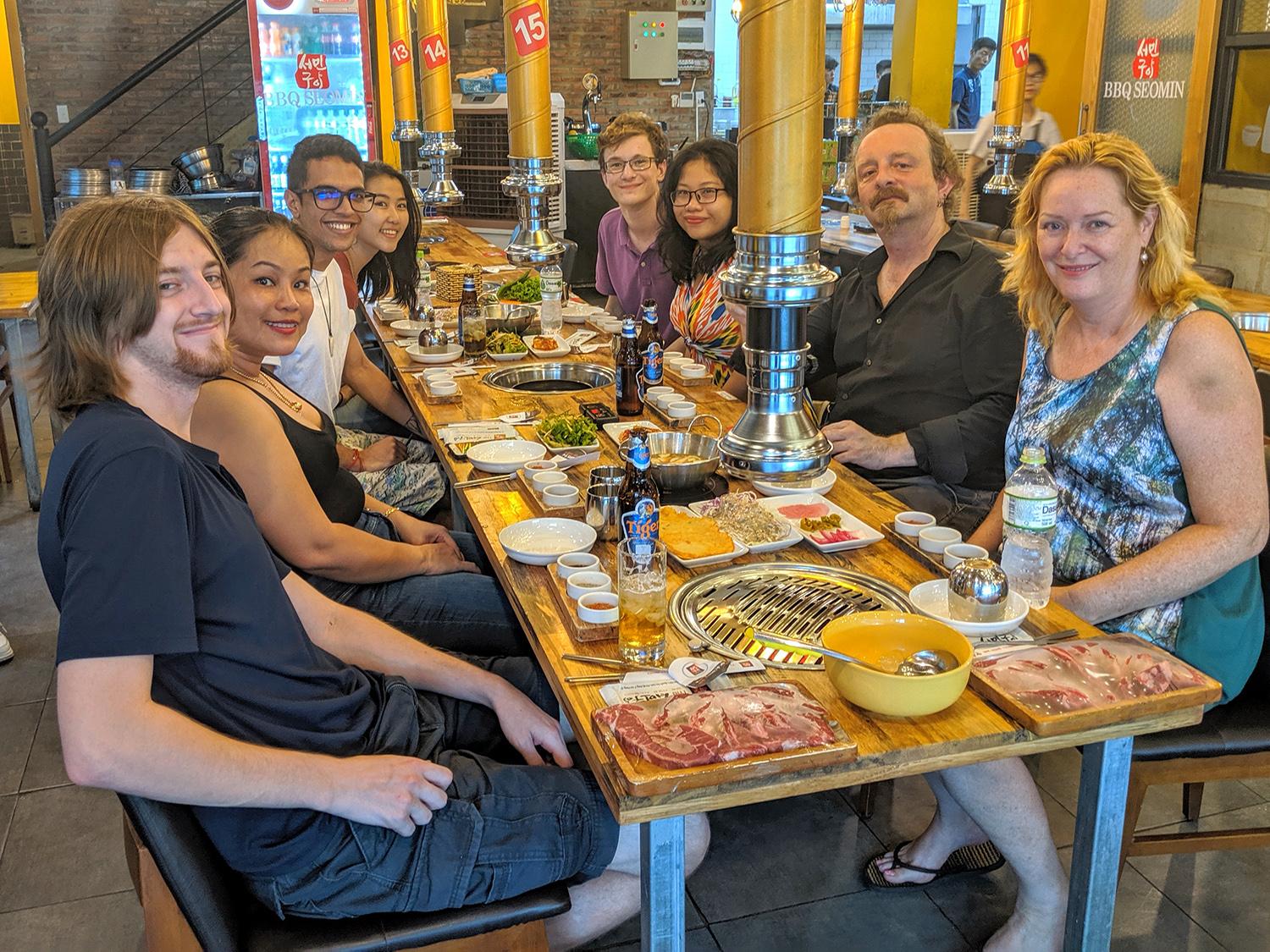 Schofield also had two recent journal publications co-authored by Oswego HCI students. "The Importance of Representation in Robot Interaction," co-authored with Noelle LeRoy, appeared in the American Journal of Humanities and Social Sciences Research. "Professionalism Online: The Effect of Resumes and Social Media on Perceived Work Ethic," with co-author Michael Carroll, appeared in the International Journal of Business Marketing and Management.
Jaclyn Schildkraut of the criminal justice faculty co-authored "Advancing responses to mass shootings using a routine activity approach," which appeared in the journal Crime Prevention and Community Safety. The paper, which looked at routine activity theory as a framework to developing responses to mass shootings, was co-authored by Brandon M. Naman, a dual major in political science and public justice at SUNY Oswego, and Mark C. Stafford of Texas State University.
Comments