The State University system recently named senior cognitive science major Christopher Bartlett a 2015 Brain Scholar, awarding him a summer research internship at SUNY Upstate Medical University in Syracuse. Bartlett is one of only 11 Brain Scholars from around SUNY, most of them from the system's four university centers. The awards offer students unique opportunities to be on the cutting edge of new research and innovation in highly specialized fields. As a summer research assistant for Dr. Daniel Ts'o, associate professor of neurosurgery at Upstate's Institute for Human Performance, Bartlett is assisting with research involving the functional imaging of the retina. The work ultimately impacts research on diseases such as macular degeneration and glaucoma, he said. The Brain Scholar program is part of the SUNY Networks of Excellence.
Kestutis Bendinskas, professor of chemistry, has received a $5,000 grant from the SSADH Association to support his project titled "Colorimetric GHB Detection for SSADH Deficiency." The association represents children and families affected by succinic semialdehyde dehydrogenase deficiency. Bendinskas and his students Sasha Padilla and Kate Piazza were asked to develop an inexpensive mail-in kit for detection of a key metabolite in saliva indicating potential SSADH deficiency of kids showing autistic-like symptoms. The Food and Drug Administration has approved trials for a promising medication for the condition, Bendinskas said, and the development of tools for identifying additional SSADH deficiency patients is important for the success of these trials.
The latest batch of Oswego interns at NASA's Jet Propulsion Laboratory in California—pictured from left, Brandon Caruso, Nick Edington, Daniel Wysocki and Kenny Roffo—are shown with a planetary rover in the midst of their 10 weeks at the lab based at the California Institute of Technology. The four are computer science majors; Wysocki also majors in physics and Roffo in math.
The SUNY Arts and Humanities Network of Excellence has awarded a $15,000 grant to art department chair Cynthia Clabough and a number of co-investigators for an interdisciplinary project titled "Creatively Exploring Place, Self and Collective Identity." Based on the theory of narrative identity, the investigators plan to work with students in communities struggling with shifting economic and demographic realities. "Our collaborative aspires to empower students to use artistic expression to explore identity and visualize their own potential," according to the team's abstract. Using written stories, audio narratives, documentary and experimental forms, expressive works or mixed media, the venture aims "to provide a window in which K-16 students living in central and upstate New York project into the world a sense of who they are and what it means to live in their community. . . The project supports collectively constructing a malleable picture of place that is woven from the creative expression of its citizens." It will culminate in exhibits, public art projects, performances and other participatory activities. Collaborators include SUNY Oswego's Barbara Beyerbach and Sharon Kane of the curriculum and instruction department and Rebecca Mushtare and Kelly Roe of the art department; Elizabeth Brownell and Lacey McKinney of Finger Lakes Community College; and Jim Roberts and Todd R. Behrendt of Mohawk Valley Community College. The Arts and Humanities Network of Excellence fosters student and faculty research by encouraging collaboration among SUNY campuses, local organizations and experts in the field.
The American Baseball Coaches Association and Rawlings named Laker sophomore third baseman Eric Hamilton to its national 2015 Gold Glove Team. He was one of just nine to garner a gold glove, and the only representative from New York.
Shashi Kanbur, professor of physics, is part of a multinational team that has been awarded observing time on the Very Large Telescope operated by the European Southern Observatory in Chile. The team includes Adam Riess, the 2011 Nobel laureate in physics. The researchers will use observations on the facility's Fibre Large Array Multi-element Spectrograph to investigate the uncertainty in the Cepheid period-luminosity relation, and hence stellar distance determinations, because of variations in metallicity. The project is part of a larger effort to understand the local cosmic distance ladder and to investigate whether the discrepancy between the Planck satellite measurement and the local measurement of Hubble's constant is real or not. The proposers will target Cepheids with different metallicities in the Large and Small Magellanic Clouds. Three nights of observations on the Small Magellanic Cloud are scheduled for Oct. 7 to 10 and four and a half nights on the Large Magellanic Cloud for Jan. 1 to 6, 2016.
Library Journal in its June 15 issue reviewed "Sciences of the Ancient Hindus" by Alok Kumar, professor of physics. "Kumar succeeds in his ambitious undertaking to link Hindu religion, culture, and history to significant scientific achievements," writes reviewer Beth Dalton, recommending the book to academic libraries acquiring materials on multiculturalism and science. The book was also the topic of a cover story in the July issue of Aseema, a magazine in India.
Sophomore business administration major Shawn Hulshof of the men's ice hockey team and freshman wellness management major Emma Geyer of the women's soccer team earned the SUNY Chancellor's Scholar-Athlete Award as selected by the State University of New York Athletic Conference. The award is given to students who have combined academic excellence and outstanding athletic achievement. Hulshof was also recognized as the SUNYAC Herb Hammond Most Valuable Player and was an All-America selection.
Pamela Michel, dean of the School of Education, and Jogy Das, associate dean for accreditation and assessment in the School of Education, received a grant of $21,291 in SUNY Race to the Top Funds from the New York State Department of Education to support their work in May and June on a reform initiative developed through the SUNY Teacher and Leader Education Network. In 2012, the state Education Department awarded Race to the Top funds to SUNY to develop and implement the reform initiative. The goal of this pioneering effort is to engage higher education faculty and their educational partners in the renewal of teacher and school leader preparation to meet the needs of today's children. The initiative focuses on four topics of the Regents Reform Agenda: clinically rich teacher and leader preparation, the Common Core standards, performance assessments of pre-service and practicing educators, and data-driven instruction.
College Sports Information Directors of America recognized Laker baseball standout Dan Saccocio as a Capital One First Team Academic All-American. The senior business administration major garnered the spot for his efforts in the classroom paired with his accolades on the diamond where he held down left field and the lead-off spot in the Laker batting order.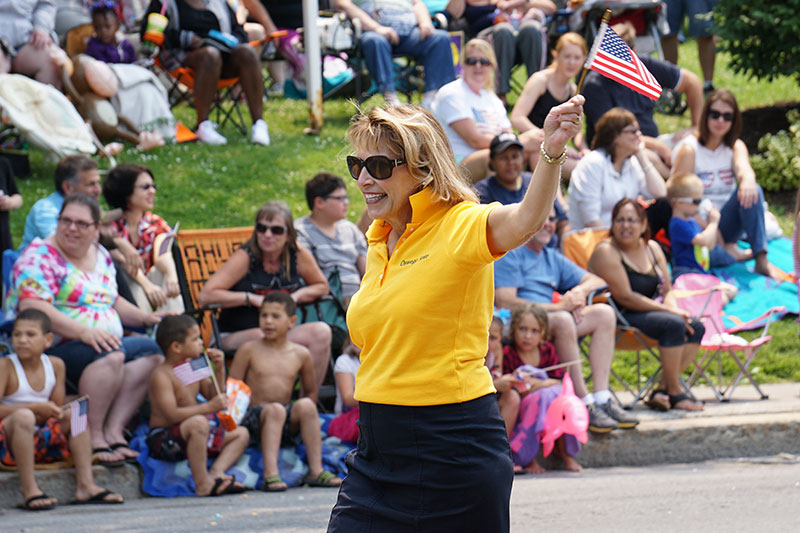 President Deborah F. Stanley has been appointed to a three-year term on the Central New York Biotech Accelerator Advisory Board. The biotech facility in Syracuse is dedicated to helping biotech and biomedical companies become successful and commercialize their products. In June and July, she participated in celebratory events in Washington, D.C., New York City and Oswego. The U.S. Department of State invited her to attend a luncheon in honor of the president of Brazil, Dilma Rousseff, along with U.S. Vice President Joe Biden, on June 30 in Washington. She attended the induction of Oswego alumnus Al Roker into the New York State Broadcasters Hall of Fame on June 23 in New York along with Kerry Dorsey, vice president for development and alumni relations, and Oswego Alumni Association board member Dana Segall Murphy. In his remarks Roker noted that he was proud that the president of his alma mater was present for his latest recognition. On July 5, Stanley was one of three grand marshals of the city of Oswego's annual Fourth of July parade, pictured. The others were Jillian Shaver, executive director of the Children's Museum of Oswego, and Allison Duggan, executive vice president and administrator at Oswego Health.

In Memoriam
Ram Das Chaudhari, 87, professor emeritus of physics, died June 20 in Oswego Hospital.
Comments