December graduate Destiney Day received a Certificate of Appreciation from University Police for her alert actions last semester. On Nov. 12, Day -- then a student employee for the Office of Campus Life -- was working as a building manager in Marano Campus Center and observed suspicious behavior of a person walking around taking photographs without proper authorization. "She professionally and politely asked for identification and authorization forms, which the subject did not possess," Assistant Chief Kevin Velzy said. "Several other persons including staff members witnessed the behavior, but Destiney was the only person to take action. She feels she was only doing her job, but University Police knows that many times documenting seemingly unimportant activities can prevent major incidents from occurring. We appreciate her observant and diligent attention to details to help us keep the campus safe!"
Seven SUNY Oswego students (see picture, below) presented about their internship and co-op experiences at the Nov. 10 CNY Internship Showcase, hosted by Central New York Career Development Association. While Oswego did not bring home gold, the students represented the largest population of the 20 presenters chosen from 50 local applying scholars. Oswego presenters included Keara Baiocco (senior, human resource management), Charles Christ (senior, cognitive science), Raina Domuracki-Galante (senior, psychology), Shane Francis (senior, information science), Mariama Kante (junior, accounting), John Osterhoudt (senior, history) and Nirdishtha Sapkota (sophomore, journalism and graphic design). The event also featured 2015 SUNY Oswego alumna Molly Matott, meteorologist for CNY Central in Syracuse, who delivered a keynote that discussed the importance of experiential education during one's college career. With 83 in attendance at SUNY Oswego's Syracuse campus, the event was considered a huge success by the chair of this new event, Tina Cooper, site coordinator for internships and co-ops with the EXCEL office on campus and also a 2015 Oswego graduate. "With all of the positive feedback we received from this showcase, I'm excited to work on implementing an event of similar style on our main campus, specifically for just SUNY Oswego students," Cooper said. "This showcase gave us an outstanding opportunity to understand the influence of experiential education from our students' perspectives."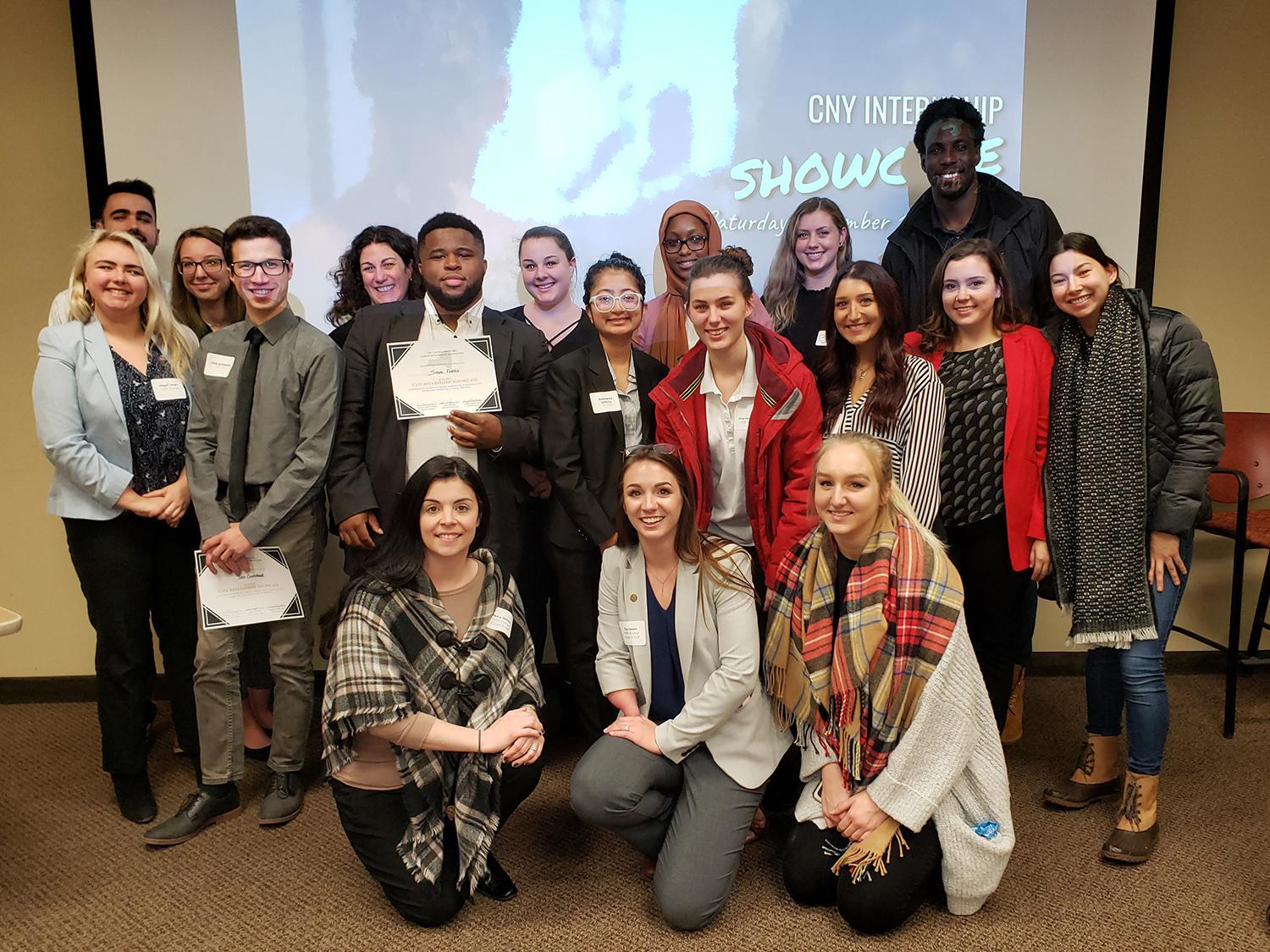 Holly DeMar, director of human resource operations, completed TIAA's Emerging Leaders Network two-year program in December. DeMar was selected to participate in this program from a group of human resources professionals that were nominated SUNY-wide. The program was comprised of 67 individuals from 48 campuses across the country. ELN is a program that focuses on leadership development, HR strategic and technical skills and the broader business of higher education.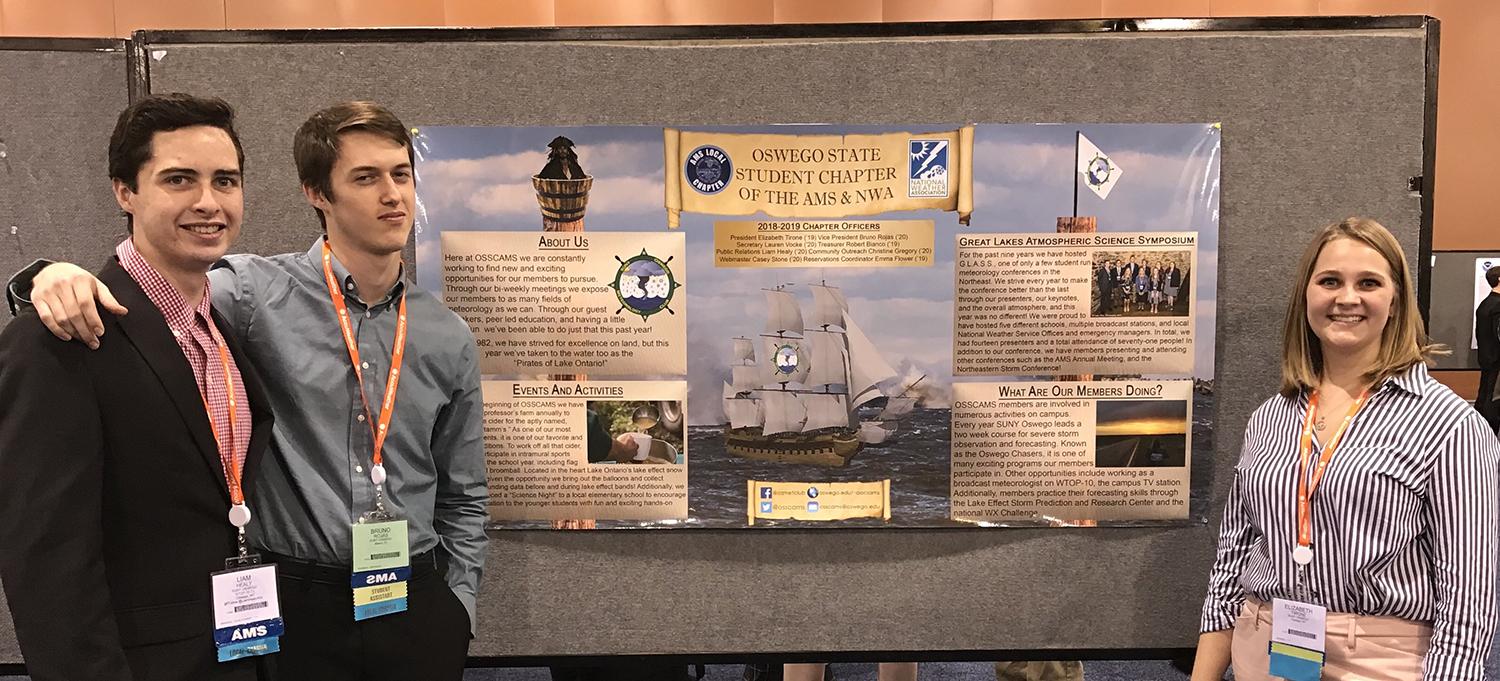 SUNY Oswego Meteorology Club students presented a poster at the 99th annual meeting of the American Meteorology Society, Jan. 6 to 10 in Phoenix. Public Relations Officer Liam Healy (left, pictured above) designed the poster to highlight the events of the club and the achievements of its members during the calendar year 2018, with the help of club President Elizabeth Tirone (right). Pictured second from left is club Vice President Bruno Rojas. In all, eight SUNY Oswego students attended the conference.
Ampalavanar Nanthakumar, professor of mathematics, has an article accepted for publication in the International Journal of Statistics and Probability. The article is titled "On the Error Rate Comparison of Quadratic Discriminant Function, Euclidean Distance Classifier, Fisher's Linear Discriminant Function and the Vine Copulas."
Senior Andrew Sommer, a dual major in biology and chemistry, and Peter Newell of the biological sciences faculty co-authored a paper on the gut microbiota of the fruit fly Drosophila melanogaster. It was just published in Applied and Environmental Microbiology, and was chosen as an "an article of significant interest" for the current issue.
The Honor Society of Phi Kappa Phi named SUNY Oswego graduate student Nellie Owens of Cato a recipient of a 2018 Love of Learning Award. Owens, who dual-majored in English and public relations until her 2017 graduation, now is enrolled in the adolescence education master's degree program for English. The awards help fund post-baccalaureate studies and career development for 200 active members of Phi Kappa Phi, which promotes academic excellence in all fields of higher education and engages the community of scholars in service to others.
Comments