David Andrews, a professor in the economics department, presented an invited paper on "Keynes and Christian Socialism" at a workshop on "The Conflict-ridden Development of Modernity: Theology and Political Economy," sponsored by the research program "The Constitution of Modernity: Reason, Politics and Religion" at the University of Lyon in France in December. The paper explores the theological background of the economic theories of John Maynard Keynes, the creator of macroeconomics, focusing on the affinity of Keynes' ideas with the writings of Frederick Denison Maurice, the founder of the 19th century Christian Socialist movement in Great Britain. Also, on Jan. 1 Andrews became a member of the editorial board of the journal History of Economic Ideas.
Oswego faculty and students contributed to a community report called "Shaping an Age-Friendly CNY" that FOCUS Greater Syracuse issued in the fall. Kim Armani, director of the SUNY Oswego Metro Center, was on the five-member project investigator team. "Our faculty, students and staff were very active in planning and conducting the research and analysis," Armani said. The report acknowledges the work of Laura Brown of the human development faculty along with students in her "Research Designs and Applications in Human Development" class.
The Society of Forensic Anthropologists has awarded Kathleen Blake of the anthropology department $750. The grant will fund research into current metric and nonmetric methods for estimating sex from the pubic bone. Blake, along with Kristen Hartnett-McCann, a forensic anthropologist at Connecticut's Office of the Chief Medical Examiner, will examine a modern forensic skeletal sample housed at the Maricopa County Forensic Science Center in Phoenix, Arizona, during the summer.
Diana L. Boyer, a member of the atmospheric and geological sciences faculty, published a paper titled "The Last Gasp: Trace Fossils Track Deoxygenation Leading into the Frasnian-Famennian Extinction Event" in the December issue of the journal Palaios, with co-authors Emily E. Haddad, a doctoral candidate at University of California-Riverside, and Emily S. Seeger, an Oswego graduate in geology.
Two modern languages and literatures faculty members delivered presentations at the Joint Annual Conference of the American Council on the Teaching of Foreign Languages and the American Association of Teachers of German, held in November in San Antonio, Texas. Ana Djukic-Cocks delivered a presentation titled "Multikulti and Beyond: New Voices in German Poetry and Prose," while John Lalande II delivered a presentation on advocacy for German through membership in Delta Phi Alpha, the national German honorary society. Lalande also attended the executive board meeting of Delta Phi Alpha in his role as first vice president.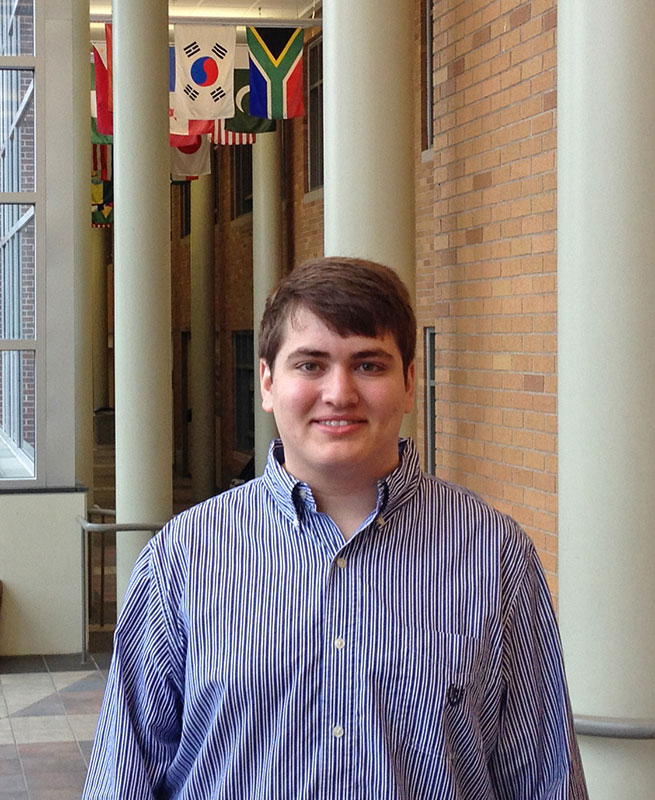 Sophomore Troy Feldman, pictured, will travel to South Korea in February to study for a semester at Seoul National University under a prestigious program sponsored by the U.S. Department of State. He is one of 800 American undergraduate students from 356 colleges across the United States selected to receive a spring 2015 Benjamin A. Gilman International Scholarship, sponsored by the State Department's Bureau of Educational and Cultural Affairs and administered by the Institute of International Education. "I always knew I wanted to study abroad," said Feldman, who is majoring in teaching English to speakers of other languages (TESOL). "I want to teach in South Korea after I graduate," he said. He lives on campus this year in Hart Global Living and Learning Center where his roommate is from Seoul. He said he looks forward to the prospect of meeting his roommate's family and studying at what is one of the top universities in South Korea. Most of his classes will be conducted in English, he said, but he will take a course to learn Korean as well. Oswego has had four previous winners of Gilman Scholarships, studying in Japan, Egypt and New Zealand.
Shashi Kanbur, professor of physics, is a co-author of a paper accepted for publication in The Astronomical Journal, a leading astrophysics journal. It is titled "VI-Band Follow-Up Observations of Ultra-Long Period Cepheid Candidates in M31." The lead author is Chow-Choong Ngeow of National Central University in Taiwan, one of Oswego's Global Laboratory partners. Other co-authors are involved in the Indo-U.S. Joint Center for the Analysis of Variable Star Data, which Kanbur initiated. Monthly Notices of the Royal Astronomical Society has accepted a paper Kanbur co-authored, "On the Variation of Fourier Parameters for Galactic and LMC Cepheids at Optical, Near-Infrared and Mid-Infrared Wavelengths," which is also a product of the Indo-U.S. Joint Center. The lead author is A. Bharadwaj of the University of Delhi, and other co-authors are H.P. Singh of the University of Delhi, Lucas Macri of Texas A&M University and Ngeow. Kanbur said the paper represents the culmination of an idea he has pursued for years and "will provide a rigorous test bed with which to test theories of stellar pulsation and evolution." The paper reveals "a new feature on the light curves of some 'bump Cepheids' that have the potential to be used for asteroseismology," he added. Several additional presentations and posters have resulted from Kanbur's work as the U.S. lead investigator with the Indo-U.S. Joint Center for the Analysis of Variable Star Data. At an international workshop on "Current Trends in Infrared Astronomy in India," the team made an oral presentation titled "On the Distance Scale Using NIR Period-Luminosity Relations for Cepheids." Kanbur said the work shows the seminal nature of the dataset that the team has just published and that relied mostly on startup funds that Kanbur received from SUNY Oswego. "The data from this are in fact in competition with some major multinational surveys in Europe," he said, and the U.S.-Indo team has initiated a new collaboration with a Rochester Institute of Technology scientist and a research group in Europe. The team presented a poster on "Multi-wavelength Fourier Decomposition of Cepheid Light Curves" at the workshop, and it has been accepted as an oral contribution at the Astronomical Society of India's February meeting. Kanbur was one of the speakers at a workshop for master's students, titled "Variable Stars and Astronomical Transients," held Jan. 15 at the University of Delhi. The workshop came at the end of a four-day meeting of the two Indo-U.S. Joint Centers in Astronomy (the other joint center studies astronomical objects and feature characterization and classification).
A new composition by assistant professor of music Paul Leary will premiere on March 9 at Carnegie Hall. The Colby College Chamber Choir will perform Leary's setting of the Latin "De Profundis" in a program titled "Between Heaven and Hell: The Human Experience and Journey of the Soul" in Carnegie's Weill Recital Hall.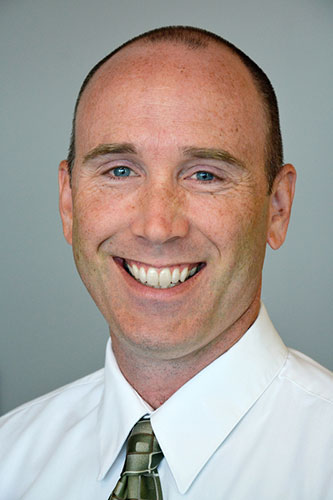 Registrar Jerret LeMay, pictured, has been appointed to a two-year term on a customer advisory board at Ellucian serving the Degree Works community. Wayne E. Holt, senior product specialist for Degree Works at Ellucian, said LeMay's selection was based on criteria that included recommendations from peers, reviews with Ellucian staff with whom he has interacted, and his essay answers to questions that included his vision of how the product should support retention and student success. Provost Lorrie Clemo commended LeMay. "Jerret is regarded as a leader and expert among the 64 SUNY campuses in Degree Works, and with this appointment he is now being recognized on a national level for his notable contributions to the Degree Works community," she wrote. "His efforts to implement Degree Works in early 2013 marked Oswego as one of the first colleges in SUNY to implement the degree audit solution aimed at increasing graduation rates."
John MacDonald, assistant professor of finance and risk management and chair of the accounting, finance and law department, is the featured expert in Wallet Hub's 2014 Mortgage Insurance Report.
Joshua McKeown, director of international education and programs, contributed a chapter to the fourth edition of NAFSA's Guide to Education Abroad for Advisers and Administrators. His chapter is on "Strategic Planning for Education Abroad Programs."
Ulises Mejias of the communications studies department was invited to give a talk in June to the faculty of fine arts at the University of Granada in Spain. The talk, delivered in Spanish, was titled "El Orientalismo de las Tecnologías de Liberación: Dinámicas entre los Activistas, Hackers y Periodistas." Last summer, Mejias taught a seminar on digital networks at the St. Petersburg Institute of Linguistics, Cognition and Culture, a program sponsored by SUNY Stony Brook and St. Petersburg State University in Russia. In October, Mejias delivered a keynote lecture by invitation at the Inverting Globalisation conference organized by the Amsterdam School for Cultural Analysis at the University of Amsterdam in The Netherlands. The title of the lecture was "Inverting and Subverting Global Networks: A Paranodal Critique of Social Media." In the fall, Mejias taught a graduate seminar on critical Internet studies and digital humanities to Young India Fellows, pictured with Mejias, at Ashoka University in India. The hybrid course combined classroom activities with a gamified online learning environment that Mejias designed and implemented using open source software. Taking advantage of his teaching across three continents, Mejias launched an online project called TeknoHaiku. This ongoing poetry collaboration between students in Russia, India and the United States will conclude this semester at Oswego. Finally, in December Mejias published a translated chapter titled "Odmapowuja?c siec?" in the Nowe media = nowa partycypacja (New media = new participation) online reader distributed by the Instytut Kultury Cyfrowej, a non-governmental organization in Poland operating in the field of media education and cultural activity.
At its fall induction ceremony last month, the Oswego chapter of Delta Phi Alpha, the national German honorary society, inducted four new members: Allison Provost, Mariah Goering, Johanna Henry and Gregory Parsons. John Lalande II, chair of the modern languages and literatures department, serves as faculty adviser.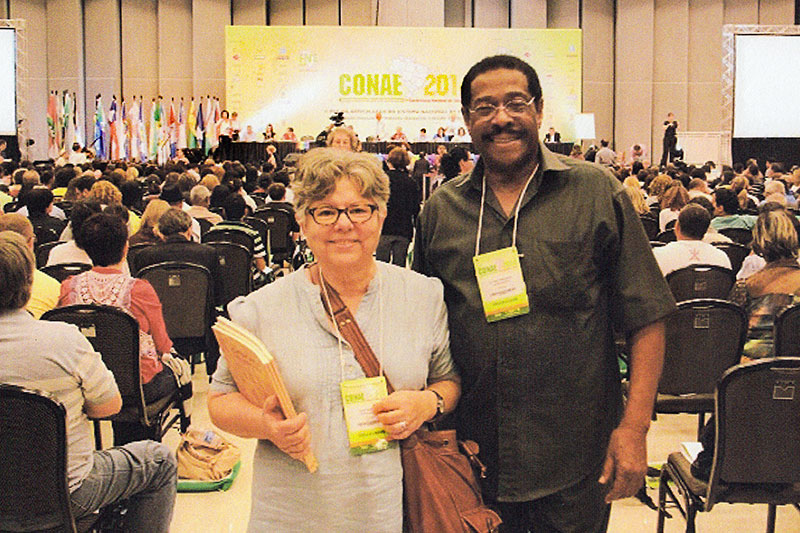 Tania Ramalho, professor of curriculum and instruction, and Alfred Frederick, distinguished service professor in curriculum and instruction, were the only attendees from the United States at Brazil's second National Conference on Education, pictured, held in Brasilia in November. The gathering involved thousands of delegates from all of Brazil's states plus its Federal District and was the culmination of a four-year nationwide discussion of education issues that involved 3 million people, from secondary and college students to parents, teachers, administrators and educators' unions. Frederick was closely involved with the state of Piaui's discussion, having been invited to present there in 21013 on diversity in education as a result of his ongoing work in that state and others since the 1990s. "Piaui has come a long way," Frederick said, noting that the top performing secondary school on the recent national exam was a public school in Piaui. The conference was organized around seven axes that included colloquia, recommendations and voting: The National Education Plan and the National Education System; Education and Diversity; Education, Work and Sustainable Development; Education Quality; Democratic Administration, Popular Participation and Social Control; Valuing Professionals in Education; and Financing Education. Frederick and Ramalho attended the sessions on education and diversity. "This is a very ambitious democratic project taking place in Brazil under the government of President Dilma Rousseff, the first woman to lead the country," Ramalho said. "Professor Frederick and I felt it was a privilege to participate as observers."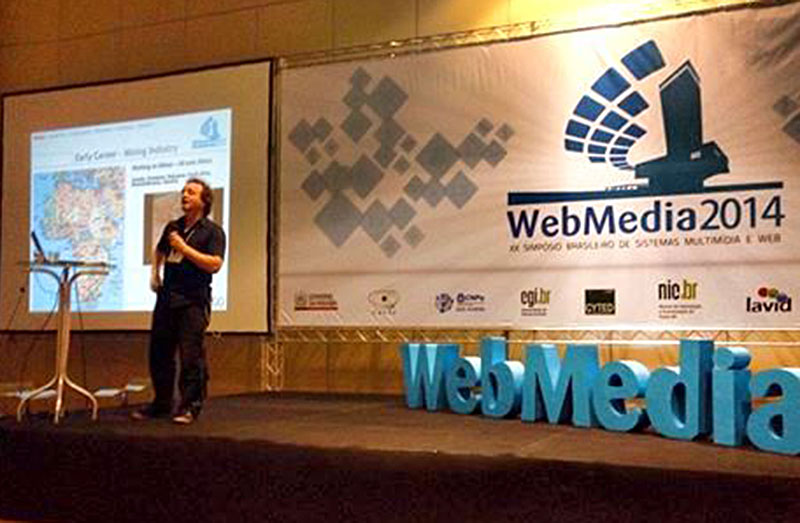 Damian Schofield, pictured, director of the human-computer interaction program, was a keynote speaker at the international WebMedia 2014 conference held in Joao Pessoa in Brazil in November. He presented a speech titled "Why Doesn't It Look Like It Does on Television? Using Established Technologies in New and Exciting Ways."
The Charles Koch Foundation has awarded a grant of $1,025 to Lyudmyla Sonchak, an assistant professor of economics, to fund a research assistant. The major focus of Sonchak's research is the effects of early investments and interventions on the health and well-being of children.
James M. Lindsay summarized the legacy in world affairs of the late Garrick Utley, senior fellow at SUNY Oswego, in a Council on Foreign Relations blog post titled "Ten Americans Who Died in 2014 Who Shaped U.S. Foreign Policy."
The collaborative "Identity Tides" art installation opening Jan. 31 in Penfield Library will superimpose communication studies faculty member Jane Winslow's digital video of ocean tidal movement and a sound bed of interviews onto art department instructor Barbara Stout's ink wash portrait triptych of what the artists term "gender-full" people. Winslow's video-audio loop runs 14 minutes and will be projected onto Stout's 42- by 72-inch-wide triptych.
Physics student Daniel Wysocki and physics professor Shashi Kanbur are co-authors of a talk given at a recent meeting of the American Astronomical Society titled "Optimal Model Discovery of Periodic Variable Stars" along with by Earl Bellinger, an Oswego alumnus who is now at the University of Indiana.

In Memoriam
J. Sherwood "Sherry" Dunham, 92, who was a former acting president of the college, vice president for academic affairs, director of elementary and secondary education, and principal of the campus school and held other faculty and administrative positions, died Dec. 12 at Oswego Hospital.
Gisela Nordby, 78, a former adjunct faculty member in the English department, died Oct. 12.
Charles Rhinehart, 84, a former music teacher in the campus school, died May 7 at his home in Bristol, Virginia.
Comments