Students and faculty from the SUNY Oswego theatre department won two awards at the regional Kennedy Center American College Theater Festival in College Park, Maryland, this January. The student team of Anna Chichester, Kiersten Mickle, Daniel Monahan, Brian Monahan, Autumn Pollock and Ryan Benson Smith, with faculty supervisor Toby Malone, won Outstanding Achievement in Collaborative Dramaturgy for "Fun Home Dramaturgy: Welcome to Our House on Maple Avenue." In addition, Amanda Gydesen earned a KCACTF Dramaturgy Note Award for "The Fantasticks Program Note." Above, Mickle and Malone accept the awards. Read full story.
Shashi Kanbur, professor and chair of physics, had the paper "The stellar photosphere-hydrogen ionization front interaction in Classical Pulsators: a theoretical explanation for observed period-colour relations" accepted into the Monthly Notices of the Royal Astronomical Society, "one of the most prestigious peer-reviewed journals in astrophysics," he noted. Co-authors include four Oswego physics majors Kanbur worked with in Nick Proietti, Brett Meerdink, Anthony Chalmers and Ryan Jordan, who were funded by a combination of Kanbur's Indo-U.S. Science and Technology Forum (IUSSTF) grant and a National Science Foundation STEP grant. The students worked on code for the research project in Kanbur's Astronomy 405 course in spring 2019, when the Astrophysics Journal was publishing the code. "It is a collaboration between myself and researchers at Delhi University," Kanbur explained. "The paper provides compelling evidence for the physics behind the period-color relations in four different types of variable stars and uses the most advanced such simulation code in the world today. … The paper is also the culmination of some theories I've been working on for almost 30 years. It will lead to quite a number of other projects."
Kanbur also recently gave a talk at the Tata Institute for Fundamental Research in Mumbai, India, titled "Recent Developments in Stellar Pulsation Theory."
Ulises A. Mejias of the communication studies faculty published two pieces: the chapter "Consumption as Production: Data and the Reproduction of Capitalist Relations" in The Oxford Handbook of Consumption, and the article "Datafication," part of a series on concepts of the digital society for the journal Internet Policy Review. Both pieces were co-authored with Nick Couldry from the London School of Economics. In November 2019, Mejias delivered keynote addresses at Centro de Cultural Digital and the Universidad Iberoamericana in Mexico, where he also led a workshop with his co-author. In December, he was invited to participate in the closed conference "Wealth Building in a Digital Economy" sponsored by the Berggruen Institute, Institute for the Future, Federal Reserve Bank of St. Louis and the Aspen Institute. In January, Mejias delivered one of the main symposia at the Transmediale festival for art and digital culture in Berlin, Germany. As far as media appearances, Mejias was interviewed in El Economista (Mexican Newspaper), Digilabour (Brazilian website) and the Malwarebytes Labs Blog. He also published the op ed "Why the Global South should nationalise its data" in Al Jazeera. Many of these activities related to the 2019 book he and Couldry published titled "The Costs of Connection."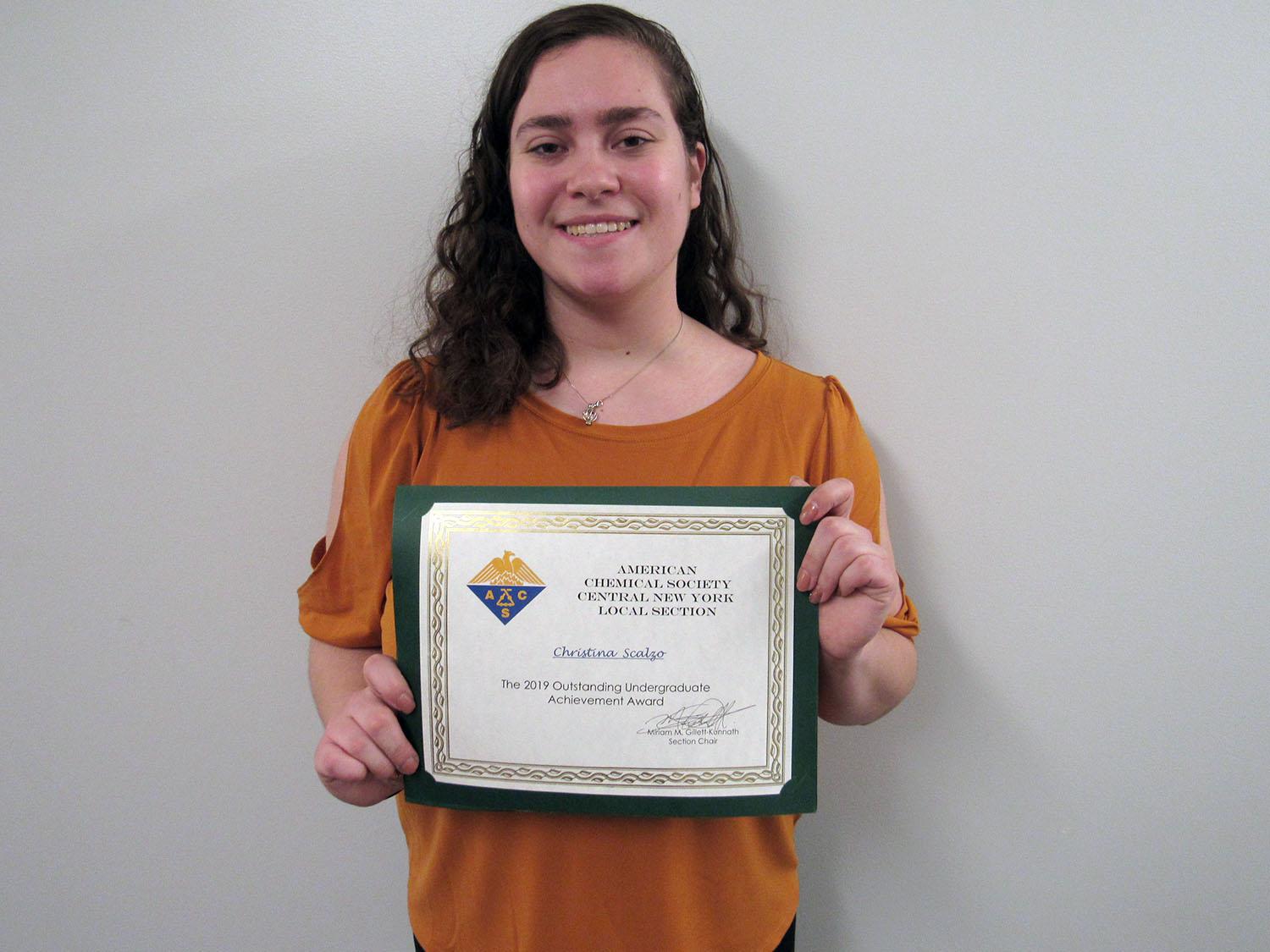 Junior chemistry major Christina Scalzo received the CNY American Chemical Society Outstanding Achievement in Chemistry Award. Scalzo, who also is a mathematics and geology minor, has an overall GPA of 3.91. She started participating in research during her freshman year and has already presented her work at various conferences. She hopes to attend graduate school and specialize in the area of physical chemistry. Scalzo is president of the college's Chemistry Club, a general chemistry peer mentor and a tutor for the Office of Learning Services. She also volunteers her time for other STEM events like elementary school field trips and the annual GENIUS Olympiad.
Do you have an item for People in Action? Have you, for example, recently presented at a conference, published a research paper or earned a regional or national award? Submit your news via our Oswego Today form.
Comments