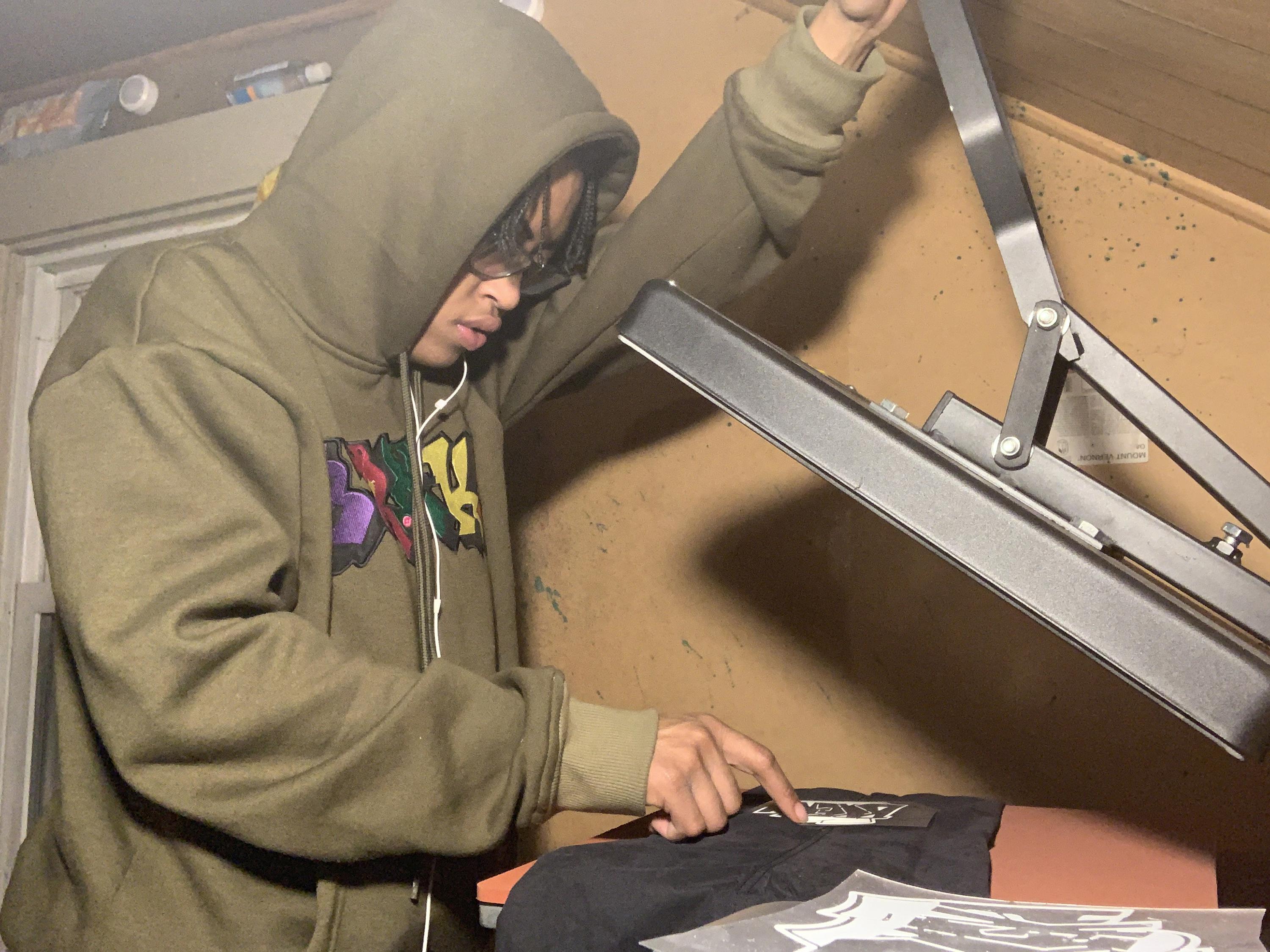 Senior graphic design major and entrepreneur Bobbierre "Bobbie" Heard's creativity, ability to overcome obstacles and willingness to help others recently earned her a community Unsung Hero Award, presented Jan. 31 by Syracuse University. Born premature at 26 weeks and 1 pound, 2 ounces, Heard said the doctor told her mother the baby was unlikely to survive. So the fact that Heard not only survived but thrived in starting and running her own clothing company, with a winning positive attitude, has made her an inspiration to many. The founder or BREKY clothing, Heard was praised as "a ground-breaking graphic designer and a dynamic advocate for programs serving children with disabilities" in the award release. Her premature birth led to cerebral palsy and she experiences seizures, which drives Heard to advocate for inclusivity for others, mainly children. "When you were born in a situation like I was, a lot of people don't expect you to achieve even average or half the things I did," she said. "I want to be an example of when people tell you that you can't do something, you really can." Read full story.
A team of physics students and faculty participated as speakers, panelists and conference organizers in the American Physical Society – the National Mentoring Community Conference Feb. 18 to 21. Elina van Kempen presented "Phase Transitions for Two Gravitation-Free Confined Systems." Her co-authors are Julia D'Rozario, Marie Romano and physics professor Carolina Ilie. Trieu Le presented "Transition Metal Doped ZnS Quantum Dots for Photovoltaic Applications"; co-authors are Thilini K. Ekanayaka, Annika Neufeld-Kreider, Archit Dhingra, Takashi Komesu, Andrew Yost and Carolina Ilie. In addition, van Kempen participated as one of the panelists (with Brián Clash, senior coordinator/program manager, bridge program manager, APS; and Dr. Willie Rockward, chair and professor of physics, Morgan State University) for the "Applying to Graduate Schools" session chaired by Ilie. Ilie has been a member of the APS-NMC conference organizing committee since June 2020.
James J. Pagano and Andrew J. Garner of the college's Environmental Research Center, co-authored "Comprehensive assessment of legacy organic contaminants and trends in lake trout from Cayuga Lake, New York: 2011–2017," which appeared in the Journal of Great Lakes Research. The study involved a seven-year assessment of lake trout contaminants and statistical trend modeling on Cayuga Lake as the reference monitoring site for the U.S. Environmental Protection Agency's Great Lakes Fish Monitoring and Surveillance Program.
The work of more than 50 students appears in the 58th annual Juried Student Exhibition in Tyler Art Gallery. With masking, distancing and other health protocols in place, the exhibition is available for in-person viewing from 10 a.m. to 4 p.m., Thursdays through Saturdays, through March 20; viewers also can check out the online version of the exhibition at any time. Participating artists include Isaiah Allen, Natalie Archibee, Paloma Alcantar, Edward Arena, Aruasy Barrios, Hanna Battaglini, Dylan Blumer, Riley Clarke, Alexis Cleveland, Kayli Clubine, Jacqueline Council, Darian Deeley, Maggie DeJohn, Lillian DePerno, Olivia Doerr, Kassandra Edwards, Colleen Eggers, Evelyn Frederiksen, Alexsa Gonzalez, Alaina Hall, Taylor Hart, Greg Hartman-Souder, Alison Hibbert, Sophie Infarinato, Eliza Johnson, Samurai Johnson, Joshua Koplitz, Sofía Luz Pérez, Bailey Maier, Elissa Martinez, Caitlin Marx, Katherine McArdle, Shea McCarthy, Elizabeth Miller, Jonathan Mills, Caroline Mooney, Nydia Morales, Pragya Pahari, Madison Pearson, Jamez Post, Megan Rafferty, Dawson Rieman, Maria Rizzo, Nirdishtha Sapkota, Hailey Sherman, Brandi Shimer, Madelyn Smith, Miranda Smith, Lexy Stimpson, Tessa Sullivan, Hannah Svitak, Abhishek Thapa, Mikayla Trapasso, Hayley Vann, Kaitlynn Vizina, Ellen Weber, Katrina Winberg and Aleah Young.
Comments