Kimberlyn Bailey, a senior philosophy major, gave a presentation at the Conference for Undergraduate Women in Physics, which took place at Syracuse University in January. Presented by the American Physical Society, the three-day event was co-sponsored by the National Science Foundation and U.S. Department of Energy, and involved talks, panel discussions, lab tours and student research presentations. Bailey presented her honors thesis, "Explaining the Gender Gap: Comparing Undergraduate and Graduate/Faculty Beliefs About Talent Required for Success in Academic Fields," co-authored by Carolina Ilie of the physics faculty and Ampalavanar Nanthakumar and Scott Preston of the mathematics faculty.
Sarah Bonzo and Mary Rodgers, both of the School of Business faculty, have been named Open SUNY Online Teaching Ambassadors. They were each nominated by the college as "an exemplary online educator, who is both enthusiastic and effective in online teaching, and who can be a positive and strong advocate for online teaching in our SUNY community." They will receive certificates of recognition and digital badges to denote the distinction and be featured on the Open SUNY website.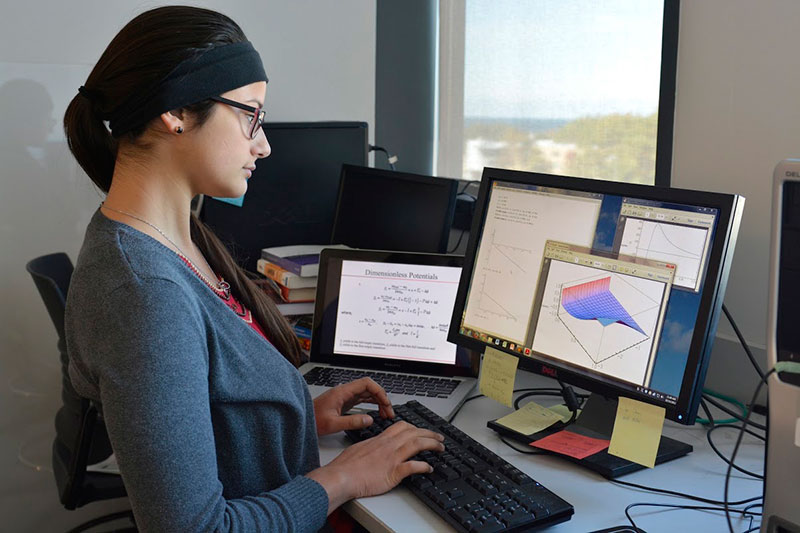 Three physics students, Julia D'Rozario, pictured, Marie Romano and alumna Katharyn Christiana are featured in the American Physical Society's Committee on the Status of Women in Physics booklet "Physics in Your Future," printed in January. This booklet is prepared specially for use in high schools and middle schools to attract more girls to the sciences, especially physics. The students were selected based on their national and international conference presentations on research done under the mentorship of Carolina Ilie of the physics faculty.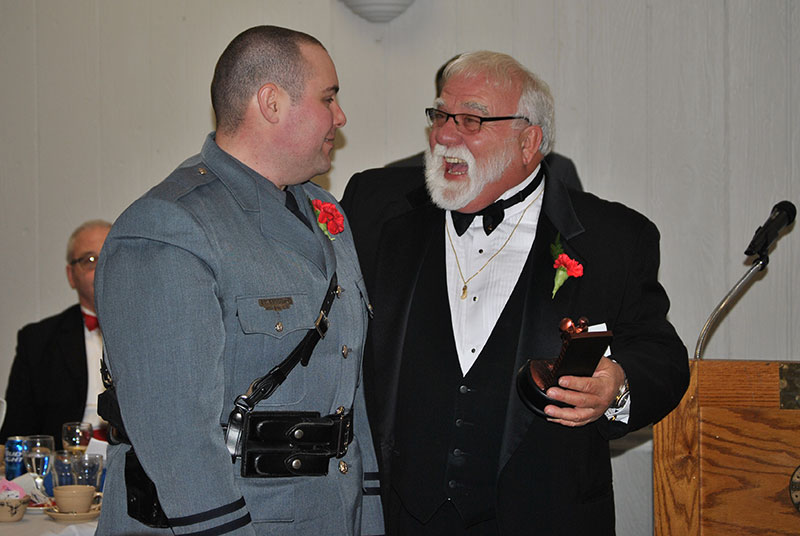 Brian McGuire, of the SUNY Police at Oswego, pictured with New York State Elk's Association President John Jacques, was honored as SUNY Oswego University Police Officer of the Year for 2015 at the Oswego Elk's Lodge No. 271's annual George Washington Birthday Celebration on Feb. 13. Part of the evening is the recognition of local police and fire departments. McGuire made 33 arrests in 2015, including the felony arrest of Eric Debrosse, who allegedly held an Oswego student in her room in Seneca Hall at knifepoint for four hours, an incident that put the entire college community on alert. McGuire is a certified bike patrol officer, certified RAD instructor and certified child passenger safety technician. In 2015 he completed Advanced Roadside Impaired Driving Enforcement Training and was give the Traffic Safety Champion Award from the Oswego County Traffic Safety Board. Twenty members of the college's police department attended the award ceremony along with about 150 other guests.
K. Brad Wray, professor of philosophy, is the author of a paper published in the journal Scientometrics, titled "No New Evidence for a Citation Benefit for Author-Pay Open Access Publications in the Social Sciences and Humanities."

In Memoriam
Pat O'Neil, 79, former assistant director of Penfield Library, died Jan. 30.
Comments