For raising participation and involvement through the Vote Oswego course and project, Allison Rank of the political science faculty received the 2019 Standout Faculty Award and SUNY Oswego earned a bronze seal from the ALL IN Campus Democracy Challenge, at a November ceremony in Washington, D.C. Rank was one of two recipients of the national honor, which recognizes faculty members who go above and beyond to promote civic engagement inside and outside the classroom. The Institute for Democracy and Higher Education issued their nationwide release of the campus-specific National Study of Learning, Voting and Engagement data in October, with a huge rise in young voters leading to Oswego earning a bronze seal from the ALL IN organization. Read full story.
Steven Abraham of the accounting, finance and law faculty published "New Evidence from the Stock Market On Right to Work Laws" in Vol. 25 of "Advances in Industrial and Labor Relations, pp 219-246 (Oct 2019).
Modern languages and literatures faculty member Gonzalo Aguiar Malosetti has published an essay in an edited volume titled "José Enrique Rodó: The American Internationalism." The book, focused on one of the greatest intellectual figures of Spanish American modernismo, is the result of an international collaboration between Concordia University (Montreal), St. Francis Xavier University (Nova Scotia) and SUNY Oswego.
Professor and chair of physics Shashi Kanbur and co-authors including 2012 SUNY Oswego graduate Earl Bellinger, now a Postdoctoral Research Fellow at Stellar Astrophysics Centre in Aarhus, Denmark, published "When a Period Is Not a Full Stop: Light Curve Structure Reveals Fundamental Parameters of Cepheid and RR Lyrae Stars" in the Monthly Notices of the Royal Astronomical Society Main Journal.
Biological sciences faculty member Karen Sime was active in the annual meeting of the Entomological Society of America in St. Louis in mid-November. She participated in business conferences related to her work as a member of the Society's Science Policy Committee and as a subject editor for the journal Annals of the Entomological Society of America. Sime also judged a symposium of graduate student talks on chemical ecology. Also at the meeting were two Oswego bachelor of science in zoology graduates: Anthony Macchiano, a 2017 graduate and a Ph.D. student at Saint Louis University, gave a talk describing his graduate research on courtship signalling in treehoppers, while 2018 Oswego graduate Joe McCarthy is currently pursuing a master's degree in urban entomology (focusing on termite behavior) at Louisiana State University.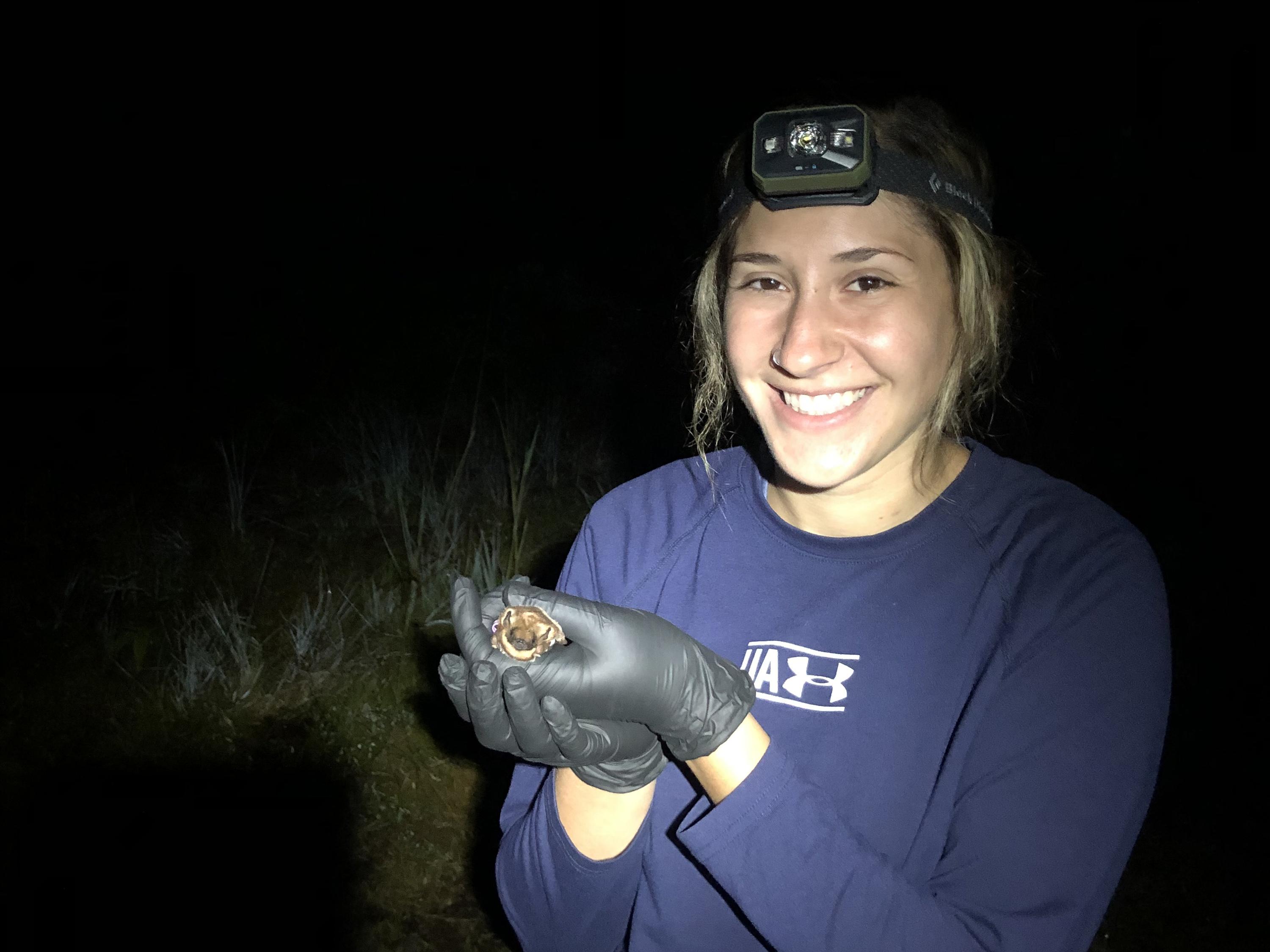 The work of four SUNY Oswego student researchers and a faculty member tracking and potentially combatting an invasive species -- for which they made the first discovery in Oswego County -- recently earned publication. Titled "The microbiota of Drosophila suzukii influences the larval development of Drosophila melanogaster," the full study was published in the Zoological Science section of PeerJ, an open access, peer-reviewed journal. The research, led by assistant professor Peter Newell in the department of biological sciences, spanned two years and included contributions from four undergraduate students. First author Gabrielle Solomon (above, who graduated in 2018) started the research in summer 2017, supported by a Student-Faculty Challenge Grant. Solomon trapped and identified Drosophila suzukii, an invasive species of fruit fly that has been damaging fruit crops throughout North America. Additional authors and researchers (below, from left) were sophomore Hiruni Dodangoda and seniors Rita Ntim-Gyakari and Tylea McCarthy-Walker. Read full story.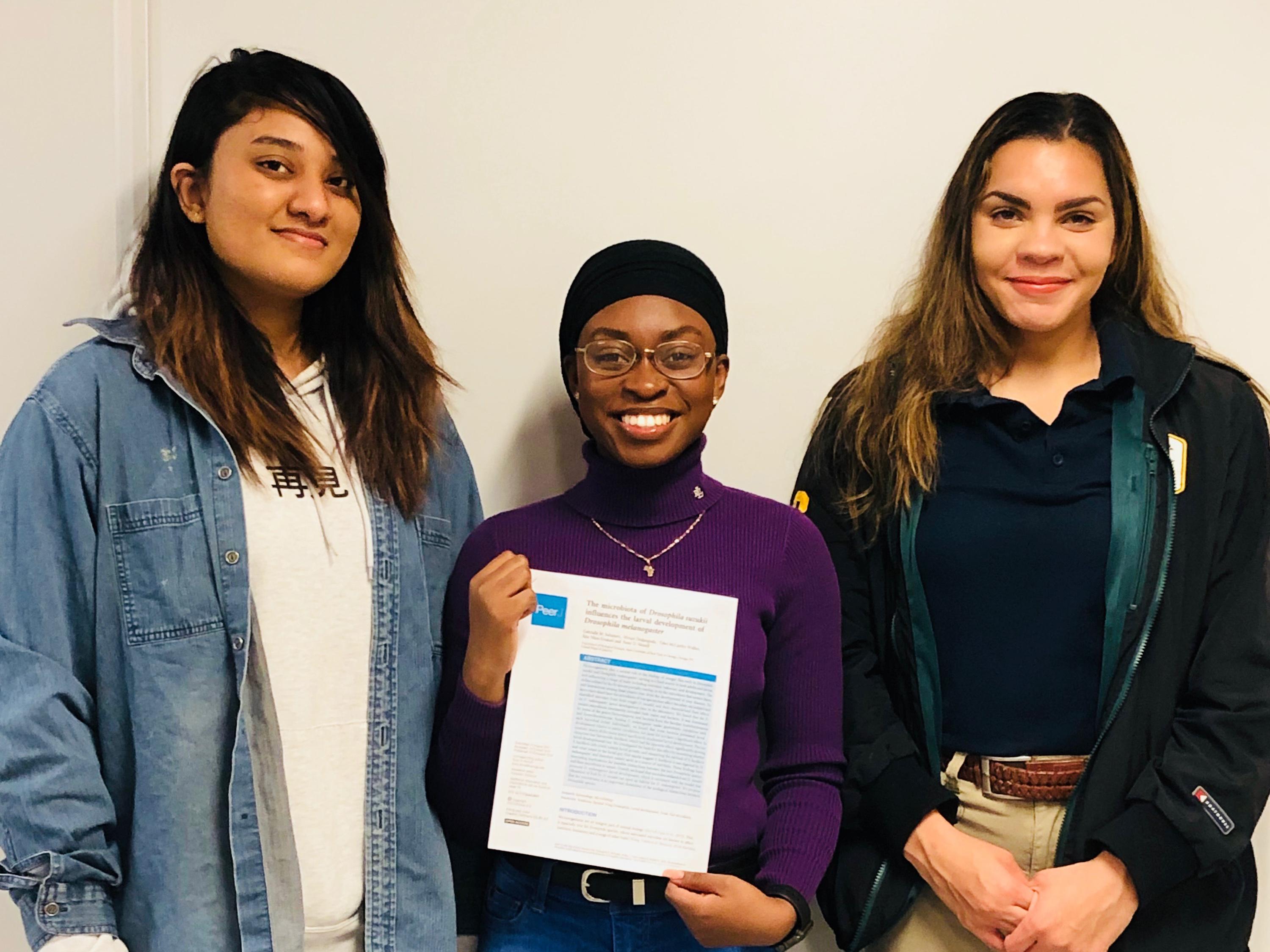 SUNY Oswego graduate students recently attended and presented at the 2019 New York State Reading Association Conference in Albany. Each student presented a poster highlighting their work in using assistive technology tools with an elementary or secondary student with disabilities to create a meaningful writing piece aligned with curricular standards. Conference participants, which included teachers, administrators, professors and teacher candidates from across the state, praised the presenters for their professional posters as well as their articulate descriptions of their work. The graduate students' participation was supported by Carol Willard from the curriculum and instruction department. Additional support was provided by the curriculum and instruction department, the Research and Individualized Student Research Experiences Office and the Division of Graduate Studies. Pictured from left are: Kristen Kee, Rebecca Levenberg, Willard, Halie Kicsak, Michelle Pavone, Sofiya Pazycheva, Kara Farrands and Heather Johnson (not pictured: Stephanie Kenific).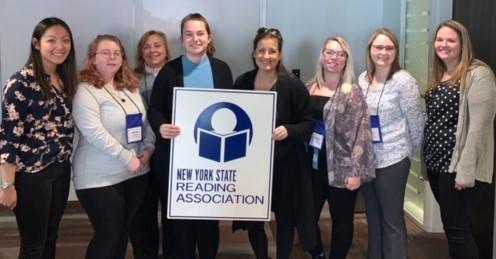 Comments