Katherine Wolfe-Lyga, director of SUNY Oswego's Counseling Services Center, recently earned a national award for her far-reaching leadership in the field of campus mental health. The Association of University and College Counseling Center (AUCCCD), the largest organization of campus mental health leaders in the world, conferred its AUCCCD President's Award on Wolfe-Lyga among its awards that exemplify excellence in the promotion of mental health for colleges and universities. "This acknowledgment of the work is a statement of the support that I am given," Wolfe-Lyga noted. "SUNY Oswego's leadership understands mental health support must reach beyond the confines of Counseling Services and demonstrates a commitment to the mental health of our students. Additionally, the collaboration with colleagues in other departments and the talent and strength of the counselors in the department enables me to provide meaningful support in national efforts in college mental health." Read full story.
Physics professor Shashi Kanbur co-edited "A theoretical framework of BL Her stars. I. Effect of metallicity and convection parameters on period-luminosity and period-radius relations," appearing in the Monthly Notices of the Royal Astronomical Society Main Journal.  It continues research by Kanbur and his international co-authors into the use of galactic markers such as period-variable stars, whose pulsation allows an estimate of their distance from Earth, to explore the astronomical distance scale and how galaxies form.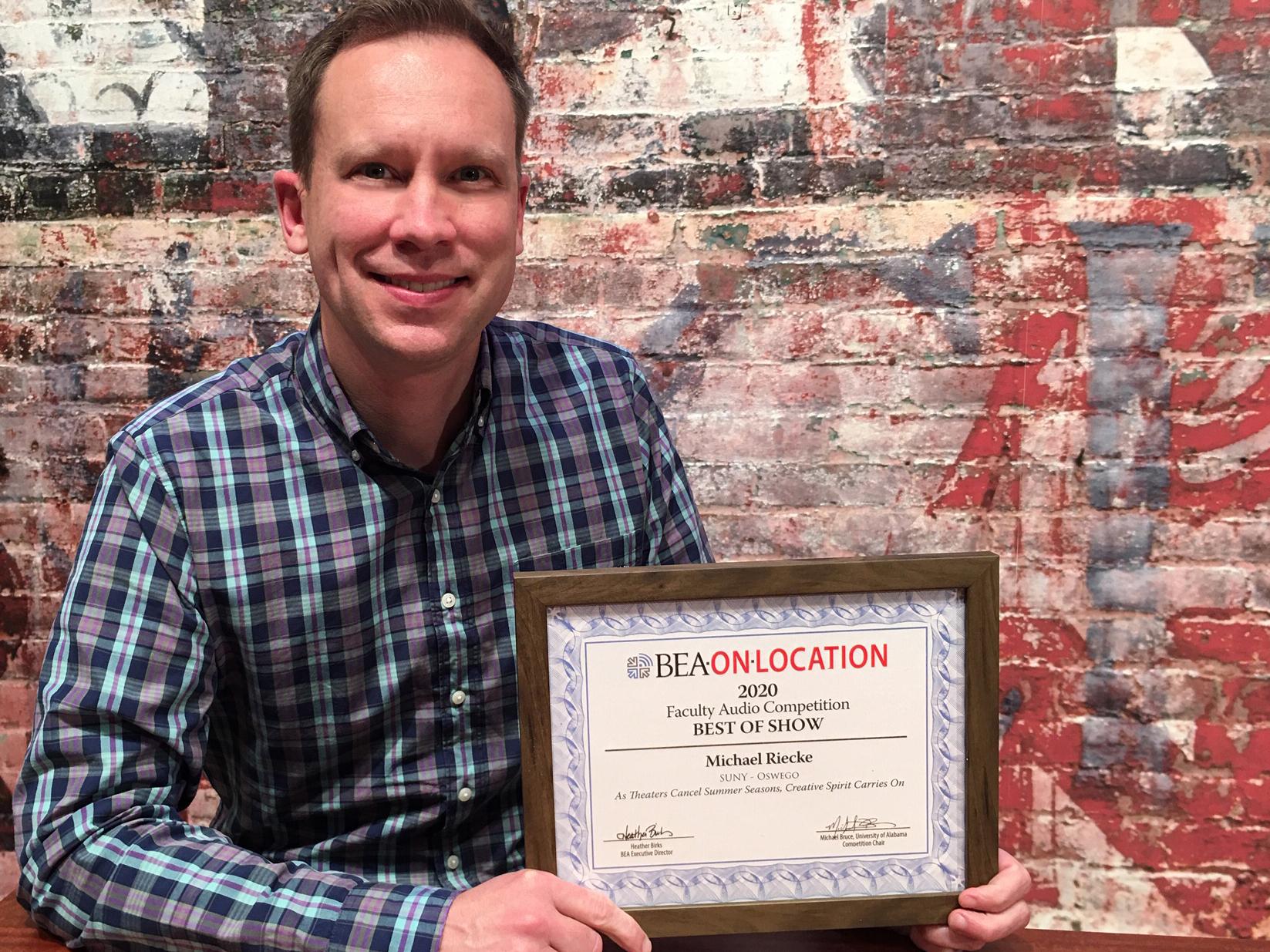 Broadcasting and mass communication assistant professor Michael Riecke won Best of Show for faculty audio at the Broadcast Education Association's On-Location Creative Competition and Showcase Oct. 24. Riecke's winning entry, "As theaters cancel summer seasons, creative spirit carries on," aired on WRVO Public Media in April, profiling the financial challenges and the artistic opportunities facing theater professionals during the COVID-19 pandemic. Read full story.
In November, the virtual National Communication Association Conference included presentations from members of the communication studies department:
Faculty member Andrea Vickery (with 2020 graduate Sabrina Ventrano) presented a paper to the Interpersonal Communication Division of NCA. "Listening goals and parasocial relationships: How listening styles impact the development of parasocial relationships with media personas" investigates the associations between listening styles and parasocial relationships in a cross-sectional survey collected at SUNY Oswego in fall 2019.
Faculty member Jason Zenor's paper "Compelled Speech and Equal Protection at a Crossroads: Is there a Legal Solution to the Conflict?" was chosen for the top-paper panel for the Freedom of Expression Division at NCA. The paper attempts to resolve the issue of businesses denying services based on religious beliefs by arguing for an

intermediate level of protected speech for licensed businesses open to the general public. 

Master's in strategic communication student Rob Robbins presented a paper to the Interpersonal Communication Division of NCA titled "

The impacts of humorous pick-up lines on romantic communication on Tinder." The paper, co-written by former communication studies

faculty member Minhao Dai

, examined

how the use of  humor and complimentary language was received on dating apps.
Do you have an item for People in Action? Have you, for example, recently presented at a conference, published a research paper or earned a regional or national award? Submit your news via our Oswego Today form.
Comments