Physics undergraduates Trieu Le and Annika Neufeld-Kreider (pictured above), and chemistry student Roselyn Tofa, were part of the team led by physics professor Carolina Ilie for summer research at University of Nebraska at Lincoln. The students earned a 10-week fellowship with the 2019 National Science Foundation Research Experience for Faculty and Students at Undergraduate Institutions program of the Materials Research Science and Engineering Center (MRSEC) focused on Polarization and Spin Phenomena in Nanoferroic Structures at University of Nebraska at Lincoln. They presented their research in a department of physics and astronomy colloquium dedicated to summer research fellows, and also a poster at the UNL Summer Research Symposium. Newfeld-Kreider presented "TiS3 (001) Nanowhiskers as Photo Conduction Channels in Hybrid Perovskite Solar Cells" and her co-authors are Le and Ilie; Archit Dhingra, Thilini Ekanayaka, Simeon Gilbert and Peter A. Dowben from UNL department of physics and astronomy; Alexey Lipatov and Alexander Sinitskii from UNL department of chemistry; and Andrew Yost from Oklahoma State University department of physics. Le presented "Transition Metal Doped Quantum Dots for Photovoltaic Applications," with co-authors Neufeld-Kreider and Ilie; Yost; and Ekanayake, Dhingra, Dowben and Takashi Komesu from UNL department of physics and astronomy. Tofa presented "Optical and Transport Properties of Inorganic Perovskites," with co-authors Le, Neufeld-Kreider and Ilie; Ekanayake, Dhingra and Dowben; Yost; and Jacob Teeter and Sinitskii from UNL department of chemistry.
Richard Cocks of the philosophy faculty published "Pondering the Defeatists," reviewing a new edition of Colin Wilson's book "The Age of Defeat." "Originally published in the 1950s, Wilson's analysis of the sorry state of the modern novel still holds true," Cocks wrote in the review in the University Bookman. In another Oswego connection, Thomas F. Bertonneau of the English and creative writing faculty wrote the book's introduction.
A paper co-authored by professor and chair of physics Shashi Kanbur, "Multiwavelength Period-Luminosity and Period-Luminosity-Color relations at maximum-light for Mira variables in the Magellanic Clouds," appears in the Astrophysical Journal. The lead co-author among the 11 researchers is Anupam Bhardwaj, now with the Kavli Institute for Astronomy and Astrophysics, for whom Kanbur was an adviser during Bhardwaj's Ph.D. studies at the University of Delhi in India. Kanbur said this article confirms some things found in a paper he published back in 1997 in his ongoing research on the size and age of the universe.
In addition, a related 2017 paper also with Bhardwaj and Kanbur among the co-authors, "Large Magellanic Cloud Near-infrared Synoptic Survey. IV. Leavitt Laws for Type II Cepheid Variables," has become "the top cited paper amongst journals published by the Institute of Physics and where the first author is at an Indian university," Kanbur noted.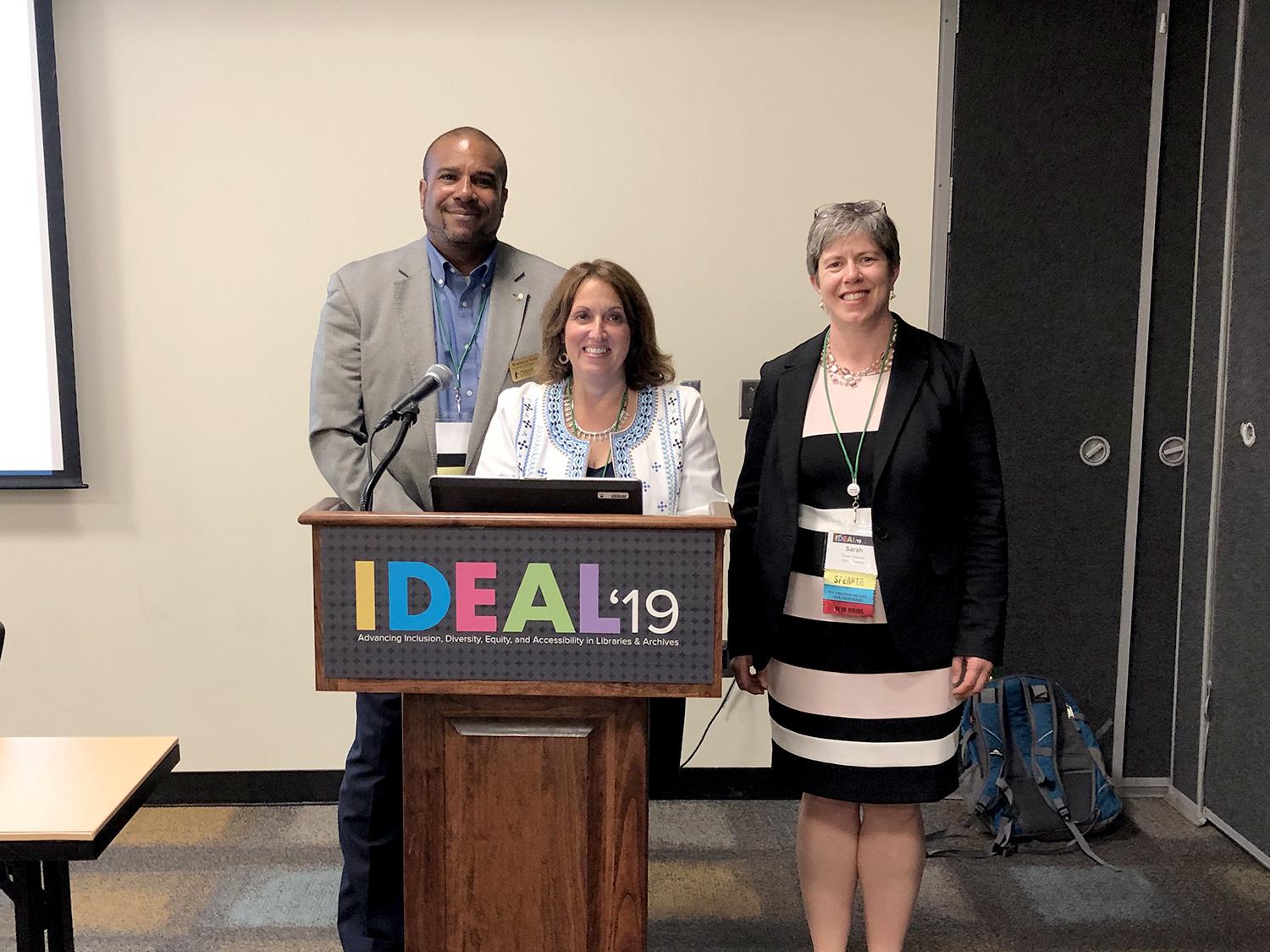 Pictured from left, Rodmon King, the college's chief diversity and inclusion officer; Nancy Concadoro, human resources associate; and Sarah Weisman, director of Penfield Library, presented "Challenges and Solutions for Diversifying Library Faculty and Staff" at the IDEAL conference for Advancing Inclusion, Diversity, Equity and Accessibility in Libraries & Archives. The conference took place Aug. 6 and 7 at Ohio State University.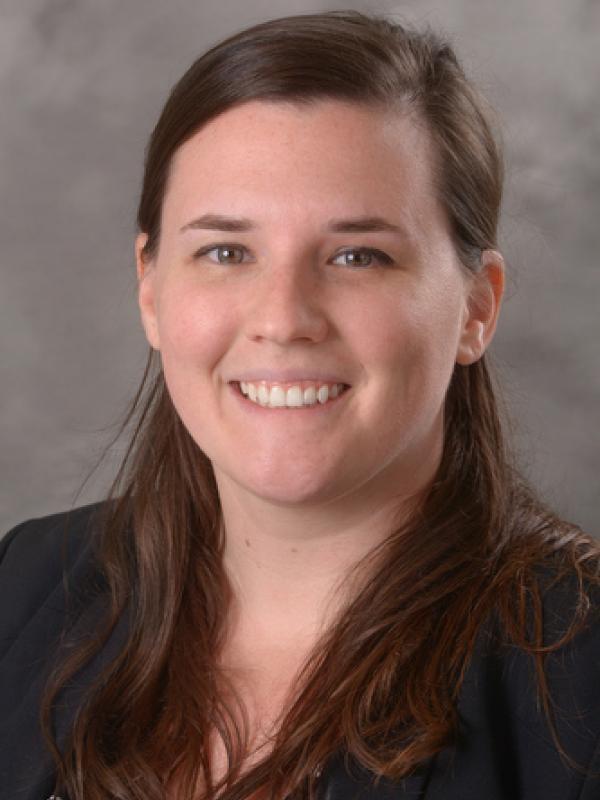 Lindsay McCluskey, assistant professor of public relations and advisement coordinator for the department of communication studies, received the First Place Promising Professor Award at the AEJMC (Association for Education in Journalism and Mass Communication) Conference Mass Communication and Society Division Awards Luncheon in Toronto on Friday, Aug. 9. The Promising Professor Award is given annually to recognize junior faculty who have demonstrated excellence and innovation in teaching. In addition to teaching a variety of courses in the public relations major, over the last three years, McCluskey has served as faculty sponsor for 73 internships, has overseen 22 independent studies, has mentored 12 teaching assistants and has supervised two undergraduate honors theses. While in Toronto, McCluskey also served as a research discussant for the Political Communication Interest Group and presented a research paper in the Public Relations Division. AEJMC is a nonprofit organization serving more than 3,700 members worldwide. Read full story.
Patrick Schultz, a visiting assistant professor in the department of modern languages and literatures, presented "From 'Brotarbeit' to 'The Storyteller': Benjamin's Instructive Radio Broadcasts" at the biennial International Walter Benjamin Society Conference. This year's conference was held June 26 and 27 in Bern, Switzerland, where the German-Jewish critic received his doctorate 100 years ago.
Biological sciences faculty member Karen Sime presented a poster at the annual meeting of The Lepidopterists' Society in Davis, California, on July 11, titled "Oviposition patterns and parasitism of the bog buckmoth (Saturniidae: Hemileuca), a rare inhabitant of New York peatlands." She and co-author Eric Hellquist, also of the biological sciences faculty, and their students have been studying this moth, which is listed as an endangered species in New York, and the unusual wetland habitats in which it occurs, for more than 10 years.
Murat Yasar of the history faculty presented a paper, "At the Edges of European History: Internationalization of the North Caucasus Borderland," at the Council for European Studies 26th International Conference held in Madrid, June 20 to 22.

Do you have an item for People in Action? Have you, for example, recently presented at a conference, published a research paper or earned a regional or national award? Submit your news via our Oswego Today form!
Comments