Together with three undergraduate students, Aaron Cole, Sarah Buckler and Jack Marcucci (second from left in this file photo), biological sciences faculty Yulia Artemenko (second from right) published an article, "Differential Roles of Actin Crosslinking Proteins Filamin and α-Actinin in Shear Flow-Induced Migration of Dictyostelium discoideum," in Frontiers in Cell and Developmental Biology. The paper described the group's findings that a protein called filamin is important for the cell's ability to recognize mechanical cues in the form of shear flow and ability to migrate against the direction of the flow. The study, which investigated the involvement of two different proteins linking actin cytoskeletal fibers in shear flow-guided migration, was conducted in social amoeba Dictyostelium discoideum, and could have implications for our understanding of migration of other cells that move in a similar fashion, including white blood cells and metastatic cancer cells.
Management and marketing faculty member Barry A. Friedman published a paper and received an award for work addressing the growing interest and need for corporate social responsibility. The first publication, "Consumer perceived authenticity of organizational corporate social responsibility (CSR) statements: a test of attribution theory," in the Social Responsibility Journal, was co-authored with Suhana Moehl. Friedman supervised her master's degree thesis at the Hamburg School of Business Administration in Germany, where he frequently teaches. The article explores the psychology of how consumers judge the credibility of organizations' claims that they are socially responsible. He also earned a Best Paper Award at the 7th International Conference on CSR, Sustainability, Ethics and Governance celebrated in Lisbon, Portugal, in June 2021. Dr. Friedman co-authored "Consumer Perceptions of Corporate Social Responsibility Socio-Economic Benefits in an Undeveloped Country" with Zamira Ataniyazova, from Westminster International University in Tashkent, Uzbekistan. This paper explored how consumers align organizations' CSR initiatives with their country's needs.
In addition, health promotion and wellness faculty Elizabeth Keida and Jessica Harris teamed with Friedman to publish a paper evaluating "Discover Wellness: A Worksite Wellness Program" in the Journal of Higher Education Theory and Practice. The program intends to improve the health of employees in higher education, realizing that 60 percent of U.S. adults suffer from a chronic disease, and worksite wellness programs are ideal for targeting populations at risk for such diseases and have been shown to have positive health benefits. College campuses are the optimal locations to target a large number of employees to improve health and decrease rates of chronic disease. The authors found significant differences between pre and post scores for stress, nutrition, physical activity and sleep. Providing an opportunity for participants to learn and practice healthy behaviors may be the key to health behavior changes. Increasing these opportunities in such populations may reduce rates of chronic diseases and have a potential significance for administration on campus.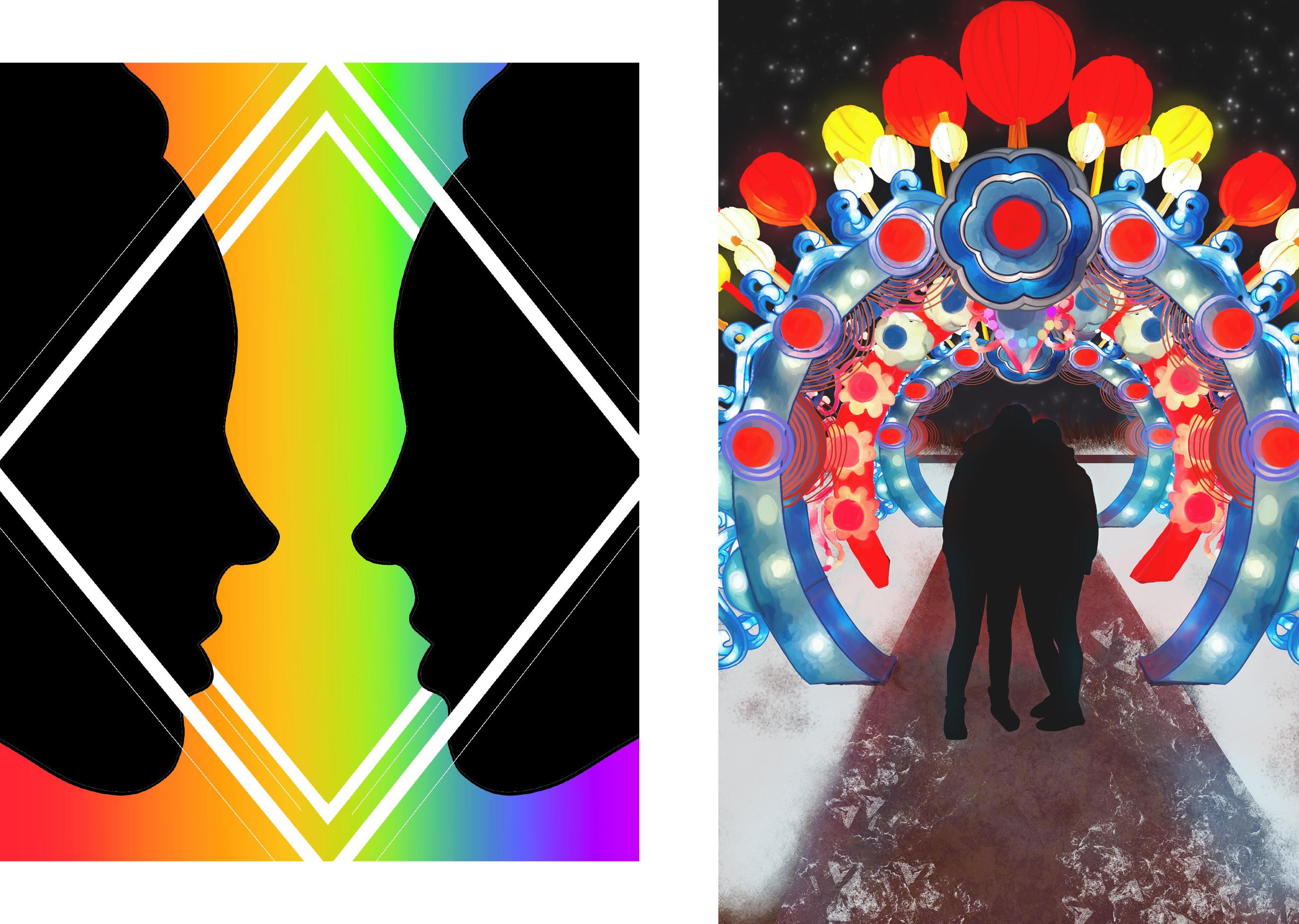 Two Oswego art students, Malia Minckler and Caryn Nabrizny, have pieces in SUNY's "Pride in Bloom" exhibition that opened over the summer and will remain on display in the first floor gallery of the H. Carl McCall SUNY Building in Albany through November. The exhibition features works ranging from oil paintings to photographs, contributed by five current SUNY students and two alumni, and representing six SUNY campuses. "Reflection" by Minckler (left) and "Lanterns" by Nabrizny represent their own stories and the talent of the college's art department. Read full story.
The Latin American Literary Review recently published a special issue on Border Environments that included the work of two modern languages and literatures faculty members. Milton Loayza contributed "The Bee Lecture: How Amerindian Perspectivism Psychoanalyzed the Western Symbolic Order and its Historicity and Set a Precedent for a New Kind of Politics." Georgina J. Whittingham wrote "Art as Advocacy: Protecting the U.S.-Mexico Border Environment in Amanda Keller Konya's 'Specimens.'"
Comments