Senior physics major Dylan Richmond participated at the March 2019 American Physical Society Meeting in Boston -- a conference with over 10,000 physicists from all over the world. Richmond presented "Optical and transport properties of mixed halide all-inorganic quantum dot inkjet-printed films, under session X20 – Hybrid Perovskites – Low Dimensions." His co-authors are Carolina Ilie, his physics mentor and research adviser, and the team from physics and chemistry departments at University of Nebraska at Lincoln: Thilini K Ekanayaka, Mason McCormick, Nicole Benker, Syed Qamar Abbas, Corbyn Mellinger, Guanhua Hao, Alexander Sinitskii, Peter A Dowben and Andrew J Yost.
A team of SUNY Oswego mathematics and physics faculty, together with philosophy alumna Kimberlyn Bailey, had a paper accepted for publication in the Frontiers in Sociology. The paper, titled "STEM/non-STEM Divide Structures Undergraduate Beliefs About Gender and Talent in Academia," has co-authors including Scott Preston and Ampalavanar Nanthakumar from Oswego's mathematics faculty, Carolina Ilie from physics, David Horacek and Steven Worthington of Harvard.
SUNY Oswego won three Excellence in Broadcasting Awards from the New York State Broadcasters' Association statewide competition. Senior broadcasting majors Asha Bey and Amada Caba earned Outstanding Feature News Story for "Student Spotlight: Daphne Frias." Senior broadcasting major Brittany Cairns (executive producer) and the WTOP Sports Department won Outstanding Specialty Programming for "SUNYAC Playoff Pregame Show." Senior meteorology major and WTOP Chief Meteorologist Alex Bielfeld earned of Outstanding Weathercast for the Dec. 4 "Storm Team 10 Forecast." Oswego and other top programs in the state vied for the honors, which will be presented at the NYSBA luncheon at the Sheraton University Hotel in Syracuse on April 17.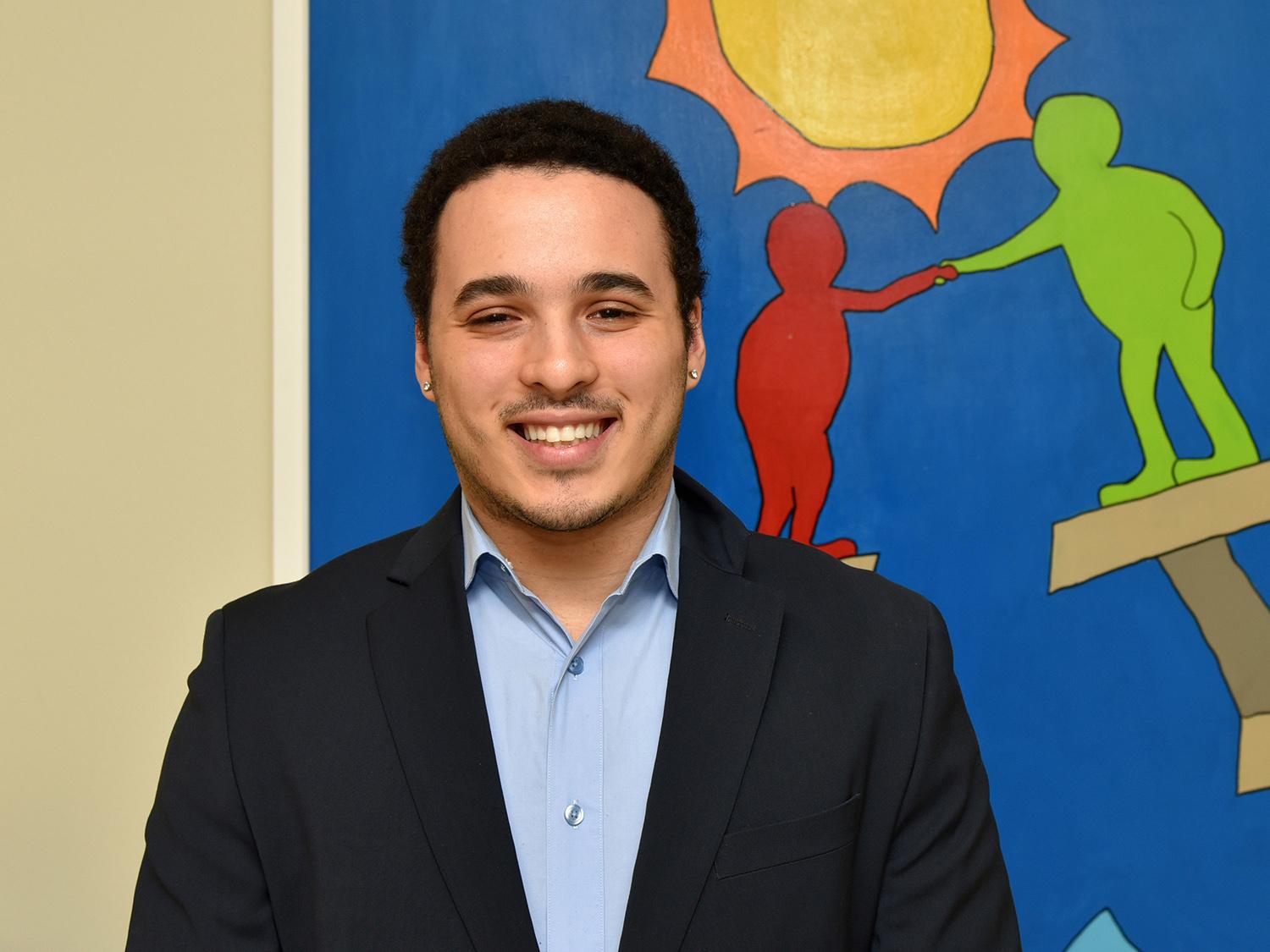 Campus Compact named SHOP food pantry student coordinator Ariel Gutman-Gates, a junior psychology major, as one of only 262 Newman Civic Fellows in the nation for 2019-20. The one-year leadership opportunity in civic engagement recognizes community-committed college students from among the 1,000-plus member institutions of Campus Compact, a Boston-based non-profit working to advance the public purposes of higher education. Besides his volunteerism and leadership of the food pantry -- located in the basement of Penfield Library -- Gutman-Gates has served as a Laker Leader captain on the New Student Orientation team; president of Active Minds, a campus club that empowers students to speak openly about mental health in order to educate others and encourage help-seeking; co-founded a Girl Up chapter that organizes fundraisers for health-related needs of girls in Africa and South and Central America; served on the Student Conduct Committee on campus; and served as a peer educator through the college's Care Network. Read full story.
Modern languages and literatures faculty member Gonzalo Aguiar Malosetti delivered a conference paper titled "Latin American Guerrilla Warfare in a Post-Neoliberal Age: Western Noir and Pink Tide Ideology in Renzo Rossello's El combatiente" March 9 at Stony Brook University during the 2019 Middle Atlantic Council of Latin American Studies conference. He reflected on recent social and political changes in South America through a reading of selected Latin American crime fiction, currently a wildly popular genre in the region.
Julie Pretzat, dean of the College of Communication, Media and the Arts, also will lead Syracuse Vocal Ensemble as its new artistic director. She previously served as the organization's artistic director from 1986 to 1990. Her previous choral conducting positions, in addition to SUNY Oswego, include Mount Holyoke College, Moorhead State University and Syracuse University. Syracuse Vocal Ensemble, an auditioned ensemble known for its quality a cappella singing, also performs with instrumental and orchestral collaborations produced in three to four concerts each season.
Comments