Gonzalo Aguiar Malosetti of SUNY Oswego's department of modern languages and literatures has earned a prestigious National Endowment for the Humanities Summer Scholar Fellowship for his book project,"Tropes of Violent Inequality: Brazilian Crime Fiction in a Post-Neoliberal Age." The award comes with an invitation to a future seminar, "The Making of Modern Brazil," which will connect top teachers and scholars in this field in an environment to "exchange ideas, readings and research at various stages of completion," Aguiar Malosetti explained. "The most exciting part of it is the opportunity to establish an interdisciplinary dialogue with colleagues across the nation to advance new knowledge about Brazil's social, racial, political and environmental challenges in the 21st century." Read full story.
David Crider, assistant professor of communication studies, has contributed a chapter to the just-released book "Radio's Second Century," edited by John Allen Hendricks and published by Rutgers University Press. This edited volume considers many of the challenges and influences that radio confronts as the medium celebrates 100 years of commercial broadcasting. Crider's chapter deals with the decline in local presence in broadcast radio, as stations continue to replace discussions of local affairs with nationalized discourse led by syndicated hosts.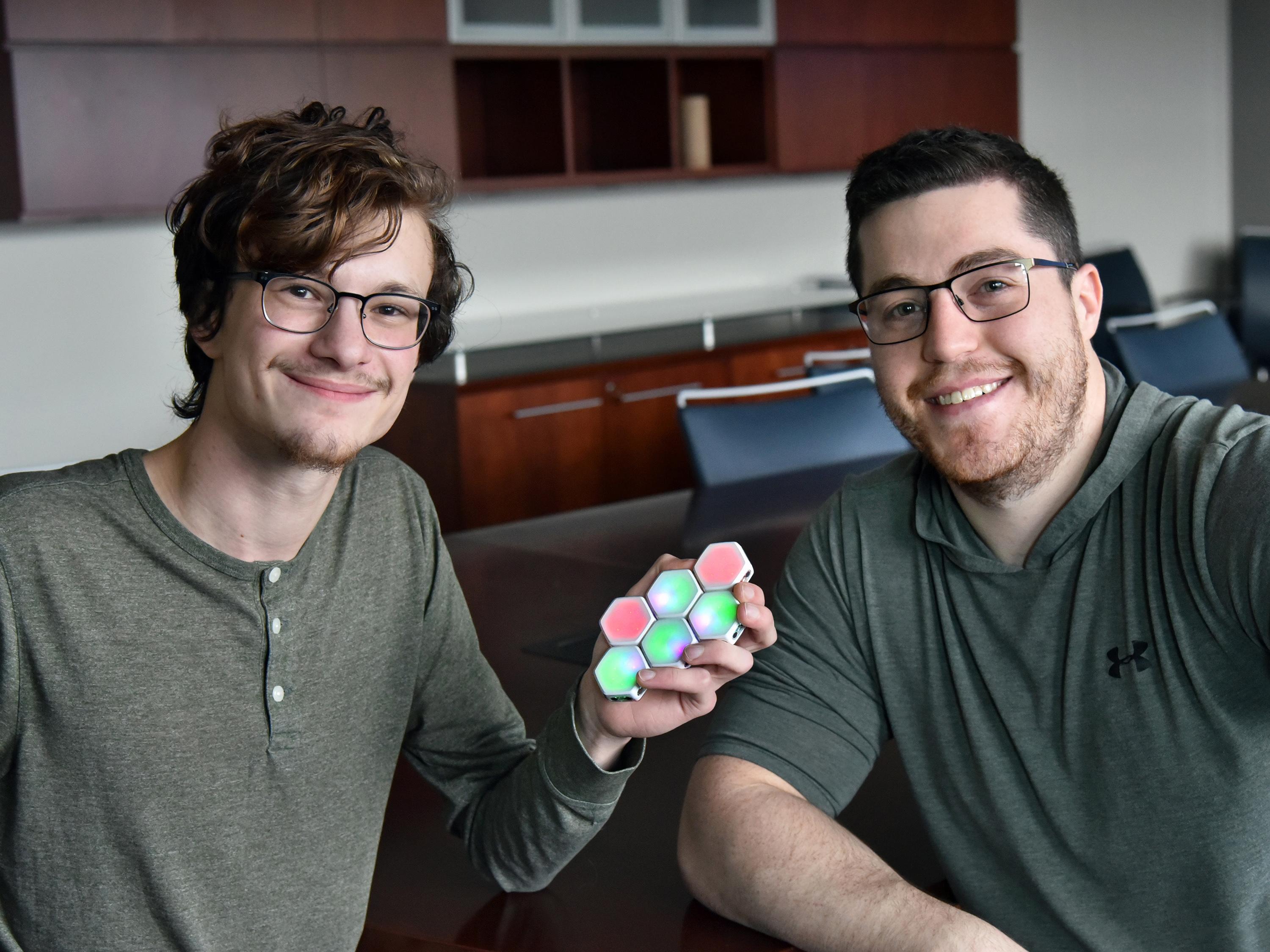 For Ian Cummins and Theo Johnson (above, from left), winning the Global Game Jam competition months ago in New York City was just the beginning of an adventure that includes their game's inclusion in a startup's new system. Putting their Oswego knowledge and experiences to work, their team's game "Pirates and Lasers" earned a top award at the popular conference in late January/early February, and moreover caught the attention of Move38, the parent company for the Blinks game system. Cummins, a senior cognitive science major, served as the project lead and game designer on the project. Johnson -- who earned his master's in human-computer interaction in fall 2019, as well as a previous bachelor's in psychology from Oswego -- worked on user-experience and general design. Read full story.
Junior Lauren Fitzgerald earned a 2020-21 Newman Civic Fellowship, a national honor for outstanding community service, for her work with Vote Oswego and other civic efforts. Campus Compact, a national coalition of more than 1,000 colleges and universities committed to the public purposes of higher education, coordinates the yearlong fellowship program that provides training and resources to future leaders. "Lauren's civic participation is extensive and inspiring," SUNY Oswego President Deborah F. Stanley wrote in a letter of support. "She is skillful at mobilizing her peers -- the largest voting bloc in this country -- to collectively use their voice and engage in the electoral and political processes." "I want to make sure our age demographic is engaged in politics," said Fitzgerald, a dual major in political science and in global and international studies. "I really believe in the impact organizing has for our generation." Read full story.
Laura Halferty, adjunct professor of English and creative writing, published a memoir piece, "All the Times We Didn't Die," in Issue 35, Spring 2020, of Under the Gum Tree, a quarterly literary arts magazine.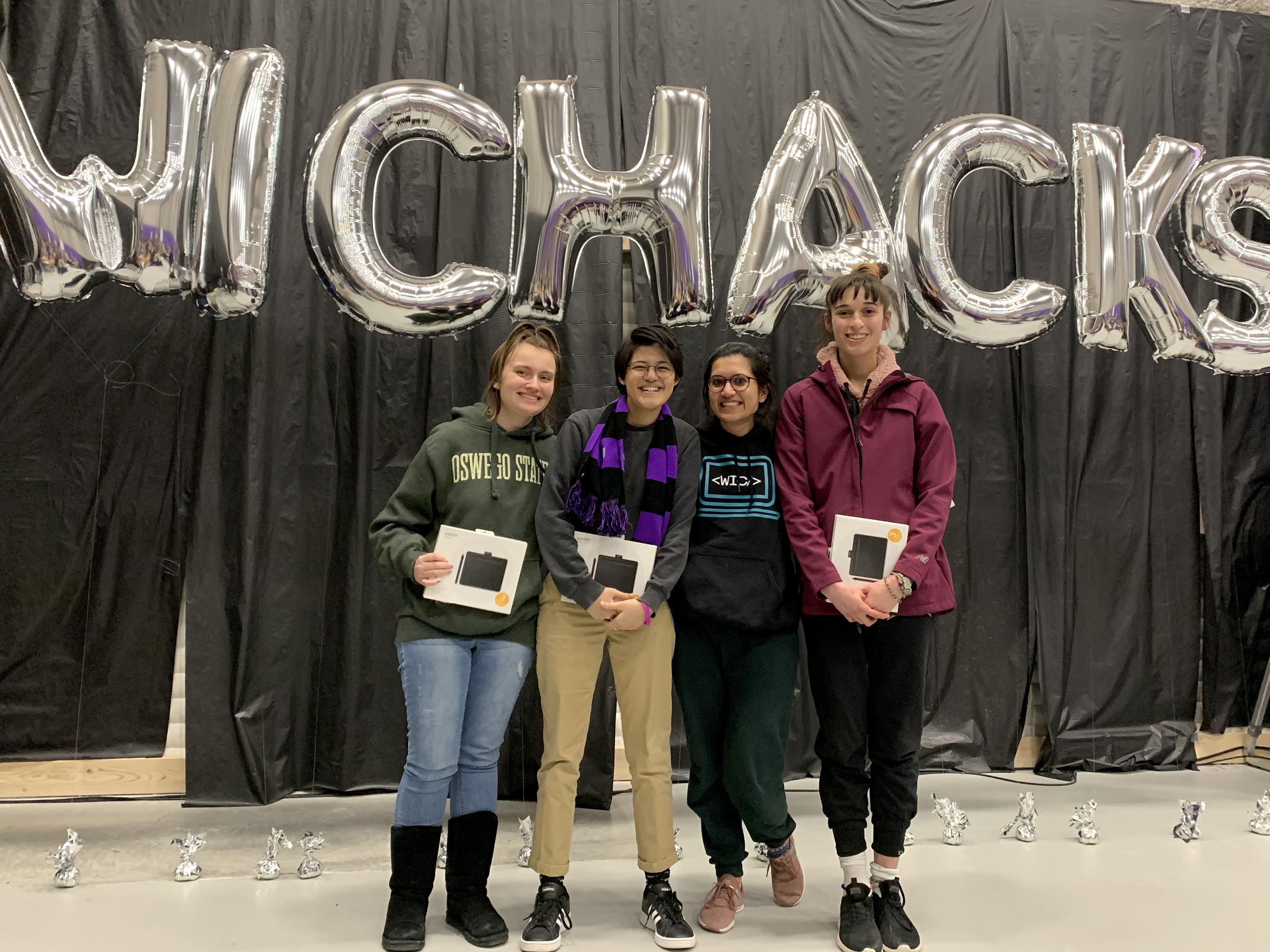 A student team of (above, from left) Alexis Indick, Anisha KC, Bharati Mahajan and Tonia Sanzo won Best User Interface at the WiCHacks competition earlier this year for their app "TRANSition," which promotes inclusion and connectedness for the LGBTQ+ community. WiCHacks is an all-female and non-binary 24-hour hackathon hosted by the Women in Computing organization at RIT. A hackathon is a collaborative programming event in which participants create an app, website, game or other piece of software over the course of the event. Three teams from SUNY Oswego, featuring members of the campus chapter of Women in Computing, participated in the competition, which ran Feb. 29 to March 1. Read full story.
"We Need Student Organizers, Not Just Student Voters" by Allison Rank of the political science faculty appeared in Forbes magazine's Civic Nation channel on March 31. In the piece, Rank detailed the success of the college's Vote Oswego non-partisan voter registration and education project, and offered lessons learned for other campuses looking to increase this kind of civic engagement.
Rank also took part in an April 24 webinar panel discussion, "Democracy Despite Disruption: Improving Student Voter Engagement through Pedagogy," presented by the Association of American Colleges and Universities. The Faculty Friday conversation about how faculty can connect voter engagement to their work with students, was part of the Quality, Equity, and Inclusion during the COVID Crisis free webinar series.

Criminal justice faculty member Jaclyn Schildkraut co-authored "Ready to Respond: Effects of Lockdown Drills and Training on School Emergency Preparedness," which appeared in the journal Victims & Offenders: An International Journal of Evidence-based Research, Policy and Practice. Co-authored by Amanda B. Nickerson of University at Buffalo, the paper included the surveying of participants from a large, urban school district were at baseline, post-drill and after receiving training on the newly implemented emergency response protocol and participating in a second drill. The study also observed the procedural integrity of the lockdowns. The findings highlighted the importance of drills in fostering a culture of preparedness at schools.
Damian Schofield, director of the college's human-computer interaction (HCI) program, and recent Oswego HCI graduate Colleen McClure published "Running Virtual: The Effect of Virtual Reality on Exercise," in the Journal of Human Sport and Exercise. Thd study focused on the effects that virtual reality has on heart rate and other bodily sensations during a typical work out. The data collected led to the conclusion that working out while wearing a virtual reality headset will lead to a higher heart rate, and in turn can lead to burning more calories during a workout. The study also found participants who wore the virtual reality headset were able to remove themselves from their bodily sensations, allowing them to workout longer.
Schofield and HCI graduate Rob LeDone published "The Motivations of a Video Game Streamers and their Viewers," in the Screen Thought journal. Their research looks at the explosion in popularity of streaming sites like Twitch.tv and community contributors in investigating and explaining the motivations of both the content creators and the content viewers.
In addition, Schofield and some HCI graduates -- Zhushun (Timothy) Cai, Oliver Medonza and Kristen Ray -- contributed a chapter in a book co-edited by former Oswego faculty member Jolanda Tromp. Their chapter, "Human Factors for an E-Health Training System: UX Testing for an XR Anatomy Training App" will appear in "Emerging Extended Reality Technologies for Industry 4.0: Early Experiences with Conception, Design, Implementation, Evaluation and Deployment," to be published by Wiley and Sons. The paper stems from research they conducted in the Virtual Reality lab at Duy Tan University in Da Nang, Vietnam, in summer 2018.
Comments