The work of 24 bachelor of fine arts degree candidates will greet visitors to Tyler Art Gallery for two spring BFA exhibitions. Spring BFA Exhibition I runs April 14 to 22 with a free public reception for the 12 student artists from 5 to 7 p.m. April 20, in the gallery and Tyler Hall's lobby. Degree candidates presenting their best-of-portfolio work will include Zack Anarella, Brandon Barnes, Alyssa Caldwell, Claire Chiarelli, Brian Ewanyk, Alahna Grady, James Herbst-Jones, Chelsea Jodway, Samantha Marti, Matthew Overend, Holly Spiess and Sarah Steinbrenner. Spring BFA Exhibition II will feature the work of another dozen degree candidates, running May 1 to 10 with a free public reception from 5 to 7 p.m. May 4. Featured artists are Megan Barry, Mercedes Buhner, Patrick Casey, Erin Dibenedetto, Sydney Hoefer, Robert Hohman, J.P. La Rosa, Sandy Lee, Haley Noel, Kat Sagrestano, Kyle Tack and Lindsey Ubeda. Tyler Art Gallery hours are 10 a.m. to 4 p.m. Tuesday through Friday, 10:30 to 4 p.m. Saturday and 11:30 to 4 p.m. Sunday.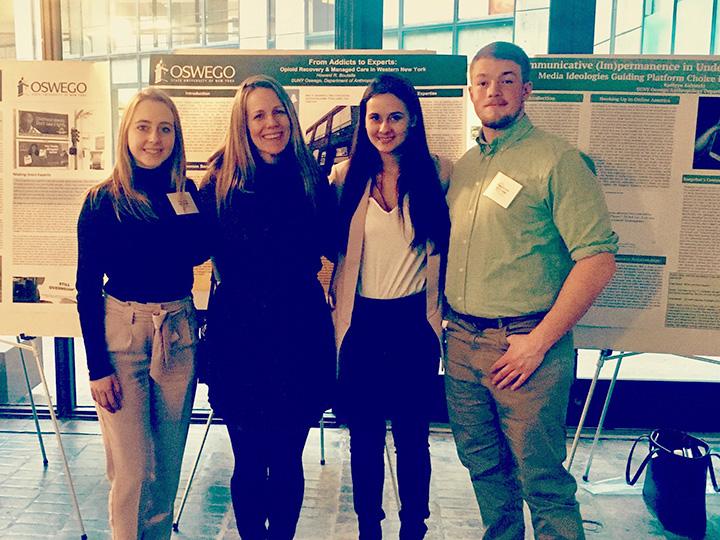 Three anthropology majors traveled to Philadelphia over spring break to present their capstone research at the Society for Linguistic Anthropology's inaugural conference. Howard Boutelle, Kathryn Kubinksi and Mia Fasanella each conducted original research over the past two terms and presented their findings at the conference at the University of Pennsylvania's Museum of Anthropology. Boutelle's poster, "Addict to Expert: Opioid Recovery and Managed Care in Western New York," shared the results of his RISE-funded research with men and women in drug recovery programs in his hometown. Kathryn Kubinski's research, "Communicative (Im)permanence in Undergraduate Hookup Culture: Media Ideologies Guiding Platform Choice in Contemporary Courtship," looked at the role of computer-mediated communication in campus dating life. Honors student Mia Fasanella conducted research on campus-based diabetes prevention initiatives. Her poster, "'I've Been Talking to People About Losing Weight My Whole Life': Motivation, Self Image and Student Meanings of Health," is the outcome of RISE-funded fieldwork with student clients and health coaches working to improve student health. These Oswego seniors presented posters alongside graduate students. They impressed conference attendees with their thoughtful research and professional presentations, said anthropology faculty member Dr. Lindsay Bell, who supervised all three students. Pictured above from left are Fasanella, Bell, Kubinski and Boutelle. Their trip was made possible by the RISE office, Dean Adrienne McCormick and the department of anthropology.
Dr. Elizabeth Keida and Dr. Amy Bidwell from the department of health promotion and wellness presented at the Arts and Sciences of Health Promotion Conference in San Diego on Thursday, March 29.
Several Oswego students presented at the Rochester Symposium for Physics, held April 7 at SUNY Brockport. Brett Meerdink and Matt Sodano gave a talk on "The Periods of Variable Stars in the OGLE Catalogue." Chris Wells addressed "Clustering Fundamental mode RR Lyraes and the Oosterhoff Dichotomy." Also, a poster presentation, "Inkjet Printed Nanocrystalline Inorganic Perovskite Films: the Novel Solar Cells" featured the work of physics student Benjamin Swanson with Oswego co-authors Ian Evans and Carolina Ilie, as well as Andrew Yost, M. Shekhirev, J. Teeter, N. Benker, P. Dowben, A Sinitskii (University of Nebraska at Lincoln), F. Guzman ( California State University-San Bernardino), S. Sikich (Doane College) and A. Enders (Physikalisches Institut, Universität Bayreuth, Bayreuth, Germany).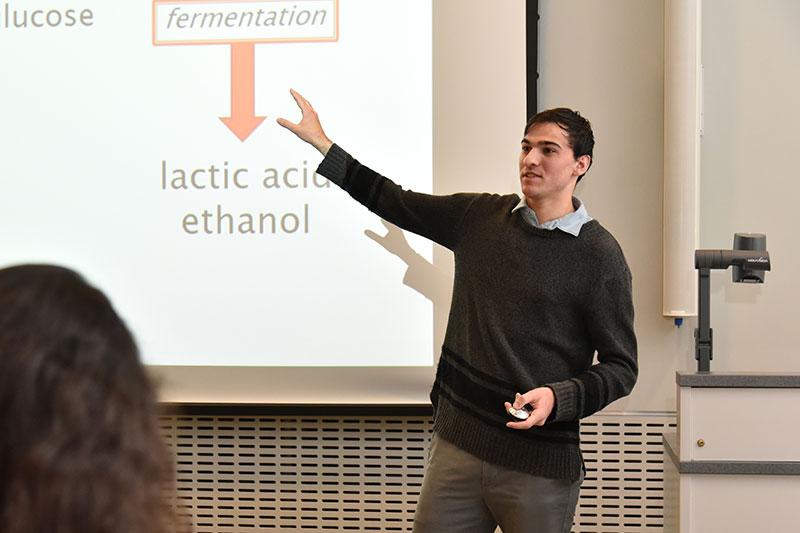 Andrew Sommer (pictured above presenting at Quest), a dual major in biology and chemistry, has earned a ThinkSwiss Scholarship to go to Switzerland this summer to perform research. He will travel to ETH Zürich from June to the end of August to work with Dr. Beat Christen at the Institute of Molecular Systems Biology. "The goal of my project will be to analyze the efficiency of CRISPR genome editing techniques modified for use in bacteria," Sommer explained. "I will be testing the efficiency of these systems for making directed mutations in both E. coli and Caulobacter crescentus. Caulobacter crescentus is of importance because it is a model organism for cell cycle and replication studies." The scholarship from the Office of Science, Technology and Higher Education at the Swiss Embassy,gives funds to students from America and Canada to conduct research with a professor in Switzerland. In addition, he has received a GETGO travel grant from the modern languages and literatures department, which will cover his travel expenses to and from Switzerland.
Communication studies faculty member Jason Zenor had a paper published in the Arizona State Sports & Entertainment Law Journal. The paper, titled "The Meme Made Me Do It! The Future of Immersive Entertainment and Tort Liability," examines how the liability for violent video games may change with the rise of virtual reality if conditions exist like conclusive neuroscience research, easier player control and courts seeing VR as less expressive than traditional media.
In Memoriam
F. Elizabeth (Betty) Moody, 85, died March 30. Moody was a former dean of professional studies, as well as a faculty member and chair of the elementary education department.
Richard Zakin, 81, died April 5. A longtime professor of art, he was a renowned and influential teacher, author and creator particularly in the field of ceramics.
To submit an item for potential inclusion in People in Action, please email proffice@oswego.edu.
Comments