Lindsay Bell of the anthropology department is the author of an article in the open access journal Medicine, Anthropology, Theory. Her article, "Longing for Evidence-based Traditions: Addiction Treatment in Canada's Northwest Territories," is based on her ongoing research on the intersection of culture and care in the Arctic.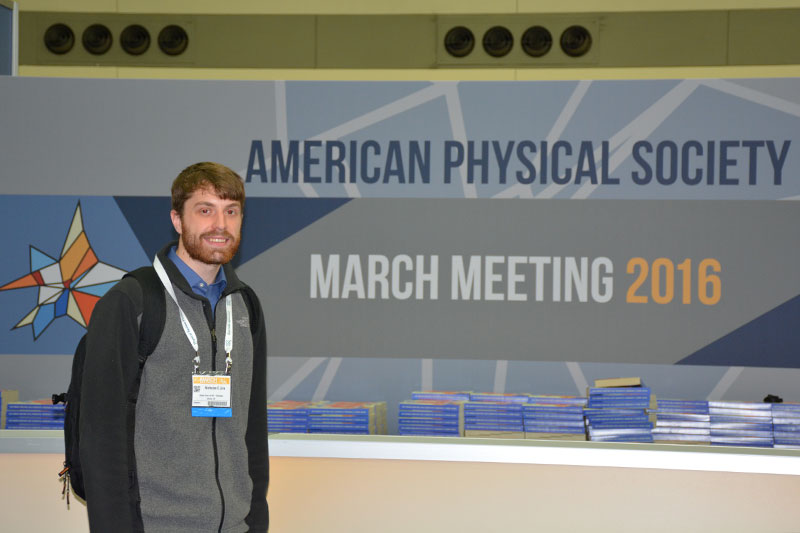 Two physics students, Julia D'Rozario and Nicholas Noviasky, and associate professor of physics Carolina Ilie are the recipients of a summer fellowship that will involve them in cutting-edge research at University of Nebraska at Lincoln. A National Science Foundation Research Experience for Faculty and Students at Undergraduate Institutions, it is part of the NSF's Materials Research Science and Engineering Center and focuses on polarization and spin phenomena in nanoferroic structures. A team of mainly physics students and faculty participated to the March meeting of the American Physical Society, held in Baltimore from March 16 to 18. Nicholas Jira, pictured, presented "Electric Transport Phenomena of Nanocomposite Organic Polymer Thin Films," co-authored with Ildar Sabirianov and Ilie. Kimberlyn Bailey, a philosophy major, presented "Explaining the Gender Gap: Comparing Undergraduate and Graduate/Faculty Beliefs about Talent Required for Success in Academic Fields," co-authored with Ampalavanar Nanthakumar and Scott Preston, both of the mathematics faculty, and Ilie. And Ilie presented "Capillary Condensation in Polymer Blends: An Analysis of Phase Transitions," co-authored with Jira, Ian Evans, Matthew Cohen, D'Rozario, Marie Romano and Sabirianov.
This summer professor and chair of physics Shashi Kanbur will speak on "Period-Color and Amplitude-Color Relations in Cepheids and RR Lyraes" at the Max Planck Institute for Solar System Research in Gottingen, Germany; the Konkoly Observatory in Budapest, Hungary; and the European Southern Observatory in Munich, Germany. Kanbur is a co-author with Coryn Bailer-Jones of the Max Planck Institute in Heidelberg, Germany, and Anupam Bhardwaj and Harinder P. Singh, both of the University of Delhi, of a poster that has been accepted for the international conference series "Statistical Challenges in Modern Astronomy 6" at Carnegie-Mellon University in June. It is titled "A Bayesian Approach to Testing for Nonlinearity in the Cepheid PL Relation." Kanbur is also a co-author with his students from the University of Delhi of two posters that have been accepted for presentation at the Indian Astronomical Society meeting in Srinagar in May. They are "Multi-wavelength Analysis of Theoretical Light Curves of RR Lyrae" by Submit Das, Anupam Bhardwaj, Kanbur and Singh and "Examining Empirical Metallicity-Fourier Parameter Relations for RR Lyrae Stars" by Richa Kundu, Singh and Kanbur.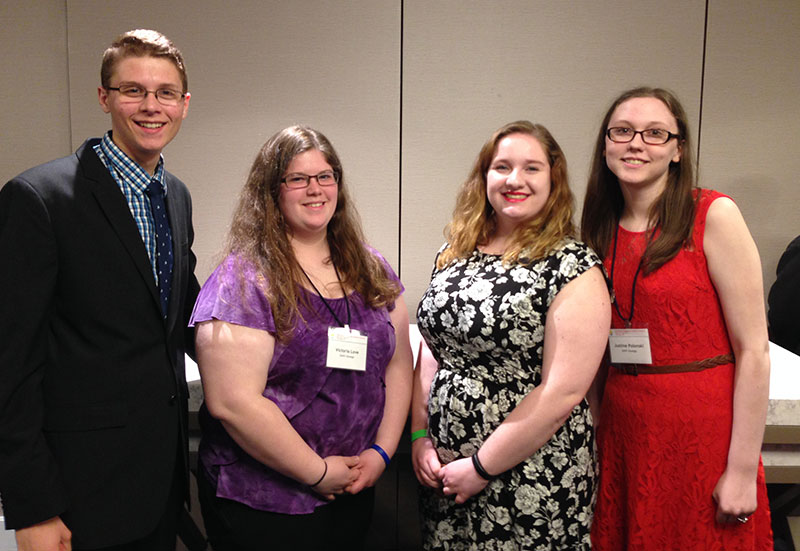 Gwen Kay, professor of history, and Casey Raymond, assistant professor of chemistry—director and associate director, respectively, of the Honors Program— accompanied four students—pictured from left, Dylan Gates, Victoria Love, Julia Shipley and Justine Polonski—to the Northeast Regional Honors Council annual meeting, held March 31 to April 3 in Cambridge, Massachusetts. Shipley spoke on "Movements in the Name of Love: Marie de France's Les Lais." Love spoke on "Undergraduate News Consumption Among SUNY Oswego Students." Sasha Padilla was to make a presentation on "Crossing the Boundaries Between the Brain and the Body: Our Perception of GHB as a Drug," but was unable to attend. Each of these presentations was based on the student's honors thesis. Raymond and Kay each moderated a student session.
Paul Leary of the music faculty recently created a well-viewed promotional film for a new book, "Empires of EVE: A History of the Great Wars of EVE Online." Leary was hired to create the short film to tell one of the stories of Andrew Groen's book, and he filmed the visuals, wrote an original score and produced the video.
An exhibition through June, titled "SHE: Deconstructing Female Identity" in the ArtsWestchester Gallery in White Plains, features four works of art faculty member Rebecca Mushtare. One piece, titled "After the Yellow Wallpaper," was supported by a grant from the college's Scholarly and Creative Activity Committee. In an April 1 article, the New York Times' Douglas P. Clement had this to say about the ArtsWestchester exhibition: "Whatever the status of the battle (over individuality), 'SHE' intelligently advances the conversation while also being visually stunning." Mushtare plans to be in the gallery June 4 to do an e-textile workshop in conjunction with the exhibition.
Oswego swept the animation category of the SUNY Wide Film Festival at the awards ceremony April 9 with two entries created primarily by 2015 graduates of the cinema and screen studies program. "Orchestrate," about a lonely inventor, won first prize. "Yakinaoshi," the story of a Samurai in feudal Japan who has lost his edge, received honorable mention. Peter Yoors Myers was the director, animator, cinematographer, and puppet and props designer for "Orchestrate"; Jesse David Malone was producer and camera animator, Evan Maroun was a model, and Emily Stott, a junior with majors in cinema and screen studies and theater, was also an animator. Malone directed and produced "Yakinaoshi." He, Maroun and Myers wrote the script; Maroun was the art director; Myers was cinematographer; Myers and Stott handled costuming; dialog was by Hiroshi Maki, and narration by Yuki Sasao, a senior accounting major.
The Eastern Communication Association honored communication studies department chair Mary Toale as an ECA Teaching Fellow at its annual conference earlier this month in Baltimore. The designation recognizes a distinguished career of teaching excellence in the field of communication and is limited to colleagues who have active and ongoing service to the association. In the parallel James C. McCroskey and Virginia P. Richmond Undergraduate Scholars Conference, Marisa Farmer, a senior communication and social interaction major, was named Top Undergraduate Scholar in a tie vote with students from SUNY Geneseo and Stone Hill College. Her research involved relational maintenance. Communication studies professor and faculty fellow Kristen Eichhorn was director of the undergraduate conference, attended by about 30 students from the college. About 25 of them were selected to present. "They were extremely involved in the conference, which for an undergraduate institution is phenomenal," Toale said. In addition to chairing all the competitive undergraduate poster sessions, Eichhorn was a respondent in the session "Pedagogical [R]evolutions in the Communication Curriculum." Toale co-led "Revolutionizing Nonverbal Communication Scholarship: A Roundtable Discussion About Redefining and Reinvigorating Research in the Field" with student Andrew Nicholson and was a respondent in the sessions "Top Papers in Interpersonal Communication" and "[R]evolution of Undergraduate Interpersonal Communication Research: A Roundtable Discussion," which included students Reid Adler, Susan Amsinger, Farmer, Emily McDonald and Nicholson. McDonald chaired "Qualitative Interpersonal Communication Research." Adler substituted for a communication studies faculty member to chair the session "Deciding Legal Issues: Applied Theory and Applied Ethics." Communication studies faculty member Christine Hirsch facilitated "A Nice, Slow (R)evolution: How to Make Big Changes from Little Ones" and chaired "Mechanics of Democratic Speeches." Jennifer Knapp, associate dean of the School of Communication, Media and the Arts, chaired the session "Communication and College Students," which included presentations by Oswego students: "Influences of Culture and Race on Self-disclosure in Relationships" by McDonald; "Freshman Year vs. Senior Year: Relationship and Communication Changes" by Kristin Mayer, Zoe Calabrese, Shealene Guerrero, and Delsey Attardi; "Causes of Uncertainty and Uncertainty Management in College Seniors" by Alyssa Besio, Bryan Smith, Alyssa Jensen, Samantha Furtzaig and Vanessa Miranda; "How Communication Affects the Initiation and Maintenance of a Hook-up in College Students" by Amsinger, Kathryn Cook, Kate Labozzetta, Colin Graham and Yazel Roque-Correa; and "The Effects of Group Chats on Interpersonal Relationships" by Shannon Doherty, Madison Tinney, Taryn Jones, Abisha Munroe and Aric Johnson. Communication studies faculty member Linda Daley chaired "Media Representations and Mass Media Effects." Communication studies faculty member Jenny Rosenberg was a respondent for the sessions "Examining Social Media" and "[R]evolution of Graduate Student Interpersonal Communication Research: A Research Paper Workshop," the latter of which Nicholson chaired. Student Kristan Johnson-Thomas presented "Pop Culture and Communication." "Bridging the Chasm: Communication and Channel in College LDDRs" was presented by students Daniel Lee, Zaire Scott and Ryan Ivers. "The Relationship Between Romantic Relationships and Involvement in On-campus Activities" was presented by students Tyler Bowman, Catherine Newman, Alejandro Lara, Raquel Urena, and Lindsey Fink. "Guiding You to the Right OPTIONS" was presented by students Simone Duscha, Julie Dale, Lauren Lasky, Jaclyn Shyptycki and Yesenia Torres. "Interpersonal Communication in Graduate School Group Work" was presented by students Elizabeth Davis, Tristan Gleich and Kristan Marino. "Uses and Gratifications Theory Applied to College Students' Use of Instagram" was presented by students Christina Tartaro, Joey Karlik, Melissa Bulman, Emmeline Ortiz and Dylan Galusha.
K. Brad Wray, professor of philosophy, is the author of "The Influence of James B. Conant on Kuhn's 'Structure of Scientific Revolutions,'" a paper published in the spring issue of HOPOS: The Journal of the International Society for the History of the Philosophy of Science. This research is based on his archival work at the Massachusetts Institute of Technology in June 2013 and June 2014, conducted with support from the College of Liberal Arts and Sciences.

In Memoriam
Louis John Pelow, 100, a former custodian, died April 8.
Robert Schell, 77, former associate dean of students, died April 6 at Oswego Hospital.
Dale Zych, 77, former professor and chair of physics, died April 5 at his home in Minetto after a long illness.
Comments