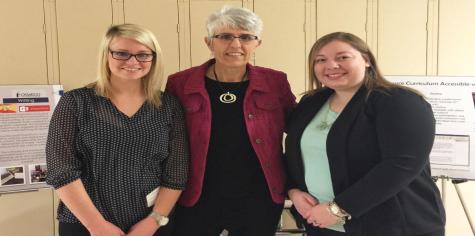 Two master's degree candidates in special education presented posters March 28 at the Central New York Reading Conference. Marissa Bacon, pictured right, presented "Making Science Curriculum Accessible with Digital Tools." Alicia Brown, pictured left, presented "Using Digital Text and Tools to Increase Participation in Authentic Literacy Instruction." They are with Roberta F. Schnorr, professor of curriculum and instruction.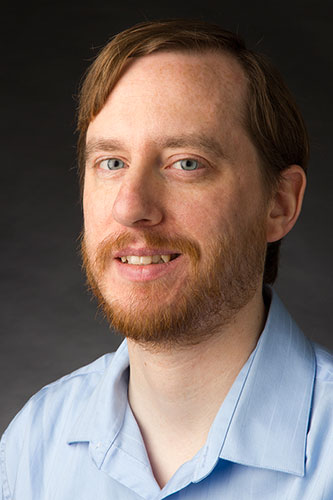 David F. Crider, adjunct instructor in the communication studies department, has been named the recipient of the 2015 Kenneth Harwood Outstanding Dissertation Award in broadcasting and electronic media. His doctoral study at Temple University concluded with his dissertation, "Constructing and Performing an On-Air Radio Identity in a Changing Media Landscape." Crider previously worked in radio for 10 years in a variety of formats and roles, including producer, on-air personality and program director/music director. He received his master's degree from Syracuse University in 2009. Crider has had articles published in both the Journal of Radio & Audio Media and Journal of Broadcasting & Electronic Media. He has won two top paper awards from the Broadcast Education Association's radio and audio media division. Crider is also an adjunct instructor at the Syracuse University and teaches online for Temple. His research continues to explore themes of identity in radio broadcasting, as well as the decline of localism in radio and the impact of digital and social media on radio personalities. The Harwood Dissertation Award includes a $1,000 cash prize. Crider will receive the award April 12 at BEA's annual convention in Las Vegas. BEA's annual convention attracts 1,200 educators and students.
Shashi Kanbur, professor of physics, will give a seminar April 10 at Syracuse University's math department on "The Linearity/Nonlinearity of the Cepheid Period-Luminosity Relation." The next day, SUNY Oswego's physics department in Shineman Center will host the Rochester Symposium for Physics Students, and Kanbur will give the keynote talk, "Variable Stars and the Extra-Galactic Distance Scale." The University of Rochester presents this annual undergraduate research symposium and every few years moves the symposium to another institution. More than a hundred students and faculty are expected to attend.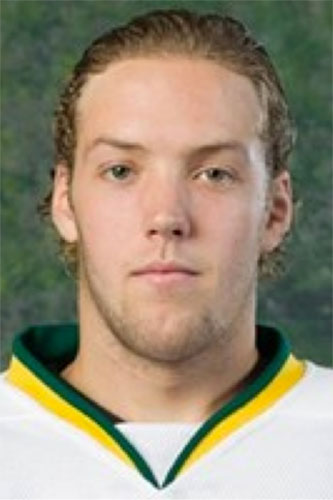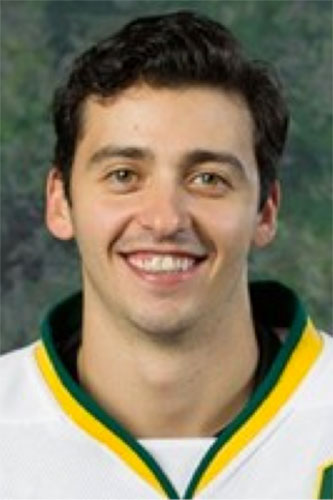 The American Hockey Coaches Association in conjunction with CCM Hockey has named Oswego's Bobby Gertsakis, and Shawn Hulshof, pictured, left and right, first team Division III All-Americans. Gertsakis anchored a Laker defense that ranked in the top 10 nationally, allowing just 2.18 goals per game. The senior also finished in the top 30 of the country for assists, registering 20 on the year. That number is also the fourth-best in Division III for all defensemen. A captain, Gertsakis was seventh on the squad in points, notching 24 on four goals and the aforementioned 20 helpers. The senior was named to the first team All-SUNY Athletic Conference and wrapped up his career with 92 games played, 12 goals and 57 assists. He appeared in three SUNYAC championship games, winning two titles, along with trips to the NCAA championship in all four years. Of those four trips, Oswego made the Frozen Four three times and was a national runner-up twice. Hulshof, a sophomore, was also recently recognized as the SUNYAC Herb Hammond Most Valuable Player. He is tied for fifth nationally in scoring, recording 42 points during the 2014-15 campaign. He is also tied for fifth with 20 goals. The forward helped push a high-flying offense that ranked fourth in the country with 4.46 goals per game. Hulshof was also part of a power-play unit that is one of just two teams in all of Division III with a success rate of over 30 percent (30 of 94). His seven extra-man goals put him among the nation's best, tying for ninth overall. For Oswego, Hulshof ranked first in points, goals and game-winning goals (four) while having the second-most power-play tallies and the second-highest number of assists. Gertsakis and Hulshof are Oswego's 10th and 11th players in program history to be named first team All-Americans. Oswego was a finalist in the SUNYAC championship tournament and an NCAA tournament quarterfinalist.
Gwen Kay, an associate professor of history, director of the Honors Program and a SUNY faculty senator representing Oswego, served on a panel for a concurrent session March 21 at the SUNY Voices Conference on Shared Governance, "Rethinking Shared Governance in Higher Education." The conference took place March 20 and 21 at Onondaga Community College. Kay was a panelist in a session titled "Perspectives on Shared Governance: A Book Review." Rochelle Mozlin of SUNY Optometry moderated the panel, and other panelists came from Purchase College, SUNY Polytechnic Institute and Onondaga Community College. Each panelist had read a book on shared governance in higher education and provided a recap of the book and jointly led a discussion on shared governance. Kay was also on the organizing committee for the conference. Also attending the conference from SUNY Oswego were College Council member Darlene Baker and Kristi Eck, chief of staff in the President's Office.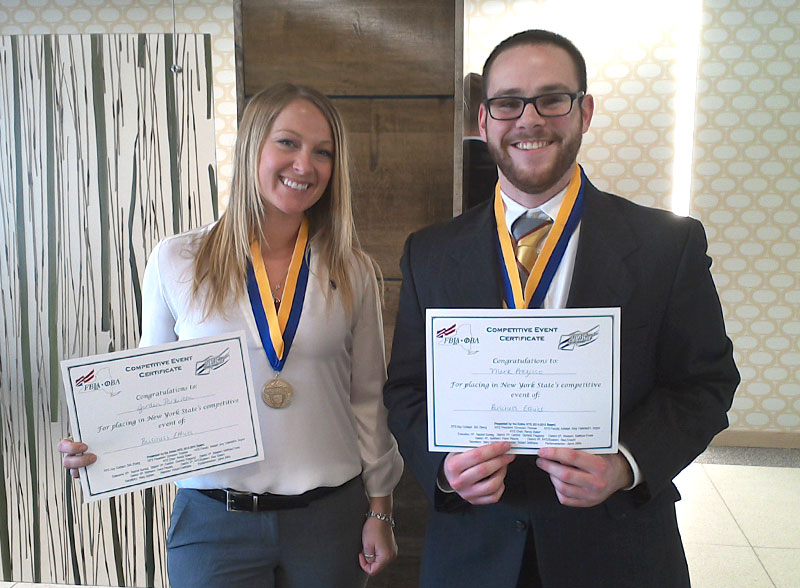 Two School of Business students—Jordan Parkinson, pictured left, and Mark Prezioso—won the business ethics competition March 28 at the New York State Future Business Leaders of America - Phi Beta Lambda Conference. In this competition, teams of students have seven minutes to present an ethics topic dealing with global business and sweatshops and/or child labor.
Jaclyn Schildkraut, assistant professor of public justice, was selected as one of 10 recipients from around the nation of the 2015 SAGE Junior Faculty Professional Development Teaching Award. The award helps pre-tenure faculty members attend the annual Academy of Criminal Justice Sciences Professional Development Teaching Workshop held at the ACJS annual meeting.
Michael Schummer, a visiting assistant professor of biological sciences, has received a two-year grant award from the U.S. Geological Survey via the University of Wisconsin at Madison. Schummer's grant includes about $8,500 the first year and $12,500 the second year for a study titled "Development of Dynamically Based 21st Century Projections of Snow, Lake Ice, and Winter Severity for the Great Lakes Basin to Guide Wildlife-Based Adaptation Planning, with Emphasis on Deer and Waterfowl."
Lawrence Spizman, professor emeritus of economics and president of the National Association of Forensic Economics, presented a paper, "The Rule of 70 at Trial as a Reference Point," at the recent Allied Social Science Association annual meeting in Boston. His presentation provided a pedagogical device whereby economic experts involved in litigation can provide the trier of fact with guidance and insight to better understand the economic consequences of different growth rates. Spizman is a forensic economist assisting the legal community throughout the United States in matters concerning economic issues in litigation.
Comments