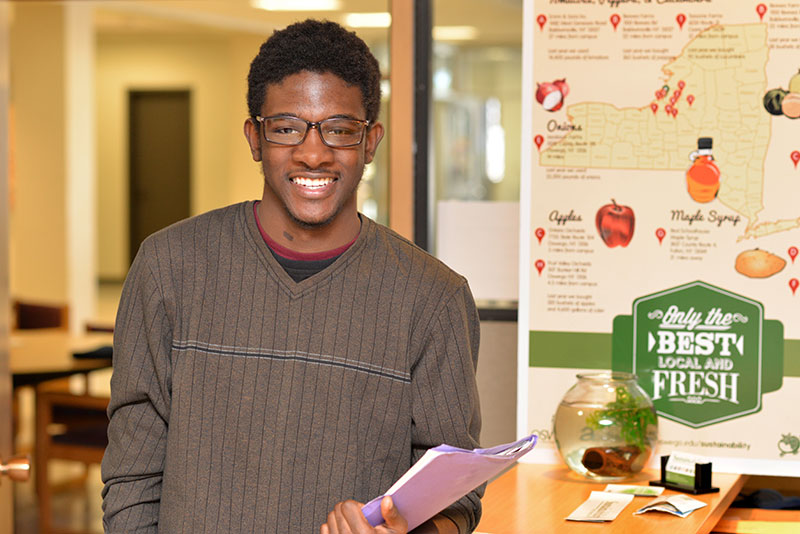 Campus Compact has named Peterly Jean Baptiste (pictured), a sophomore majoring in language and international trade and economics, a 2016 Newman Civic Fellow. The award honors college students who have taken action in the pursuit of long-term social change and who engage and inspire others in their communities. President Deborah F. Stanley nominated Baptiste for the honor. He is president of the student-run Go Green Team and served as an intern in the Sustainability Office, where he worked on the American Farmland Trust project educating students on the benefits of buying local food products. He is a member of Alpha Phi Omega, a national service organization, and formerly served as the sustainability coordinator for the college's Student Association. "His commitment to service, sustainability and community engagement is exemplary," Stanley said. Baptiste is one of 218 student leaders being recognized from 218 colleges and universities across the nation. Campus Compact is a Boston-based non-profit organization working to advance the public purposes of higher education.
Mallory Bower, associate director of career services, presented "Industry Model in Motion" at the American College Personnel Association national convention March 7 in Montreal. She discussed national models for industry-centric career services delivery and highlighted SUNY Oswego's shift to this model in fall 2015. Instead of being "jacks of all trades," career coaches are now able to become knowledgeable in identified subject areas and customize resources for students interested in these areas. Industry areas include: business and communication; education, public and human services; fine and performing arts; media and entertainment; STEM and health care; and career exploration.
Lisa Evaneski, the college's Title IX coordinator, became president of the SUNY Title IX Coordinators Association on Monday at the organization's first formal meeting. Evaneski has been leading development of STIXCA for the past year.
Michael Kolacki, who is majoring in mathematics, physics and computer science, has been accepted for a summer internship at NASA's Jet Propulsion Lab at CalTech. He will work with Andrea Connell, a software engineer with the Cassini mission, on a project to assemble and organize the data that each of the many distributed teams involved in the Cassini mission have been storing. The Cassini mission to Saturn is a joint endeavor of NASA, the European Space Agency and the Italian space agency, Agenzia Spaziale Italiana. Cassini is a sophisticated robotic spacecraft orbiting Saturn and studying its system in detail. Cassini also carried a probe called Huygens, which parachuted to the surface of Saturn's largest moon, Titan, in 2005. Cassini completed its initial four-year mission to explore the Saturn system in 2008, and the first extension, called the Cassini Equinox Mission, in 2010. Now, the spacecraft is on a second extension called the Cassini Solstice Mission.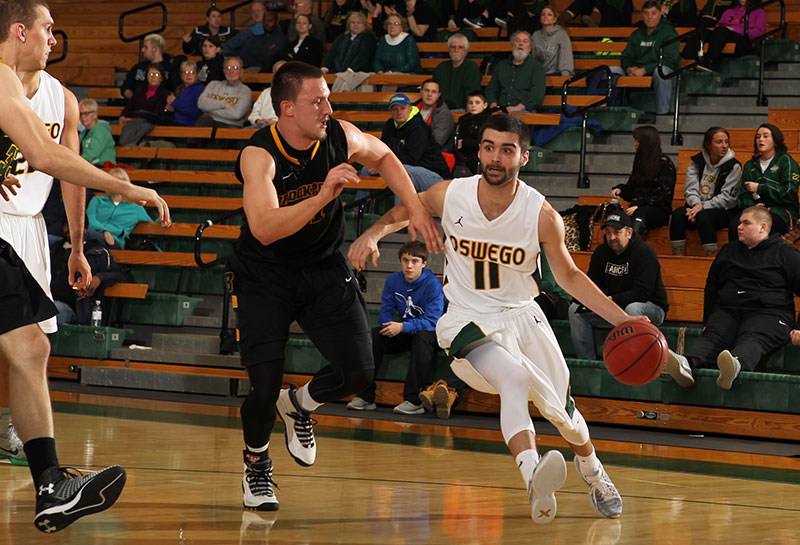 Brian Sortino, a junior and star of the Laker men's basketball team, has earned All-America status as D3hoops.com named him to its third team. In all, the site honored 25 student-athletes, spread across four teams and a group of honorable mentions. Sortino led Oswego to its furthest post-season run in program history, making an appearance in the NCAA Division III championship round of 16. He ranked ninth nationally in total points (649) and 43rd in points per game (20.9). Those stats were also good for first and second in the SUNYAC, respectively. Sortino's 1,135 minutes played paced the country, while his 36.6 minutes per game average was 17th. A multi-dimensional player, the guard also ranked first for the Lakers in assists per game (3.3) and total steals (28). Sortino also hit a milestone during the season, recording his 1,000th career-point against Cortland on Jan. 23. At the end of the year, the All-American had accumulated 1,380 points in his Laker career, placing him 10th all-time in Oswego State men's basketball history.
James Wyckoff, a visiting assistant professor of communication studies, is the author of a chapter titled "Ethics in Health Communication" that appears in the second edition of "Health Industry Communication," edited by Nancy Hicks and Christina Nichols and published by Jones & Bartlett. Wyckoff has worked as a public relations and advertising professional, and on the client side with colleges (College of Mount Saint Vincent), hospitals (Hospital for Special Surgery and New York Presbyterian) and home care companies (Olsten Health Services). He has written speeches for two U.S. presidents (Ronald Reagan and George H. W. Bush), won an Effie award for effective advertising and Best Hospital Annual Report recognition from Healthcare Advertising Report, and was co-author of the Public Relations Society of America Code of Ethics and Professional Standards.
Jason Zenor, assistant professor of communication studies, is the author of a paper titled "This Is Just Not Working for Us: Why After 10 years on the Job It is Time to Fire Garcetti." It was published in the Richmond Journal of Law and the Public Interest. The paper examines the free speech rights of public employees and argues that the U.S. Supreme Court has to refocus legal protections to promote the public trust in government rather than focus on employees and the nebulous distinction of job duties. Zenor teaches in the area of media economics, media and politics, media and morality, and media law.

In Memoriam
Ronald K. Guile, 81, former head of the college's police department, died March 27 at Crouse Hospital in Syracuse.
Comments