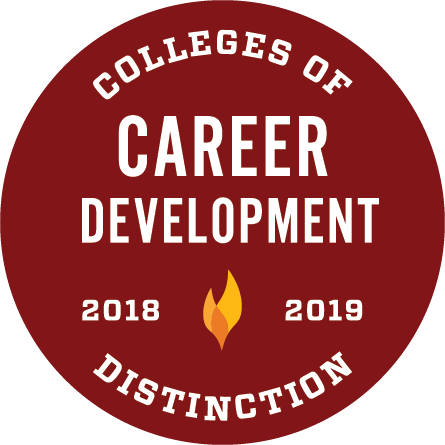 SUNY Oswego recently was named to the 2018 Career Development Colleges of Distinction, recognizing institutions that offer a range of effective services to prepare students for future success.

The Colleges of Distinction website explained it honored these colleges via the criteria of integrated career exploration and preparation, accessible programs and training, and career-centered staff. The list included 48 institutions total, with New York state (eight) having the most colleges among those recognized.
"Day by day, it's getting increasingly more important that colleges give their students a well-rounded education that teaches not only vocation-specific skills, but also lessons in critical thinking and global diversity through hands-on participation," Colleges of Distinction wrote of its selections. "High-impact educational practices like these keep students flexible and ready to take on complex, real-world challenges. In addition providing this kind of solid educational experience, colleges should be helping students think about how to navigate the world of work, not just how to get hired for their first job."
The college's Career Services Office reported that 95 percent of SUNY Oswego students find a job or attend graduate school within a year of graduation; office surveys found 88 percent of those employed were working full-time in their career of choice.
In addition, Oswego's office has earned commendations and awards on the state level and beyond for the expertise and excellence of team members and the office's overall effectiveness. The career services operation earned notice by reconfiguring into an industry-centric structure where career coaches provide dedicated advice and customized services for specific fields.
SUNY Oswego's Career Services Office hosts a number of special events, programs and services, such as the most recent Spring Career Fair, where around 400 students connected with more than 80 employers; a variety of networking events where students can connect with a variety of companies, often represented by Oswego alumni; special opportunities to meet with employment fields, such as Teacher Recruitment Days; resources including instructional videos and other tips; and staff who help students with resumes, job interviews and other preparation.