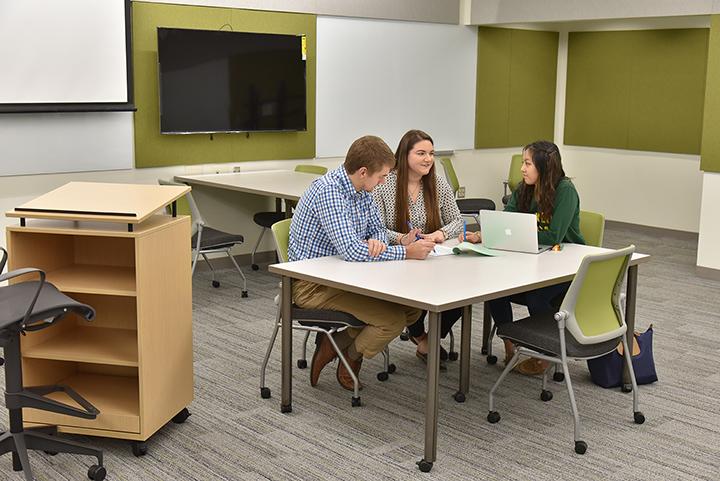 The School of Education's largest department, curriculum and instruction, will move its main office Nov. 9 to new space in fully renovated and modernized Wilber Hall.
Faculty will move to their individual offices Nov. 13 to 15, according to professor Amanda Fenlon, who has served as the department's liaison with Facilities Services. The advisement center will move Nov. 15. Classes are scheduled in the three-story portion of Wilber starting in January.
Among the coming attractions this spring are large new "active" classrooms (above) with all furniture on wheels, the latest multimedia technology and whiteboards on multiple walls. (From left are master's degree candidates Christopher Lowe, in the special education program; Emily Casazza, literacy education; and Kristen Kee, special education.)
Undergraduate programs within curriculum and instruction include new-teacher preparation in adolescence and childhood education, as well as teaching English to speakers of other languages. Graduate programs offer master's degrees and certificates such as literacy, art and special education, curriculum and instruction, and initial teacher certification.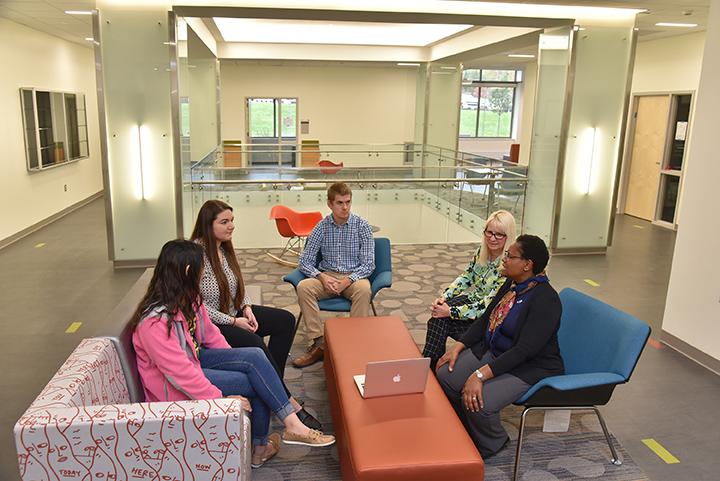 As moving day, Nov. 9 approaches, curriculum and instruction department chair Marcia Burrell (right) and professor Amanda Fenlon, the department's liaison for the project with Facilities Services, speak with (from left) graduate students Kristen Kee, Emily Casazza and Christopher Lowe in the ground-floor lobby of Wilber Hall near the fully renovated curriculum and instruction office. A "light well" to provide connection and openness to the lower floor is behind them.